Here is a list of 50 good luck in your new home messages to make them feel right at home.
#1 Good luck in your new nest! Settle in, unpack your things, and start filling every inch of your new home with memories of a lifetime.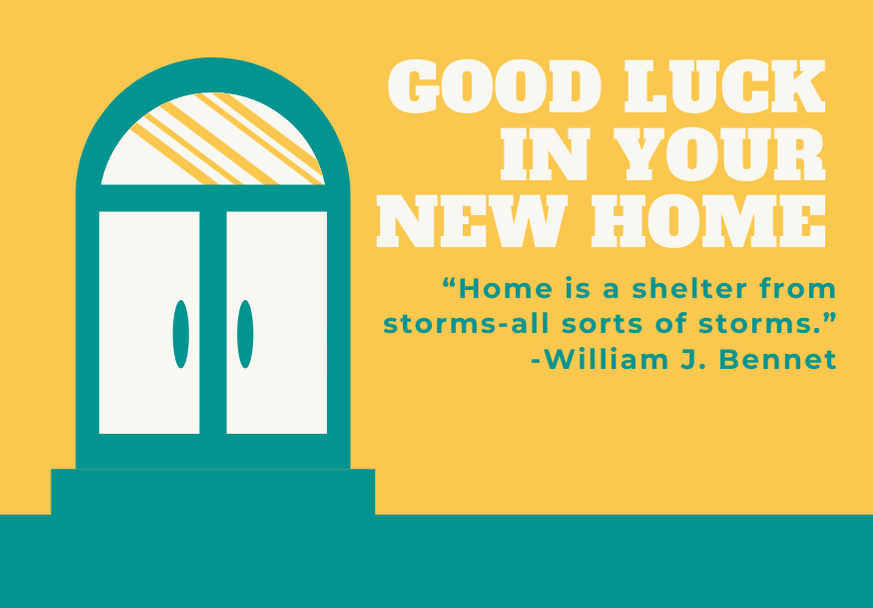 #2 What fantastic news that you have a new address! Remember the lucky superstition that you should leave your old broom and dustpan behind, or toss them if you forgot! And have a bowl of fruit sitting on your counter, and have a horseshoe hung, and keep a goldfish. Okay, enough of that! Best of luck!
#3 Thank goodness the exhausting moving process is over. Now it's time to relax and enjoy your new home. I am sure it will be the place for some of the best chapters of your life. Don't forget to snap a picture of it now so you can remember how it will evolve. It will be fun to look back. Good luck!
#4 I was thrilled when I heard that you got your own place! I can't wait until you fill it with happiness, laughter, meals with family and friends, and pictures of loved ones. This structure can be your sanctuary where you escape from the chaos of the world. I am so happy for you! Good luck with your great new place to escape from it all!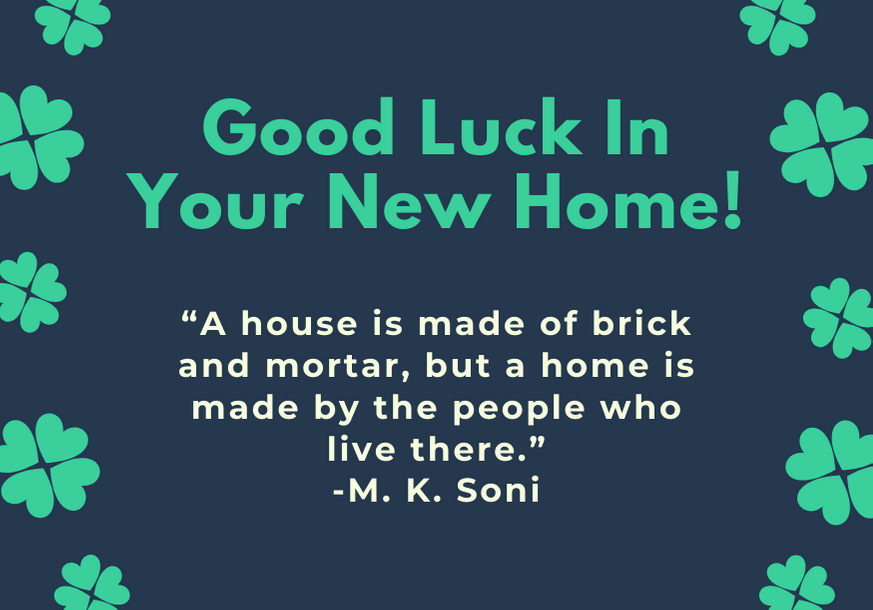 #5 Congratulations on your lovely new place! May your home be the start of a wonderful new chapter of your life, even better than the last one. Good luck and have fun at your new address!
#6 A house is not a home until you make it into one. My wish for you is that you enjoy the unforgettable process of making your house into a home and that you create a refuge from the busy world where you and your family can grow, love, and prosper. Best wishes for many incredible years in your new home!
#7 Getting your own place can be pretty overwhelming with all the things you need to learn to take care of it, but there is no feeling in the world like owning your own home. It is completely worth it and I am excited for you for reaching this big milestone! Good luck with your new home. May it always be filled with love and laughter.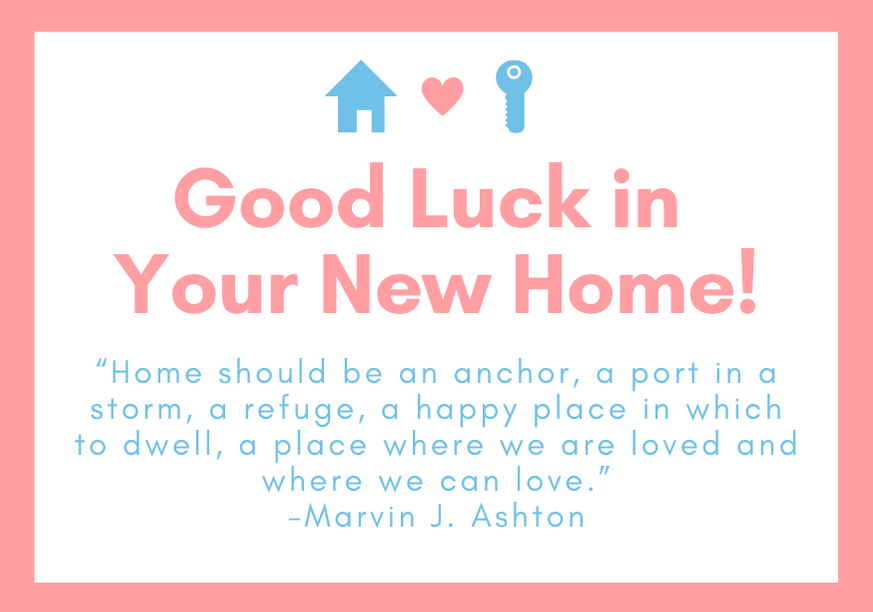 #8 Leaving your old place may leave you a bit homesick, but it won't last! Let me know how I can help you brainstorm about filling it with your favorite things and making it a warm and cozy space where you have years of happiness. I am there for you, my friend!
#9 Moving into a new place is full of the "new." New neighbors, new friends, new stuff, and a new perspective. Out with the old, and in with the new! I am excited about your adventure. Good luck in your new home, and congrats!
#10 They say that home is where the heart is. I hope that you all get settled in well and have a chance to create a warm and cozy refuge for you all where smiles are free-flowing and love is always in the air. Congratulations to you and your family, and good luck!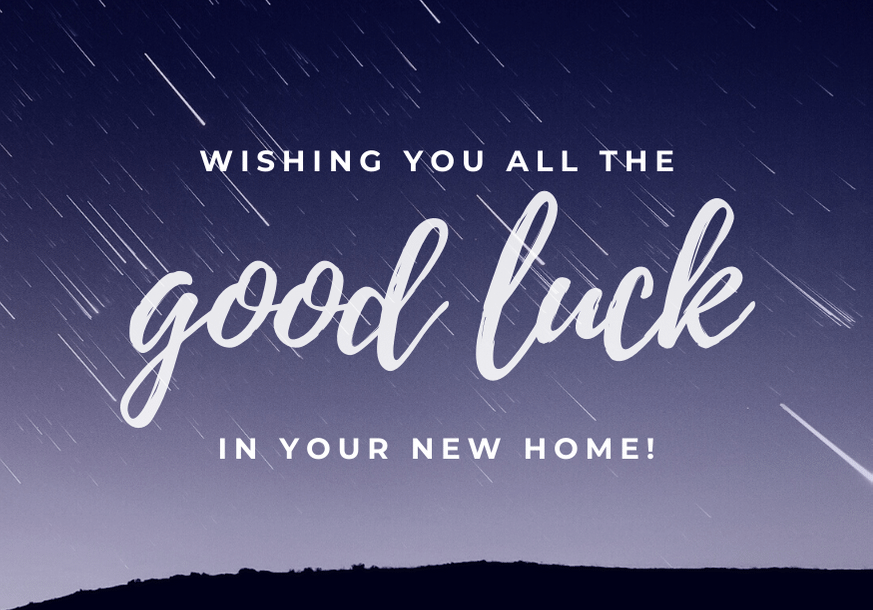 #11 It's not home unless there's WiFi, right? Settle in, get your WiFi working, and enjoy your new place. Best wishes for no loud barking dogs next door! Good luck!
#12 I know that things aren't exactly all rainbows and unicorns because you miss your old place, so get out of the house and do the things that make you happy. You will adjust soon! I am thinking of you and wishing you the best of luck during your transition. Hang in there!
#13 If we don't drop red wine on your carpet or break something, we haven't correctly "warmed" your house. Let me know when we can come over and do some damage! Good luck in your new home and enjoy it to the fullest!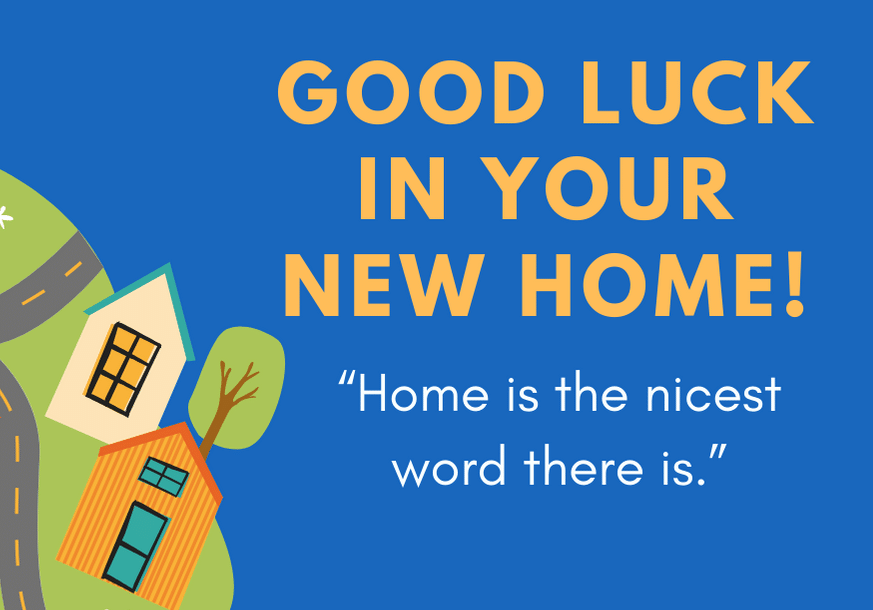 #14 A new home, a fresh start! I hope you get settled into your nest so we can go over for a housewarming party and make some lasting memories. Good luck!
#15 Though this is not your first home, it is still a rare chance to get pushed out of your comfort zone and reflect on your life and where you want to go. I hope you seize this opportunity to shake things up and launch plans to squeeze even more happiness and fulfillment out of your life. You deserve it. I wish you the best of luck!
#16 I'm sure your new place is amazing, but you need to let your friends warm it into a real home for you. On this note…should I be expecting a spare key sometime soon? Just kidding. Good luck with your great new pad!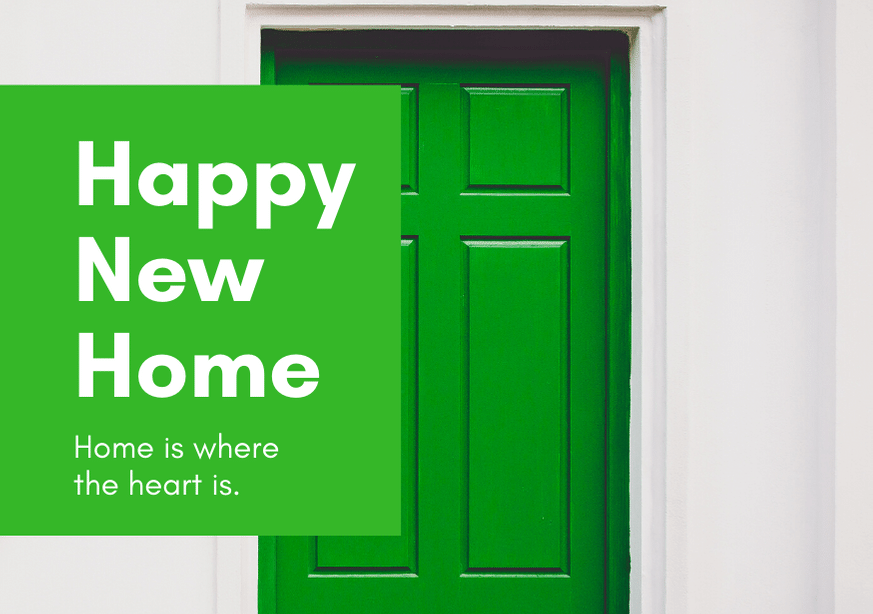 #17 I hope your new place will soon become a real home full of phenomenal memories. Let me know when we can start planning a housewarming party to celebrate! Good luck with settling in and adjusting to your new address!
#18 Congratulations on buying a home! Thank goodness you have a tax write-off for the taxman now. Enjoy the many financial benefits and pride of being a homeowner. Warmest wishes for many happy years there!
#19 Congratulations on a new home that gives you the privacy to never get out of your pajamas! May your new home be filled with joyful noise, the smells of good food, friends, family, and happy memories. Let us know when we can come over to celebrate!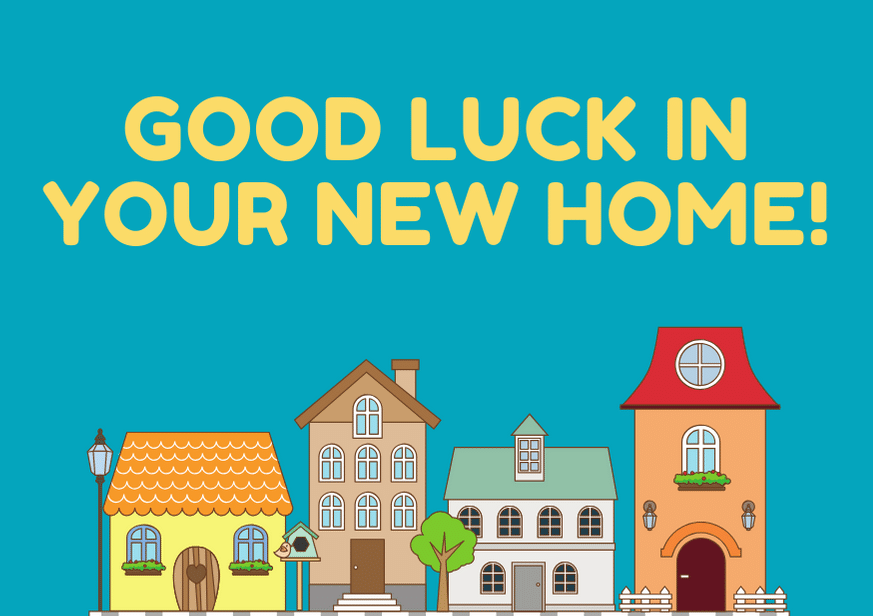 #20 Good luck with your new place! May it always be filled with laughter and happy moments. Home, sweet home!
#21 There's no place like home, right? I'm so proud of you for getting your own place. It's an important and exciting new chapter in your life. Good luck!
#22 Let me apologize to your neighbors in advance because it won't be a quiet party when I come over with the housewarming gifts! Good luck in your new home, though!
#23 Now that the finding of a new place, the packing up, and the moving are over, I hope you take a night to get take-out, curl up on the couch, watch a good movie, and get some deep sleep. You've earned it! Good luck in your new home. You're going to make great memories there!
#24 Congratulations on having to rampage through the boxes for some clothes or an extra fork for the next couple of weeks! Good luck in your new home, my friend. Let me know if I can be of any help!
#25 Good luck in your new home! The basic rule is: don't set it on fire. I'm sure you'll make years of incredible memories there!
#26 Now that you've moved into your new place, remember not to be on autopilot and accidentally go to your old one! Have fun and good luck in your new home!
#27 Thank goodness you don't have those annoying neighbors anymore! Congratulations on getting new scenery and the chance to create your "happy place"! I'm excited for you and can't wait to visit. Good luck!
#28 Change can be hard, but now you can make your new place feel like home just the way you want to. You will get adjusted soon! Call me anytime. I miss you and wish you the best of luck.
#29 May happiness and fortune follow you in your new home and may you live plenty of happy years there. Congratulations!
#30 Congratulations on your new house. Now it's time to make it a home! Good luck with settling in. I'm sure you'll make a lot of good memories in your new place!
The Most Famous Quotes to Include with Your Good Luck in Your New Home Message
"Home is where the heart is."
Joseph C. Neal
"There is no place like home."
L. Frank Baum
"A good home must be made, not bought."
Joyce Maynard
"Home is the nicest word there is."
Laura Ingalls Wilder
"A house is made of brick and mortar, but home is made by the people who live there."
M. K. Soni
"A home should be a stockade, a refuge from the flaming arrows of anxiety, tension and worry."
Wilfred Peterson
"Home is a shelter from storms-all sorts of storms."
William J. Bennet
"A home is a kingdom of its own in the midst of the world, a stronghold amid life's storms and stresses, a refuge, even a sanctuary."
Dietrich Bonhoeffer
"Home should be an anchor, a port in a storm, a refuge, a happy place in which to dwell, a place where we are loved and where we can love."
Marvin J. Ashton
"The ache for home lives in all of us, the safe place where we can go as we are and not be questioned."
Maya Angelou
The Best Bible Verses to Include with Your Good Luck in Your New Home Message
Joshua 24:15
But as for me and my house, we will serve the Lord.
2 Samuel 7:29
Therefore now let it please thee to bless the house of thy servant, that it may continue forever before thee: for thou, O Lord God, hast spoken it: and with thy blessing let the house of thy servant be blessed forever.
Deuteronomy 28:8
The Lord will command the blessing on you in your barns and in all that you undertake. And he will bless you in the land that the Lord your God is giving you.
Isaiah 32:18
My people will live in peaceful dwelling places, in secure homes, in undisturbed places of rest.
Proverbs 24:3-4
By wisdom a house is built, and through understanding it is established; through knowledge its rooms are filled with rare and beautiful treasures.
Matthew 7:25
The rain came down, the streams rose, and the winds blew and beat against that house; yet it did not fall, because it had its foundation on the rock.
Deuteronomy 28:6
You will be blessed when you go in and blessed when you go out.
Corinthians 3:11
For no one can lay a foundation other than that which is laid, which is Jesus Christ.
Jeremiah 29:11
For I know the plans I have for you says the Lord, plans of peace and not of evil, to give you a future and a hope.
Psalm 91:1-2
Whoever dwells in the shelter of the Most High will rest in the shadow of the Almighty. I will say of the Lord, "He is my refuge and my fortress, in whom I trust."
Please take a moment to pin this post to Pinterest.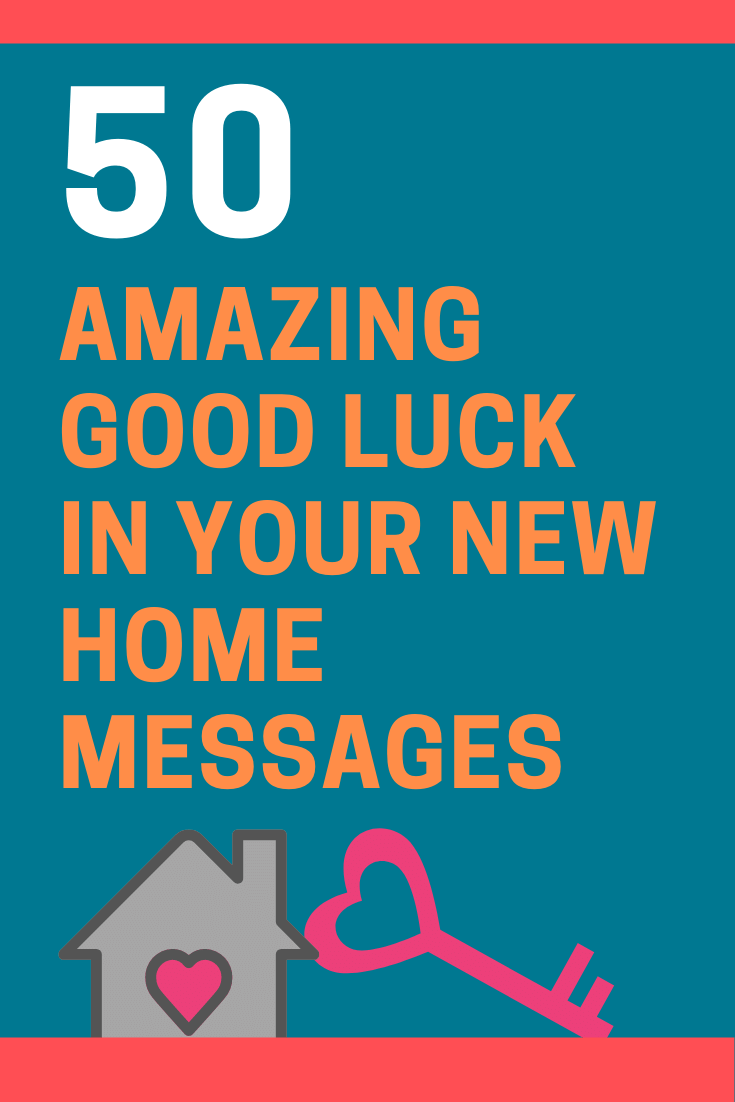 Author Biography
Keith Miller has over 25 years of experience as a CEO and serial entrepreneur. As an entrepreneur, he has founded several multi-million dollar companies. As a writer, Keith's work has been mentioned in CIO Magazine, Workable, BizTech, and The Charlotte Observer. If you have any questions about the content of this blog post, then please
send our content editing team a message here
.
---