Here is a list of 50 motivational good luck messages for basketball players to pump them up before the big game.
#1 Pass, shoot, play defense. It's that simple and the key to your game. You are like a wizard on that court. Play hard.
#2 All of your basketball heroes had to go through the things that you're going through now. Suit-up, warm-up, and make history!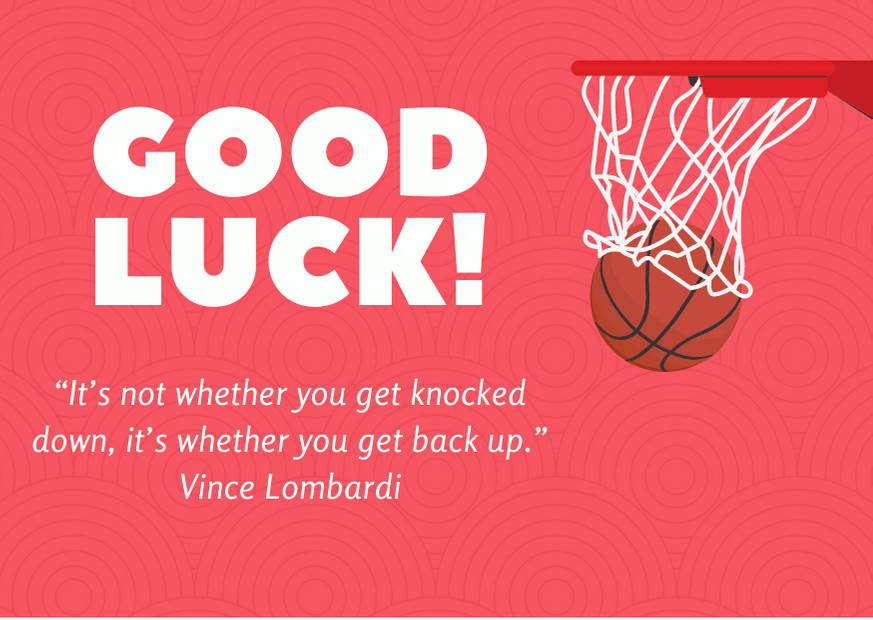 #3 Your three-point shooting has been smoking hot lately. Let a few fly from downtown this week and light up the scoreboard.
#4 All those extra hours in the gym are starting to pay off. You are at the top of your game, and I know you are going to bring it this week.
#5 Don't let the crowd or school or anything distract you when you are on that court. If you focus completely, you will have a great game. I know it.
#6 Work hard, play smart. I will be at your game this week and will be cheering you on. When you and your teammates set your minds on a goal, there is nothing that can stop you.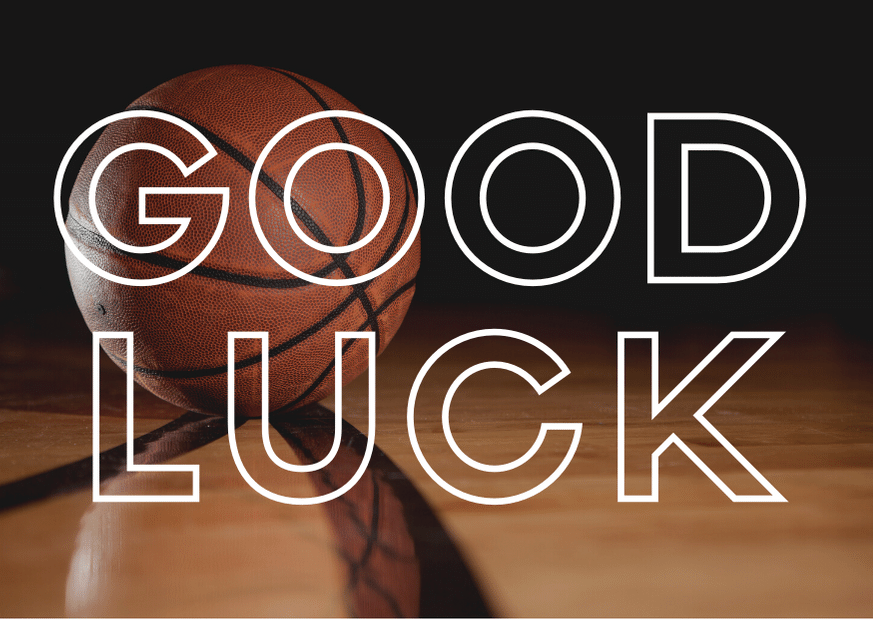 #7 In this week's game, don't let up for one minute. Focus on defense. Pass to your teammates. If you do all that, you guys/gals will be unstoppable.
#8 You guys/gals might be the underdog in this week's game, but I truly believe you can win it. When you guys/gals work together, you really are a special team.
#9 Hey man/girl, I hope you have a great game this week. Don't let up for one minute while you are out on that court. I know you'll do great.
#10 I'll be at your game this week, ready to watch you torch the other team. I can hardly wait.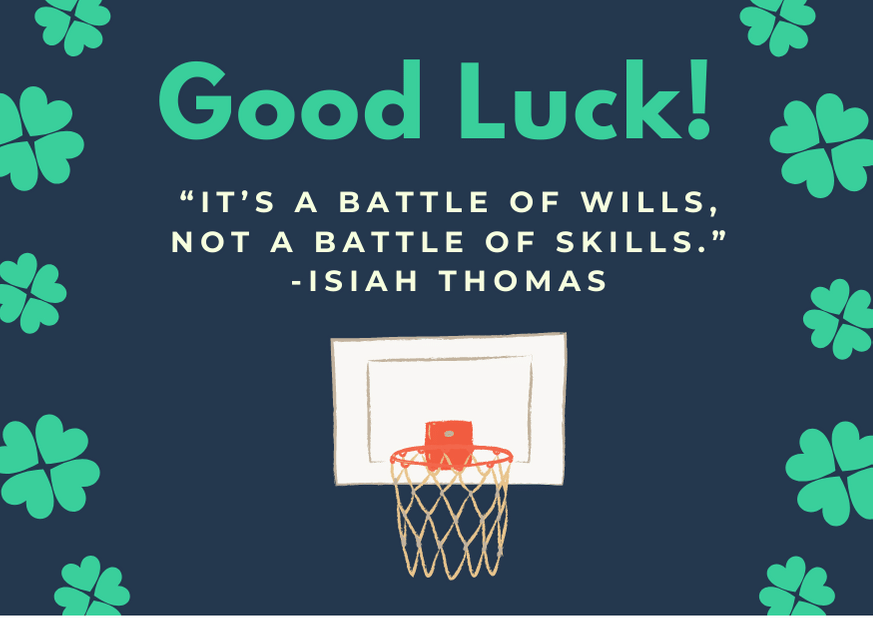 #11 I will be cheering you on in your game this week. Trust your coach and his/her game plan, and you guys/gals will do just fine.
#12 I am excited to see how you play this week. I know you have made some changes to your approach, and I can't wait to see the fruit of your labor.
#13 I marvel at the basketball player you have become and am eager to see you put your skills to the test in this week's game. Play hard.
#14 Keep working hard and you and your team will be unbeatable. You guys/gals are the team to beat this year.
#15 When you get in the zone, there are very few players who can guard you. If you get hot early, press on the gas and don't look back.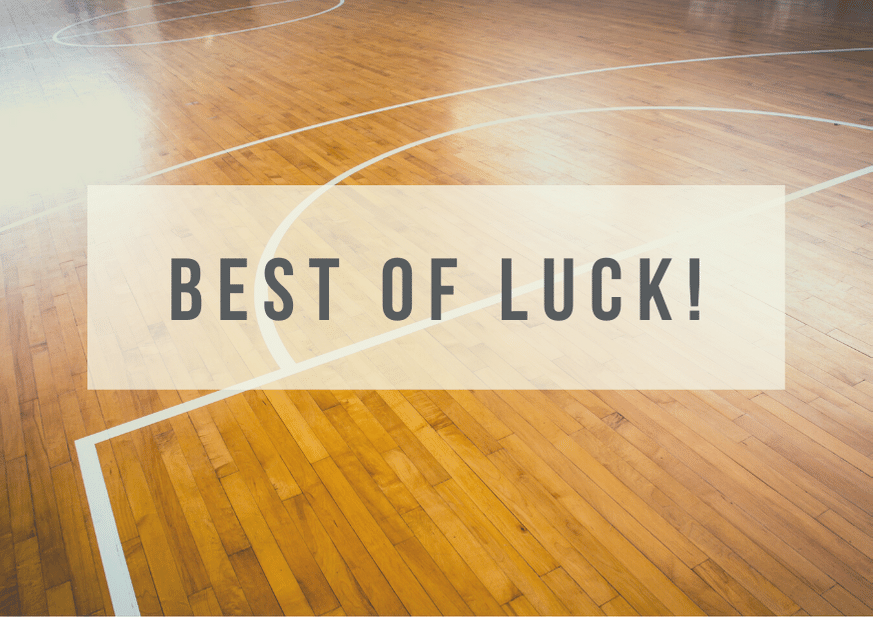 #16 Your team has really gelled lately and it has been fun to watch. I can't wait to see what you guys/gals do this week.
#17 I know how important the upcoming game is for you, and how much you've practiced. Give it your all and no matter the outcome, you'll be the star.
#18 We're all going to be rooting for you during the big game. You'll hear us, you'll see us, and hopefully, we don't embarrass you too much as you march down the court!
#19 You have all of the good qualities of a winner. If you apply all of these qualities during your basketball game, you'll most certainly come out on top.
#20 Your basketball team is lucky to have you on their side, and nobody will be able to understand that as much as the team you'll be facing!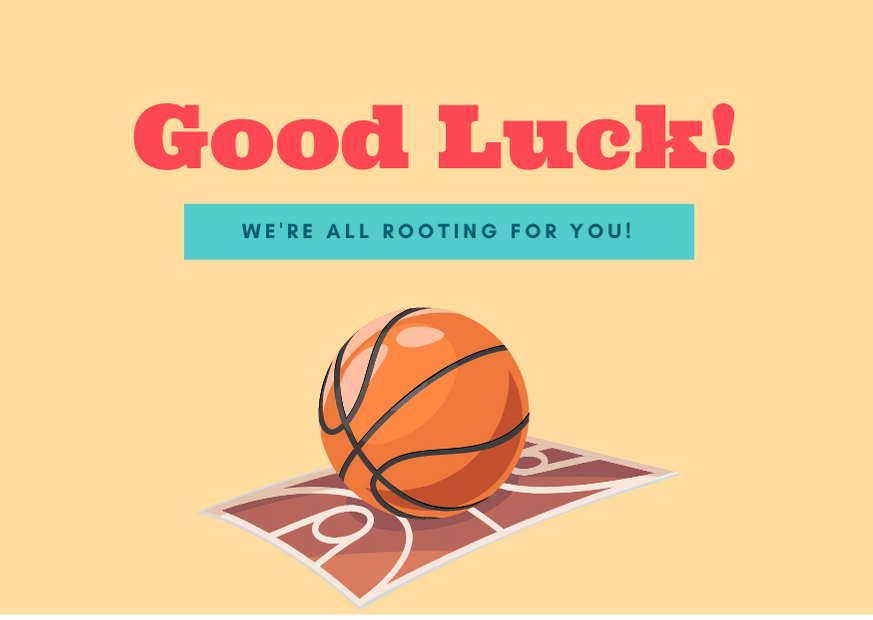 #21 I wish I could run around that basketball court as I used to when I was your age. Now you'll have to do it for both of us!
#22 Believe in yourself and your abilities out on the court. We certainly believe in you and will be right there with you through the whole game.
#23 Be just as gracious at winning as you are with everything else. I wish I could be there to watch your work out on the court, but I'll be there in spirit.
#24 Are you nervous about today's game? You shouldn't be. Just take it all in stride, and do your best- you'll be smiling at the last buzzer!
#25 Basketball isn't for everyone, but you've proven that it's a good fit for you. You're far better than you give yourself credit for, and I want you to get out there and have fun!
#26 This is an important game for you and the team. Don't underestimate the opposition, keep your eye on the basketball, and stay confident.
#27 Every basketball game that you play will be memories created for you to enjoy for the rest of your life. Memories we'll enjoy as well!
#28 You've practiced dribbling, shooting, layups & foul shots- nobody's more ready than you are. Get out there on the court and show them your stuff!
#29 Now and then, someone finds something that they're particularly good at and thrives. For you, it's basketball, and we all know it!
#30 May you and your team have a successful B-ball game filled with remarkable moments, and a full highlight reel.
The Most Famous Quotes to Include with Your Good Luck Message for a Basketball Player
"Obstacles don't have to stop you. If you run into a wall, don't turn around and give up. Figure out how to climb it, go through it, or work around it."
Michael Jordan
"You're not always going to be successful, but if you're afraid to fail, you don't deserve to be successful."
Charles Barkley
"Stay hungry, stay humble."
Hakeem Olajuwon
"Success comes from talent, hard work and luck."
Kareem Abdul Jabbar
"Push yourself again and again. Don't give an inch until the final buzzer sounds."
Larry Bird
"Ask not what your teammates can do for you. Ask what you can do for your teammates."
Magic Johnson
"Play to win. You can't play tentatively; you can't play scared."
Rollie Massimino
"You can win and still not succeed, still not achieve what you should. And you can lose without really failing at all."
Bobby Knight
"It's a battle of wills, not a battle of skills."
Isiah Thomas
"To find the unlimited scope of human possibility, look within yourself."
Jim Valvano
The Best Bible Verses to Include with Your Good Luck Message for a Basketball Player
Romans 8:28
And we know that in all things God works for the good of those who love him, who have been called according to his purpose.
2 Chronicles 15:7
But as for you, be strong and do not give up, for your work will be rewarded.
2 Timothy 2:5
Similarly, anyone who competes as an athlete does not receive the victor's crown except by competing according to the rules.
Job 17:9
Nevertheless, the righteous will hold to their ways, and those with clean hands will grow stronger.
Joshua 1:9
"Have I not commanded you? Be strong and courageous. Do not be afraid; do not be discouraged, for the Lord your God will be with you wherever you go."
Psalm 37:4-5
Take delight in the Lord, and he will give you the desires of your heart. Commit your way to the Lord; trust in him and he will do this:
Philippians 4:13
I can do all this through him who gives me strength.
Psalm 16:8
I keep my eyes always on the Lord. With him at my right hand, I will not be shaken.
Colossians 4:6
Let your conversation be always full of grace, seasoned with salt, so that you may know how to answer everyone.
Isaiah 40:29
He gives strength to the weary and increases the power of the weak.
Please take a moment to pin this post to Pinterest.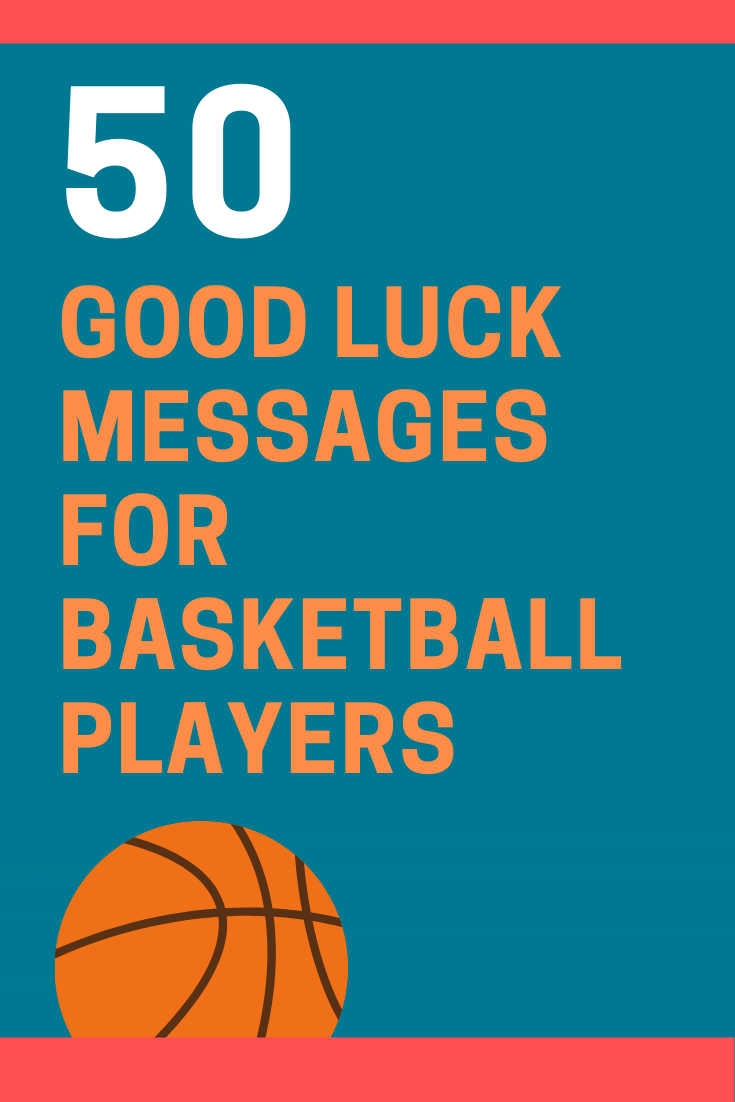 Author Biography
Keith Miller has over 25 years experience as a CEO and serial entrepreneur. As an entreprenuer, he has founded several multi-million dollar companies. As a writer, Keith's work has been mentioned in CIO Magazine, Workable, BizTech, and The Charlotte Observer. If you have any questions about the content of this blog post, then please
send our content editing team a message here
.
---