Here is a list of 125 amazing Happy Halloween messages and quotes to wish them a spooky good time.
#1 Bags full of candy and a house full of kids on a sugar-high. A frightful time of year indeed! Best of luck at bedtime and Happy Halloween!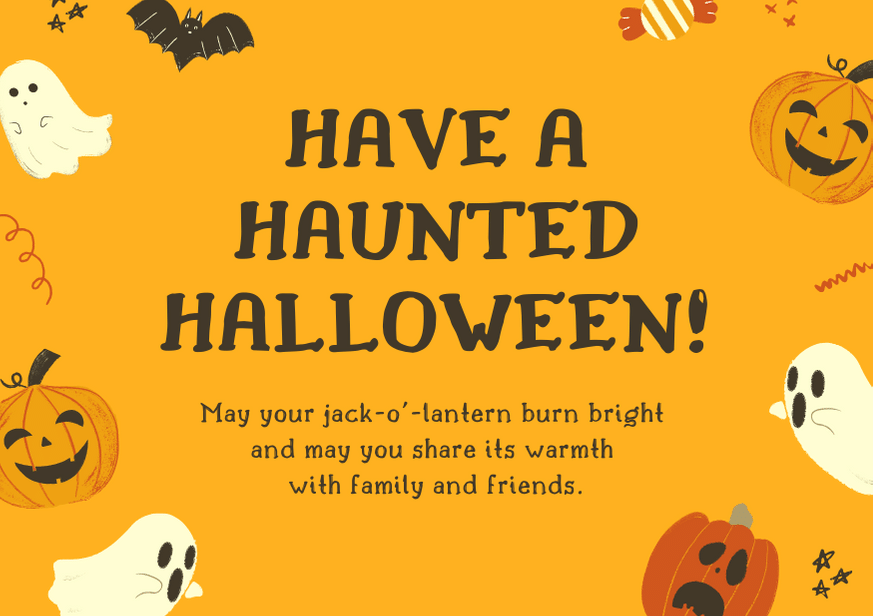 #2 I know that you're the parent and all, but stop calling every other piece of candy suspicious and secretly hoarding it for yourself while checking your kid's candy! Happy Halloween!
#3 You know you're not doing it right when you wake up to a yard full of toilet paper and a car covered in eggs. Up your candy game and have a Happy Halloween!
#4 There was a time when all you needed as a vampire was a set of false teeth and a black cape. Now, you need expensive designer clothes and sparkly skin. Crazy times, eh? Happy Halloween!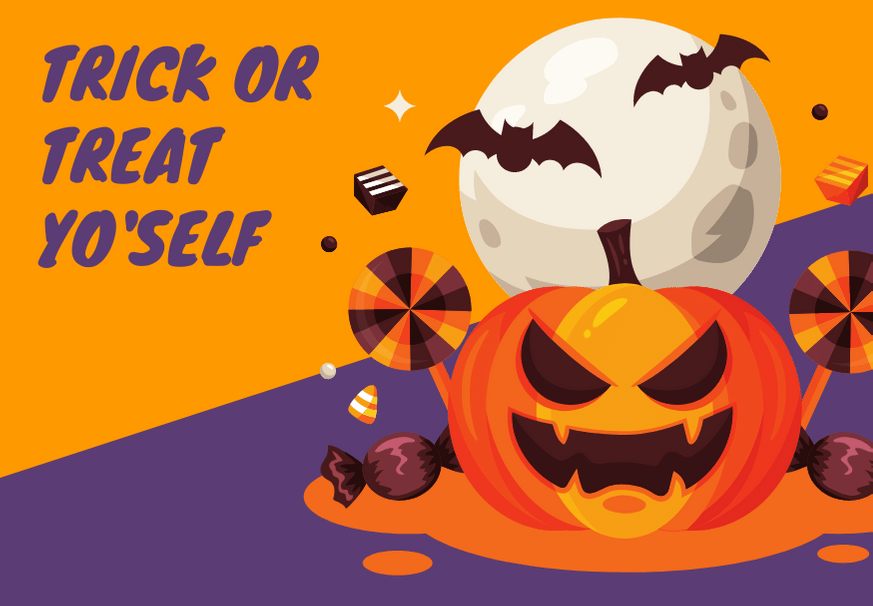 #5 One valuable lesson comes through Halloween. Kids learn that you can't go door-to-door and collect candy on Facebook. Who'd have thought that this could be a learning experience? Happy Halloween!
#6 Happy Halloween! Don't be scared. Don't be frightened. It's only the monsters outside that want to get you. The ones inside aren't hungry yet.
#7 Some people get paranoid from all the influences from horror movies around this time of year. I'll bet you never even noticed all of those ghosts watching you sleep during the rest of the year! Anyways, Happy Halloween!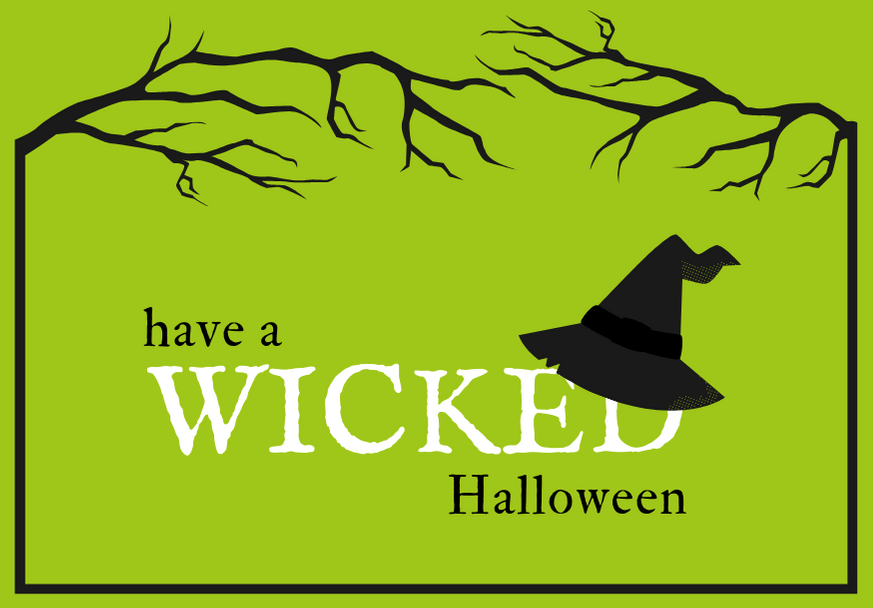 #8 Not every knock and bump in the night is something scary trying its best to get to you…just most of them. Good thing you'll have all of that leftover candy to keep you awake! Happy Halloween!
#9 I am dying for that Halloween party. Get it? Let's celebrate All Hallows' Eve and show these mortals how the living dead can rock! Happy Halloween!
#10 You know your child is too old to trick or treat when they ask you for the car keys to go door-to-door. Enjoy the kids while they're young because time is fleeting. Happy Halloween!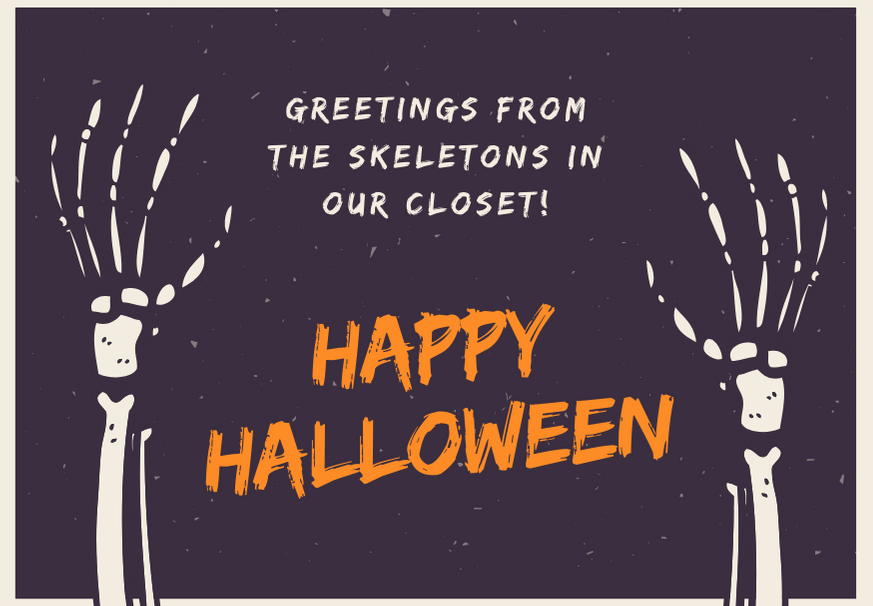 #11 Finally! A day when your style choices won't raise eyebrows. Be yourself, blend in – no one needs to know you dress like this on the other 364 days of the year. Just kidding! Have an awesome Halloween!
#12 The spookiest story of all is that tomorrow we're going to have to go to work, so let's have a blast tonight! Enjoy the spooky night, and may your Halloween be awesome and scary!
#13 And as the stalker peeked through the window, his next victim opened and began to read their Halloween card…Happy Halloween!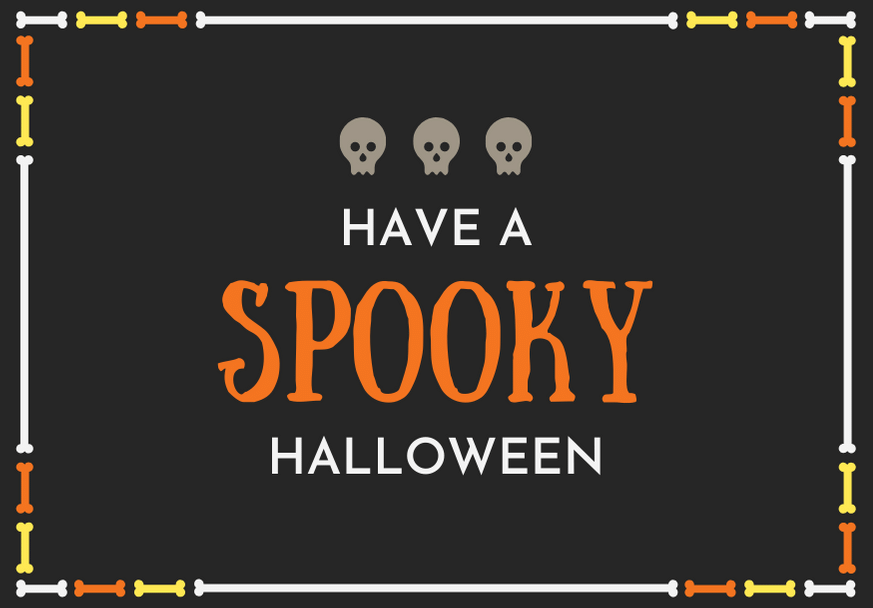 #14 Your old shoes are killing me! Please invest in some odor-eaters and for goodness sakes, organize your closet, will you? Happy Halloween from the Boogieman!
#15 I just wanted to wish you and yours a happy and safe Halloween! Don't forget to brush your teeth tonight after all that candy!
#16 Ghouls, ghosts, traffic, bad weather, and doorbells…Halloween is full of all types of terrors. Make the best of it and have a Happy Halloween!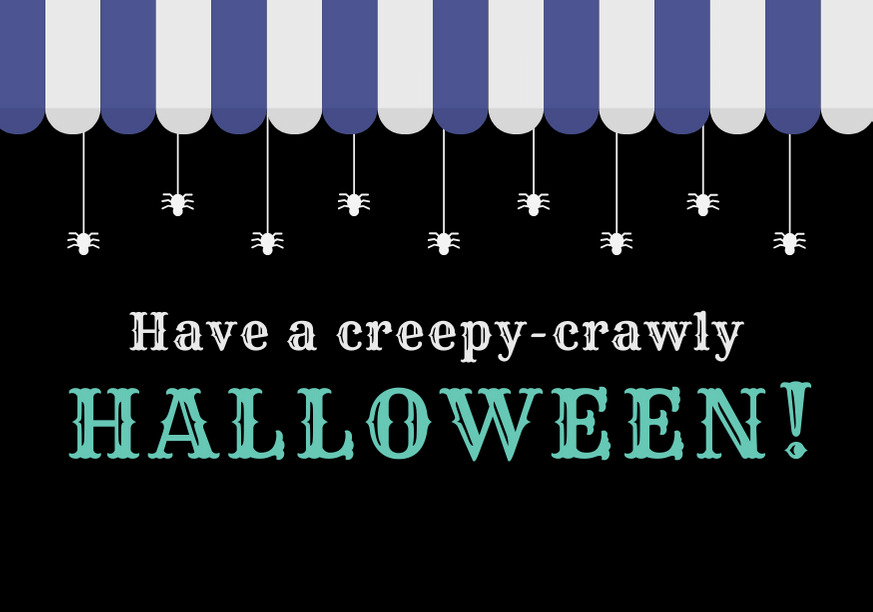 #17 Happy Halloween! You're going to have to try hard with your costume this year to keep up with your friends. Lines under your eyes and calling yourself an off-duty football player won't cut it this time!
#18 As you set up for your party, know that you can save space and time by playing "bobbing for apples" and "pin the tail on the donkey" at the same time. Happy Halloween!
#19 Never underestimate the power of a well-carved pumpkin to make you the talk of the neighborhood. Good luck with it and Happy Halloween!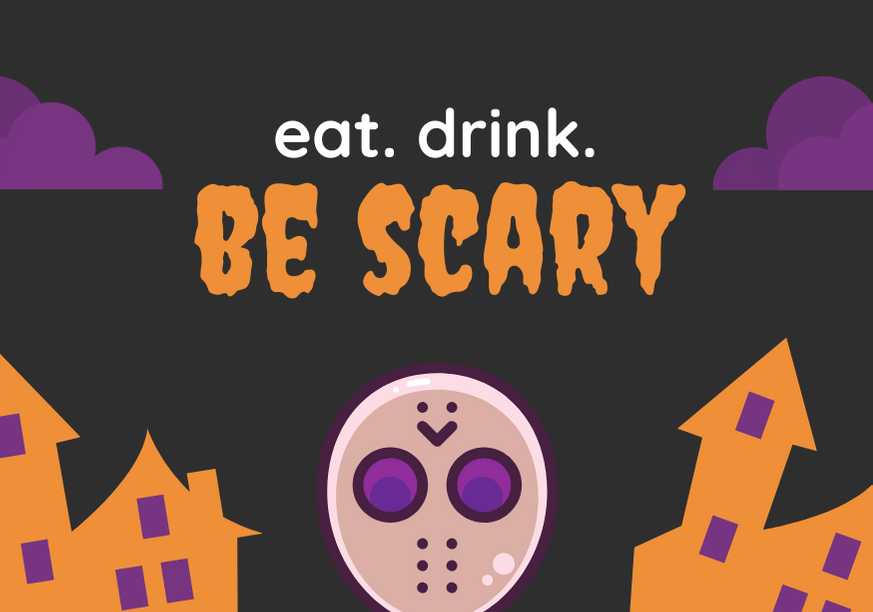 #20 Time to gear up and get out there! Here's to you and yours having a fun, safe, and exciting Halloween!
#21 Should Halloween be the Labor Day equivalent for monsters and ghosts? Or is it the only time of year they have to get to work? These are the important questions. Happy Halloween!
#22 Egging, TP'ing houses and trees, and smashing pumpkins is only fun when you're not the one cleaning it up. I guess karma gets us all, and I'll make sure you get yours at around 3 am. Just kidding! Happy Halloween!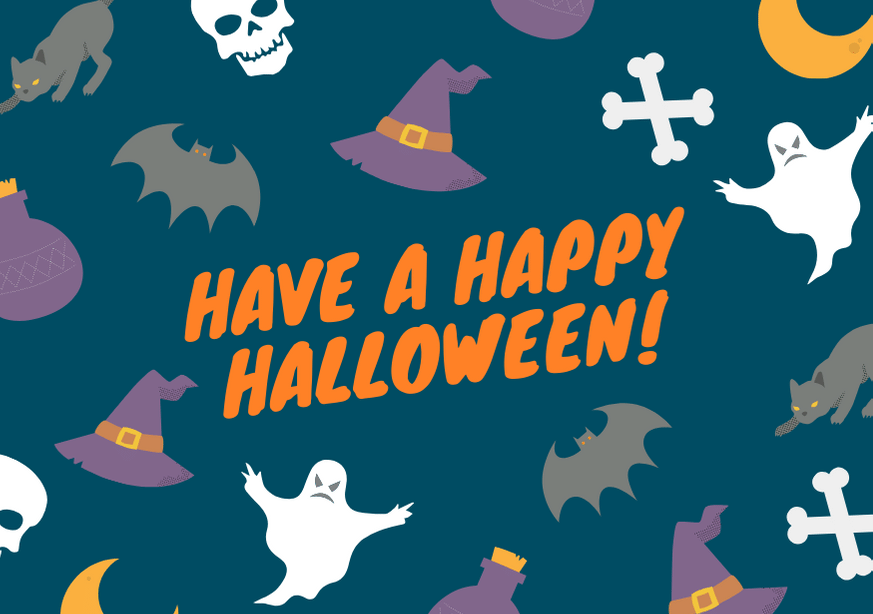 #23 There's no such thing as too much candy! Have a Happy Halloween and trick-or-treat until you can't eat anymore – and then some. This candy-eating-feast only comes once a year!
#24 You'll be the most boo-tiful ghost tonight. Have an amazing Halloween and be careful of the spooky stuff.
#25 On Halloween, you just know that somewhere out there three witches are plotting evil. Do I care, though? No, I just care about the candy – and you should, too! Happy Halloween!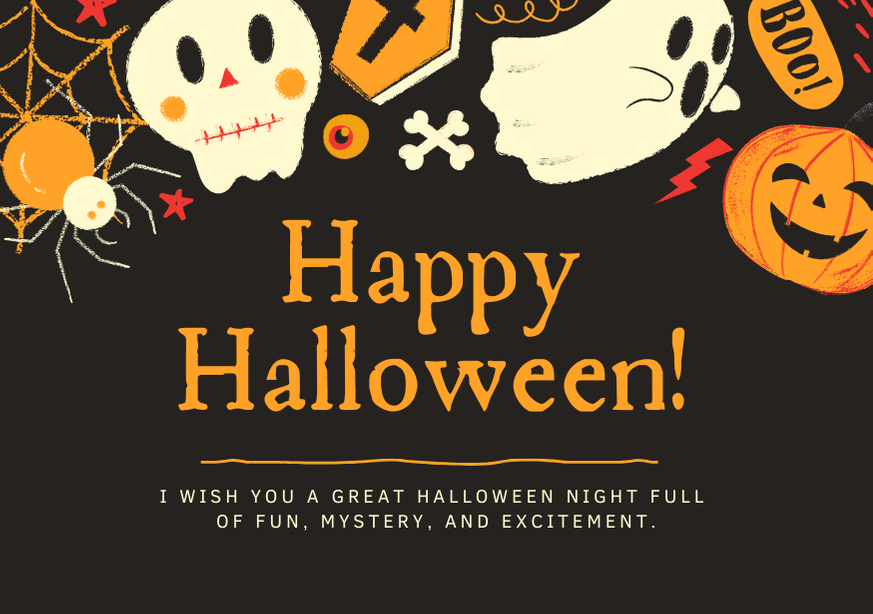 #26 It's a great night to watch some good old-fashioned horror movies with your friends. Try not to scream too loudly – no one will hear anyway. Have a spooky Halloween!
#27 Finally, the pumpkin-carving courses and hours of training an evil cackle are going to pay off! Go put some fright into the trick-or-treaters and have a blast. Happy Halloween!
#28 Evil forces walk the earth tonight. And by evil forces, I mean hundreds of trick-or-treaters who will drain your yearly candy supplies. Enjoy scaring them this Halloween!
#29 Is it October weather or the evil spirits that give you the chills? Stay safe this Halloween, and don't let spooky monsters into your house. Have fun!
#30 Can't wait to see how you'll be dressing up this year when you take your kids through the neighborhood this Halloween. Remember that Halloween is fun for adults, too! Happy Halloween!
#31 Today's the day when zombies rise from their graves to dance with Michael Jackson. Have a thriller Halloween!
#32 Ah, Halloween. Time to take off our masks and be our scary, spooky selves, right? Let's roam the streets and give some frights!
#33 Happy Halloween! It's the only day we can legally dress up as scary as we can and threaten our neighbors into giving us candy. Enjoy it while it lasts!
#34 What a time to be alive in the night of the dead! Let's go trick-or-treating and scare each other with our spooky costumes. Happy Halloween!
#35 I hope you have a spooky and fun night, creating stories to tell next year! Also, remember that 73 is the official limit of the number of pieces of candy that adults can safely eat in one night. Happy Halloween!
#36 A ghoul, a witch, and a ghost walk into a bar…Totally plausible, because it's Halloween today, so let's get this party started!
#37 Normal life bites. Dress up as a vampire and bite it right back! Enjoy the spookiest night of the year and don't forget to change your costume when you go to work tomorrow!
#38 I haven't dusted my house for a month to get authentic spider webs. How have your Halloween preparations been? Enjoy the spooky night and Happy Halloween!
#39 Too old to go trick-or-treating? Yeah, that happens when you're a 500-year-old vampire. Don't despair, my friend, nobody will notice. Happy Halloween!
#40 Monsters of all kinds are roaming the streets tonight. Blend right in. No one will guess that you're the real thing. Enjoy your Halloween!
The Most Famous Quotes to Include with Your Happy Halloween Message
"Clothes make a statement. Costumes tell a story."
Mason Cooley
"Be wary then; best safety lies in fear."
William Shakespeare
"The moon has awoken with the sleep of the sun, the light has been broken; the spell has begun."
Midgard Morningstar
"Whenever the cat of the house is black, the lasses of lovers will have no lack."
The Encyclopedia of Superstition
"We ask only to be reassured about the noises in the cellar and the window that should not have been open."
T.S. Eliot
"From ghoulies and ghosties and long-leggedy beasties and things that go bump in the night, Good Lord, deliver us!"
Scottish Saying
"I must go in. The fog is rising."
Emily Dickinson
"Acting is like a Halloween mask that you put on."
River Phoenix
"Magic is really very simple, all you've got to do is want something and then let yourself have it."
Aggie Cromwell, "Halloweentown"
"I heard one cry in the night, and I heard one laugh afterwards. If I cannot forget that, I shall not be able to sleep again."
M.R. James
"I love Halloween, and I love that feeling: the cold air, the spooky dangers lurking around the corner."
Evan Peters
"I put a spell on you because you're mine."
Jay Hawkins
"Every day is Halloween isn't it? For some of us."
Tim Burton
"If human beings had genuine courage, they'd wear their costumes every day of the year, not just on Halloween."
Douglas Coupland
"If a man harbors any sort of fear, it makes him landlord to a ghost."
Lloyd Douglas
"I don't know that there are real ghosts and goblins, But there are always more trick-or-treaters than neighborhood kids."
Robert Brault
"Fear has many eyes and can see things underground."
Miguel de Cervantes
"By the pricking of my thumbs, Something wicked this way comes."
William Shakespeare
"Everyone tells me you are a fake, but I believe in you. P.S.: if you really are a fake, don't tell me. I don't want to know."
Linus, "It's the Great Pumpkin, Charlie Brown"
"Shadows of a thousand years rise again unseen, Voices whisper in the trees, 'Tonight is Halloween!'"
Dexter Kozen
"I'll stop wearing black when they make a darker color."
Wednesday Addams, "The Addams Family"
"Halloween was the best holiday, in my opinion, because it was all about friends, monsters, and candy, rather than family and responsibility."
Margee Kerr
"Some people are born for Halloween, and some are just counting the days until Christmas."
Stephen Graham Jones
"The real world is where the monsters are."
Rick Riordan
"Believe nothing you hear, and only one half that you see."
Edgar Allan Poe
"Halloween is not only about putting on a costume, but it's about finding the imagination and costume within ourselves."
Elvis Duran
"Where there is no imagination, there is no horror."
Arthur Conan Doyle
"Be afraid…Be very afraid."
Ronnie, "The Fly"
"The oldest and strongest emotion of mankind is fear, and the oldest and strongest kind of fear is fear of the unknown."
H. P. Lovecraft
"Halloween wraps fear in innocence, as though it were a slightly sour sweet. Let terror, then, be turned into a treat…"
Nicholas Gordon
"It's just a bunch of hocus pocus!"
Max, "Hocus Pocus"
"There is something haunting in the light of the moon; it has all the dispassionate of a disembodied soul, and something of its inconceivable mystery."
Joseph Conrad
"We stopped checking for monsters under our bed when we realized they were inside us."
Charles Darwin
"Don't let past ghosts spook away present gifts."
Jane Lee Logan
"Hell is empty and all the devils are here."
William Shakespeare
"Werewolves howl. Phantoms prowl. Halloween's upon us now."
Richelle E. Goodrich
"Never trust anything that can think for itself if you can't see where it keeps its brain."
J.K. Rowling
"Bloody thou art; bloody will be thy end."
William Shakespeare
"The rain pattered dismally against the panes, and my candle was nearly burnt out, when, by the glimmer of the half-extinguished light, I saw the dull yellow eye of the creature open."
Mary Shelley
"The scariest monsters are the ones that lurk within our souls."
Edgar Allan Poe
"Where there is no imagination, there is no horror."
Sir Arthur Conan Doyle
"Pixie, kobold, elf, and sprite, All are on their rounds to-night, In the wan moon's silver ray, Thrives their helter-skelter play."
Joel Benton
"It's Halloween, everyone's entitled to one good scare."
Sheriff Leigh Brackett, "Halloween"
"The farther we've gotten from the magic and mystery of our past, the more we've come to need Halloween."
Paula Guran
"I'm so glad I live in a world where there are Octobers."
L.M. Montgomery
"One need not be a chamber to be haunted. One need not be a house. The brain has corridors surpassing material place."
Emily Dickinson
"Do you believe in destiny? That even the powers of time can be altered for a single purpose? That the luckiest man who walks on this earth is the one who finds…true love?"
Bram Stoker, "Dracula"
"All Halloween candy pales next to candy corn, if only because candy corn used to appear, like the Great Pumpkin, solely on Halloween."
Rosecrans Baldwin
"Whatever costumes you wear, don't forget your tiara even if it's only on the inside."
Jane Lee Logan
"She used to tell me that a full moon was when mysterious things happen and wishes come true."
Shannon A. Thompson
"Each year, the Great Pumpkin rises out of the pumpkin patch that he thinks is the most sincere. He's gotta pick this one. He's got to."
Linus, "It's the Great Pumpkin, Charlie Brown"
"I got a rock."
Charlie Brown, "It's the Great Pumpkin, Charlie Brown"
"Proof of our society's decline is that Halloween has become a broad daylight event for many."
Robert Kirby
"Everyone is a moon and has a dark side, which he never shows to anybody."
Mark Twain
"That cold ain't the weather. That's death approaching."
The Stranger, "30 Days of Night"
"Anyone could see that the wind was a special wind this night, and the darkness took on a special feel because it was All Hallows' Eve."
Ray Bradbury
"Have you come to sing pumpkin carols?"
Linus, "It's the Great Pumpkin, Charlie Brown"
"Studio 54 made Halloween in Hollywood look like a PTA meeting."
Lorna Luft
"There is something at work in my soul, which I do not understand."
Mary Shelley
"I am all in a sea of wonders. I doubt; I fear; I think strange things, which I dare not confess to my own soul."
Bram Stoker, "Dracula"
"Alone. Yes, that's the keyword, the most awful word in the English tongue. Murder doesn't hold a candle to it and hell is only a poor synonym."
Stephen King
"On Halloween you get to become anything that you want to be."
Ava Dellaria
"Sticky fingers, tired feet; one last house, trick or treat!"
Rusty Fischer
"There is a child in every one of us who is still a trick-or-treater looking for a brightly-lit front porch."
Robert Brault
"Ghosts and goblins come to play on October's final day!"
Rusty Fischer
"A person should always choose a costume which is in direct contrast to her own personality."
Lucy, "It's the Great Pumpkin, Charlie Brown"
"Even the devil was an angel once."
M. Robinson
"Tis the night — the night of the graves delight and the warlocks are at their play; Ye think that without the wild winds shout, but no, it is they — it is they."
Cleveland Coxe
"Double, double toil and trouble; Fire burn, and cauldron bubble."
William Shakespeare
"Son, the greatest trick the Devil pulled was convincing the world there was only one of him."
David Wong
"Halloween was confusing. All my life my parents said, 'Never take candy from strangers.' And then they dressed me up and said, 'Go beg for it.' I didn't know what to do! I'd knock on peoples' doors and go, 'Trick or treat – No thank you.'"
Rita Rudner
"Men fear death as children fear to go in the dark; and as that natural fear in children is increased with tales, so is the other."
Sir Francis Bacon
"Shadows mutter, mist replies; darkness purrs as midnight sighs."
Rusty Fischer
"Backward, turn backward, O Time, in your flight, Make me a child again just for to-night!"
Elizabeth Akers Allen
"Back to witches and wizards and magical beasts, to goblins and ghosts and to magical feasts."
Harry Potter
"Monsters are real, ghosts are real too. They live inside us, and sometimes, they win."
Stephen King, "The Shining"
"On Halloween, witches come true; wild ghosts escape from dreams. Each monster dances in the park."
Nicholas Gordon
"I've seen enough horror movies to know that any weirdo wearing a mask is never friendly."
Elizabeth, "Friday the 13th Part VI: Jason Lives"
"Whatever you do, don't fall asleep."
A Nightmare on Elm Street
"Those who do not believe in magic will never find it."
Roald Dahl
"I'm every nightmare you've ever had. I am your worst dream come true. I am everything you ever were afraid of!"
Stephen King, "It"
"Use your imagination not to scare yourself to death but to inspire yourself to life."
Adele Brookman
"There are three things I've learned never to discuss with people: religion, politics, and the Great Pumpkin."
Linus, "It's the Great Pumpkin, Charlie Brown"
"Being normal is vastly overrated."
Aggie Cromwell, "Halloweentown"
"I'll bet living in a nudist colony takes all the fun out of Halloween."
Charles S. Swartz
Please take a moment to pin this post to Pinterest.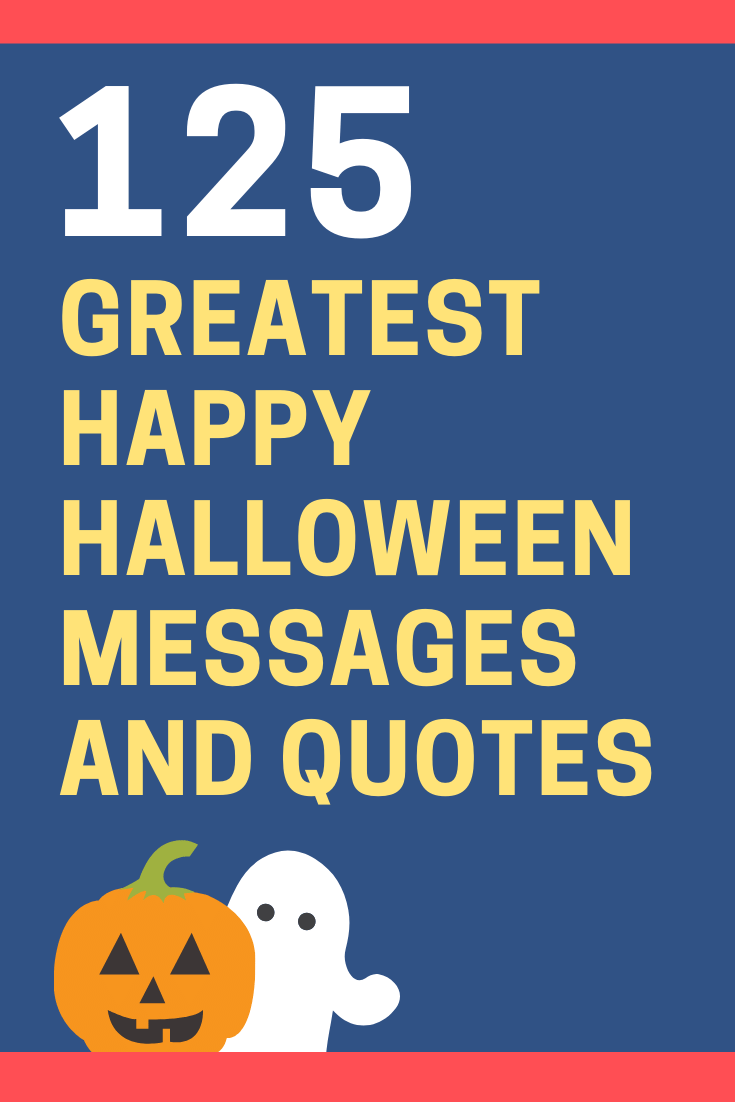 Author Biography
Keith Miller has over 25 years of experience as a CEO and serial entrepreneur. As an entrepreneur, he has founded several multi-million dollar companies. As a writer, Keith's work has been mentioned in CIO Magazine, Workable, BizTech, and The Charlotte Observer. If you have any questions about the content of this blog post, then please
send our content editing team a message here
.
---