Here is a list of 125 Happy Labor Day messages and quotes to welcome in a weekend of fun.
#1 Now that it's Labor Day, you'll have time to mow the lawn, tend to the garden, paint the shed, and trim the hedges. They don't call it Labor Day for nothing! Happy Labor Day!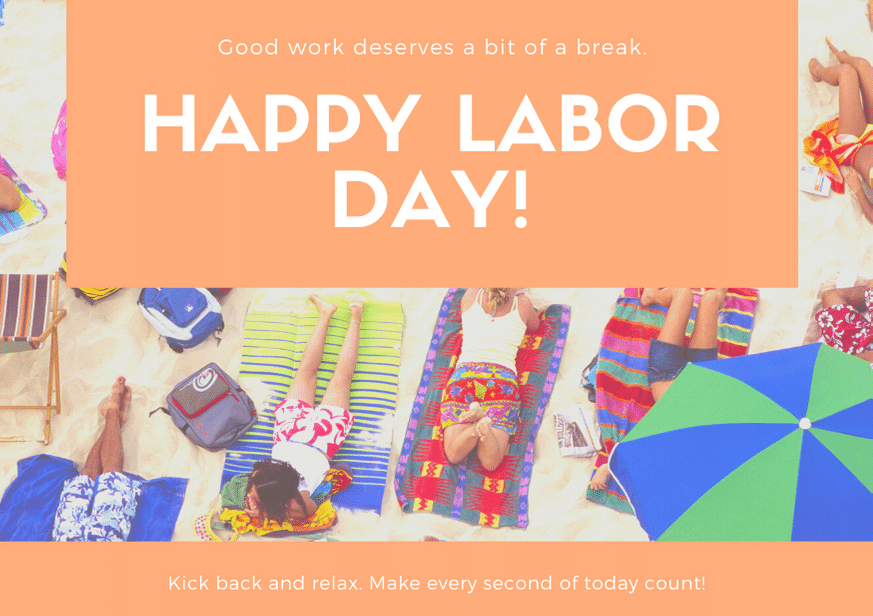 #2 Happy Labor Day! I hope that you're taking your Labor Day weekend in stride and leaving your work at the office. Don't worry, it'll be there when you get back.
#3 You, and people like you, are the ones who have made this country what it is today. Thank you for all your hard work and have a fantastic Labor Day weekend!
#4 When Labor Day is over and it's time to get back to the daily grind, I hope you have a whole set of fond memories to share that you collected over the weekend. Happy Labor Day!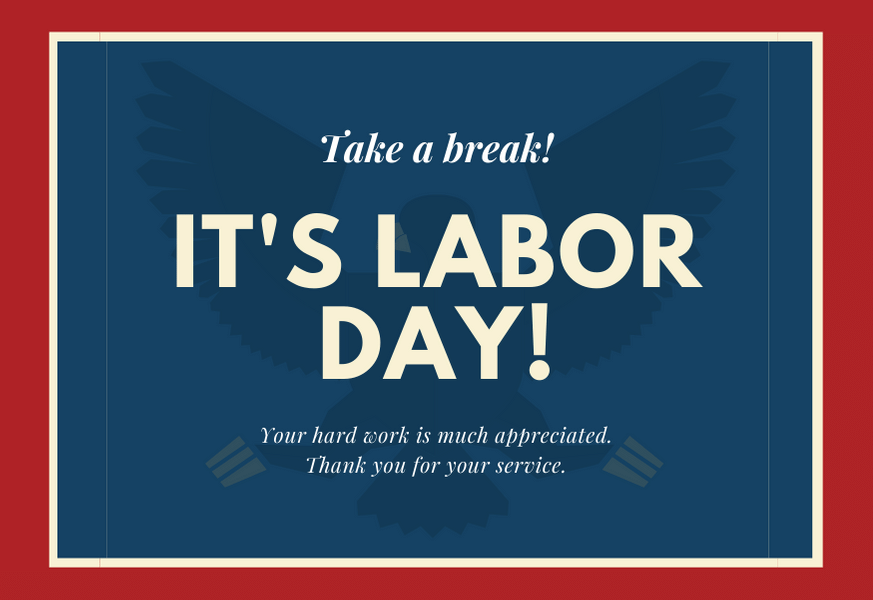 #5 I'd wish you a Happy Labor Day, but I know how you're going to be spending the weekend. So, instead, I'll wish you a happy "recovering from the weekend" day. Stay as healthy as possible!
#6 Is it true that mothers who give birth on Labor Day get presents every year on the day the holiday rolls around? If it's not, it should be. Happy Labor Day!
#7 Happy Labor Day! Only people who work as hard and as much as you do can relate to what a day off means. Enjoy the time to create fond memories over your long weekend.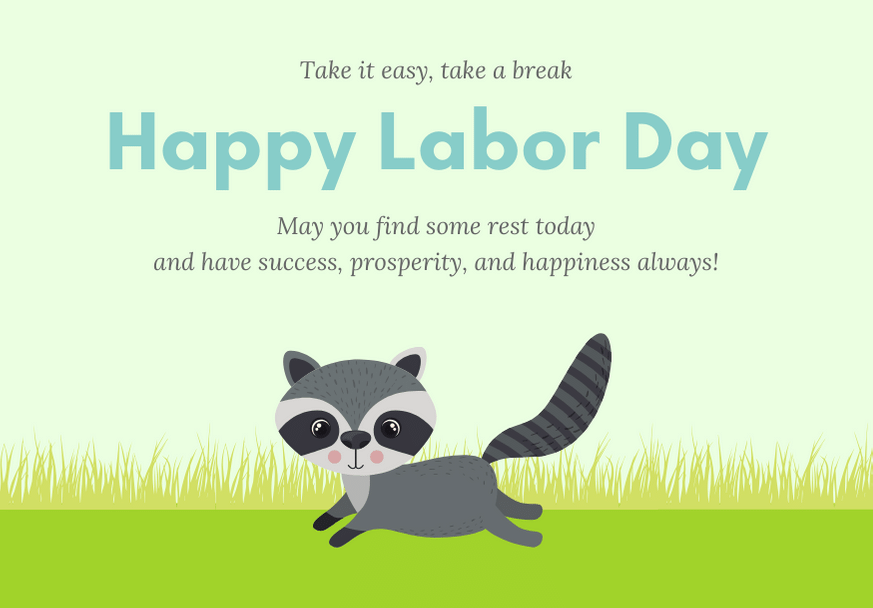 #8 I find it incredible that the person who created Labor Day didn't know you. You're the hardest working person I know and deserve every second of the holiday. Rest up this Labor Day weekend!
#9 For some of us, Labor Day means far more than just a day off from work. It means a chance to reconnect with family and friends. Get reconnected and have a Happy Labor Day!
#10 The worst part of the three-day weekend is the fourth morning, so enjoy it while it lasts! Have an outstanding Labor Day weekend!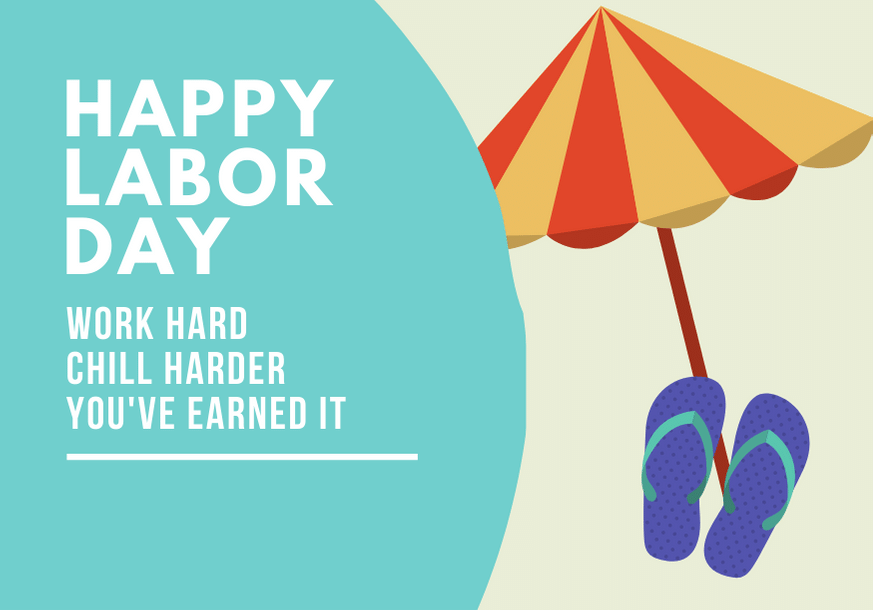 #11 Labor Day is one of the few times each year that we can take Monday off without calling in sick. Feel like a boss this weekend and have a Happy Labor Day!
#12 Labor Day is for people like you who work all week, every week, and still find a way to make time for the rest of your family. Hats off to you and I hope you relax this long weekend!
#13 I hope all of that rest you get at work will be enough to get you through the long weekend. Just kidding. Have a great Labor Day!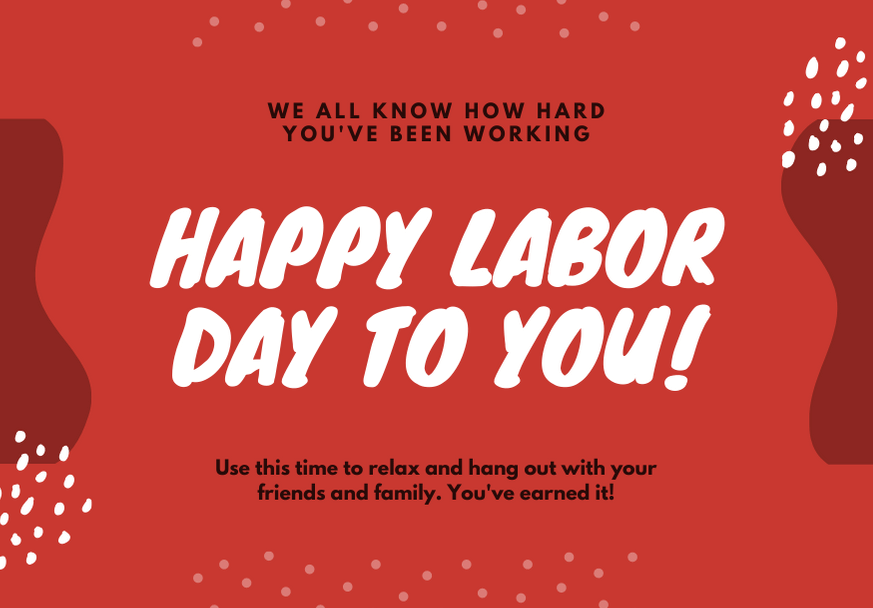 #14 Happy Labor Day! Some people don't want to slow down and take a day off from work. Others don't want to go back to work when the long weekend is over. I know you're the former not the latter, so despite your drive to succeed, take your well-deserved break!
#15 As summertime comes to a close and Labor Day weekend comes ever closer, do the best you can to leave work at work, and enjoy the weather while it lasts over your long weekend. Happy Labor Day!
#16 Happy Labor Day! You're out dealing with this cruel world day in, day out, and take it like a champ. Let work's burdens roll off your shoulders this Labor Day weekend, and take time to get some rest. Here's to some much-needed rest and relaxation!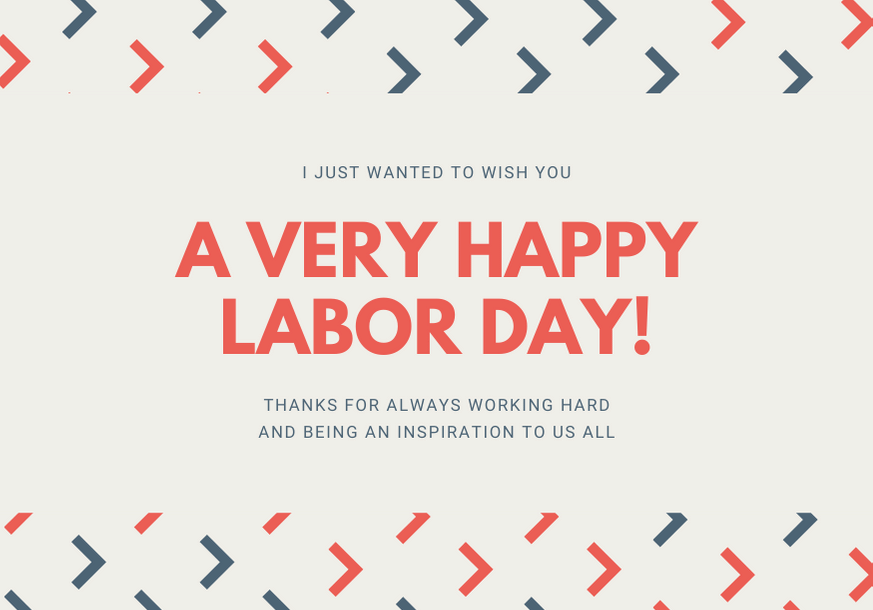 #17 What's one day off to someone who works all week every week? A relief! Use your Labor Day to recharge your batteries and spend time with those you love. Happy Labor Day!
#18 Labor Day doesn't mean you work in the yard all day! Take a break and smell the roses for a little while. Have a happy and refreshing Labor Day weekend!
#19 Some people don't take Labor Day too seriously and find it to be a forgettable holiday. Must be from all the drinking. Try not to be one of those people, but have a good time this Labor Day weekend!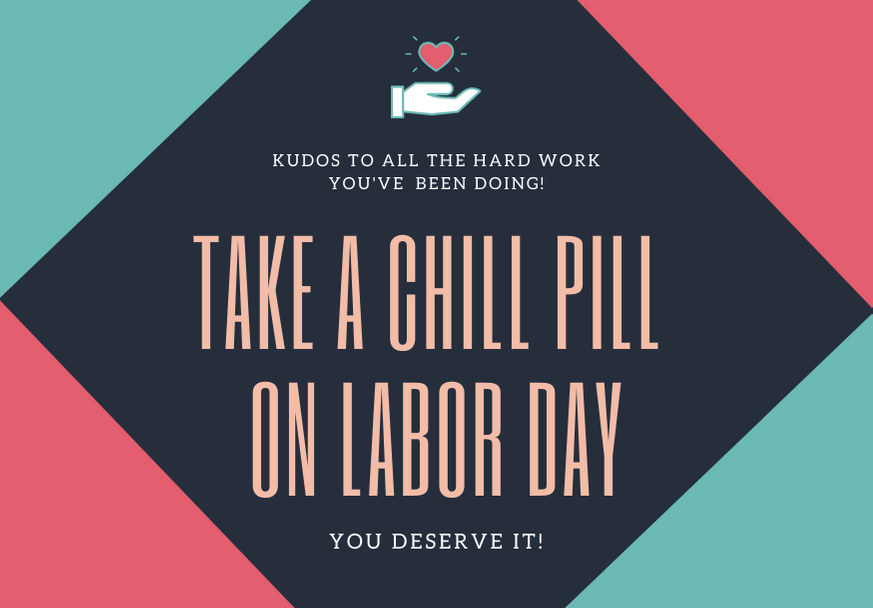 #20 Happy Labor Day! You're used to working overtime whenever it presents itself. Well, due to the holiday, it looks like you'll be doing some overtime at home – have some fun with it while it lasts!
#21 Thank you for all of the hard work you do on the job and for this family. Few understand how loyal you are to all that you do, as much as I. Happy Labor Day!
#22 Happy Labor Day! You provide for your family, and it shows. Through the grind and effort, you push on without hesitation. Take this Labor Day weekend to enjoy the fruit of your labor.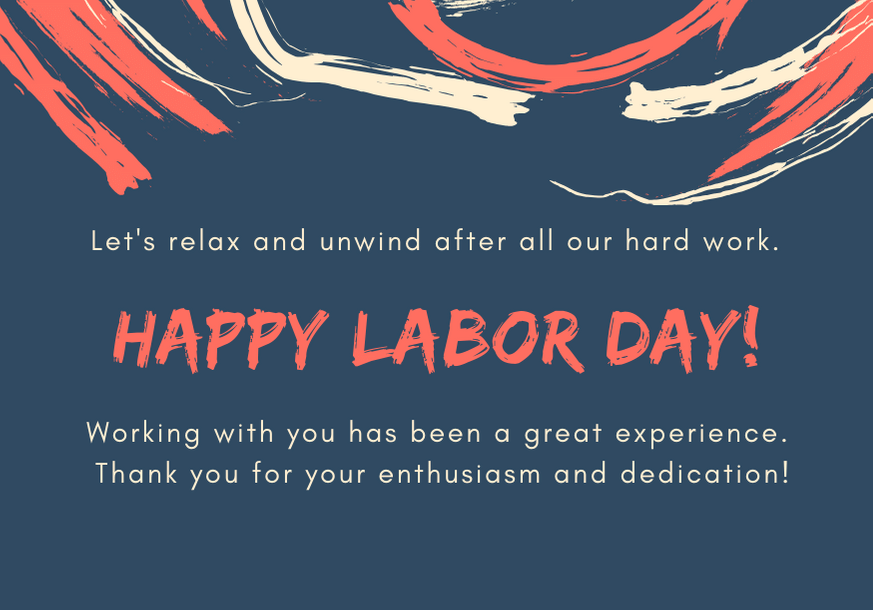 #23 During Labor Day, I hope that you allow yourself to breathe. Sure, it's an excellent opportunity to get busy around the house – but all that stuff will be around regardless. Take a break and enjoy yourself. Happy Labor Day!
#24 Happy Labor Day! May you come out of the Labor Day weekend feeling refreshed, relaxed, and revitalized, ready to conquer life and work till the next long weekend!
#25 Though we'll be spending Labor Day apart from one another, please know I'll be thinking of you constantly, and hope for the time we'll be seeing each other again. Happy Labor Day!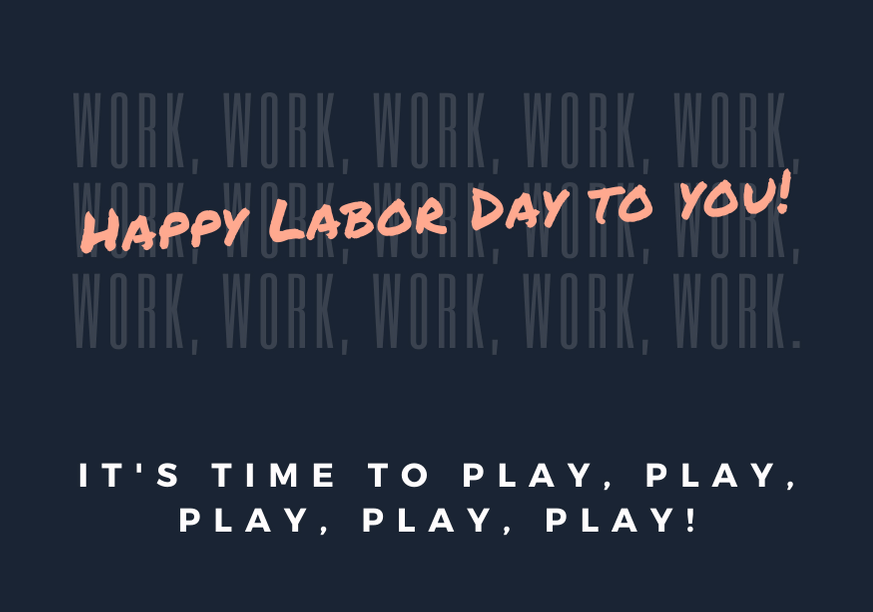 #26 You're hard-working, diligent, responsible, and reliable. You may not understand how much of an impact you make on those around you, but that's because you're humble as well. Enjoy your holiday weekend to the best of your ability!
#27 Happy Labor Day! You've earned it! Enjoy the barbeques, the weather, and the time off. Give yourself a long weekend and leave work at work!
#28 With the long weekend ahead of you, it's good that you've been given the extra day to knock some items off of that honey-do list! Happy Labor Day!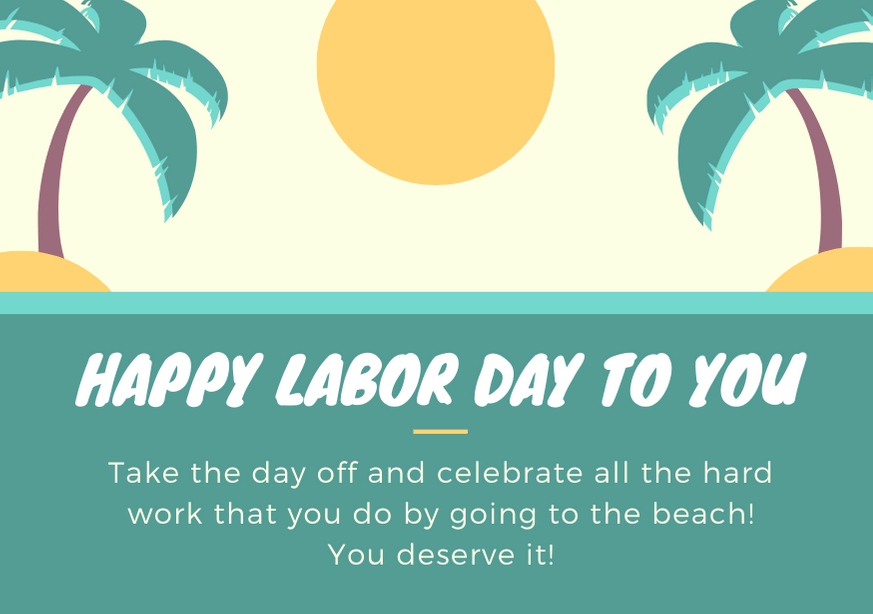 #29 Happy Labor Day! You use your hands to get things done, and mouth to communicate with your colleagues. Over this holiday weekend, restructure these talents to cook, eat, and enjoy the best barbecue you can muster!
#30 You've killed yourself to make a living all year long. If anyone deserves a day off, it's you. Have a Happy Labor Day and please relax and treat yourself!
#31 Have a staycation at home and enjoy some fun with your kids. This might not be the biggest holiday of the year, but you can make it just as memorable. Have a Happy Labor Day!
#32 Happy Labor Day to you and yours! You both work so hard every day. I hope you can carve out some time to just relax this weekend!
#33 Fire up the barbeque and get the music playing! Enjoy the last days of summertime and have a great Labor Day weekend!
#34 Labor Day is the last hurrah for the summer. A time where people squeeze in pool parties and enjoy the outdoors while the weather is still beautiful. Make the most out of this Labor Day!
#35 Happy Labor Day! Sit back, kick your feet up, and spend the time relaxing. You work hard and deserve the rest and relaxation!
#36 At work, you may feel under-compensated, unappreciated, and underrated – but not here. At home, we appreciate you, love you, and enjoy the time we get to spend with you.
#37 I've been watching and wanted to let you know that few deserve to have a rest from their work as much as you. Happy Labor Day weekend. I hope you take some time to treat yourself and do what you love best!
#38 Labor Day weekend only comes by once a year. Use this time to reflect on your accomplishments and prepare for what's coming in the future. Happy Labor Day!
#39 You work your fingers to the bone and don't complain. As far as I'm concerned, Labor Day is for you. Relax and enjoy the weekend! Happy Labor Day!
#40 Happy Labor Day! If it's true that hard work reaps satisfaction, I'm confident that you'll rest satisfied over the three-day weekend!
The Most Famous Quotes to Include with Your Happy Labor Day Message
"There is no wisdom without leisure."
W.B. Yeats
"To keep the body in good health is a duty, otherwise we shall not be able to keep our mind strong and clear."
Buddha
"I learned the value of hard work by working hard."
Margaret Mead
"Turn off your mind, relax, and float downstream."
John Lennon
"Satisfaction lies in the effort, not in the attainment."
Mahatma Gandhi
"Let your body be your holy temple."
Lailah Gifty Akita
"Without labor, nothing prospers."
Sophocles
"Obstacles can't stop you. Problems can't stop you. Most of all, other people can't stop you. Only you can stop you."
Jeffrey Gitomer
"Nature does not hurry, yet everything is accomplished."
Lao Tzu
"You are your greatest asset. Put your time, effort and money into training."
Tom Hopkins
"Self-care is how you take your power back."
Lalah Delia
"The difference between ordinary and extraordinary is that little extra."
Jimmy Johnson
"The first wealth is health."
Ralph Waldo Emerson
"Health is the greatest gift, contentment the greatest wealth, faithfulness the best relationship."
Buddha
"Work hard, have fun, make history."
Jeff Bezos
"The preservation of health is easier than the cure of the disease."
B.J. Palmer
"The only place where success comes before work is in the dictionary."
Vidal Sassoon
"Diamonds are nothing more than chunks of coal that stuck to their jobs."
Malcolm Forbes
"The harder the battle, the sweeter the victory."
Les Brown
"When you do more than you're paid for, eventually you'll be paid for more than you do."
Zig Ziglar
"Sometimes, the most productive thing that you can do is to step outside and do nothing…relax and enjoy nature."
Melanie Charlene
"I have come to believe that caring for myself is not self-indulgent. Caring for myself is an act of survival."
Audre Lorde
"Relaxation means releasing all concern and tension and letting the natural order of life flow through one's being."
Donald Curtis
"Life without endeavor is like entering a jewel mine and coming out with empty hands."
Japanese Proverb
"Hard work beats talent if talent doesn't work hard."
Tim Notke
"Chop your own wood and it will warm you twice."
Henry Ford
"He enjoys true leisure who has time to improve his soul's estate."
Henry David Thoreau
"Luck is a dividend of sweat. The more you sweat, the luckier you get."
Ray Kroc
"Every now and then, go away, have a little relaxation, for when you come back to your work your judgment will be surer."
Leonardo da Vinci
"If by gaining knowledge we destroy our health, we labor for a thing that will be useless in our hands."
John Locke
"I'm a great believer in luck, and I find the harder I work, the more I have of it."
Thomas Jefferson
"Caring for your body, mind, and spirit is your greatest and grandest responsibility. It's about listening to the needs of your soul and then honoring them."
Kristi Ling
"Take a deep breath. Inhale peace. Exhale happiness."
A.D. Posey
"It's not about money or connection — it's the willingness to outwork and outlearn everyone."
Mark Cuban
"So many people spend their health gaining wealth, and then have to spend their wealth to regain their health."
A.J. Reb Materi
"A dream does not become reality through magic; it takes sweat, determination, and hard work."
Colin Powell
"Perseverance is the hard work you do after you get tired of doing the hard work you already did."
Newt Gingrich
"I can say the willingness to get dirty has always defined us as a nation, and it's a hallmark of hard work and a hallmark of fun, and dirt is not the enemy."
Mike Rowe
"There is no time for cut-and-dried monotony. There is time for work. And time for love. That leaves no other time."
Coco Chanel
"Within you there is a stillness and a sanctuary to which you can retreat at any time and be yourself."
Hermann Hesse
"Learn to relax. Your body is precious, as it houses your mind and spirit. Inner peace begins with a relaxed body."
Norman Vincent Peale
"There are no traffic jams on the extra mile."
Zig Ziglar
"Success seems to be connected with action. Successful people keep moving. They make mistakes, but they don't quit."
Conrad Hilton
"The man who earns a million but destroys his health in the process is not really a success."
Zig Ziglar
"If your compassion does not include yourself, it is incomplete."
Jack Kornfield
"The time to relax is when you don't have time for it."
Sydney Harris
"It's hard to beat a person who never gives up."
Babe Ruth
"It is health that is real wealth and not pieces of gold and silver."
Mahatma Gandhi
"The paradox of relaxation is the renewal of mind; rekindle of spirit and revitalize of strength."
Lailah Gifty Akita
"Rest and self-care are so important. When you take time to replenish your spirit, it allows you to serve others from the overflow. You cannot serve from an empty vessel."
Eleanor Brown
"What is called genius is the abundance of life and health."
Henry David Thoreau
"Sufficient sleep, exercise, healthy food, friendship, and peace of mind are necessities, not luxuries."
Mark Halperin
"Hard work beats talent when talent doesn't work hard."
Tim Tebow
"We need relaxation because we cannot work continuously. Relaxation, then, is not an end; for it is taken for the sake of activity."
Aristotle
"A man is worked upon by what he works on. He may carve out his circumstances, but his circumstances will carve him out as well."
Frederick Douglass
"Calm mind brings inner strength and self-confidence, so that's very important for good health."
Dalai Lama
"I do not know anyone who has got to the top without hard work. That is the recipe. It will not always get you to the top, but should get you pretty near."
Margaret Thatcher
"Three things in life – your health, your mission, and the people you love. That's it."
Naval Ravikant
"If people knew how hard I had to work to gain my mastery, it would not seem so wonderful at all."
Michelangelo
"With every act of self-care, your authentic self gets stronger, and the critical, fearful mind gets weaker. Every act of self-care is a powerful declaration: I am on my side; I am on my side; each day I am more and more on my own side."
Susan Weiss Berry
"Self-care is not a waste of time. Self-care makes your use of time more sustainable."
Jackie Viramontez
"Relax, Recharge and Reflect. Sometimes it's OK to do nothing."
Izey Victoria Odiase
"Keep on going, and the chances are that you will stumble on something, perhaps when you are least expecting it. I never heard of anyone ever stumbling on something sitting down."
Charles F. Kettering
"I've learned that anything in life worth having comes from patience and hard work."
Greg Behrendt
"If I'd known I was going to live this long, I'd have taken better care of myself."
Eubie Blake
"Sometimes the most important thing in a whole day is the rest we take between two deep breaths."
Etty Hillesum
"The three great essentials to achieve anything worthwhile are: Hard work, stick-to-itiveness, and common sense."
Thomas Edison
"Don't underestimate the value of doing nothing, of just going along, listening to all the things you can't hear, and not bothering."
A.A. Milne
"I have learned that success is to be measured not so much by the position that one has reached in life as by the obstacles which he has had to overcome while trying to succeed."
Booker T. Washington
"There will be obstacles. There will be doubters. There will be mistakes. But with hard work, there are no limits."
Michael Phelps
"Take care of your body. It's the only place you have to live."
Jim Rohn
"Nourishing yourself in a way that helps you blossom in the direction you want to go is attainable, and you are worth the effort."
Deborah Day
"Almost everything will work again if you unplug it for a few minutes…Including you."
Anne Lamott
"It takes a lot of unspectacular preparation to have spectacular results in both business and football."
Roger Staubach
"Talent is cheaper than table salt. What separates the talented individual from the successful one is hard work."
Stephen King
"You are a VIP, a very important person so take care with self-care. If not you, who? If not now, when?"
Toni Hawkins
"You don't always need a plan. Sometimes you just need to breathe, trust, let go and see what happens."
Mandy Hale
"How beautiful it is to do nothing, and then to rest afterward."
Spanish Proverb
"Before the reward there must be labor. You plant before you harvest. You sow in tears before you reap joy."
Ralph Ransom
"There are no shortcuts to any place worth going."
Beverly Sills
"On any given Monday I am one sale closer and one idea away from being a millionaire."
Larry D. Turner
"Self-care is a deliberate choice to gift yourself with people, places, things, events, and opportunities that recharge our personal battery and promote whole health—body, mind, and spirit."
Laurie Buchanan, PhD
"The average person puts only 25% of his energy and ability into his work. The world takes off its hat to those who put in more than 50% of their capacity, and stands on its head for those few and far between souls who devote 100%."
Andrew Carnegie
"A sound mind in a sound body, is a short, but full description of a happy state in this world: he that has these two, has little more to wish for; and he that wants either of them, will be little the better for anything else."
John Locke
"If a man is called to be a street sweeper, he should sweep streets even as Michelangelo painted, or Beethoven played music, or Shakespeare wrote poetry. He should sweep streets so well that all the hosts of heaven and earth will pause to say, here lived a great street sweeper who did his job well."
Martin Luther King, Jr.
Please take a moment to pin this post to Pinterest.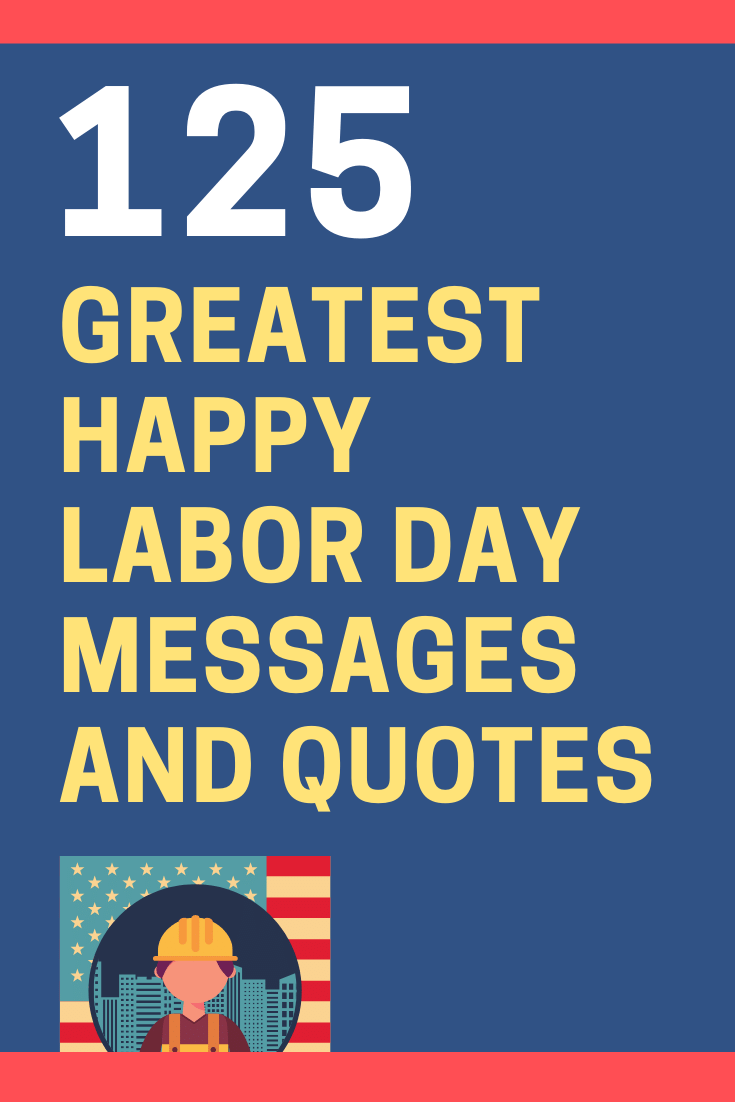 Author Biography
Keith Miller has over 25 years of experience as a CEO and serial entrepreneur. As an entrepreneur, he has founded several multi-million dollar companies. As a writer, Keith's work has been mentioned in CIO Magazine, Workable, BizTech, and The Charlotte Observer. If you have any questions about the content of this blog post, then please
send our content editing team a message here
.
---