Here is a list of 50 memorable Labor Day messages to employees to show them your appreciation of their hard work and dedication to the job.
#1 You have worked so hard and deserve to be praised for your outstanding effort. Let us celebrate your achievements from this past year and look forward with excitement to what we can do together in the coming year! On this day when we celebrate American labor, we celebrate you. Happy Labor Day!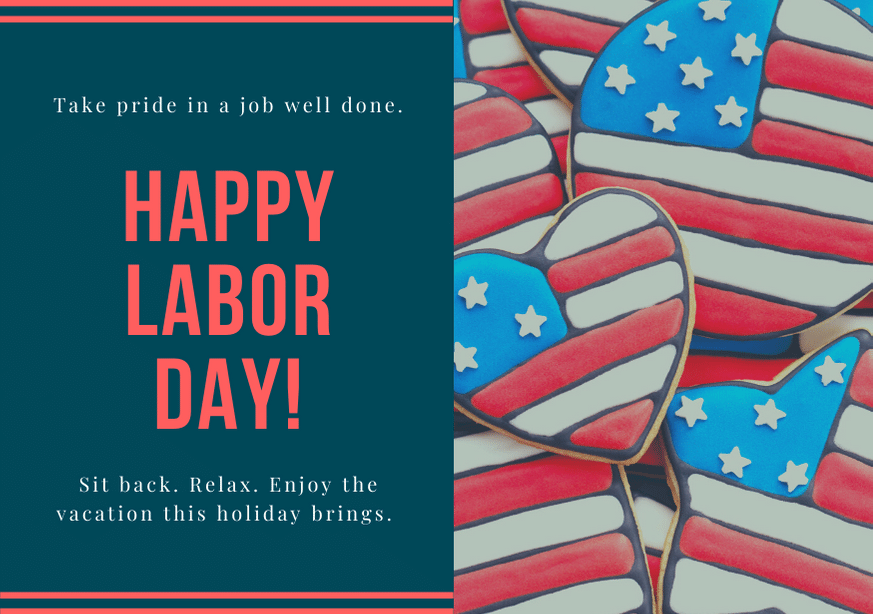 #2 Just like teams are so much more than the sum total of their component parts, this company is more than the sum of its employees. I want to thank you for bringing that unidentifiable quality to our company that allows us to reach the highest heights by working together. Have a great Labor Day!
#3 Labor Day is a reminder of the hard work you have done all year long. It does not go unnoticed. We are tremendously grateful for the rare and highly productive human activity you make happen every workday. The genius of your teamwork is what makes this company what it is. Thank you.
#4 Labor Day is a great opportunity to honor all American workers and show them how appreciated their efforts are. Thank you for your continued outstanding work. Happy Labor Day!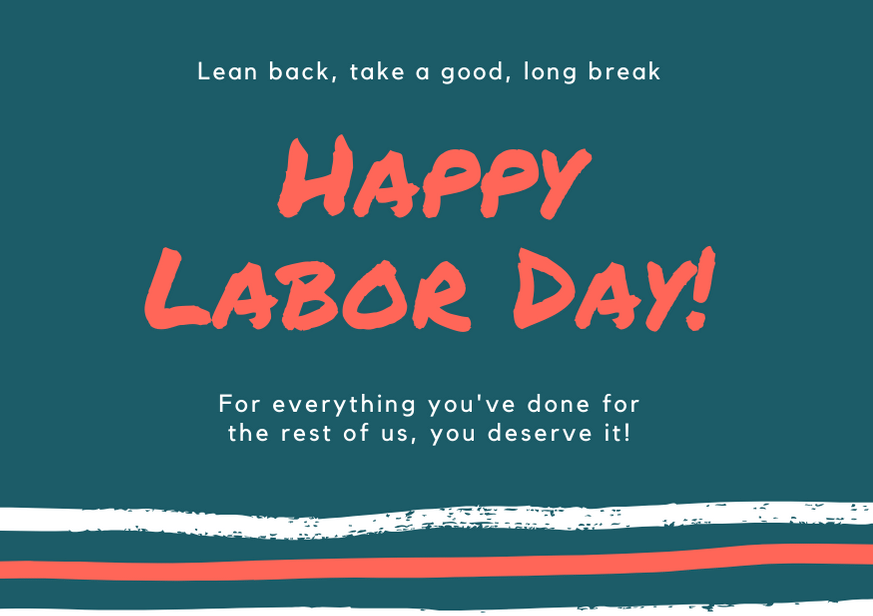 #5 Always know that each one of you is valued for the unique qualities and skills you bring to the team. Our accomplishments over this past year and the progress we have made are because we, collectively, have stood side-by-side each other to make them happen. I thank each of you for being "all in." Get some rest and be safe this Labor Day!
#6 Looking around the office at each one of you makes it clear that we maximize our success when each one of us uses our individual strengths for the collective good. You do that. You back up your team members. You share ideas. You respect each other. Seeing a group of people as dedicated to their work as you guys are makes me proud to be working toward a common goal with you. Thank you for your dedication to our team. Enjoy this Labor Day!
#7 This Labor Day, I hope you all look back over the past year and feel good about all we have done together. Congratulations on your outstanding work and enjoy your well-deserved time off! Let this Labor Day recharge your batteries and come back ready to conquer new heights!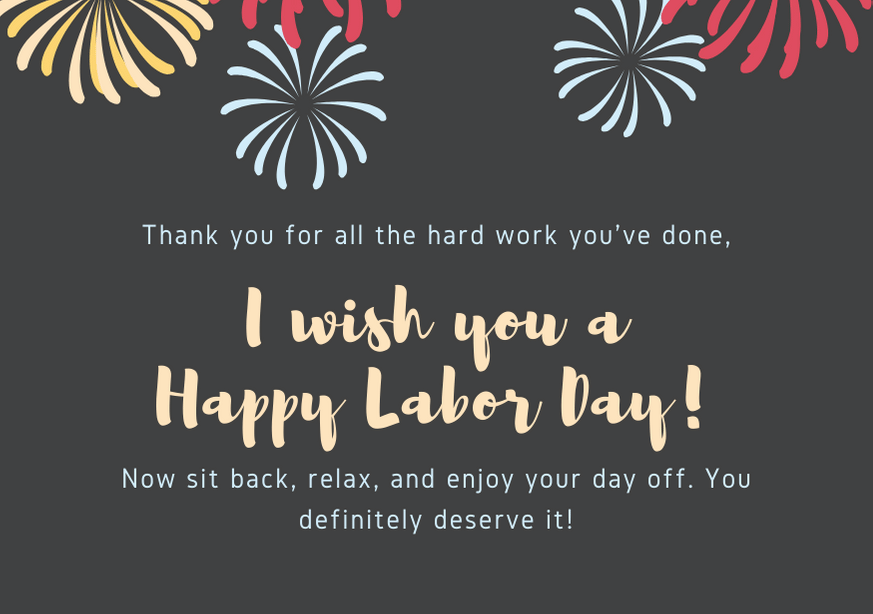 #8 The backbone of any organization is its team. On this Labor Day, let us thank you for putting everything you have into achieving amazing results for our shared purpose and with a shared identity. Have a safe and relaxing time off!
#9 This coming Labor Day weekend is one for you all to enjoy, reflect on the hard work of the Americans who made this country great, and remember all of your well-earned achievements this past year. Rest, enjoy time with friends and family, and I look forward to greater things ahead for all of us, as a team. Have a great long weekend!
#10 Each of your individual commitments to the collective team is what makes you great, and this company great. We are grateful to each of you for working hard, sharing ideas, creating a culture of respect, and for being driven to achieve continued success for our company. Thank you for a job well done and Happy Labor Day!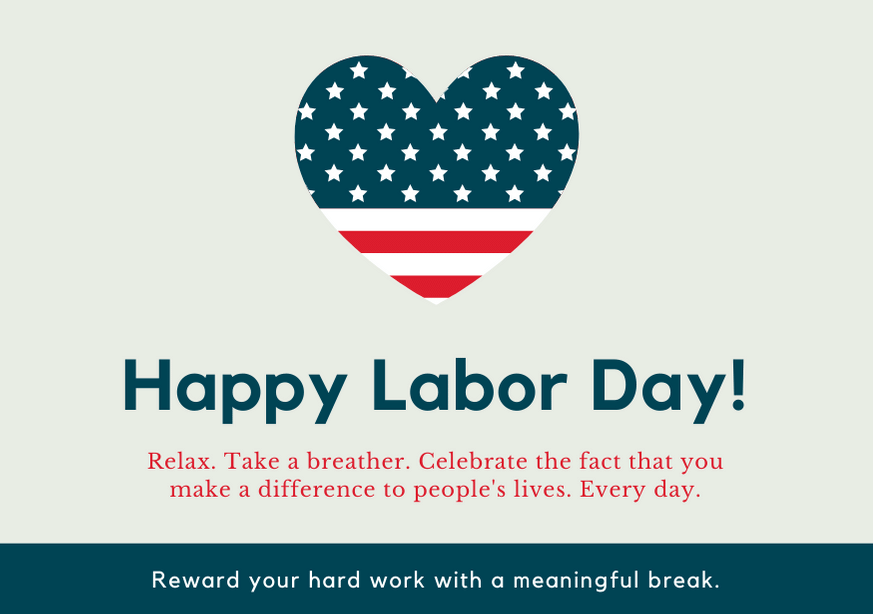 #11 On this annual time of the year to celebrate the achievements and spirit of the American worker, I want to thank you for your hard work all year long. It is because of you that we have made progress this year, and not a day goes by that you aren't deeply appreciated. Enjoy some well-earned time off this Labor Day!
#12 Professionalism + creativity = outstanding results. Your performance and contributions this past year are something I hope you all are very proud of. Work ethic from people like you is what makes this country great. This Labor Day, all the praise goes to you.
#13 It shouldn't require a special occasion to praise someone's hard work, and so on this Labor Day, it is vital that you know that it is your talent, your teamwork, your drive, and your commitment that make this company what it is. The company is you. Thank you for your amazing efforts and please enjoy Labor Day with your families.
#14 Americans have been officially celebrating Labor Day as a nation since it was signed into federal law in 1894. This Labor Day, I hope you proudly celebrate how far we have come as a country, and your own professional and personal achievements. I commend you for your sense of responsibility to your team here, your dedication, and your professionalism. Have a great Labor Day weekend!
#15 On the eve of Labor Day weekend, it's a good time to take stock of all you have accomplished this past year. Some of them have been immediately obvious, and others have taken time to fully blossom. As we approach the last quarter of the year and begin to plan for next year, I hope you appreciate what a great job you have done over the last 12 months. Thank you a thousand times and have a great Labor Day weekend!
#16 Today, we celebrate our phenomenal team members. If we achieve anything, it's because of the passion and dedication shared by everyone here to a common cause, with us all rowing in the same direction. Thank you all for your sacrifices and valuable contributions all year long. Have some well-deserved time off this Labor Day!
#17 Today, let's celebrate those who make our team a team. Each one of you deserves to be praised for your special talents. You are what makes our success. Thank you, and Happy Labor Day.
#18 It is your effort every day that propels this company forward. Let's celebrate a job well done this Labor Day. Be proud of all you have accomplished this past year as you enjoy the long weekend!
#19 No machine could work without each and every one of its gears in place. This Labor Day, we celebrate each irreplaceable gear that makes our progress possible. Thank you for all your hard work and dedication. Stay safe and enjoy!
#20 They say it's ideal when your coworkers become your family. This Labor Day, I want you to know that I'm proud to call us a team and a family. Thank you for your extraordinary effort this past year and your outstanding teamwork. Have fun this weekend!
#21 Labor Day is the perfect time to show gratitude for the incredible job you do every day. Please know that your efforts are always noticed and appreciated. Keep up the great work!
#22 Everything we achieve here depends on your intellect and commitment. I'm honored to be working with such a capable crew of professionals. You deserve all the praise this Labor Day. Enjoy your time off!
#23 This Labor Day, I want to say how much I appreciate the effort you all have put into your work. I hope it brings you as much satisfaction as it does me. Let's conquer this industry together!
#24 With your professionalism and engagement, there's nothing we can't achieve together. Let me take this Labor Day to thank you for the incredible results you've attained this past year. I hope you all take some time to relax, recharge, and enjoy the long weekend with your families.
#25 Hard work like yours should always be praised. In advance of Labor Day, I want to commend you on your achievements and thank you for all you have done for this team this past year. Have a great Labor Day.
#26 With Labor Day approaching us, I think it is important that each of you reflect on your successes this past year. We have made tremendous progress as a team and learned a lot. We have made a difference. I am honored to be working with you and I share my gratitude for your efforts. I hope you all enjoy the long weekend!
#27 We appreciate your hard work and know that no car can run forever without fuel. Take some well-earned time off to recharge your batteries, and happy Labor Day weekend!
#28 Thank you for using your amazing talent and limitless energy to progress our shared goals. This company would not be where it is without your committed and focused effort. Happy Labor Day to the best team!
#29 Not only do we celebrate Labor Day this coming weekend, but we also celebrate you. Each and every one of you has brought something special to the table and ensured our success. Thank you so much.
#30 On Labor Day, we salute our employees. Your contribution to the success of this company is hard to overestimate, and we thank you for your efforts. Happy Labor Day.
The Most Famous Quotes to Include with Your Happy Labor Day Message to Your Employees
"Alone we can do so little; together we can do so much."
Helen Keller
"The price of success is hard work, dedication to the job at hand, and the determination that whether we win or lose, we have applied the best of ourselves to the task at hand."
Vince Lombardi
"I know the price of success: dedication, hard work and an unremitting devotion to the things you want to see happen."
Frank Lloyd Wright
"Great teamwork is the only way we create the breakthroughs that define our careers."
Pat Riley
"Coming together is a beginning, staying together is progress, and working together is success."
Henry Ford
"Great things in business are never done by one person; they're done by a team of people."
Steve Jobs
"Teamwork is the ability to work together toward a common vision. The ability to direct individual accomplishments toward organizational objectives. It is the fuel that allows common people to attain uncommon results."
Andrew Carnegie
"Doing the best at this moment puts you in the best place for the next moment."
Oprah Winfrey
"In the end, all business operation can be reduced to three words: people, products, and profits. Unless you've got a good team, you can't do much with the other two."
Lee Iacocca
"Talent wins games, but teamwork and intelligence win championships."
Michael Jordan
The Best Bible Verses to Include with Your Happy Labor Day Message to Your Employees
Psalm 128:2
You will eat the fruit of your labor; blessings and prosperity will be yours.
Matthew 11:28-30
Come to me, all who labor and are heavy laden, and I will give you rest. Take my yoke upon you, and learn from me, for I am gentle and lowly in heart, and you will find rest for your souls. For my yoke is easy, and my burden is light.
Matthew 6:28
And why do you worry about clothes? See how the flowers of the field grow. They do not labor or spin.
Philippians 4:13
I can do all things through him who strengthens me.
Proverbs 16:3
Commit your work to the Lord, and your plans will be established.
Proverbs 12:24
The hand of the diligent will rule, while the slothful will be put to forced labor.
Mark 6:31
And he said to them, "Come away by yourselves to a desolate place and rest a while." For many were coming and going, and they had no leisure even to eat.
Exodus 33:14
The Lord replied, "My Presence will go with you, and I will give you rest."
1 Timothy 4:10
That is why we labor and strive, because we have put our hope in the living God, who is the Savior of all people, and especially of those who believe.
Ecclesiastes 3:22
So I saw that there is nothing better for a person than to enjoy their work, because that is their lot. For who can bring them to see what will happen after them?
Please take a moment to pin this post to Pinterest.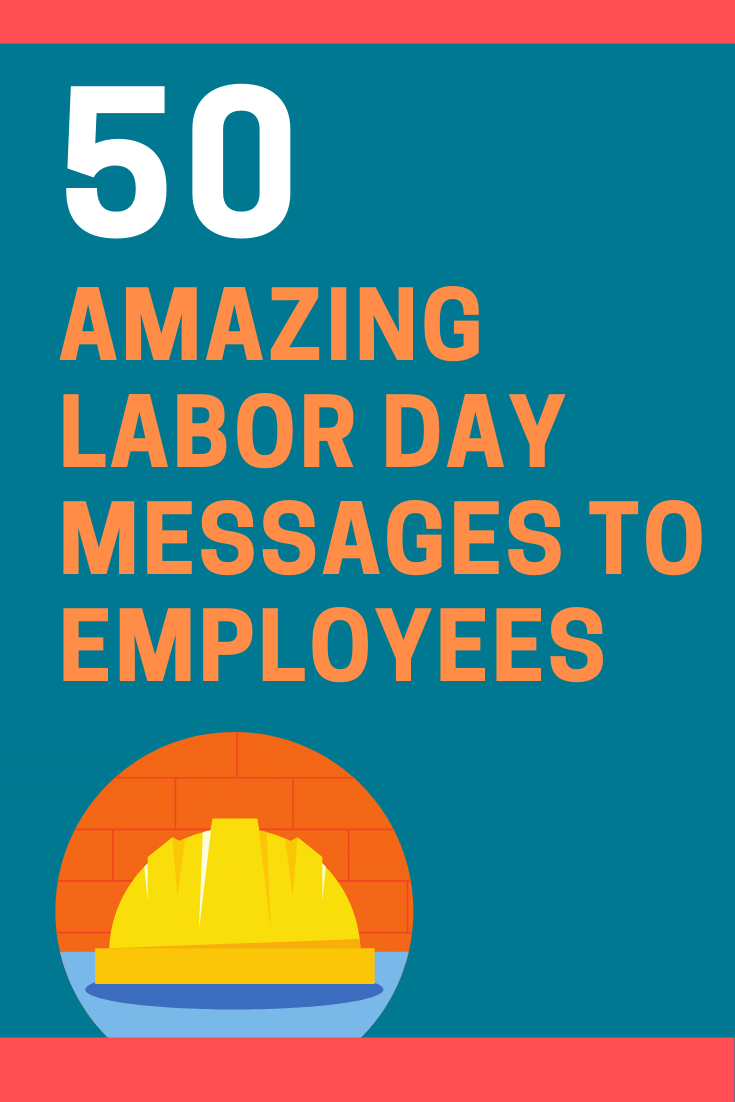 Author Biography
Keith Miller has over 25 years of experience as a CEO and serial entrepreneur. As an entrepreneur, he has founded several multi-million dollar companies. As a writer, Keith's work has been mentioned in CIO Magazine, Workable, BizTech, and The Charlotte Observer. If you have any questions about the content of this blog post, then please
send our content editing team a message here
.
---