Here are the 125 greatest short quotes about moving on and letting go.
"I welcomed who I was and left behind who I was not."
David Elliott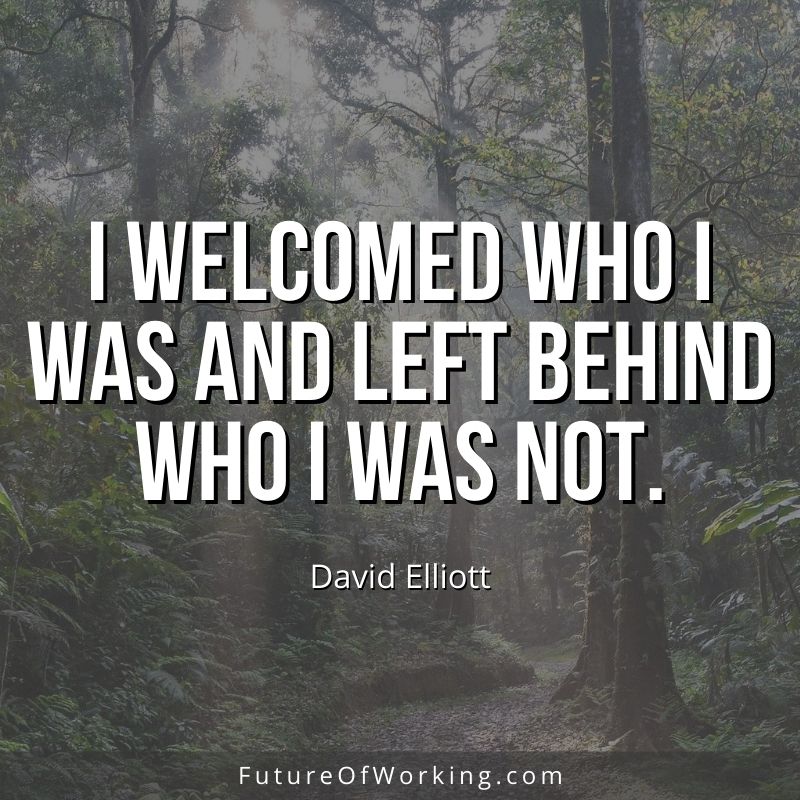 "Let go or be dragged."
Zen Proverb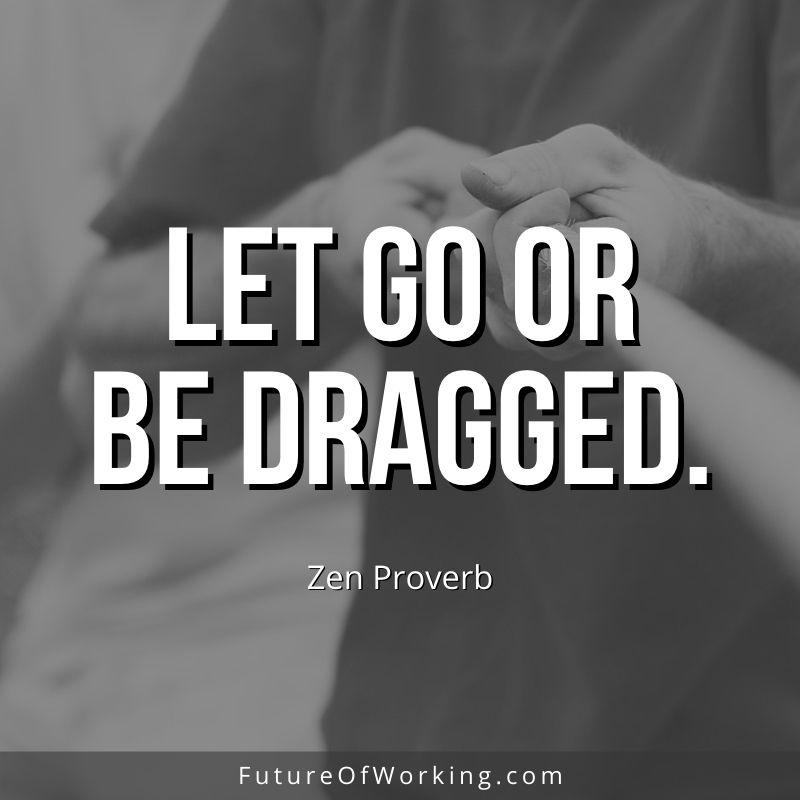 "I won't let the sun go down on Me."
Nik Kershaw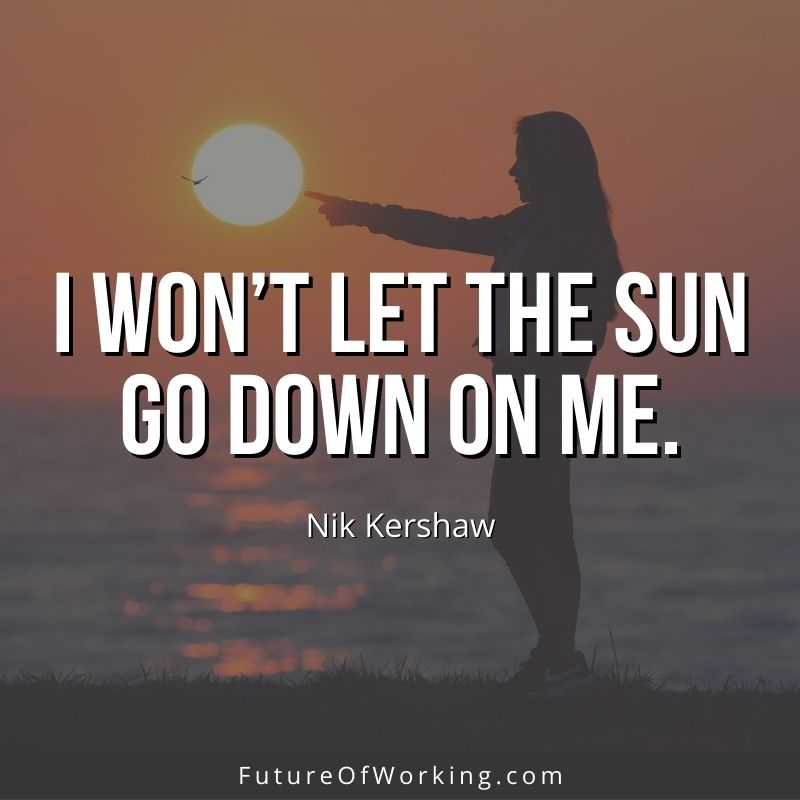 "Even a rock moves on."
Anthony Liccione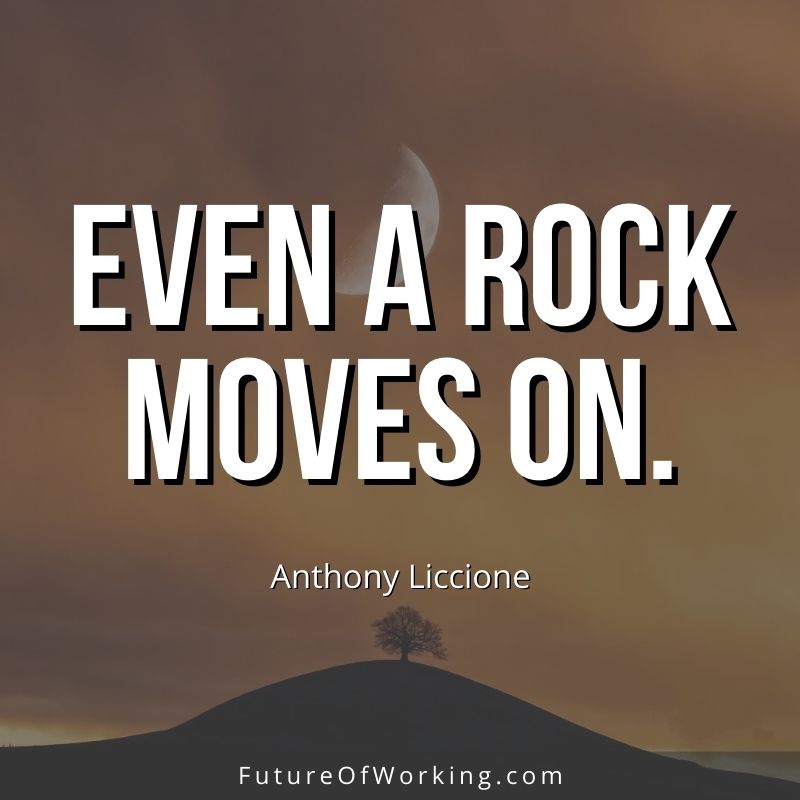 "Your past does not equal your future."
Anthony Robbins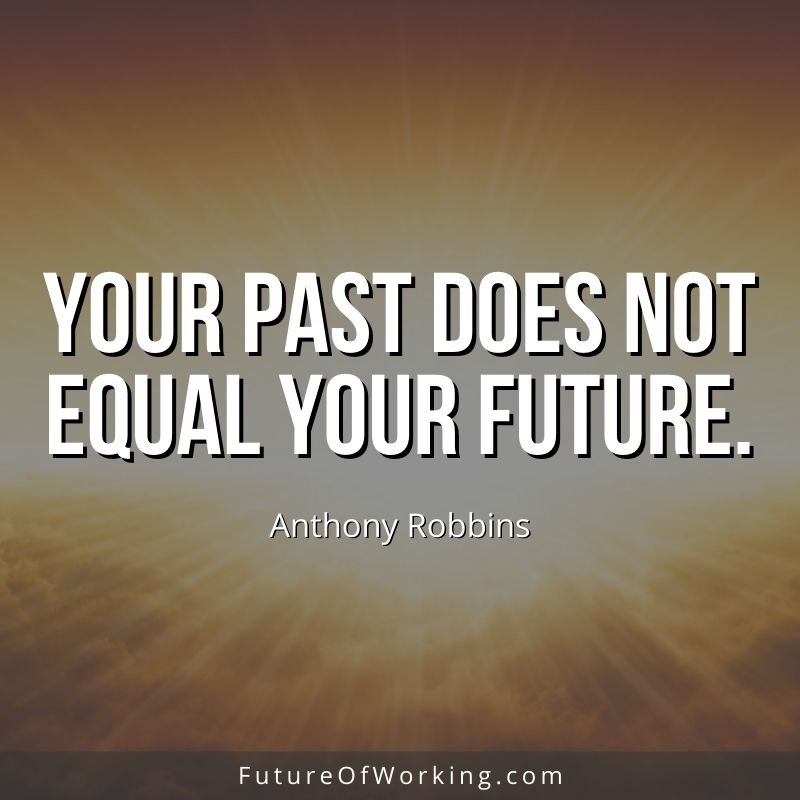 "You are hatching from the past."
Simon Van Booy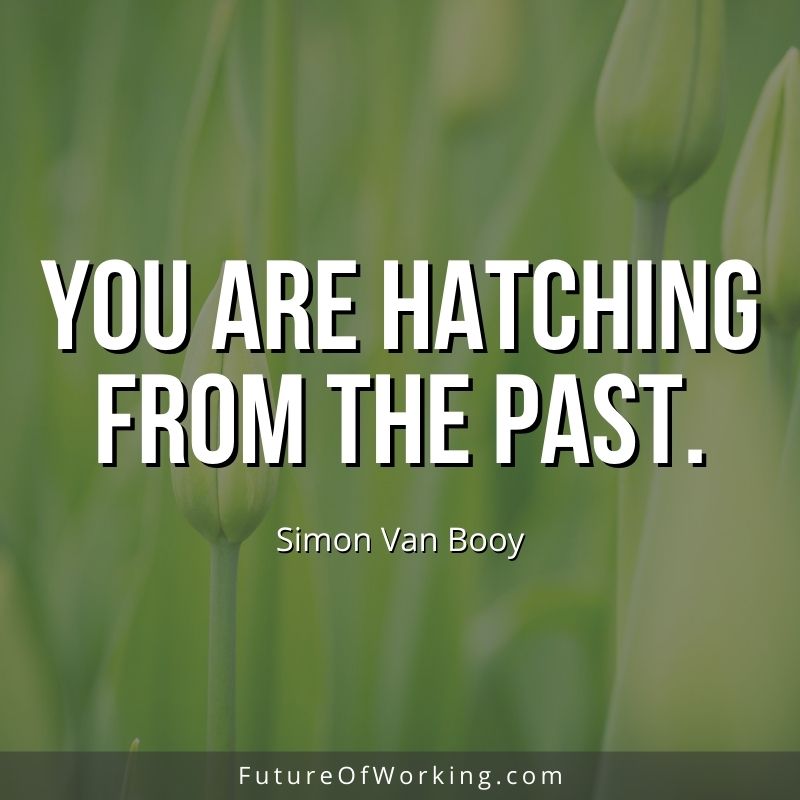 "If I look back I am lost."
George R.R. Martin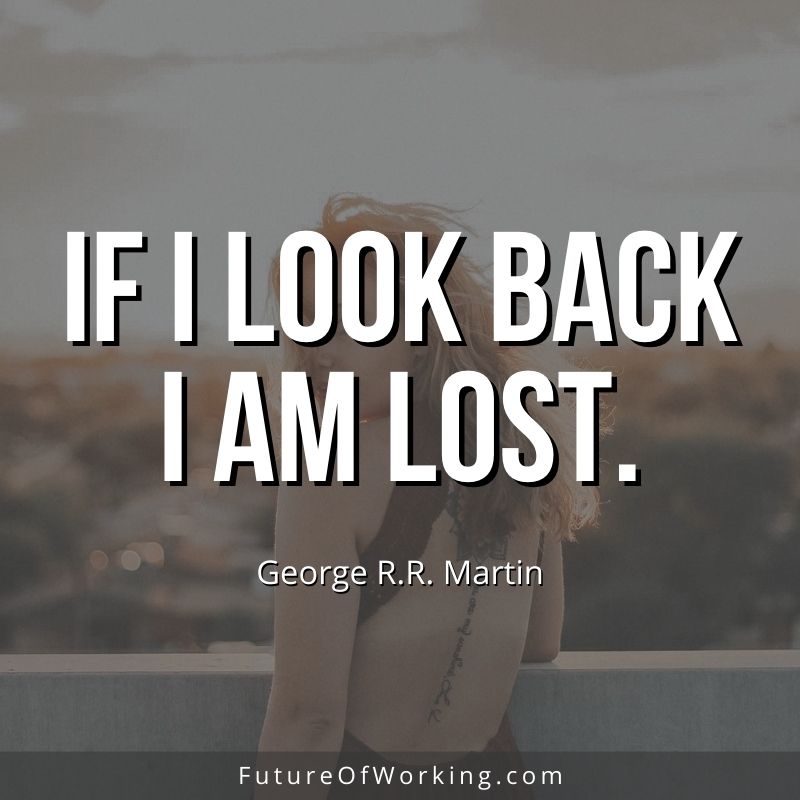 "Those who do not move, do not notice their chains."
Rosa Luxemburg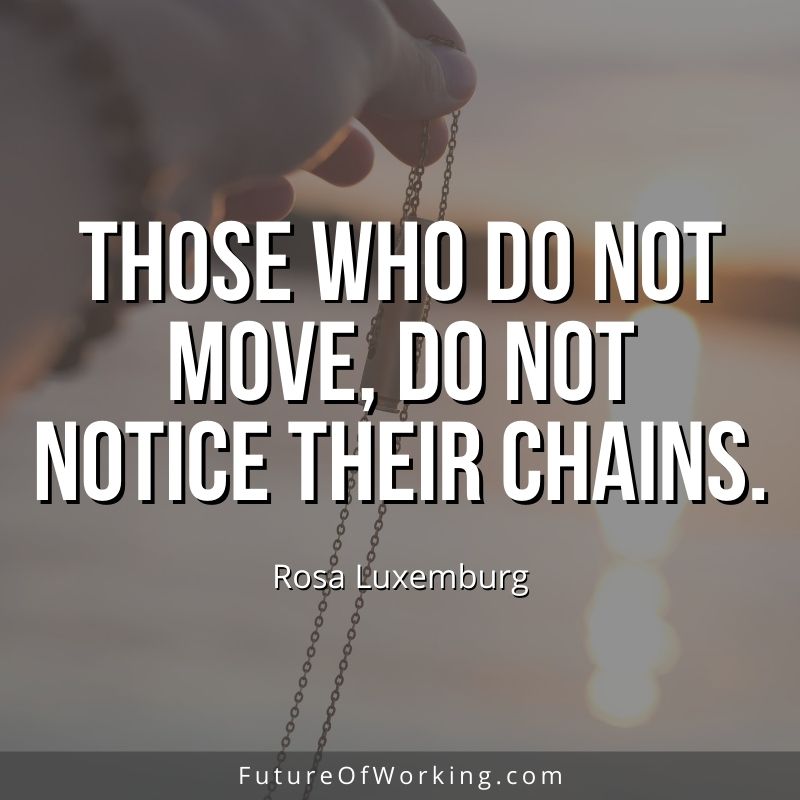 "Change has to come for life to struggle forward."
Helen Hollick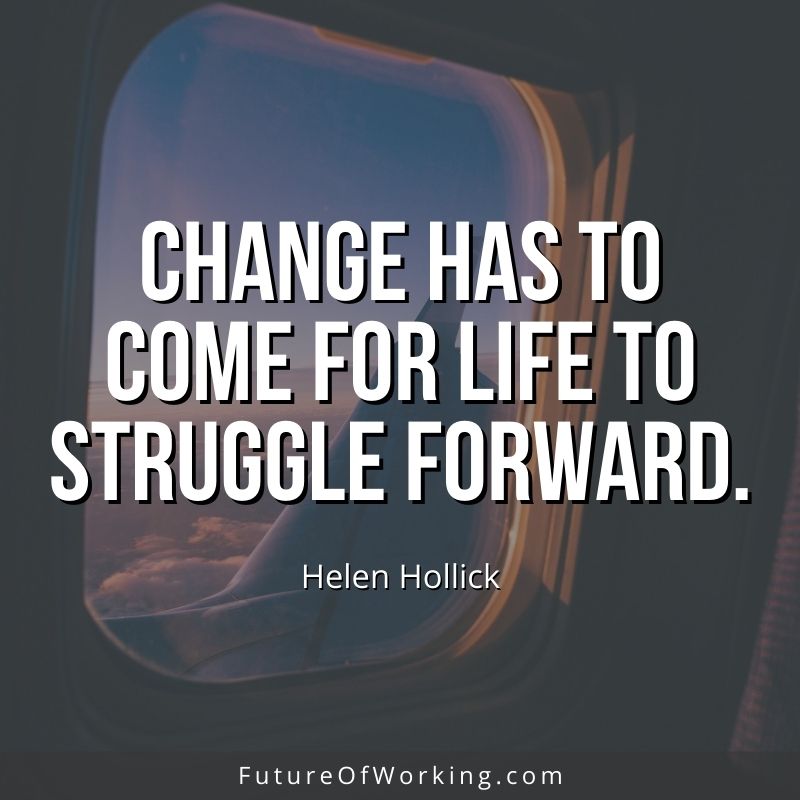 "Don't go through life; grow through life."
Eric Butterworth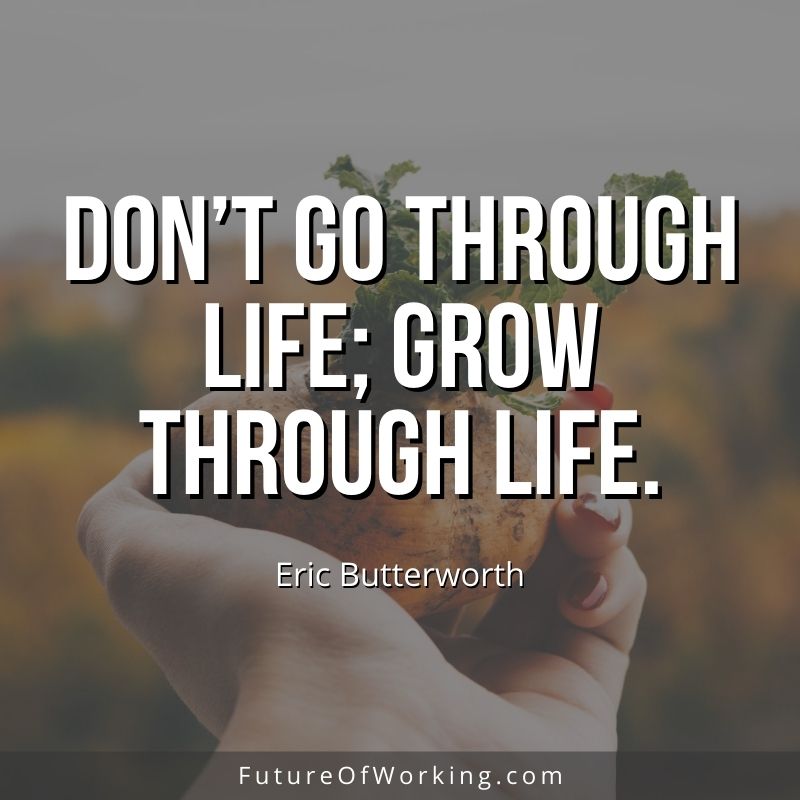 "Letting go is also a matter of self-worth."
Efrat Cybulkiewicz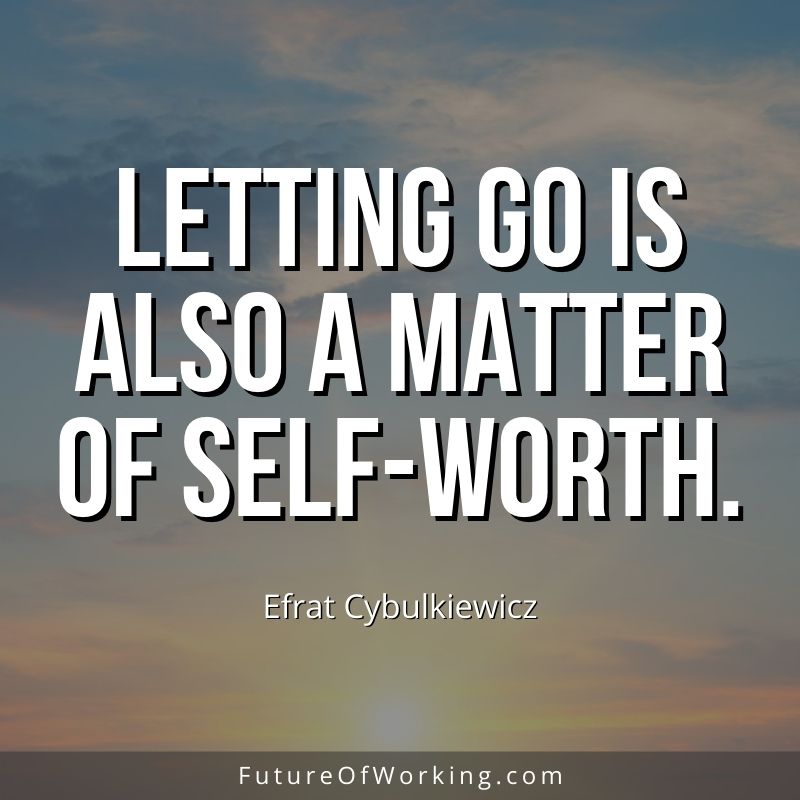 "Another sunrise, another new beginning."
Jonathan Lockwood Huie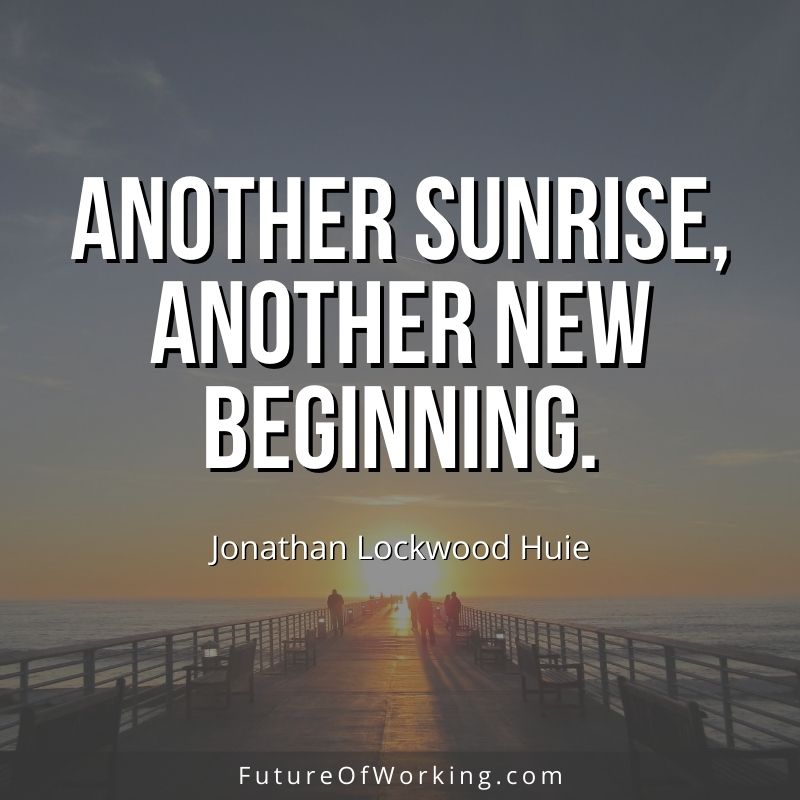 "Pain will leave you, when you let go."
Jeremy Aldana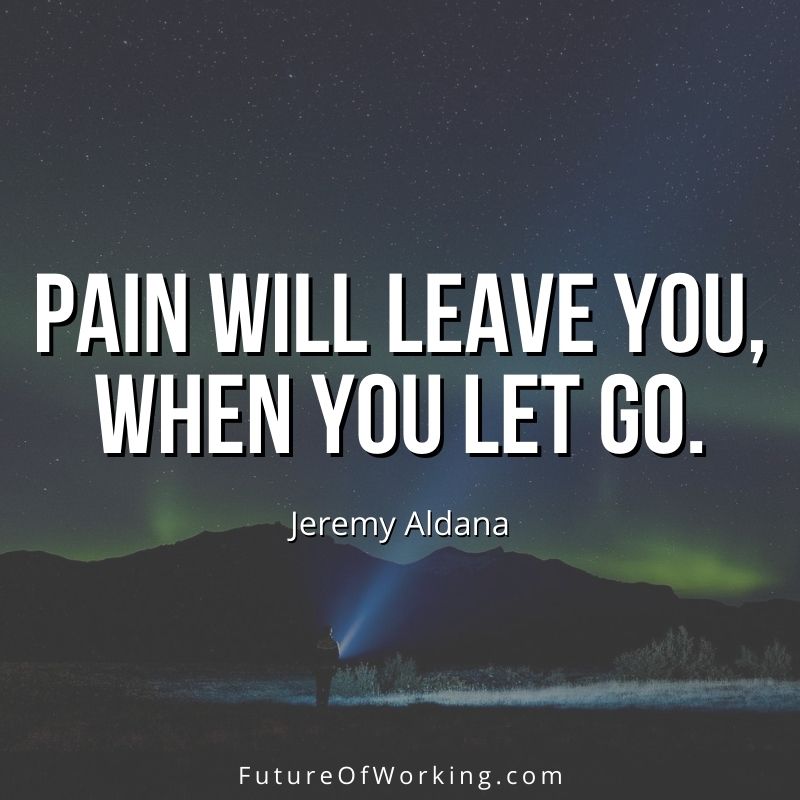 "I gather strength from life's storms."
Jonathan Lockwood Huie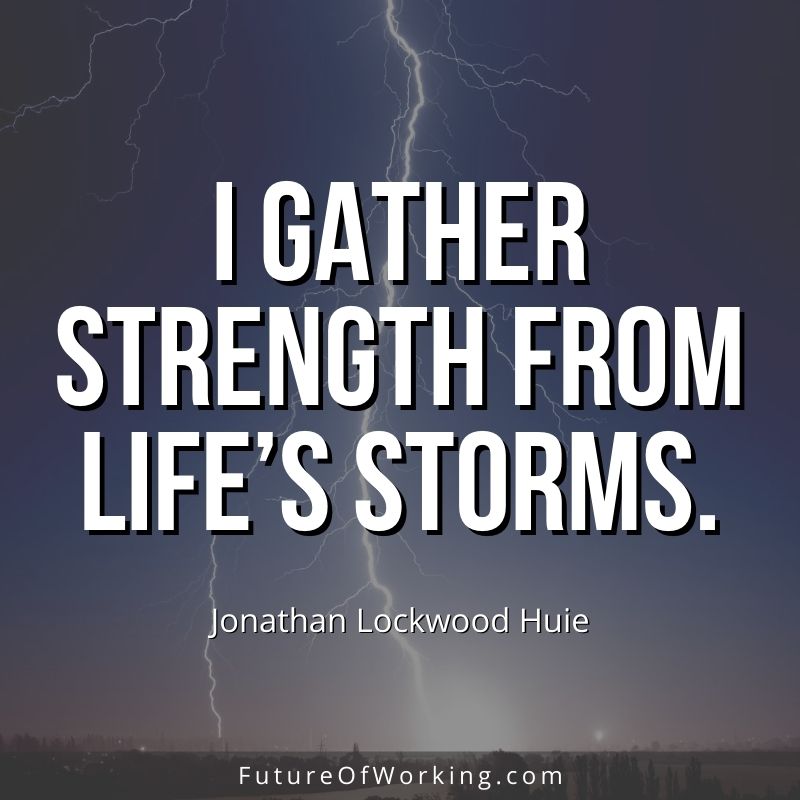 "Don't cry because it's over, smile because it happened."
Dr. Seuss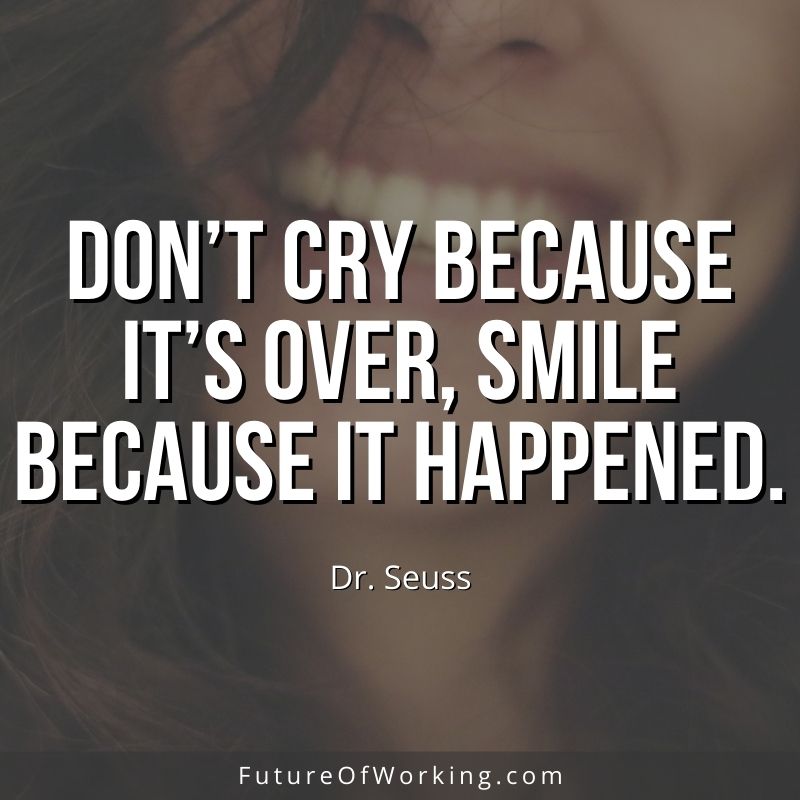 "If you're going through hell, keep going."
Winston Churchill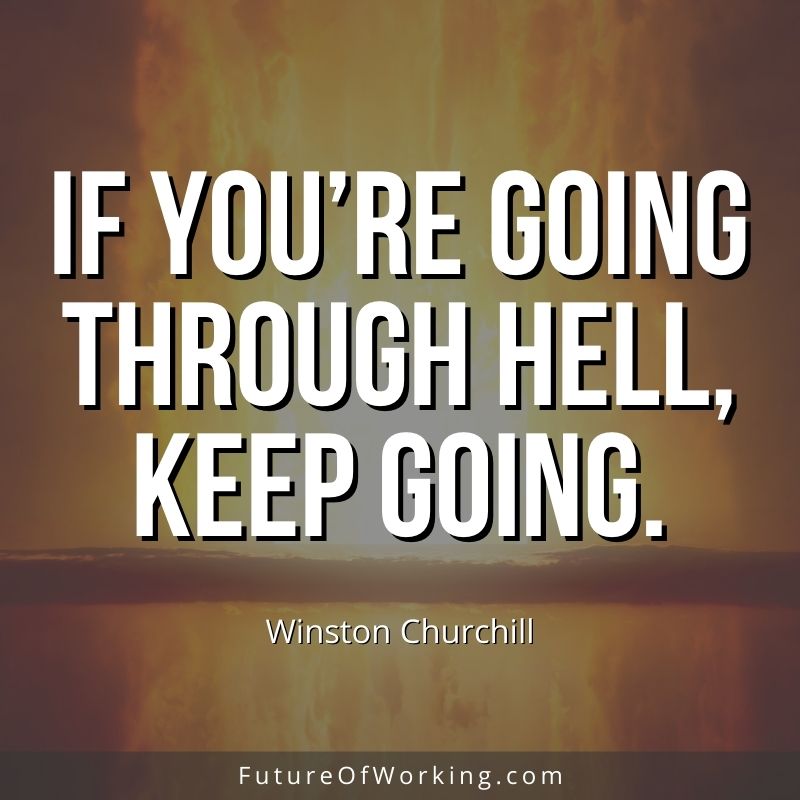 "Set your goal and keep moving forward."
Georges St-Pierre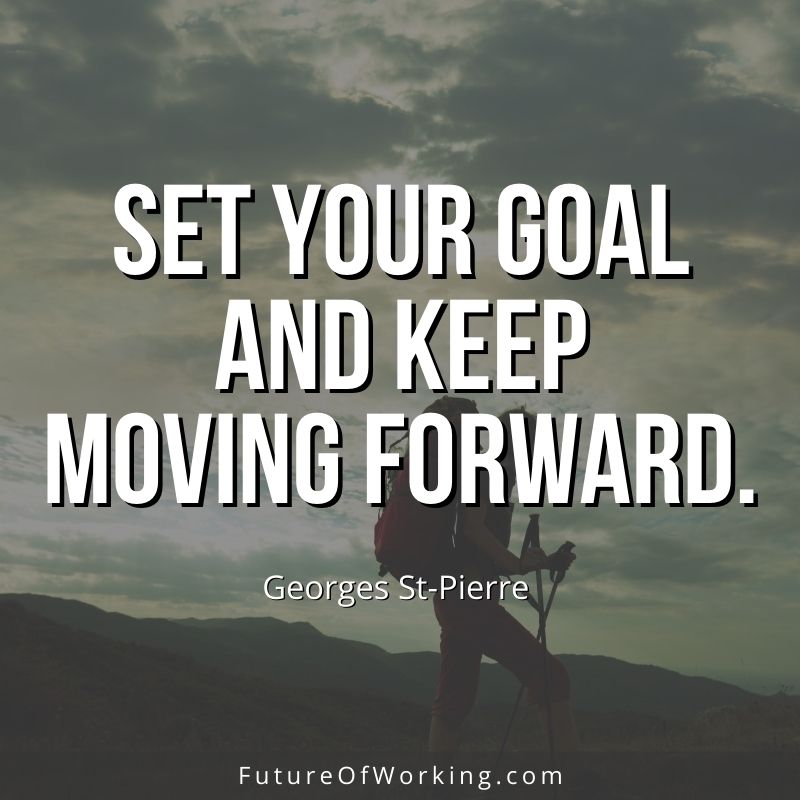 "You can't walk away without also walking towards."
Rachel Hartman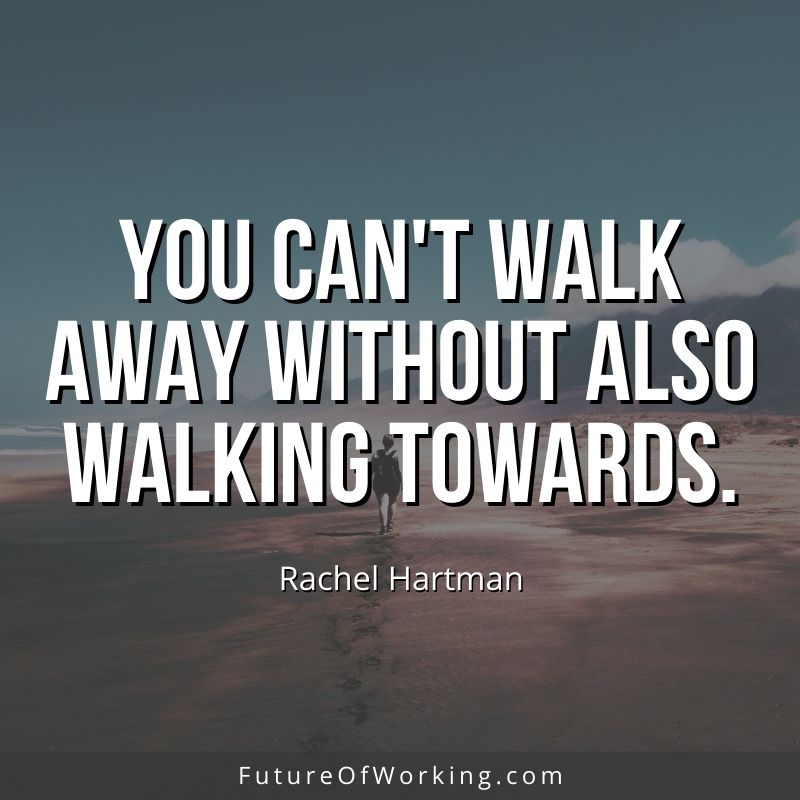 "Letting go is hard but being free is beautiful."
Wilder Poetry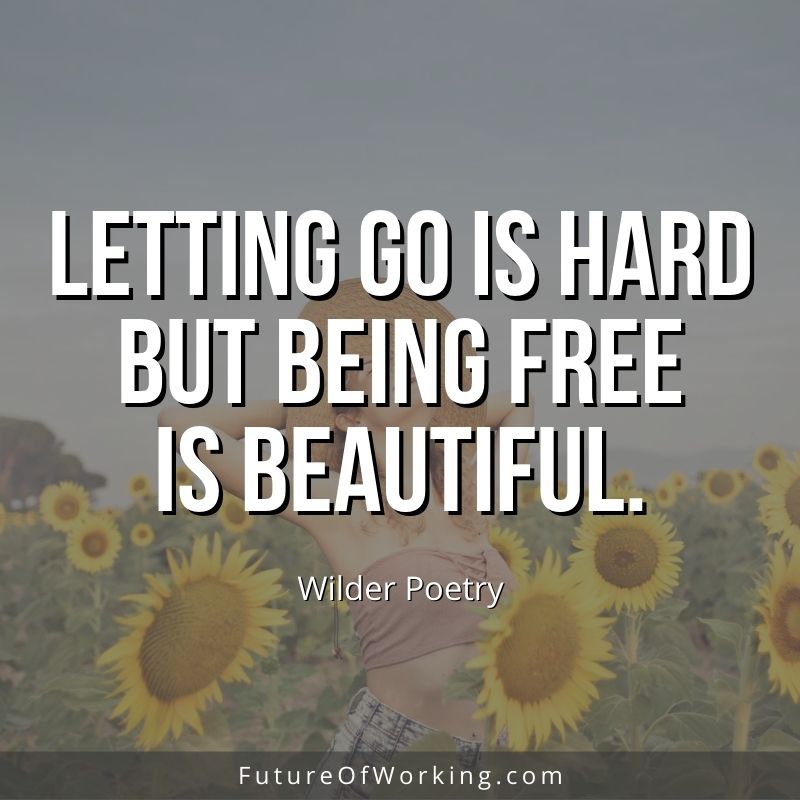 "To wander is to be alive."
Roman Payne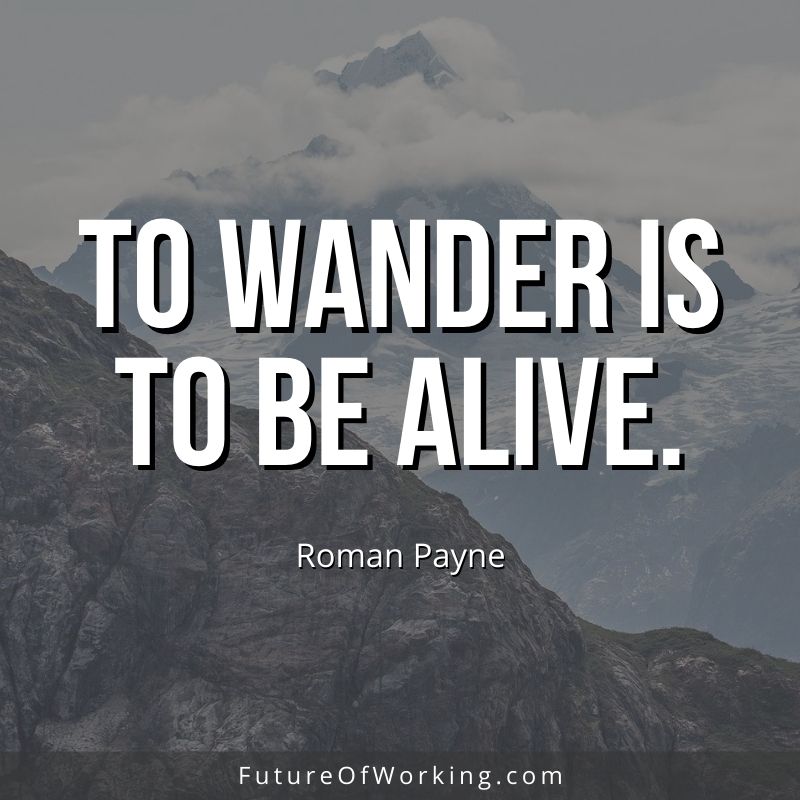 "Every exit is an entry somewhere."
Tom Stoppard
"Get mad, then get over it."
Colin Powell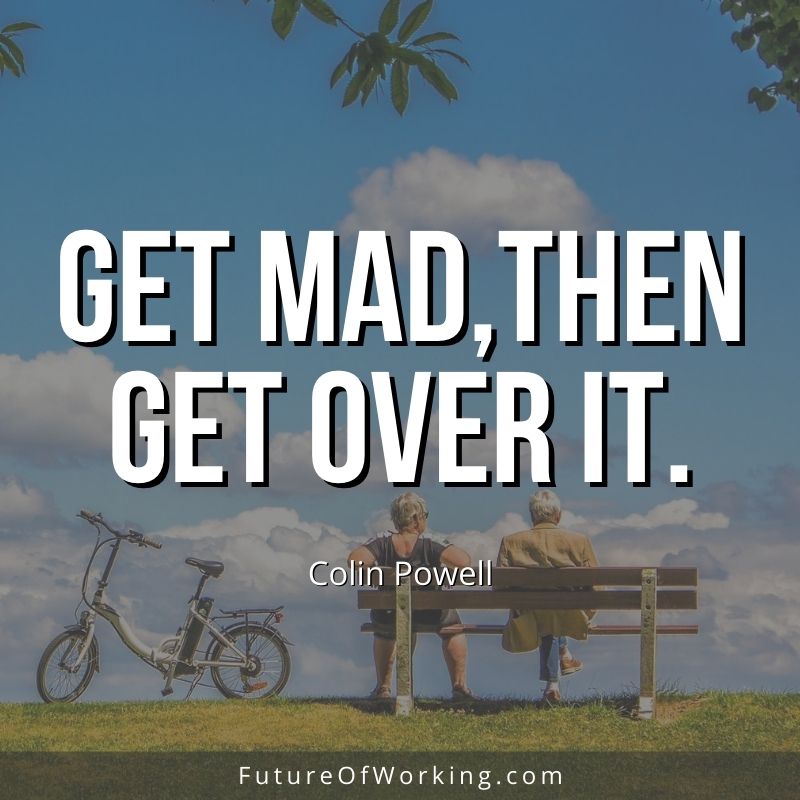 "Life begins at the end of your comfort zone."
Neale Donald Walsch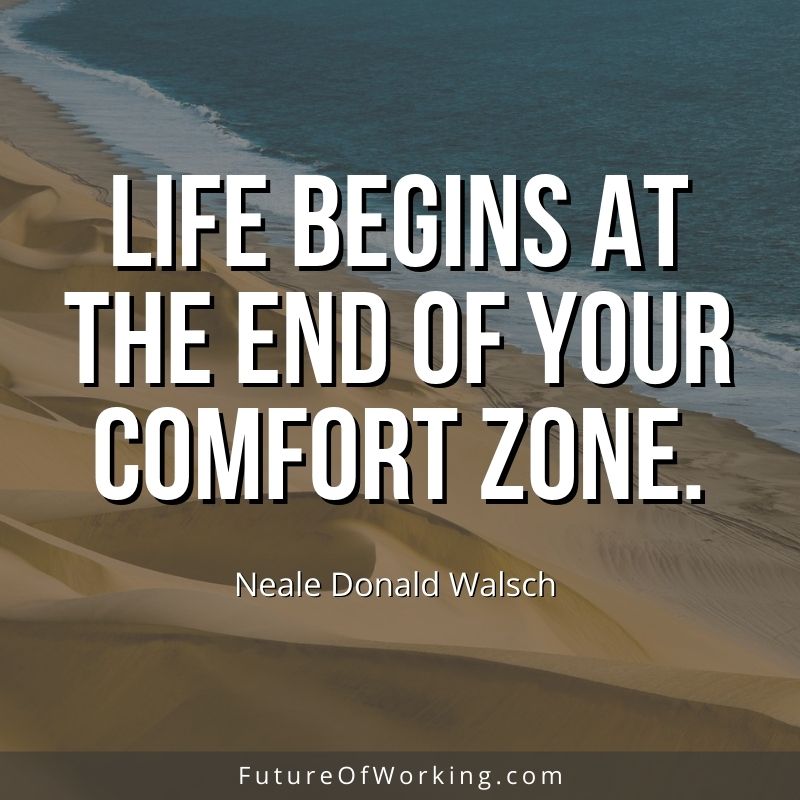 "Life is a balance of holding on and letting go."
Rumi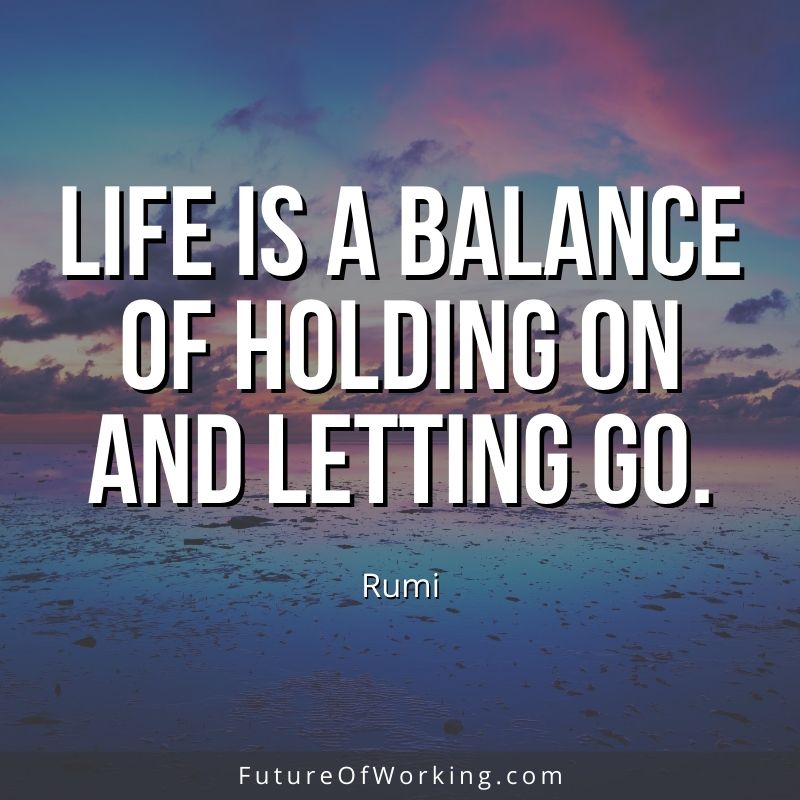 "Life is tough, but so are you."
Carmi Grau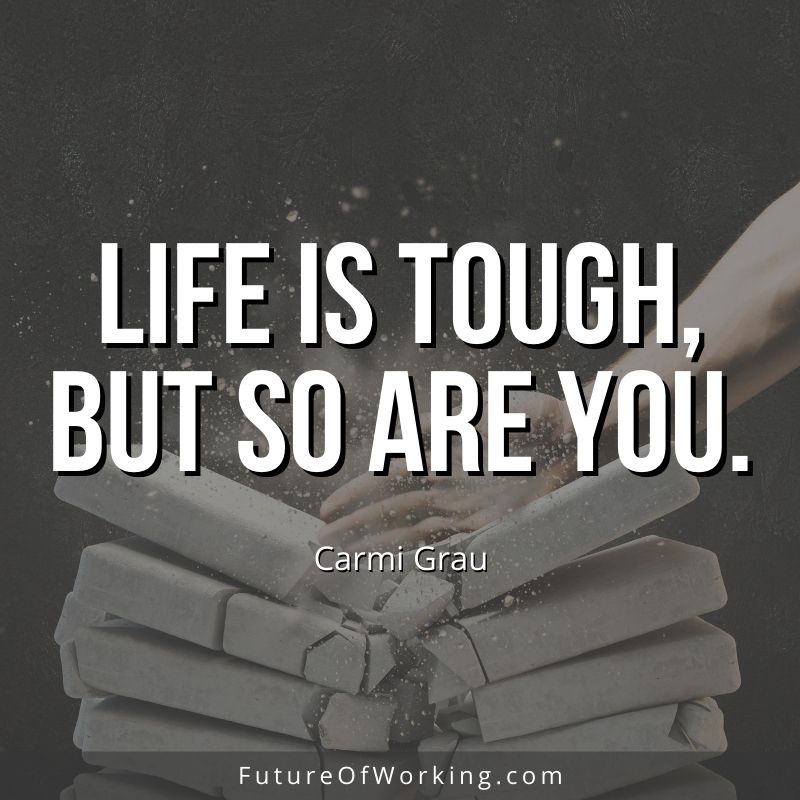 "I know it's not the end…it's only just the beginning."
Lisa Schroeder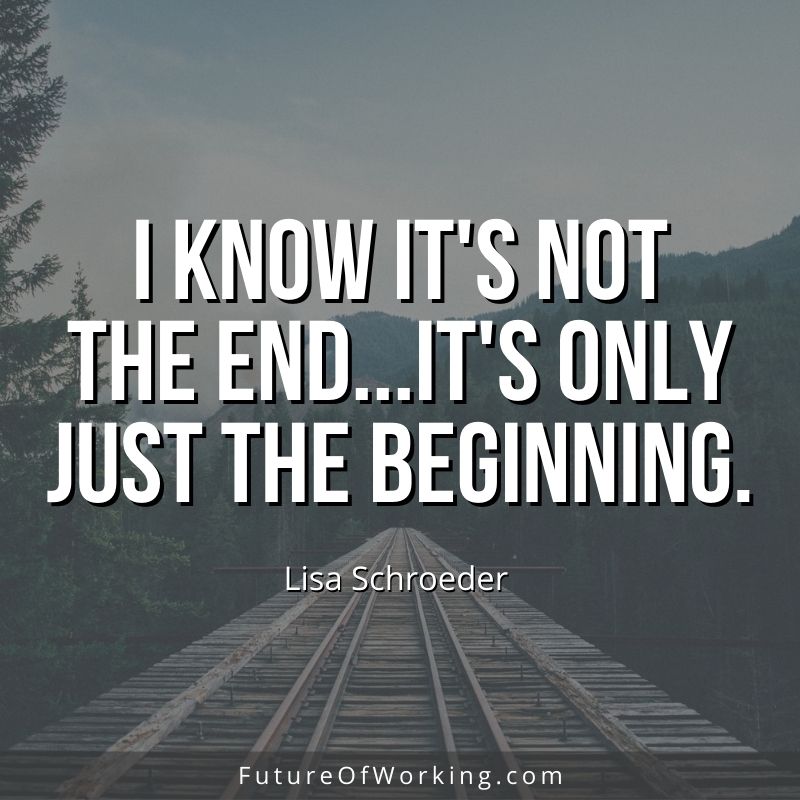 "Life moves on and so should we."
Spencer Johnson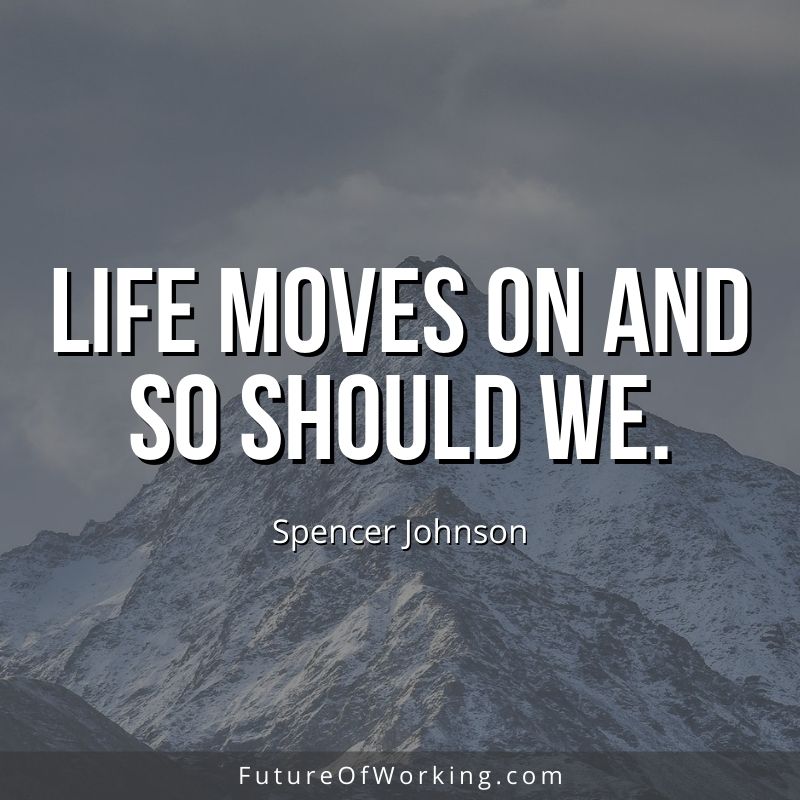 "Fall down seven times. Stand up eight."
Japanese Proverb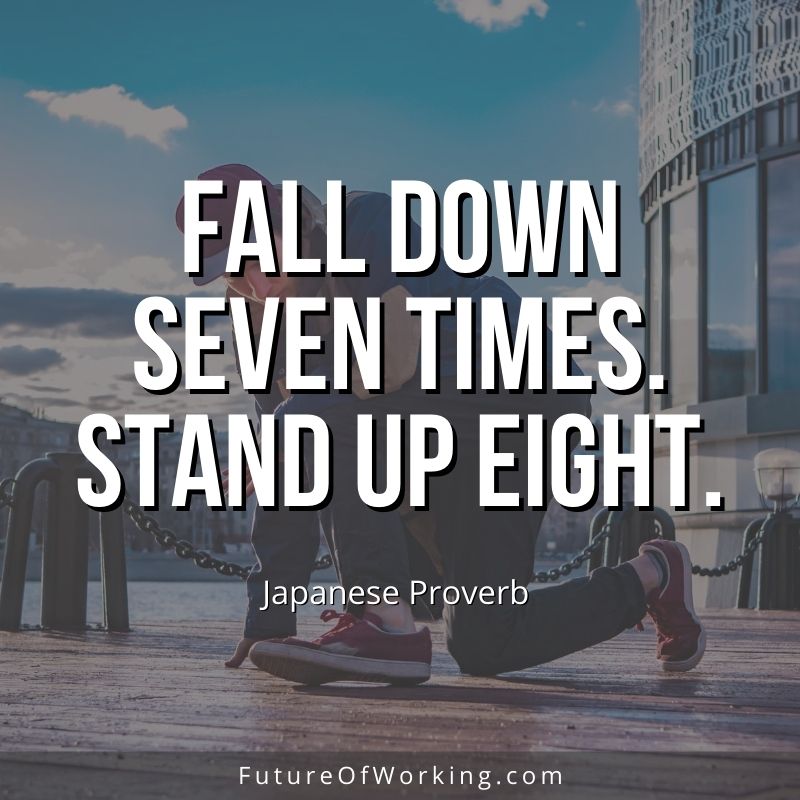 "Last night I lost the world, and gained the universe."
C. JoyBell C.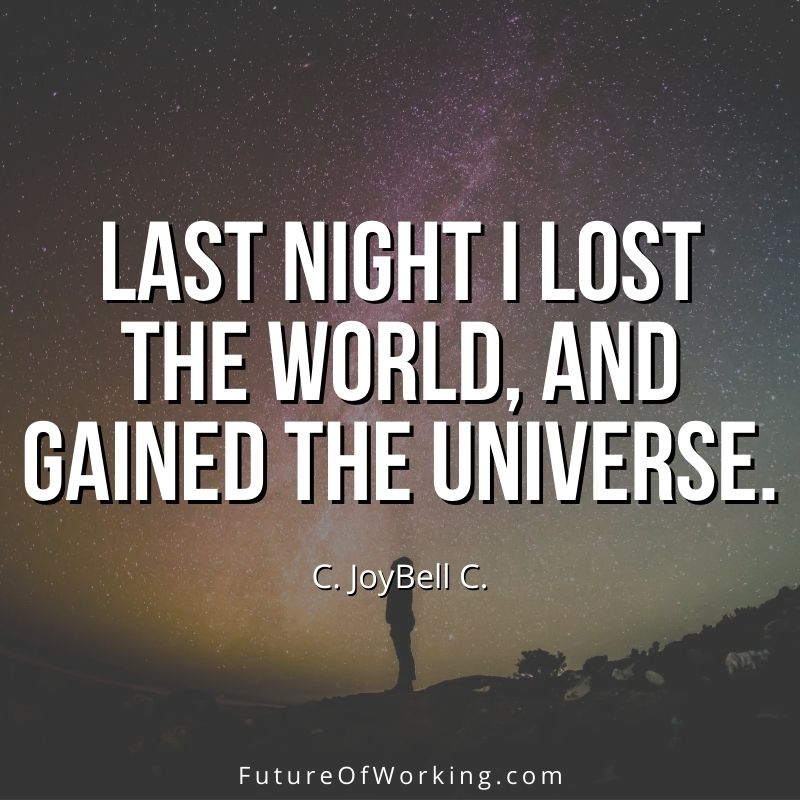 "Kiss away the past as you head towards the future."
Imania Margria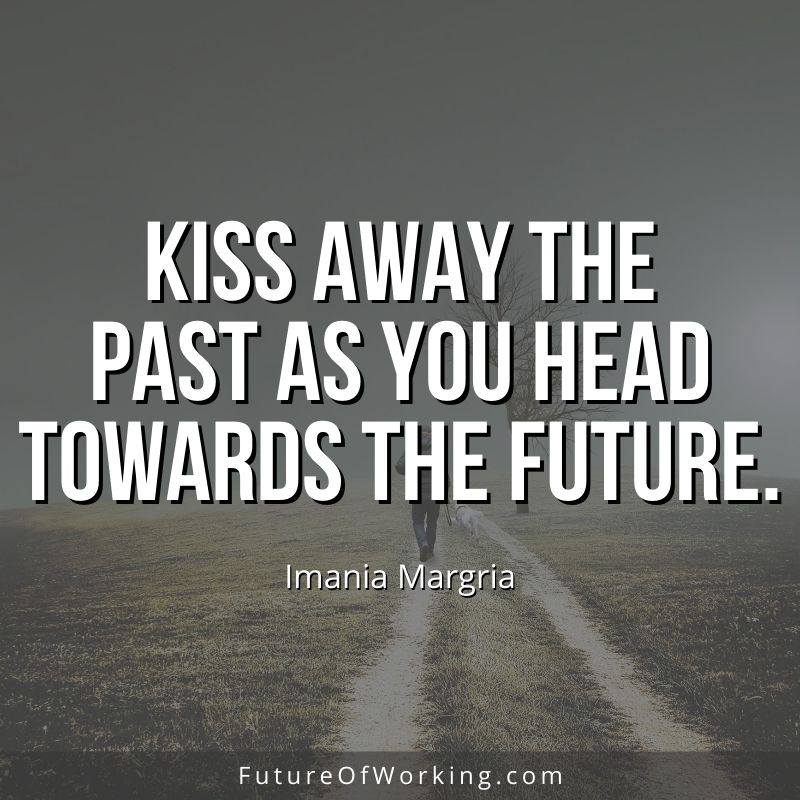 "If it doesn't agree with your spirit let it go."
Germany Kent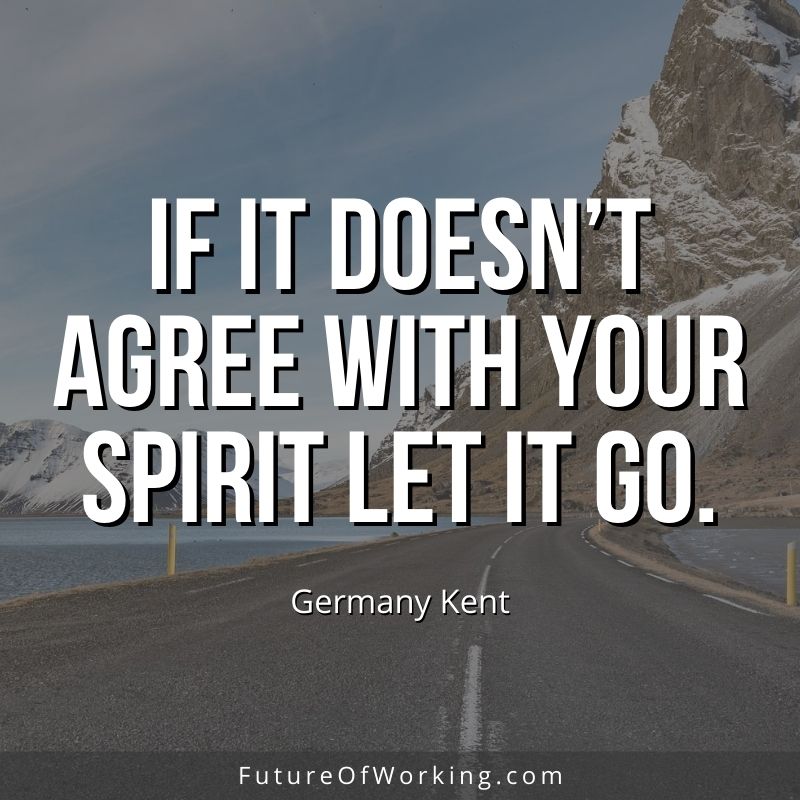 "Cry me a river, build a bridge, and get over it."
Justin Timberlake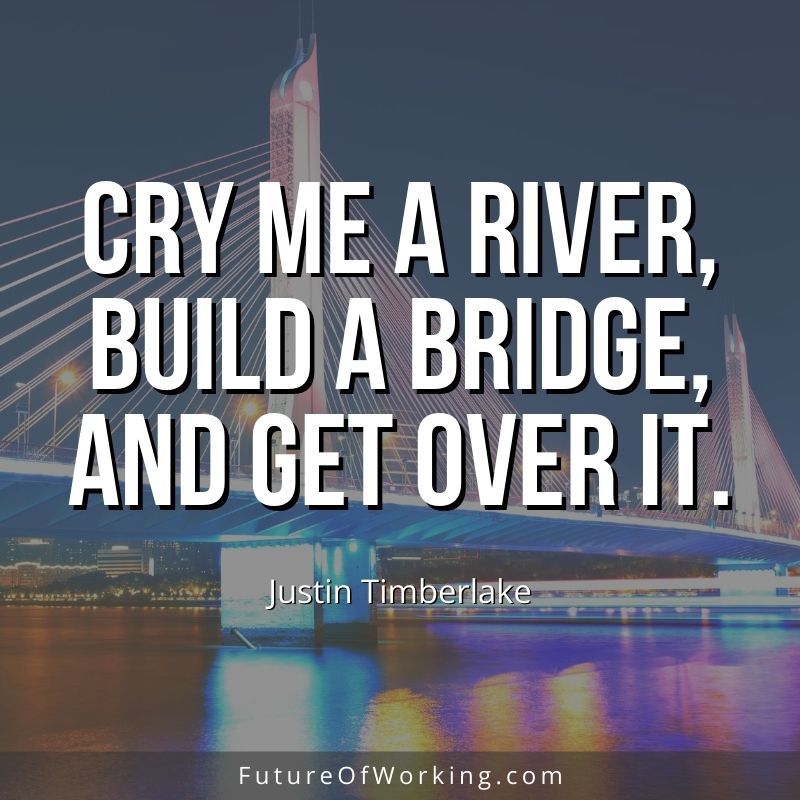 "The art of letting go is art in its purest form."
Meredith Pence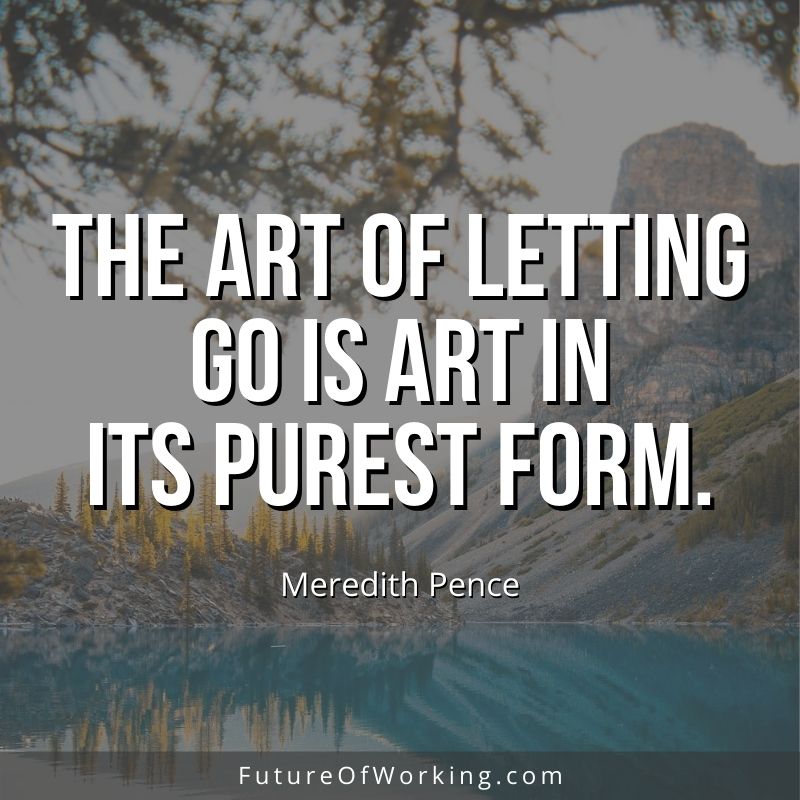 "Letting go doesn't mean giving up, it means moving on."
Toni Sorenson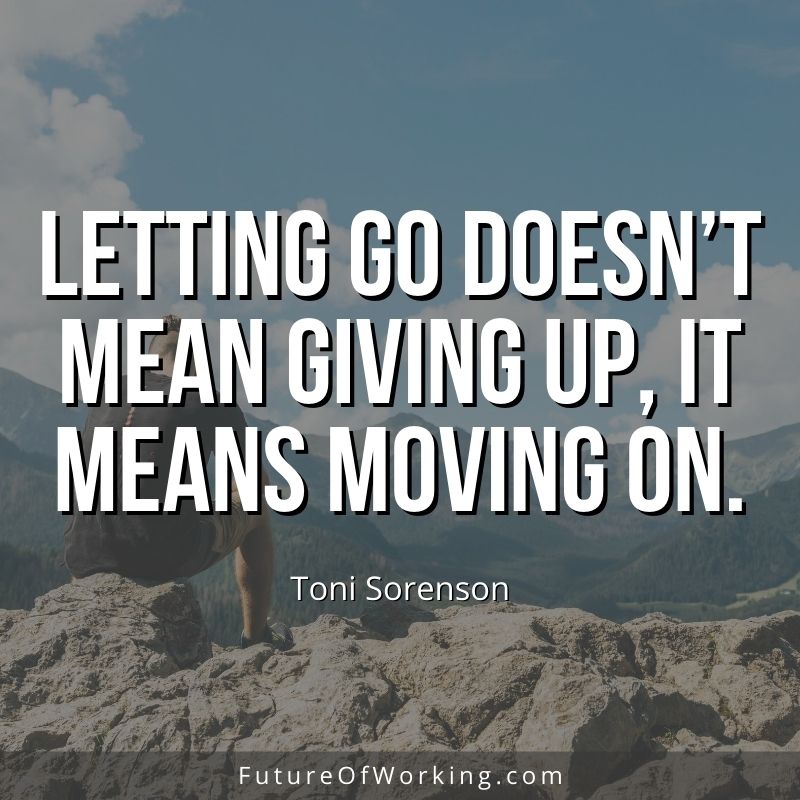 "Don't cry over spilt milk when you can milk another cow."
Matshona Dhliwayo
"Don't let yesterday use up too much of today."
Cherokee Indian Proverb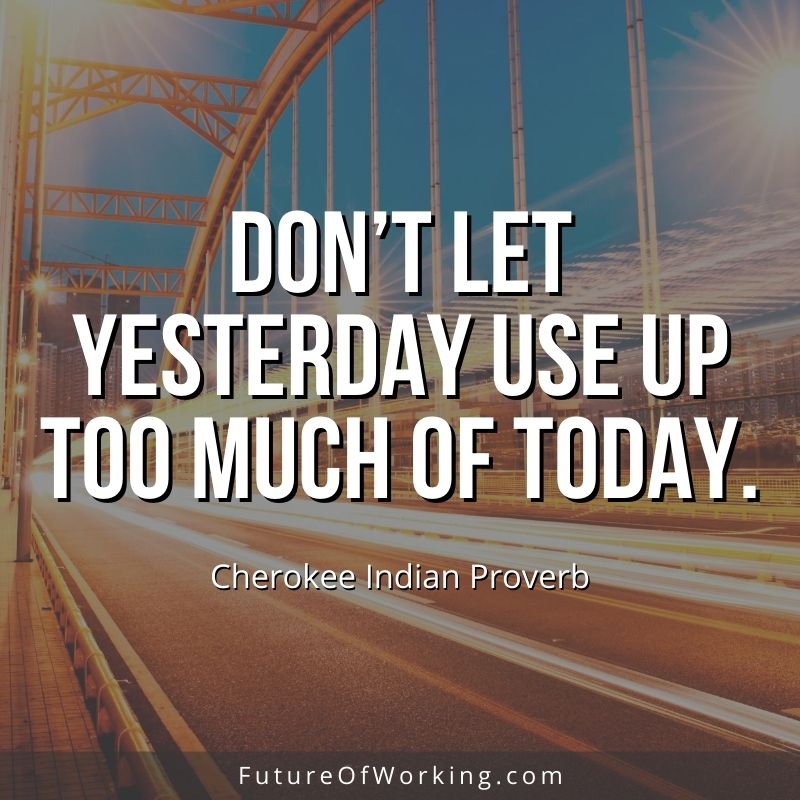 "You can only lose what you cling to."
Buddha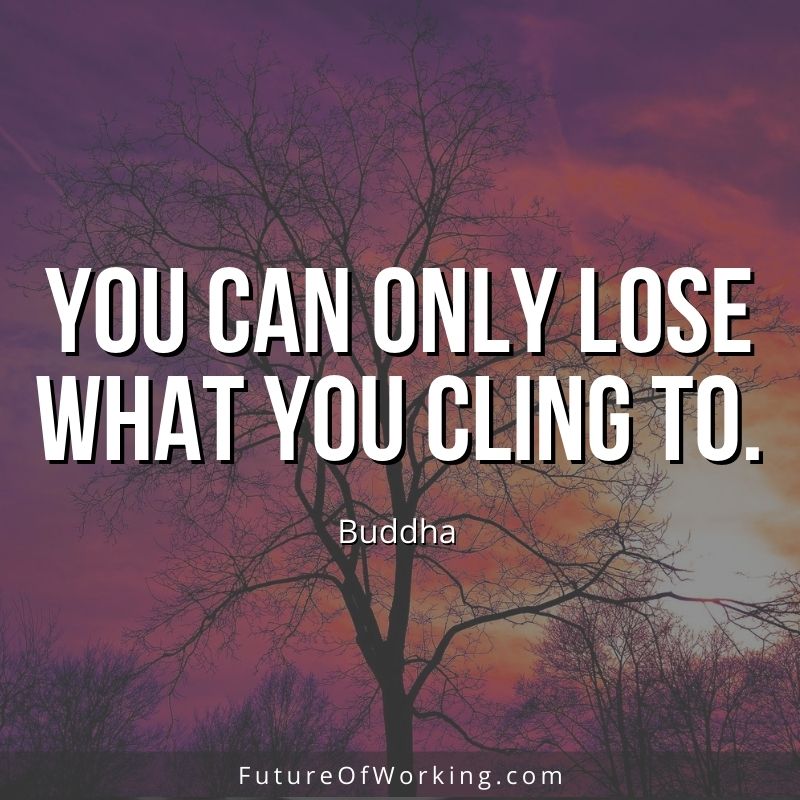 "But part of surviving is being able to move on."
Alexandra Bracken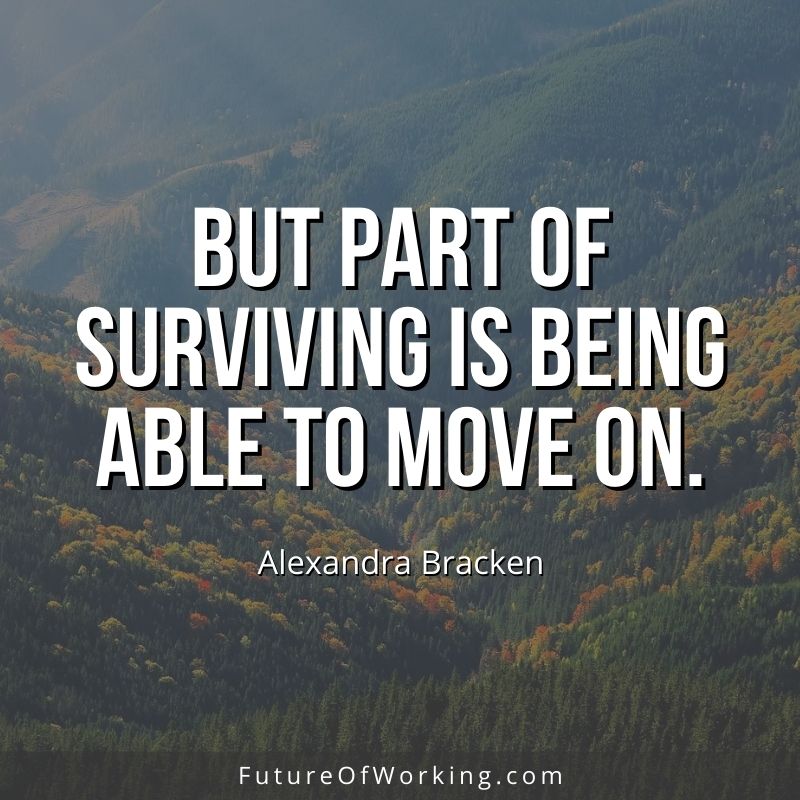 "Celebrate endings – for they precede new beginnings."
Jonathan Lockwood Huie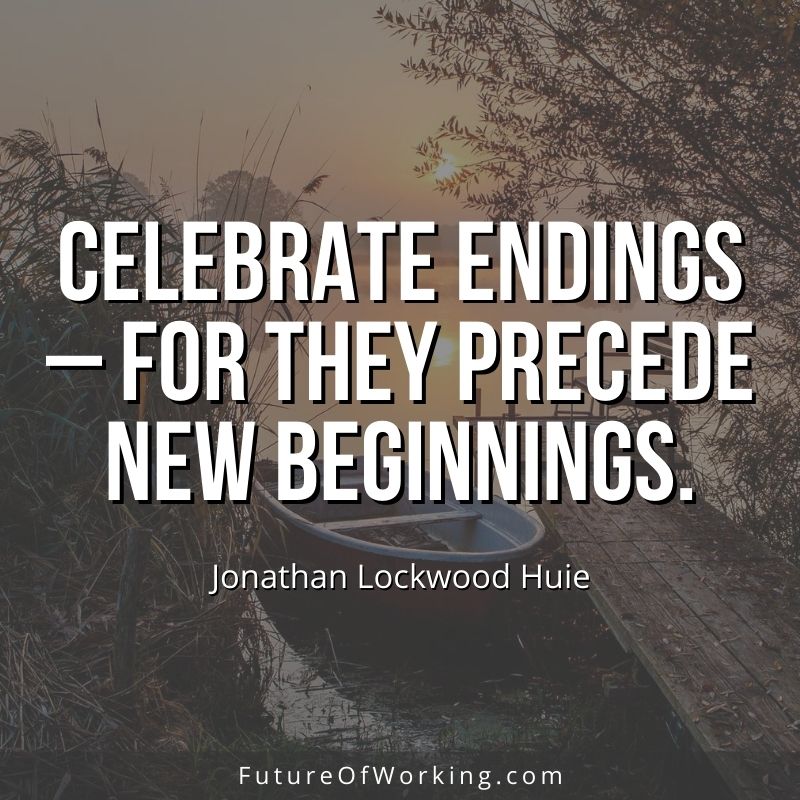 "What's past is prologue, and the world awaits."
Lisa Mantchev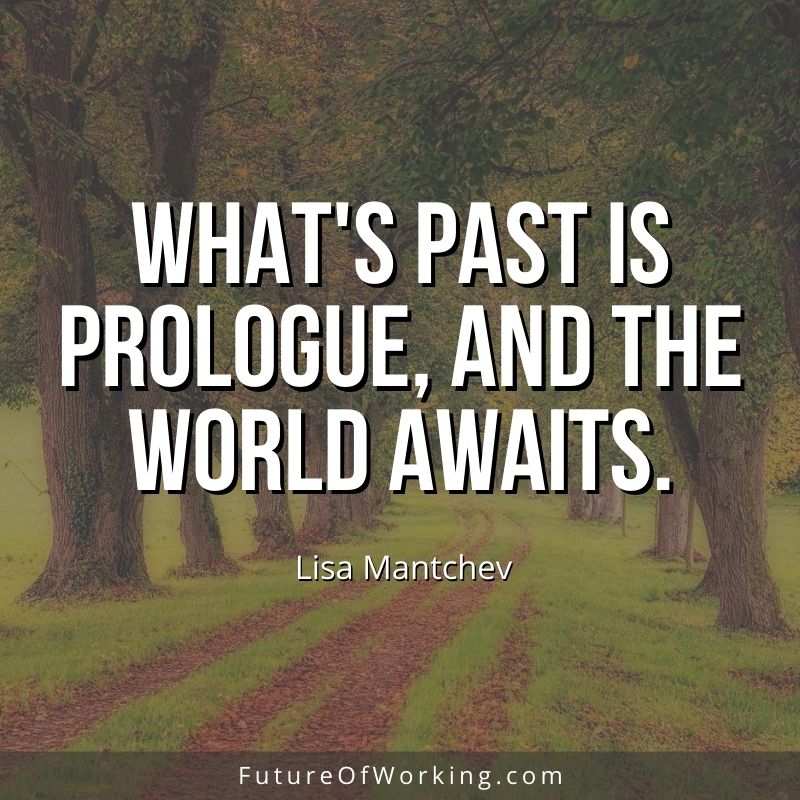 "Let the things of long ago drift away on the water."
Alan Brennert
"Girls you've gotta know when it's time to turn the page."
Tori Amos
"Let every day be the first day of the rest of your life."
Jonathan Lockwood Huie
"No one is worth wasting a gorgeous weekend over."
Susane Colasanti
"Why let go of yesterday? Because yesterday has already let go of you."
Steve Maraboli
"If we were meant to stay in one place, we'd have roots instead of feet…"
Rachel Wolchin
"Our scars make us who we are. Wear them proudly, and move forward."
Jane Linfoot
"Forget what hurt you but never forget what it taught you."
Shannon L. Alder
"I demolish my bridges behind me…then there is no choice but to move forward."
Fridtjof Nansen
"Forgive yourself for your faults and your mistakes and move on."
Les Brown
"Rehashing the past wouldn't change anything. Time to move forward."
Zena Wynn
"Look at life through the windshield not the rear-view mirror."
Byrd Baggett
"When one door shuts…sometimes it's best to leave it shut, and move on…"
Scott Joffe
"Keep planting and sowing, living and knowing: beautiful things take time, and that is okay."
Morgan Harper Nichols
"There are far better things ahead than any we leave behind."
C.S. Lewis
"Every new beginning comes from some other beginning's end."
Seneca
"You stop revisiting memories when you outgrow the people you made them with."
Nikki Rowe
"Yesterday is not ours to recover, but tomorrow is ours to win or lose."
Lyndon B. Johnson
"The darkest night is often the bridge to the brightest tomorrow."
Jonathan Lockwood Huie
"I always get to where I am going by walking away from where I have been."
A. A. Milne
"You can't hold on to the past and expect to grow as a human being."
Marty Rubin
"Kill the part of you that believes it can't survive without someone else."
Sade Andria Zabala
"What matters most is how well you walk through the fire."
Charles Bukowski
"Moving on, is a simple thing, what it leaves behind is hard."
Dave Mustaine
"I do a good job of staying positive and just moving on."
Katie Taylor
"If your world doesn't allow you to dream, move to one where you can."
Billy Idol
"Life is like riding a bicycle. To keep your balance you must keep moving."
Albert Einstein
"The pain of letting go will be eclipsed by the relief of moving on."
Scott Stabile
"And I finally let go, It was the beginning for me and the end for you."
Nikki Rowe
"You can't expect to move forward if your emergency break is on."
Angela Cecilia
"Forgiveness means letting go of the past."
Gerald G. Jampolsky
"Moving on is easy. It's staying moved on that's trickier."
Katerina Stoykova Klemer
"You can't move forward if you're still hanging on."
Sue Fitzmaurice
"I think every girl has that a guy she has trouble letting go of."
Rashida Jones
"Forgiveness and letting go are steps on our road back to happiness."
Tina Dayton
"We can not become what we need to by remaining what we are."
Oprah Winfrey
"I can enjoy anywhere, and I can leave it. Life is about moving on."
Waris Dirie
"The grace is not about forgetting, but knowing you can start anew."
Ana Tejano
"Never love something so much that you can't let go of it."
Ginni Rometty
"You are allowed to let go of all those that do not set you free anymore."
Dhiman
"She took a step and didn't want to take any more, but she did."
Markus Zusak
"Life is about making the right decisions and moving on."
Josh Rayburn
"Don't waste today by talking about yesterday until it's finally tomorrow."
Tim Fargo
"Sometimes the only way to get a grip is by learning to let go."
Curtis Tyrone Jones
"There's no time for regrets. You've just got to keep moving forward."
Mike McCready
"A mistake is only a mistake if you dwell on it. Let go and forgive."
Akiroq Brost
"When I let go of what I am, I become what I might be."
Lao Tzu
"Sometimes letting go is braver than holding on until you break."
Rebekah Crane
"Anything you can't control is teaching you how to let go."
Jackson Kiddard
"The only real battle in life is between hanging on and letting go."
Shannon L. Alder
"Let us move forward with strong and active faith."
Franklin D. Roosevelt
"Loving someone is setting them free, letting them go."
Kate Winslet
"You only struggle because you're ready to grow but aren't willing to let go."
Drew Gerald
"Some of us think holding on makes us strong, but sometimes it is letting go."
Hermann Hesse
"Sometimes you have to take a step back to move forward."
Erika Taylor
"The greatest step towards a life of simplicity is to learn to let go."
Steve Maraboli
"I don't know what lies ahead, but I want to keep going forever…"
Fuyumi Soryo
"Change can be good but its always tough to let go of the past."
Emily Giffin
"I will continue my path, but I will keep a memory always."
Rosie Thomas
"Whatever comes, let it come, what stays let stay, what goes let go."
Papaji
"There's an important difference between giving up and letting go."
Jessica Hatchigan
"Anything I cannot transform into something marvelous, I let go."
Anaïs Nin
"Time doesn't heal emotional pain, you need to learn how to let go."
Roy T. Bennett
"In three words I can sum up everything I've learned about life: it goes on."
Robert Frost
"You have to let go of who you were to become who you will be."
Candace Bushnell
"The most liberating moment, is the moment you finally let go."
Ava Harrison
"Sometimes moving forward changes what's behind you."
Kami Garcia
"Man never made any material as resilient as the human spirit."
Bern Williams
"Nothing in the universe can stop you from letting go and starting over."
Guy Finley
"The best skill at cards is knowing when to discard."
Baltasar Gracián
"It's never too late to be who you might have been."
George Eliot
"Sooner or later we've all got to let go of our past."
Dan Brown
"I can't take back the past, but I can fight for the future."
Shannon A. Thompson
"Sometimes you hold on to what's left, Sometimes you let go to start afresh."
Sanhita Baruah
"Every day has a past. Every day has a tomorrow."
Amy Meyerson
"The art is not one of forgetting but letting go."
Rebecca Solnit
"There's a difference between wanting to stay and being too afraid to let go."
Victoria Schwab
"Memory looks back in order to move forward."
Marty Rubin
"What people resist is not change per se, but loss."
Ronald A. Heifetz
"Sometimes you can't let go of the past without facing it again."
Gail Tsukiyama
"You will evolve past certain people. Let yourself."
Mandy Hale
"All the art of living lies in a fine mingling of letting go and holding on."
Henry Havelock Ellis
"Creativity requires the courage to let go of certainties."
Erich Fromm
"You have changed but that is okay. Life is not static, why should you be?"
Samantha Tamburello
"I'm looking forward to the future, and feeling grateful for the past."
Mike Rowe
"With the new day comes new strength and new thoughts."
Eleanor Roosevelt
"When you leave, weary of me, without a word I shall gently let you go."
Kim Sowol
"When the going gets tough, the tough get going."
American Proverb
"Life becomes easier when you learn to accept an apology you never got."
Robert Brault
"I choose not to project my past onto my future."
Jonathan Lockwood Huie
"Sometimes people come into your life just to teach you how to let go."
Jackson Kiddard
"If we fail to adapt, we fail to move forward."
John Wooden
"You are always a student, never a master. You have to keep moving forward."
Conrad Hall
"Our time together was the best yet. But even in paradise the sun must set."
Anangsha Alammyan
"There is love in holding and there is love in letting go."
Elizabeth Berg
"Courage is the power to let go of the familiar."
Raymond Lindquist
Author Biography
Keith Miller has over 25 years experience as a CEO and serial entrepreneur. As an entreprenuer, he has founded several multi-million dollar companies. As a writer, Keith's work has been mentioned in CIO Magazine, Workable, BizTech, and The Charlotte Observer. If you have any questions about the content of this blog post, then please
send our content editing team a message here
.
---