Here is a list of 40 kind ways to say thank you for your advice to let them know you appreciate their insight.
#1 Thank you for all your insight and wisdom. I felt so relieved after our conversation, and it totally put my mind at ease. I had been struggling to process all the information I needed to make a good decision, but you really helped me.
#2 I feel very lucky to have received your thoughtful advice. It really helped with clarifying my perspective on recent events. I am ever so grateful for your support in this matter.
#3 You have been so open and willing to share your knowledge with me. Thank you for making yourself available. Your advice was just what I needed, and you were there at just the right time to provide that support.
#4 Thank you very much for giving me your wonderful advice. It really meant a lot to me that you were so willing to listen and help me out. I hope I can return the favor at some stage.
#5 Thank you for being someone I can count on for sound advice. It means a lot to be able to turn to you when I need to, and you have helped me enormously. Truly, I appreciate all your experience and understanding.
#6 Thank you for your advice and continued support. I thought your viewpoint was interesting, and I had not considered it before. I know that your thoughts will help me greatly in my decision-making.
#7 I recognize the fact that you have a great depth of knowledge regarding choosing a career. I am grateful that you sat down with me to really understand my strengths and interests. Your relevant and freely given advice was helpful to me as I considered all the possibilities.
#8 I have been thinking long and hard about the advice you gave me recently. I think it is definitely the best course of action to take. Thank you for your kindness and time in helping me to navigate this situation.
#9 Thank you for taking the time to inform me of what different career paths entail. Your advice was invaluable to me in navigating this important subject, especially as I make decisions regarding my course choices. I was stumbling around in the dark a bit, but you shed a lot of light on the different avenues open to me.
#10 Thank you ever so much for being there for me through all of the ups and all of the downs. Your inspiring words have made such a positive difference in my life. I am thrilled to have you in my corner cheering me on.
#11 I really appreciate all the support and advice you are giving me regarding jobs that I would be well suited to. You know me well and are supportive of my hopes and dreams, so your perspective is of great importance to me. Thank you for your input and for sharing your time.
#12 Your advice has truly motivated and encouraged me. Please accept my warmest thanks. I feel privileged to know someone as thoughtful, intelligent, and as selfless as you are.
#13 Thank you for your advice regarding my personal finances. It felt great to be able to go through everything with you and hear your thoughts. Your expertise gave me a lot of confidence in moving forward with the suggestions you outlined.
#14 I want you to know that I consider myself extremely fortunate to have you in my life. Without your advice, I am not sure how I would have handled things. There is no doubt in my mind that your advice was key to resolving this situation.
#15 I am grateful for your advice regarding a balanced budget. It does not come naturally to me, to be organized with money, so this is a new skill I am learning. Thank you for walking me through it.
#16 Thank you for inspiring me during such a challenging time when I needed some help. I am going to follow your advice and see where it takes me. Words cannot express how appreciative I am to have you in my life.
#17 Your advice regarding my personal finances was exactly what I needed to hear. It made a lot of sense, and in the long run, I know I will really benefit from your wisdom. Thank you for all your help.
#18 I am so glad that you shared your knowledge about nutrition and diet with me. I have increased awareness of the importance of healthy eating like I have never had before. I am now in a good situation to make some necessary changes for the wellbeing of my family. Thank you so much.
#19 I believe that the advice you gave me was spot on. After thinking about it more and considering everything that you said, I know exactly what I have to do. Thank you for being so helpful and compassionate.
#20 Thank you for your expert advice regarding my diet. It has been so beneficial to me, and I am feeling much better already and am grateful for the increased stamina and energy I am experiencing. Hopefully, this will continue in days to come now that I am now more informed.
#21 I really love the ideas that you gave me recently. The advice is definitely aiding me in making the decision that is best for me. Thank you for your valuable input.
#22 Thank you for letting me share about the struggles I have been experiencing in my relationship. I was relieved to feel free enough to share them with you. Your confidential advice has been a great support to me as I address the issues we discussed.
#23 I wish to thank you for giving me your opinion on my current situation. It really helped me to see things in a different light. I am thrilled to know such a considerate and wise human being.
#24 You have been a treasured confidant for me as my relationship faces challenges at this difficult time. I have been able to reflect on your advice and see where I can respond differently. Your wisdom was exactly what I needed to hear, and I want to thank you so much for sharing it with me.
#25 Thank you so much for giving me some excellent suggestions on how to move forward. I am extremely grateful to you for your words of wisdom and for all of the help that you offered me.
#26 Thank you for your advice regarding our dog's behavioral issues, which were becoming a real problem. We have been putting your strategies in place, and they seem to be working. It will be so good to be able to take him out for walks without all the frustrations we previously experienced.
#27 I just wanted to express how much I appreciate all of your amazing help and guidance. I hope you realize that you truly give the best advice. You really are the greatest. Thank you.
#28 We have been implementing your suggestions regarding our beloved dog. We were getting desperate for a solution to his behavioral problems, but you have really helped. Thank you so much for all your advice, which clearly comes from a valuable breadth of experience.
#29 I want to thank you over and over for helping me to figure everything out. Your advice was truly invaluable to me and made such a huge difference. I am extremely pleased that I talked to you about this.
#30 I really appreciated your input and advice. Your words helped me to better analyze the situation and come to a decision that I am very happy with. Thank you for all of your exceptional help.
The Most Famous Quotes to Include with Your Thank You Message for Advice
"We rise by lifting others."
Robert Ingersoll
"Selfless giving is the art of living."
Frederick Lenz
"No man is so wise that he can afford to wholly ignore the advice of others."
James Lendall Basford
"My favorite things in life don't cost any money. It's really clear that the most precious resource we all have is time."
Steve Jobs
"We make a living by what we get, but we make a life by what we give."
Winston Churchill
"Few take advice, or physic, without wry faces at it."
Augustus William Hare and Julius Charles Hare
"It is very difficult to live among people you love and hold back from offering them advice."
Anne Tyler
"Speak humbly, listen respectfully, smile gently."
Dr. T.P.Chia
"Advice is what we ask for when we already know the answer but wish we didn't."
Erica Jong
"Happiness doesn't result from what we get, but from what we give."
Ben Carson
Please take a moment to pin this post to Pinterest.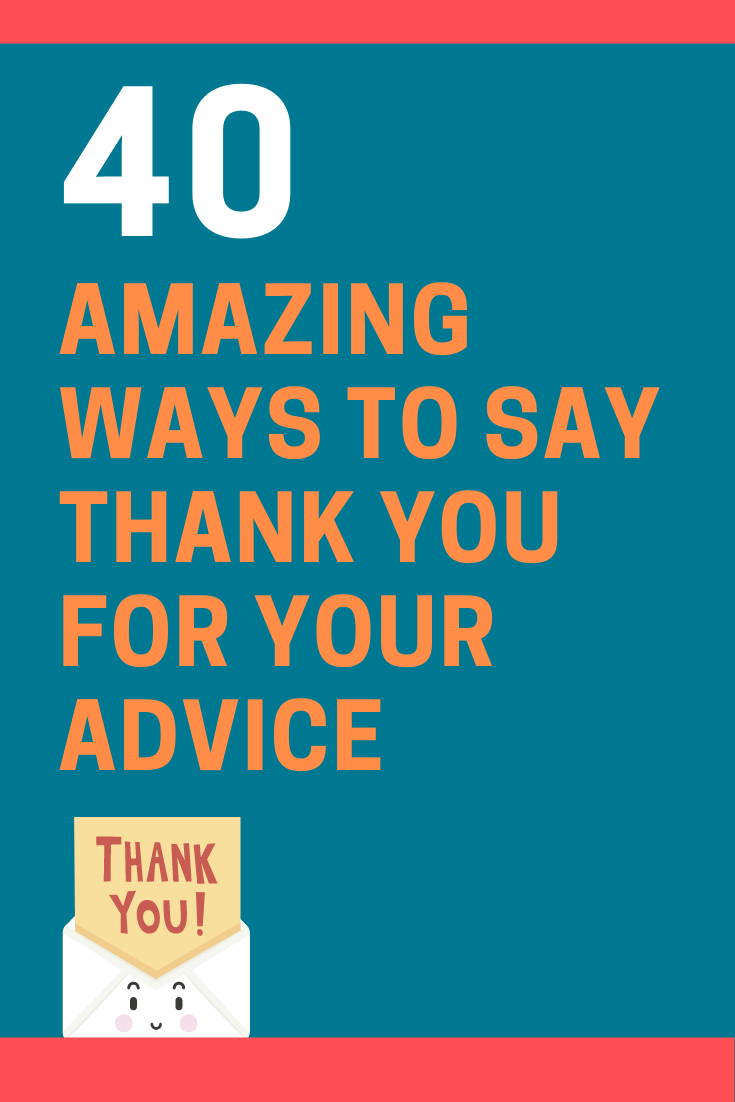 Author Biography
Keith Miller has over 25 years of experience as a CEO and serial entrepreneur. As an entrepreneur, he has founded several multi-million dollar companies. As a writer, Keith's work has been mentioned in CIO Magazine, Workable, BizTech, and The Charlotte Observer. If you have any questions about the content of this blog post, then please
send our content editing team a message here
.
---