Here is a list of the 30 best ways to say thank you for your response to show them that you appreciate their time in getting back to you.
#1 The information you sent through to me was perfect. I had been searching for reliable answers to my questions, and you have certainly provided them. Thank you for being so helpful.
#2 It is uncommon to find someone as helpful as you have been. Please accept my thanks for taking the time to get together all the information I needed, and for sending it through to me on such short notice.
#3 Thank you from the bottom of my heart for such a detailed and authentic response. It felt like you really understood what I said, and you responded with exactly what I needed.
#4 Thank you so much for your response to my request for information. I appreciated you taking the time to research some answers and for getting back to me so promptly. It made a lot of sense and was exactly what I needed to know.
#5 A response such as yours takes effort, kindness, and consideration. Honestly, it made me smile. Thank you so much.
#6 Thank you from my heart for all the helpful information you gave me. I had been feeling as though I was going around in circles, without making any progress. Now I can make the right choice with clarity and confidence.
#7 It was so nice to read your response. Thank you for the time you put into getting back to me. I really want you to know how much I appreciate that.
#8 The information you provided was both excellent and informative. We learned so much from all that you sent through and feel that it shed a lot of light on the subject for us. We do hope to be able to give you an update on the outcome soon.
#9 What a lovely, helpful reply. I certainly do not receive that level of response very often. When I do, it means a great deal to me. Thank you.
#10 I appreciated the detailed information you sent through. It was comprehensive and gave me much better insight into the subject than I previously had. Thank you for getting that data to me.
#11 Thank you for an inspiring response. It means a lot to me to know you really heard what I was conveying and responded so accordingly.
#12 You gave me exactly the information I needed and more. I want to express my thanks to you for sourcing it and putting the information pack together. I have enjoyed digesting it immensely.
#13 Your reply was so timely, in-depth, and helpful. I know this caliber of response takes a person who is very detailed and thoughtful. Thank you.
#14 Thanks to you and the information you forwarded, I have been able to complete the project I was working on. It meant a lot that you were personally invested in my success. I hope to be able to return the favor to you at some point.
#15 Thank you kindly for your response to our request for information. The information was fascinating and will allow us to make an informed decision. We also want to acknowledge that it must have taken you some time to gather it all together, so we are humbled and appreciative of your selflessness.
#16 This was not simply a reply but an incredibly well-considered response. It was akin to having a genuine conversation. Thank you for the effort that went into that response.
#17 You have been a great support to me, and I am thankful for all the information you presented. I did not realize just how much I needed to know on this subject. I do feel well informed now. Please accept my deepest thanks.
#18 Honest words mean a lot. Thank you for your very considered, well-worded response to me. It was exactly what I needed.
#19 A well-chosen and thoughtful response is like having a conversation with a caring friend. Thank you for giving me that.
#20 I found the information you sent through to be invaluable. It gave me a lot of insight and knowledge I did not previously have on the subject. Thanks to you, I will be able to take the right approach decisively as I move forward.
#21 The effort you have put into your response has not gone unnoticed. It means a lot that you have responded in such a way that I feel truly heard.
#22 It is always refreshing to find someone who is open and willing to share their knowledge. I appreciate your spirit of cooperation and information-sharing. I would be more than happy to return the favor any time I am given the opportunity. Thank you.
#23 Your response has lifted my spirits. It is not all the time I receive such a well-considered and helpful response. Thank you for that.
#24 I did not expect such an efficient response to my request for information. You have helped me enormously, and I am very appreciative of your collaboration. If you would welcome the opportunity, please let us continue to liaise on this topic in days to come.
#25 Something as seemingly simple as a response to a question has genuinely made my day. Thank you for providing such a detailed and thoughtful response.
#26 The information you provided in response to my request has really helped me to navigate the dilemma I was facing. It has given me peace of mind, and for that, I will forever be personally grateful to you.
#27 I have read and reread the information you sent through. It is not only interesting but important to the investigation I am conducting. It shed a significant amount of light on the subject and was highly relevant. Thank you for the time you spent retrieving it.
#28 I respect that it takes time and consideration to write such a helpful reply. I am honored by your efforts. Thank you.
#29 I am in awe of the level of effort and kindness that went into your reply. It was incredibly helpful. Thank you very much.
#30 A response from a true wordsmith. I imagine such a comprehensive reply would have taken quite an amount of time and concern. I really appreciate that.
Please take a moment to pin this post to Pinterest.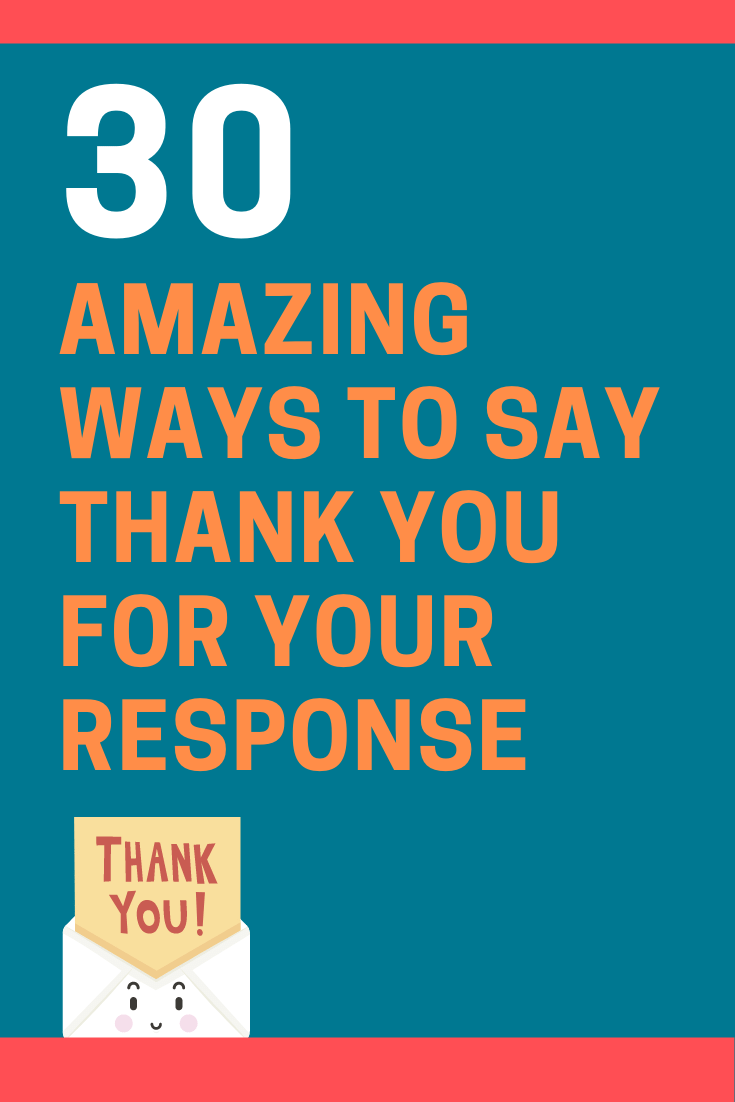 Author Biography
Keith Miller has over 25 years of experience as a CEO and serial entrepreneur. As an entrepreneur, he has founded several multi-million dollar companies. As a writer, Keith's work has been mentioned in CIO Magazine, Workable, BizTech, and The Charlotte Observer. If you have any questions about the content of this blog post, then please
send our content editing team a message here
.
---