Here is a list of 50 thank you messages and quotes for mom from daughter to show your mom just how thankful you are for her.
#1 As I grow older, I have a deeper understanding of all the sacrifices you made so that I would be happy, healthy, and have a future beyond what you had for yourself. I will never find the words to express how truly grateful I am for your selfless love. Thank you for being my mother and my angel.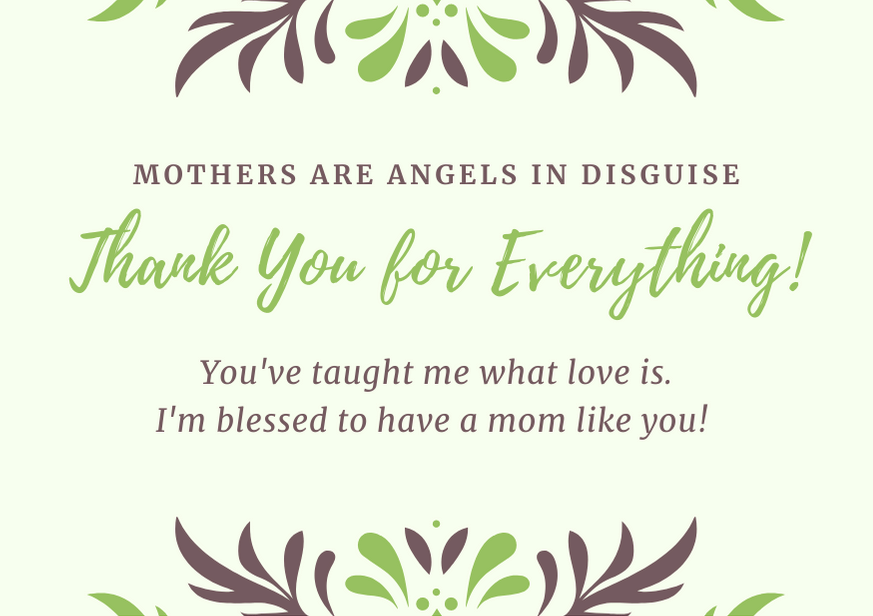 #2 You were always there to listen when I needed to talk or just to cry. You took my problems seriously and respected my feelings. Thank you for all your love and support throughout the years. You have been my rock, mom.
#3 Not every girl has a mom who is her role model, but you have always been mine. I grew up seeing how hard you worked at your job and juggled so many things. Through it all, we never doubted that you loved us and would always make time for us. Thank you for pushing us to be self-sufficient and responsible, and for showing me that there is a way to have a career and also be a good mom. I have seen first-hand how hard it is, and feel better prepared if I chose that path for my life.
#4 Your bed was always the most comfortable bed in the entire world. In it with you, there was comfort like no other I have ever experienced since. It was safe and warm. It was pure bliss and love. Those times were some of my favorite, mom, but there are so many memories I cherish of you. Thank you for being everything to me.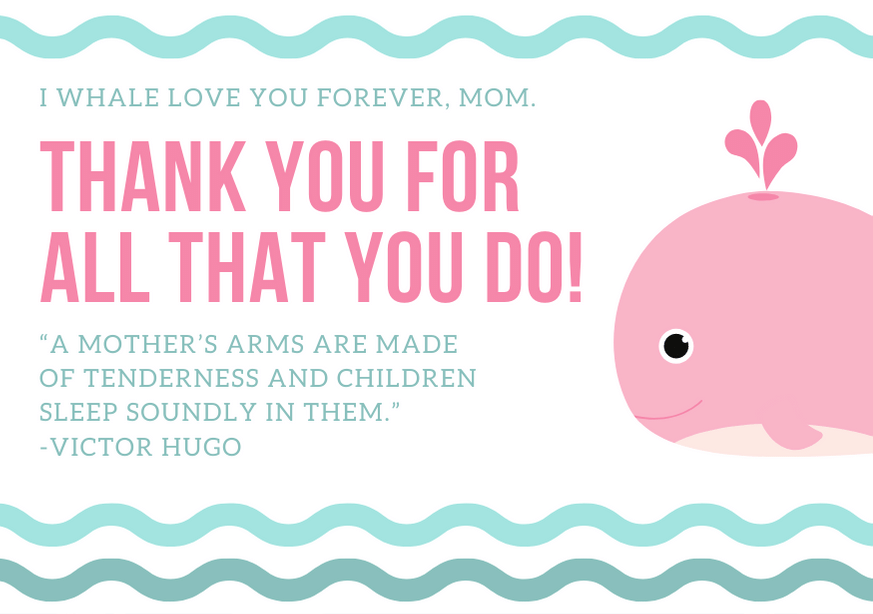 #5 Since I've gotten older, I've learned that having a teenage girl is tough on a mom. I sure did spend a lot of time in the bathroom, shut my bedroom door, and was kind of grumpy when I had PMS. Thank you for having patience and loving me in spite of everything that was going on with me. Thank you for always reassuring me that I was good enough.
#6 I love that we can go shopping together for clothes we can share, and watch chick flicks that no one else in the family wants to watch. Thank you for making good memories with me.
#7 When I look back at all you have done for me, I can only hope to be as wonderful a mother as you were to me. You've set the bar high! Thank you for being my mom.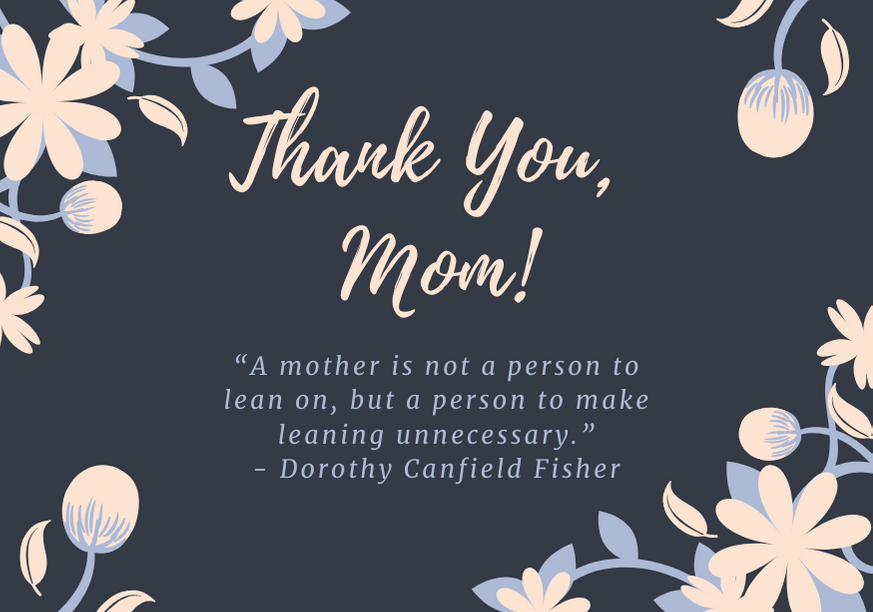 #8 Thank you for encouraging me and telling me how great you think I am. You've really built my confidence, and I feel like I can do anything! Thank you for making me strong, mom.
#9 As children, we take our mothers for granted. Today, I want to tell you that I appreciate every single thing you've done for me. I'm grateful and proud to be your daughter.
#10 It took having a child of my own to fully realize how much energy and inner strength is needed to be a great mother. Thank you for sharing your parenting tips and encouraging me in my sleep-deprived state. I don't know how you did it, mom, but thank you for raising me with such dedication and love!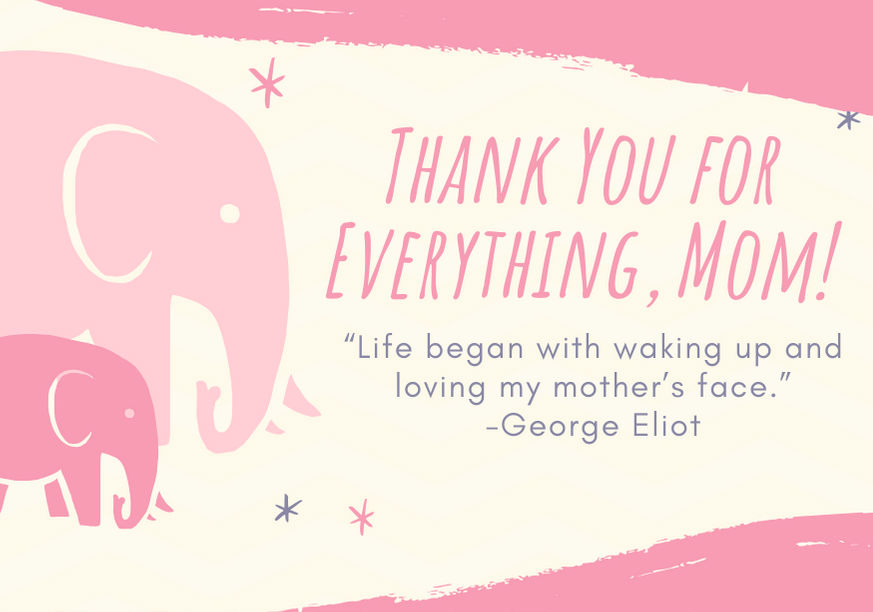 #11 A mother's love for her daughter is unconditional, but so is a daughter's love for her mother. Thank you so much for everything you've done for me. I love you.
#12 Okay, it's been a few years now, so it's safe to admit that I was indeed stealing your lipstick. Thanks for pretending to believe me when I said I wasn't. A special thanks for casually teaching me how to work it. You're the best mom ever.
#13 It's my secret wish to grow into a woman who is as gracious and as wise as you are, but I know I can never outdo you. I admire you so much. Thank you for always being an example to me.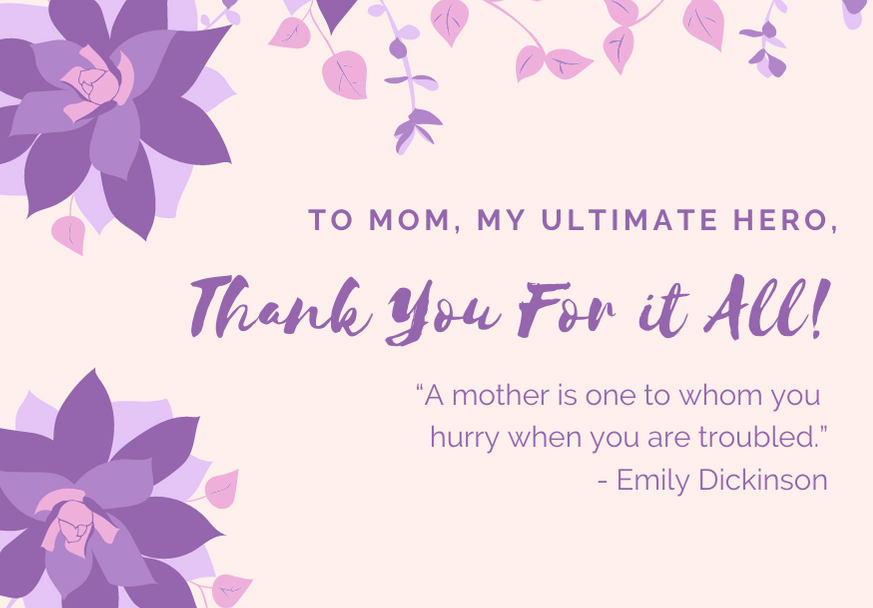 #14 You never had to pretend to be a cool mom, because you were a cool mom. I bet all the other girls were envious! Thank you for showing them how it's done.
#15 I may be all grown up, but whenever you hug me, I become a little girl again. That's the magic of a mother's arms. Thank you for making me feel so safe and loved.
#16 I know it was hard for you as a mother, but thank you for having the heart to allow me to make all of my mistakes. You were always there to help me pick me up after, and I am so grateful.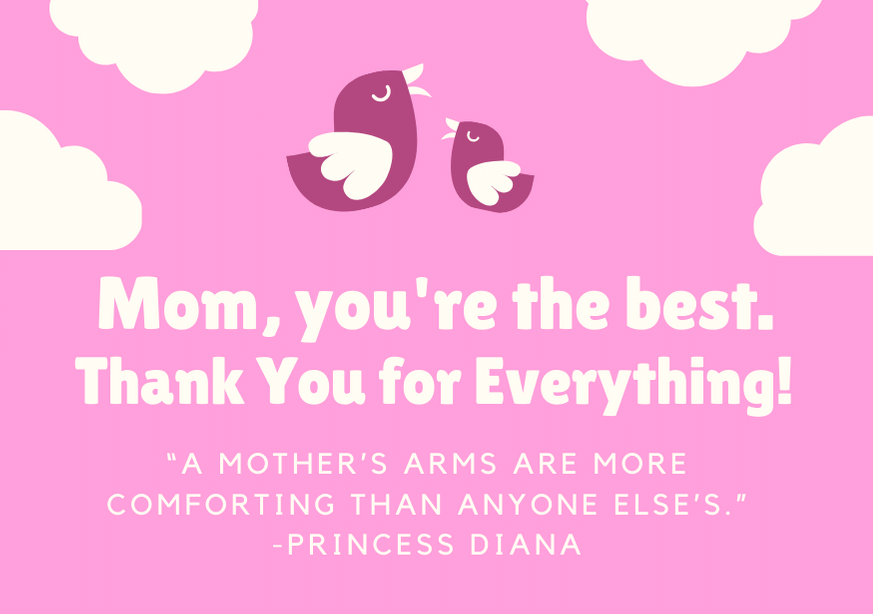 #17 Thank you for raising me to be a strong, ambitious, and smart woman. Having you as an example, I didn't really have a choice. You'll always be my best role model.
#18 It seems that mothers aren't celebrated enough for what brave and kind women they are. I want to do it today and celebrate you. I can't say how proud I am to be your daughter.
#19 I don't know if I can ever repay you for the lifetime of support and care, but I promise to try every day. You're the most important person in my life and the greatest mother. I'd be lucky to be even half a woman you are.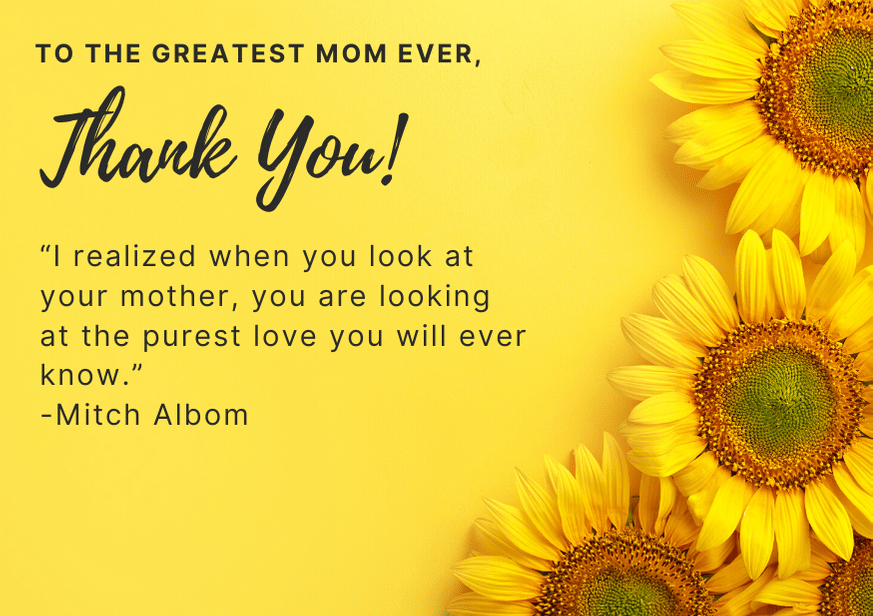 #20 Not matter how busy you were, you always found time for some mother-daughter bonding. Thank you for showering me with your love and attention. It meant the world to me.
#21 Your hands have protected me from harm since the day I was born. Thank you for always being my safe place. You're the kindest and gentlest mother, and I love you.
#22 However grown-up I may be, I'll always be your little girl. I love you more than I can say. Thank you for being a wonderful mother.
#23 Somewhere between braiding my hair and all the girl talk, you taught me the most valuable lessons of life. I'll never find words to thank you properly, but I'm forever grateful.
#24 You were the first person to know about my first love and first heartbreak. I always knew I could talk to you about anything and find comfort in you. Thank you for being my safe place, mom.
#25 While everyone was telling me what I should do, you were asking me what I wanted to do. You taught me to pursue my ambitions, and thanks to you, a dreamy little girl grew up to be a successful woman. I can only hope I can do the same for my daughter.
#26 Saying a simple 'thank you' feels like someone has saved my life and I'm paying back with a penny. I can never explain how deep my appreciation of you is, but I'll always remain a loving and caring daughter to you.
#27 Time may pass, but my love and gratitude towards you never will. I'm so proud to be your daughter, and I thank you for being an amazing mom.
#28 Nothing can express how grateful I am for your never-ending support. Sometimes it was the only thing that kept me going.
#29 For all the sleepless nights and constant worries, let me start giving something back to you. I want to take care of you, I want to be there for you, and I want you to know that I love you more than any other daughter could have ever loved her mother. Thank you.
#30 I don't know how you were never tired of playing dolls and hosting tea parties. You're amazing, thank you for the happiest childhood I could have ever wished for.
#31 If we are what our mothers make us, then I thank you for molding me with the most careful hands. You've influenced me so much and made me who I am today. I'll forever be a grateful daughter.
#32 Childhood memories are sometimes just billions of pieces, emotions, and pictures. I remember the way your cooking smelled and how often we laughed. Thank you for making the best part of my memories.
#33 You'd become a special person to me long before I was born. It's a bond that will last forever, and you can always count on having a loving and caring daughter in me.
#34 Apples don't fall very far from the tree, so I'd say it's pretty much guaranteed that I'll become a confident, beautiful, wise woman just like you. I feel like I won a lottery ticket, so – thank you!
#35 You are the most important person in the world to me. May your heart always be filled with happiness. I'm so grateful that you are my mother.
#36 We always assume our parents know how much we love them, but I decided to tell you just to make sure. You are the most amazing mother I could have ever wished for. Thank you for raising me, molding me, and loving me beyond any words.
#37 You are the strongest woman I know, but your arms are ever gentle. You're my shelter whenever I'm in a storm. Thank you so much for always being there for me.
#38 Looking back, I see that you cared for me even when I didn't think I needed it. You are truly my rock. Thank you for all the selfless love you've given me.
#39 Reliable sources confirmed that you are indeed the best mother in the world. Reliable sources being me, I'm sure you can't argue with that. Thank you for every bit of love you've showered me with.
#40 Being raised by you, I can tell you that you definitely wrote the book on "How to Be a Perfect Mother." Thank you for being a perfect mother to me. I love you very much.
The Most Famous Quotes to Include with Your Thank You Message to Your Mom (from a Daughter)
"To describe my mother would be to write about a hurricane in its perfect power. Or the climbing, falling colors of a rainbow."
Maya Angelou
"It may be possible to gild pure gold, but who can make his mother more beautiful?"
Mahatma Gandhi
"A mother's love is the fuel that enables a normal human being to do the impossible."
Marion C. Garretty
"I realized when you look at your mother, you are looking at the purest love you will ever know."
Mitch Albom
"All that I am or ever hope to be, I owe to my angel mother."
Abraham Lincoln
"The woman who is my best friend, my teacher, my everything: Mom."
Sandra Vischer
"Words are not enough to express the unconditional love that exists between a mother and a daughter."
Caitlin Houston
"A mother and daughter's love is never separated."
Viola Shipman
"A mother is she who can take the place of all others but whose place no one else can take."
Cardinal Mermillod
"Life began with waking up and loving my mother's face."
George Eliot
Please take a moment to pin this post to Pinterest.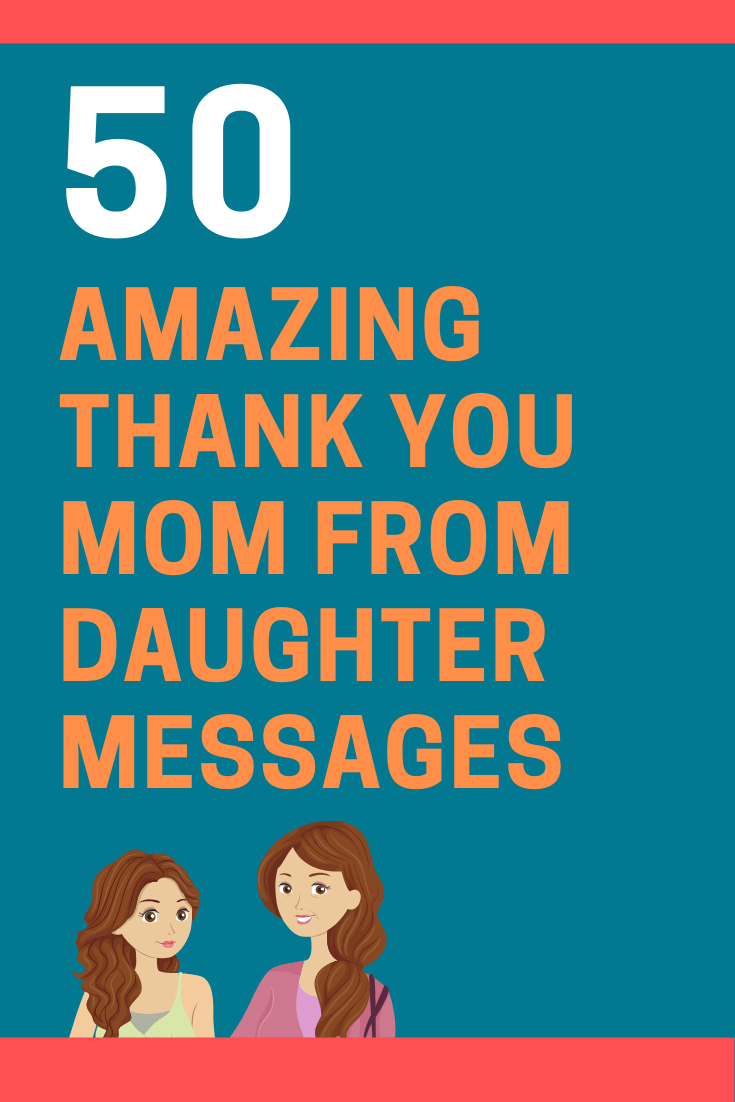 Author Biography
Keith Miller has over 25 years experience as a CEO and serial entrepreneur. As an entreprenuer, he has founded several multi-million dollar companies. As a writer, Keith's work has been mentioned in CIO Magazine, Workable, BizTech, and The Charlotte Observer. If you have any questions about the content of this blog post, then please
send our content editing team a message here
.
---