Here is a list of 125 heartfelt "Thank You My Love" messages and quotes to make your loved one feel appreciated.
#1 Thank you, my love, for always knowing what to say to me and for being by my side whenever I need a guiding hand. Every morning I get to wake up next to you is a morning well spent. For all that you are and all that you do, thank you.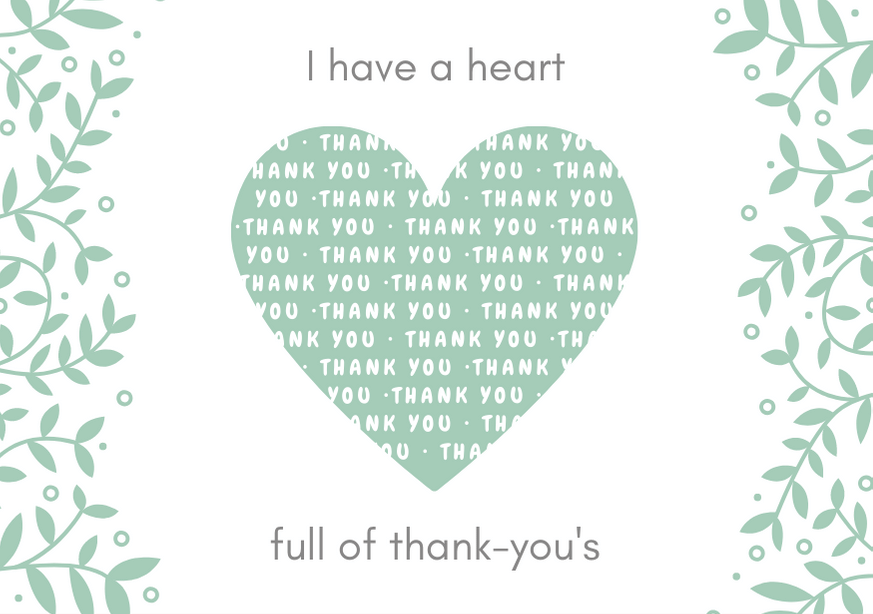 #2 There are many paths in the world, and sometimes it's easy to lose your way. Thank you, my beloved, for never letting go of my hand and for being by my side through this journey we call life.
#3 Touch, taste, hearing, smell, sight. I have five senses to comprehend you and billions of words to describe you, and still, my love, it's impossible to even begin. Thank you for being the most intriguing mystery that my soul longs to explore.
#4 You are the most courageous and selfless person I know, and every day I get to spend with you is a gift. Thank you for all that you do for me. For every challenge and every obstacle that faces us, I know we'll get through it together.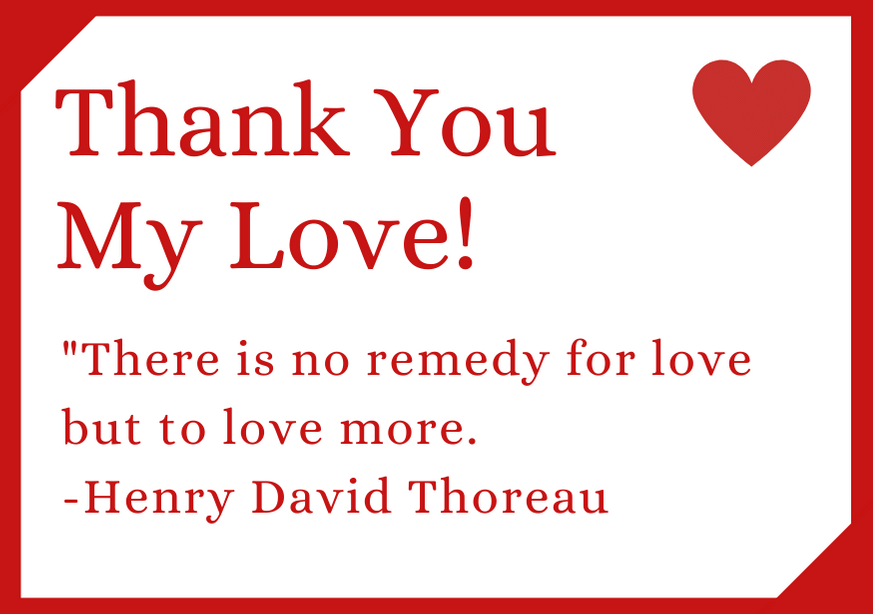 #5 My love for you cannot be measured any more than the depth of the cosmos. Thank you for gracing me with your love. I can never express the extent of my gratitude for the immeasurable joy you bring to my life.
#6 My love and my soul mate, thank you for being The One. I am the luckiest person in the world, not only to have found my soul mate, but for that soul mate to be you. I can't wait to make more memories with you.
#7 I'm so grateful that, against all odds, we ended up together. You never fail to make me laugh, and I can always count on your kindness and support to help get me through tough times. I hope, every day, that I can do the same for you. Thank you, and I love you.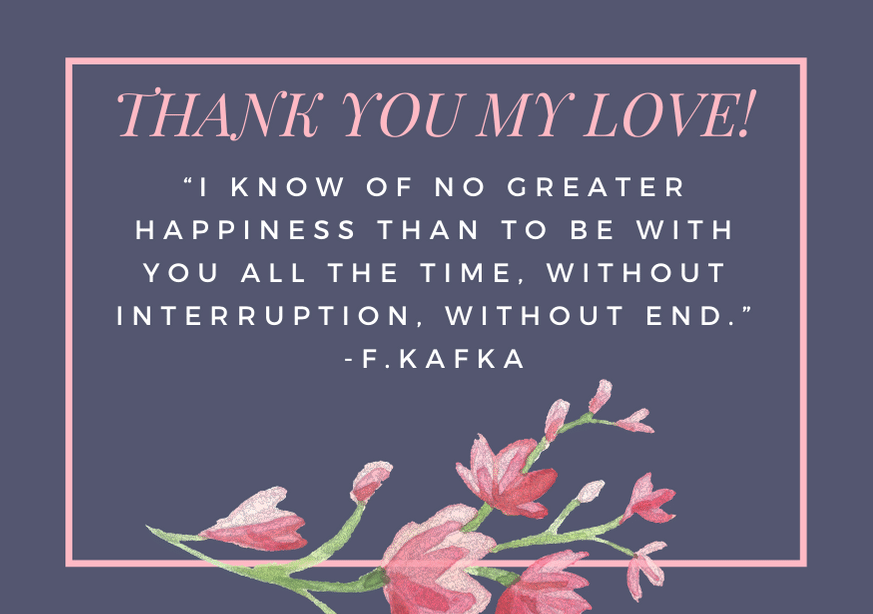 #8 I wasn't looking for anyone when I met you, and then I realized I've really been looking for you this whole time. Thank you for showing me that, my sweetest love.
#9 In my darkest hour you come to shine your light and wash away my fears. I can do anything with you by my side, and I can never thank you enough for that.
#10 I could take every word out of every book, and still fail to express just how much you mean to me. I'm grateful for every moment spent with you, baby.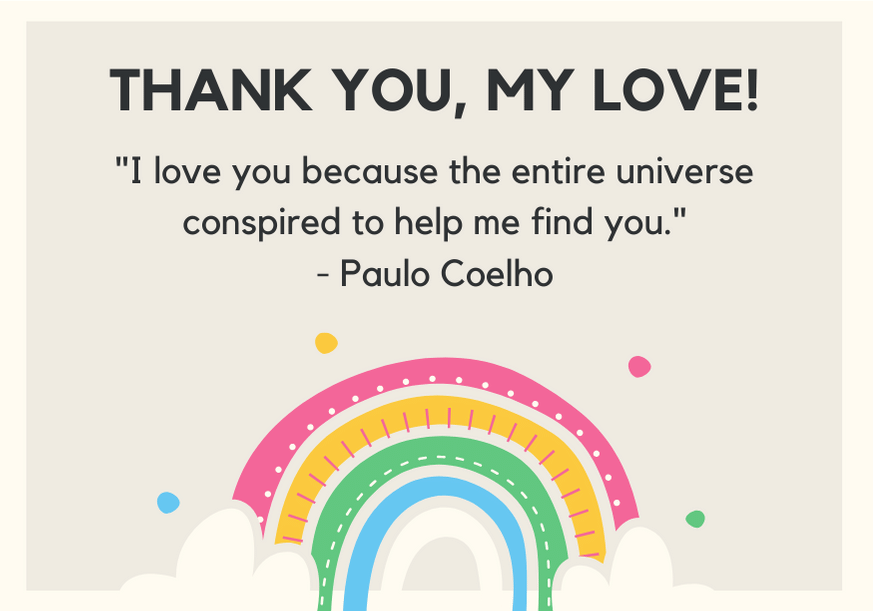 #11 The moment I met you, I felt as if we had known each other forever. We might have lived countless lives together, and if so, my love, I'm happy to have found you in this one, too.
#12 I don't know what I did to deserve such a blessing. You are my shining star, my love, and my everything. You mean more to me than anyone in this world. I'm so thankful to be with you.
#13 Thank you for being an answer to my every prayer, my beloved. Without you, I wouldn't have become the person I am today.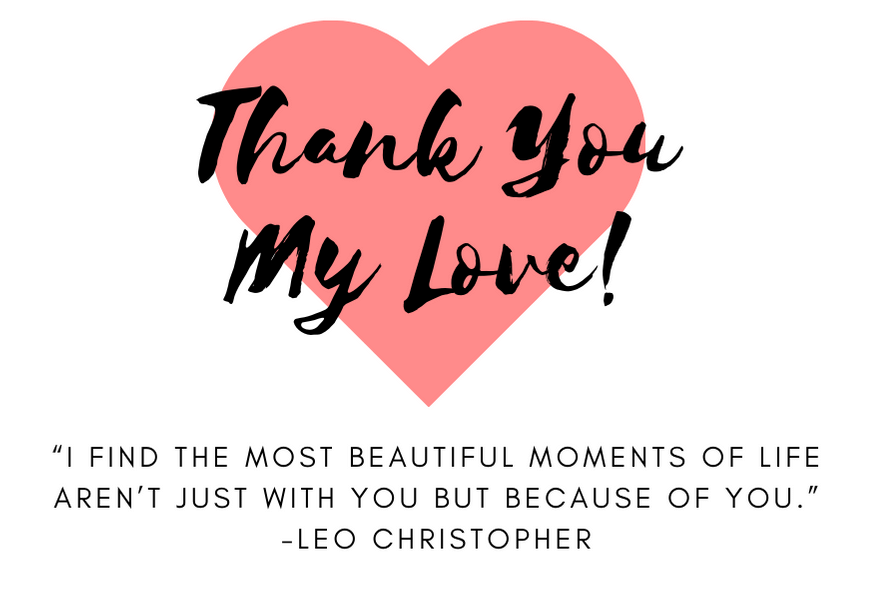 #14 The prettiest love songs can't do justice to what I feel for you. You're everything to me, my love, and I thank you for holding my heart in your hands.
#15 You know I'd do anything for you, my love, and yet you've never asked for a single thing. In your kindness, you only ask for my love and care, and of that, I have plenty to give to you. Thank you, sweetheart.
#16 Thank you for always loving me so completely. Your love is the most important thing in my life and I treasure the life we share together.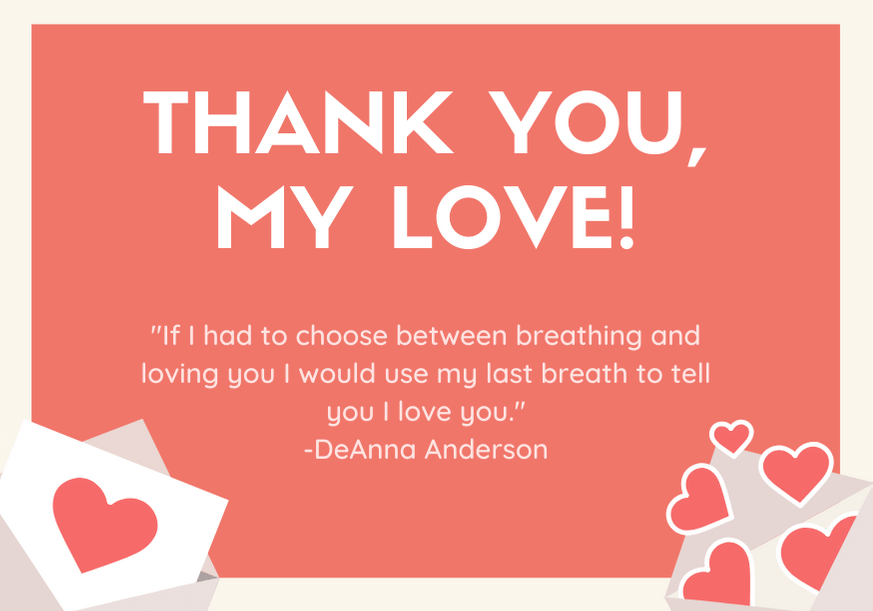 #17 My heart is so full of love for you, and I want to thank you so much for everything. Having you in my life is my greatest joy. I appreciate all the ways you show that you really care.
#18 Ever since I met you, my dearest love, I've had a heart that wants more and more of you. I can't get enough. Whenever we're apart, I'm drawn back to you. Help me get enough. I want to know you deeper!
#19 I'm so grateful for all the little things, my love. The way you smile, and the way we talk, the way we love. I burst with joy and excitement at the thought of spending the rest of my life with you.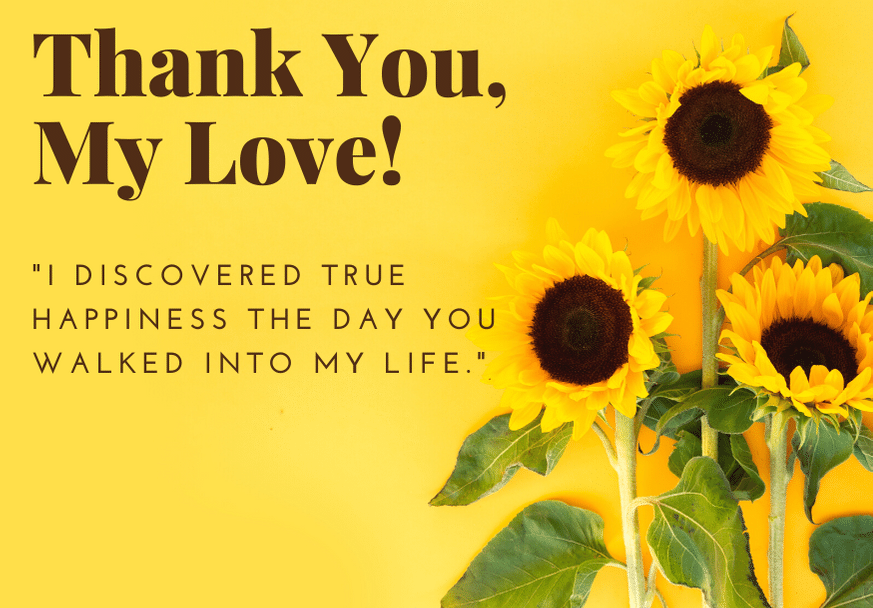 #20 First you took my hand, then you took my heart. First I didn't know, then I knew enough. First, you said "hello," then I was in love. Thank you for our beautiful story.
#21 If a new star would light up every time I thought of you, the world would never again know darkness. Thank you, my love, for lightening up my whole universe.
#22 You are the first thing that I think of in the morning and the last thing on my mind before I fall asleep. You're so extraordinarily special to me, my love, and I'll always be so grateful you are in my life.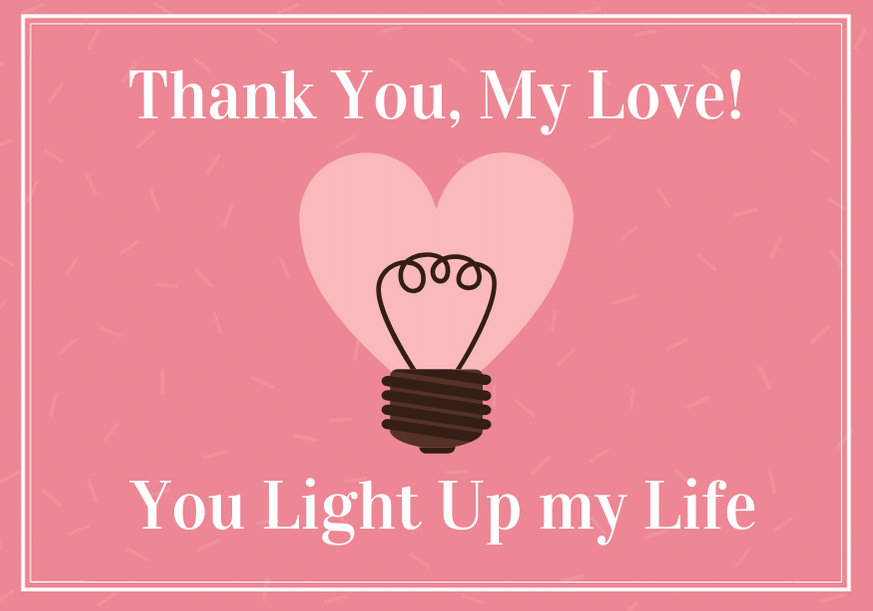 #23 Love was everywhere around me, but I never saw it, heard it, or felt it until I met you. Thank you, my sweetest beloved, for revealing its beauty to me.
#24 My love, thank you for understanding me the way no one else can. You hold the key to my heart, and you are its only tenant.
#25 When I look at you, it's hard to understand how I got lucky enough to have someone as caring and smart as you in my life. Thank you for being here. I love you.
#26 You always know how to make me smile, and for you, I smile the brightest. Thank you for your kind and tender ways, my love. You are my radiant star.
#27 I'm not afraid of what the future brings, because you are standing by my side. Thank you for being my courage and my confidence. I can never repay you, but I will never stop trying.
#28 You are the lyrics to my song and the music to my heart. Thank you for completing me so fully, my love. You are my soul mate, my perfect partner here on earth and for eternity.
#29 My love, I'm grateful for every hour, every minute, every second of yourself that you have given to me. I hope you will let me spend my life proving to you that is was worth it.
#30 If tomorrow never comes, my love, today by your side would be the perfect ending. Thank you for being my greatest joy each and every hour.
#31 Thank you for being my best friend, confidant, and inspiration. Every day, you inspire me to be better. Thank you for being who you are. I love you.
#32 Thank you so much for making me feel valued and cherished. You mean the world to me and I am grateful for every moment we spend together.
#33 I've always known what a powerhouse you are, but thank you for sharing your vulnerable side with me, too. I appreciate your openness and the tender heart I have come to love. Knowing you deeply makes me love you even more.
#34 My love, I was longing for you long before I met you. Thank you for coming into my life. You've made all my dreams come true.
#35 You and I are magnetic. We have different polarities, but we are drawn to each other with an inexplicable force that cannot be separated. Thank you for this amazing bond, for this unity I feel with you, my love.
#36 I can never thank you enough for all the encouragement you give me, and the way you always believe in me. I love you more and more every day.
#37 My love, in you I've found a partner and a friend. Thank you for your constant support. You mean everything to me.
#38 I'm grateful for a lot of things but you, my love, are by far the best of them. Thank you for lighting up my life with your presence.
#39 You are the closest friend I've ever had and the sweetest love I've ever known. Thank you for the way my heart swims and sings at a very thought of you.
#40 If the sun stopped shining, my world would still be bright with abundant beauty because of you. Thank you, my beloved, for filling my life with radiant joy and love.
The Most Famous Quotes to Include with Your Thank You Message for Your Love
"I know of no greater happiness than to be with you all the time, without interruption, without end."
Franz Kafka
"I find the most beautiful moments of life aren't just with you but because of you."
Leo Christopher
"There is no remedy for love but to love more."
Henry David Thoreau
"I love you because the entire universe conspired to help me find you."
Paulo Coelho
"Some souls just understand each other upon meeting."
N. R. Hart
"Love is a smoke made with the fume of sighs, being purged, a fire sparkling in lovers' eyes, being vexed, a sea nourished with lovers' tears. What is it else? A madness most discreet, a choking gall and a preserving sweet."
William Shakespeare
"You are, and always have been, my dream."
Nicholas Sparks
"And I'd choose you; in a hundred lifetimes, in a hundred worlds, in any version of reality, I'd find you and I'd choose you."
Kiersten White
"All, everything that I understand, I only understand because I love."
Leo Tolstoy
"I knew the second I met you that there was something about you I needed. Turns out it wasn't something about you at all. It was just you."
Jamie McGuire
"If I had to choose between breathing and loving you I would use my last breath to tell you I love you."
DeAnna Anderson
"I discovered true happiness the day you walked into my life."
French Love Saying
"Each day I love you more, today more than yesterday and less than tomorrow."
Rosemonde Gerard
"In vain I have struggled. It will not do. My feelings will not be repressed. You must allow me to tell you how ardently I admire and love you."
Jane Austen
"For the two of us, home isn't a place. It is a person. And we are finally home."
Stephanie Perkins
"Love is a friendship set to music."
Joseph Campbell
"I swear I couldn't love you more than I do right now, and yet I know I will tomorrow."
Leo Christopher
"You know you're in love when you don't want to fall asleep because reality is finally better than your dreams."
Dr. Seuss
"Every morning I still wake up and the first thing I want to do is see your face."
P.S. I Love You
"I was made and meant to look for you and wait for you and become yours forever."
Robert Browning
"I am catastrophically in love with you."
Cassandra Clare
"I love you without knowing how, or when, or from where. I love you straightforwardly, without complexities or pride; so I love you because I know no other way."
Pablo Neruda
"Sometimes your nearness takes my breath away, and all the things I want to say can find no voice. Then, in silence, I can only hope my eyes will speak my heart."
Robert Sexton
"In case you ever foolishly forget, I am never not thinking of you."
Virginia Woolf
"I never want to stop making memories with you."
Pierre Jeanty
"I can't promise you forever, because that's not long enough."
Jasinda Wilder
"Even before we met and long after we're both gone, my heart lives inside of yours. I'm forever and ever in love with you."
Crystal Woods
"The greatest happiness of life is the conviction that we are loved; loved for ourselves, or rather, loved in spite of ourselves."
Victor Hugo
"I still haven't figured out how to sit across from you, and not be madly in love with everything you do."
William C. Hannan
"I am who I am because of you."
Noah, The Notebook
"I never loved you any more than I do, right this second. And I'll never love you any less than I do, right this second."
Margaret Stohl
"I want to do with you what spring does with the cherry trees."
Pablo Neruda
"I have seen the best of you, and the worst of you, and I choose both."
Sarah Kay
"If forever does exist, please let it be you…"
A.R Asher
"To the world you may be one person, but to one person you are the world."
Bill Wilson
"I am so in love with you that there isn't anything else."
Ernest Hemingway
"Better than I was, more than I am, and all of this happened by taking your hand."
Tim McGraw ("It's Your Love" lyrics)
"I love you begins by I, but it ends up by you."
Charles de Leusse
"I could start fires with what I feel for you."
David Ramirez
"Being with you never felt wrong. It's the one thing I did right. You're the one thing I did right."
Becca Fitzpatrick, Crescendo
"Nothing compares to you."
Prince ("Nothing Compares 2 U" lyrics)
"I cannot imagine a life in your absence. You are like the breath of air that I need to live, the drop of water in a thirsty desert. I need you like a bird needs the skies to go higher."
Constantine Jake
"I have found the one whom my soul loves."
Song of Solomon 3:4
"Happiness is holding someone in your arms and knowing you hold the whole world."
Orhan Pamuk, Snow
"But you've slipped under my skin, invaded my blood and seized my heart."
Maria V. Snyder
"In short, I will part with anything for you, but you."
Mary Wortley Montagu
"If I had a flower for every time I thought of you I could walk through my garden forever."
Alfred Tennyson
"Take my hand, take my whole life too. I can't help falling in love with you."
Elvis Presley ("Can't Help Falling in Love" lyrics)
"The first time ever I saw your face, I thought the sun rose in your eyes."
Roberta Flack
"I was, and I remain, utterly and completely and totally in love with you."
J.R. Ward
"All of me loves all of you. Love your curves and all your edges; all your perfect imperfections. Give your all to me. I'll give my all to you."
John Legend ("All of Me" lyrics)
"The heart is the place where we live our passions. It is frail and easily broken, but wonderfully resilient. There is no point in trying to deceive the heart. It depends upon our honesty for its survival."
Leo Buscaglia
"Ask me to define my love for you and I'll say it's captured in every beautiful memory of our past, detailed out in vivid visions of our dreams and future plans, but most of all it's right now, in the moment where everything I've ever wanted in my life is standing right in front of me."
Leo Christopher
"I cross my heart and promise to give all I've got to give to make all your dreams come true. In all the world, you'll never find a love as true as mine."
George Strait ("I Cross My Heart" lyrics)
"I love you. You…you complete me."
Jerry Maguire
"How do I love thee? Let me count the ways. I love thee to the depth and breadth and height My soul can reach."
Elizabeth Barrett Browning
"I love you not because of who you are, but because of who I am when I am with you."
Roy Croft
"Doubt thou the stars are fire, Doubt that the sun doth move, Doubt truth to be a liar, But never doubt I love."
Hamlet
"Grow old along with me; the best is yet to be."
Robert Browning
"Souls tend to go back to who feels like home."
N.R. Hart
"I love you, with no beginning, no end."
Coco J. Ginger
"I would rather spend one lifetime with you, than face all the ages of this world alone."
J.R.R. Tolkien
"And when you smile, the whole world stops and stares for awhile, cause you're amazing, just the way you are."
Bruno Mars ("Just The Way You Are" lyrics)
"I wonder if it's possible to have a love affair that lasts forever."
Andy Warhol
"There is a madness in loving you, a lack of reason that makes it feel so flawless."
Leo Christopher
"If I know what love is, it is because of you."
Hermann Hesse
"Being with you and not being with you is the only way I have to measure time."
Jorge Luis Borges
"So, I love you because the entire universe conspired to help me find you."
Paulo Coelho
"I love you and that's the beginning and end of everything."
F. Scott Fitzgerald
"There is not enough that I can write about you, but I want to end this page by saying that I really, glaringly and daringly love you."
Sophia Pacey
"I know I am in love with you because my reality is finally better than my dreams."
Dr. Seuss
"The water shines only by the sun. And it is you who are my sun."
Charles de Leusse
"My love for you is past the mind, beyond my heart, and into my soul."
Boris Kodjoe
"My heart is and always will be yours."
Jane Austen
"Come live in my heart and pay no rent."
Samuel Lover
"Every time you say those 3 beautiful words, I cherish that moment like a treasure."
Andrea Croft
"Life's greatest happiness is to be convinced we are loved."
Victor Hugo, Les Miserables
"To be your friend was all I ever wanted; to be your lover was all I ever dreamed."
Valerie Lombardo
"Alone we can do so little; together we can do so much."
Helen Keller
"The best and most beautiful things in this world cannot be seen or even heard, but must be felt with the heart."
Helen Keller
"All that you are is all that I'll ever need."
Ed Sheeran ("Tenerife Sea" lyrics)
"For it was not into my ear you whispered, but into my heart. It was not my lips you kissed, but my soul."
Judy Garland
"Every day I discover that I love you even more, and in this infinite universe I will love you till the ends."
Alicia N. Green
Please take a moment to pin this post to Pinterest.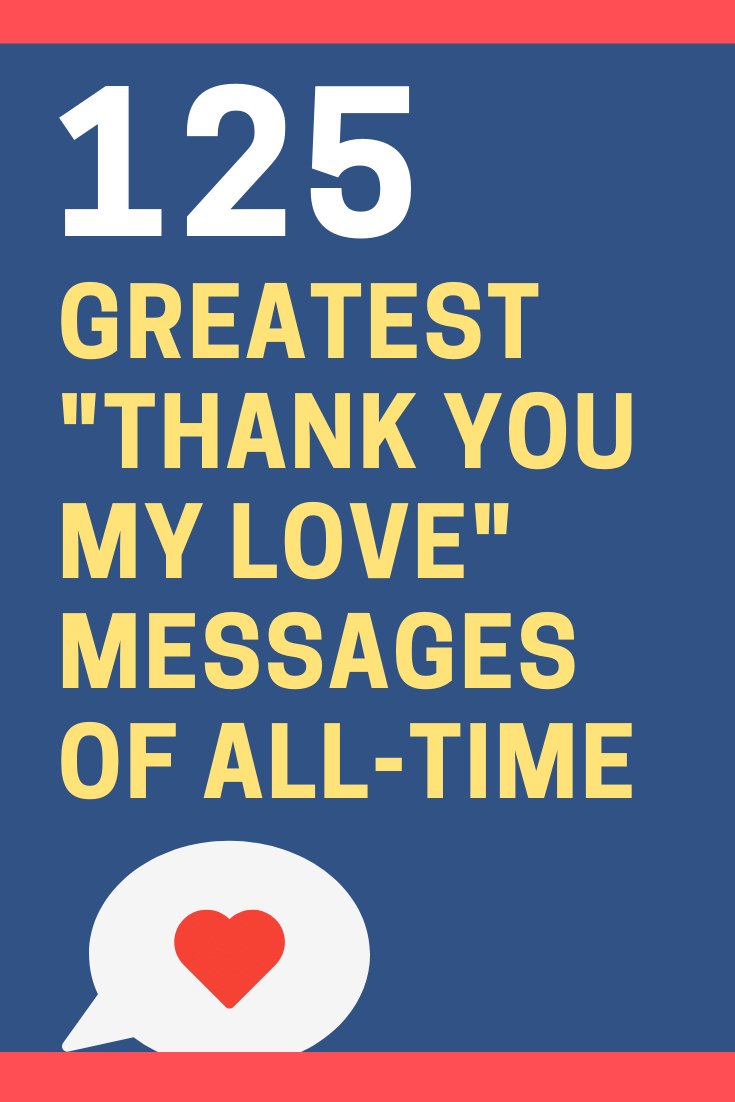 Author Biography
Keith Miller has over 25 years of experience as a CEO and serial entrepreneur. As an entrepreneur, he has founded several multi-million dollar companies. As a writer, Keith's work has been mentioned in CIO Magazine, Workable, BizTech, and The Charlotte Observer. If you have any questions about the content of this blog post, then please
send our content editing team a message here
.
---