Here is a list of 40 examples of thank you notes for a lunch hosted by the boss to show them how much you appreciate their thoughtful gesture.
#1 Thank you for organizing such an enjoyable and delicious meal last week. You're a great person to work for, and I look forward to doing my part to bring as much value as possible to this team.
#2 It was nice to get to know you and the rest of the team better over the lunch that you arranged for us. Thank you for the meal, the experience, and for doing these kinds of things that make this a great place to work.
#3 I am thrilled that you introduced me to one of my new favorite restaurants. I would never have thought to try it out before. Thank you very much for treating me to lunch there and for spending time to talk to me about your background and our office.
#4 Our lunch together made me feel like a truly valued member of the company. It was such a positive experience for me and made my day. It meant a lot to me that you took a break from your schedule to invest your time in me. Thank you.
#5 Thank you for your incredible leadership and an incredible lunch. Everything was simply exquisite and mouth-wateringly delicious. I was very happy to have had the chance to speak with you one-on-one.
#6 Thank you very much for taking me out to lunch today. It was a well-needed boost and a welcome change of scenery. You really are the world's greatest and most thoughtful boss.
#7 I was honored to have spent some time with you during lunch the other day. Thank you for the invitation and for an enjoyable time.
#8 I feel extremely grateful and appreciative to have you as my boss. Thank you for fitting me into your busy schedule and for treating me to lunch. I feel very lucky to work alongside someone like you.
#9 Your offer to take me out to lunch the other day was a pleasant and unexpected surprise. Thank you for knowing how to inspire as well as encourage your employees.
#10 I want to say that I really enjoyed going out for lunch with you. It was an extremely pleasant, refreshing, and enjoyable experience. Thank you for your insight and guidance about how I can improve at work.
#11 Thank you for taking me to lunch. You made me feel appreciated and recognized for the work I've been doing, and it goes a long way to encourage me to double down and get more things done.
#12 This company means a lot to me, and I'd like to thank you for letting me know that it shows by having taken me to lunch. Thank you for lunch.
#13 I hope you realize just how much I appreciated that lunch. I feel humbled to be recognized for all of my hard work. It really makes me feel even more motivated and encouraged.
#14 Lunch the other day was a great time and a fantastic team-building experience. Thank you for taking the time to make it all happen.
#15 I was happy to be working for you before, but now that we've had that lunch, I'm even happier to go the extra mile. Thank you for everything.
#16 It's little things like the lunch we just had that makes employees like me feel appreciated and important in ways words can't. Thank you for the meal and your efforts for your staff.
#17 Talk is cheap, but I know full well that lunch wasn't. Thank you for taking me out, and for the wonderful and productive conversation.
#18 Thank you for lunch the other day. I certainly appreciate it. Though it might not seem like a big deal to you, it certainly was for me, and I value spending time talking with you.
#19 When your boss recognizes you, it's a feeling that is humbling as well as inspiring to work all that much harder. Did you know that before you invited me to lunch? Thank you for everything.
#20 I want to extend my thanks to you for taking me out to lunch. I'll burn off those calories by working that much harder for you. Thank you again.
#21 Thank you for taking us out to lunch with the team the other day. I appreciate it, and I'm confident that everyone else does too.
#22 I enjoyed spending time with you as well as everyone else at lunch the other day. Things like that make this such a great place to work.
#23 Taking us all out to lunch had to have been expensive. I truly appreciate it. Thank you for the delicious meal and for the bonding opportunity.
#24 Few things can inspire a team like good food. With that, you have delivered magnificently. Thank you for being a boss who knows how to motivate us.
#25 I appreciate the lunch that you provided for everyone. It was a delicious meal, and everything was delightful. We're lucky to have a boss like you.
#26 The lunch that you treated us to will not be taken for granted. Thank you for everything, including making sure we're happy in the workplace.
#27 This is the only place that I've worked that does lunch as frequently as we do here. I suppose that's because you weren't in charge of all of the other places. Thank you for the perks that make this company special.
#28 Thank you so much for taking me out to lunch recently. I appreciate that you took the time out of your day to make that thoughtful effort. You really are a superb boss, colleague, and friend.
#29 Lunch was wonderful yesterday, thank you. I really enjoyed our conversation. It was captivating. I am so thrilled to be a part of your team.
#30 Thank you for lunch. I had a lovely time talking with you, and I hope that we both find the time to do it again soon. I am grateful that you gave me this opportunity to get to know you better.
#31 I had a great time at lunch with you. It is a memory I will look back on fondly. I found our conversation to be thought-provoking and intriguing, thank you.
#32 The food and time I spent with you during lunch were both amazing. I really liked interacting with you outside of the work environment and getting to know you better.
#33 Thank you very much for lunch. Thank you for making the effort and for recognizing my work and accomplishments. It really meant the world to me, honestly.
#34 We should definitely have lunch together more often. The experience was thoroughly welcome and enjoyable. I want you to know that I feel privileged to have you as my boss.
#35 I wish to extend my gratitude for you treating me to a delicious lunch. Thank you for organizing it. It was very thoughtful and generous of you. I definitely feel more at ease and more comfortable working as part of your team as a result.
#36 Getting away from the office to have lunch with you was a delightful break, thank you. Spending time talking to you was absolutely fantastic, and I will definitely be revisiting that restaurant. Thank you so much.
#37 I am so happy that you invited me to lunch. It was such a lovely surprise. I really appreciated your excellent company and the time to get to know you better.
#38 The conversation at lunch was enthralling and really helped me gain insight into the new project. It was a welcome surprise to realize how priceless it is to be allowed to work for a brilliant mind like yours.
#39 I feel extremely honored to have been invited to lunch with you. Thank you so much for your precious time. It was greatly appreciated, and please know that I am even more motivated to add value to the team than before.
#40 Thank you so much for taking me to lunch and for picking up the tab. I hope that I get the opportunity to repay the favor as soon as possible. I enjoyed every bit of the conversation and the meal.
Please take a moment to pin this post to Pinterest.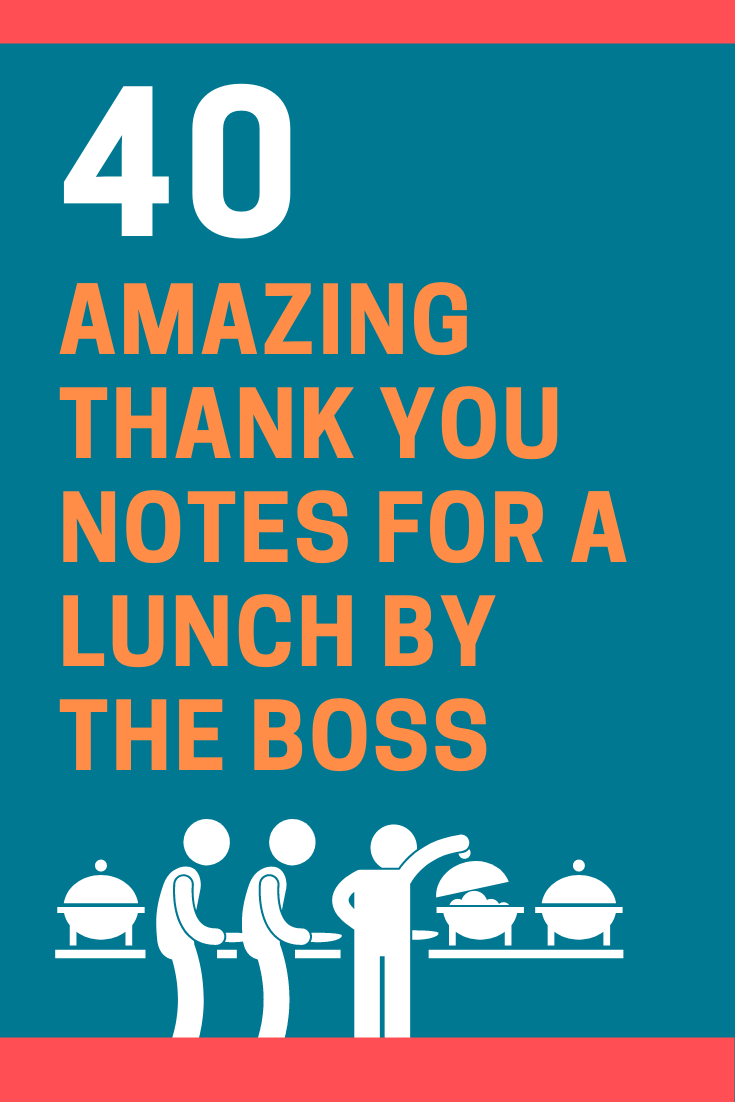 Author Biography
Keith Miller has over 25 years of experience as a CEO and serial entrepreneur. As an entrepreneur, he has founded several multi-million dollar companies. As a writer, Keith's work has been mentioned in CIO Magazine, Workable, BizTech, and The Charlotte Observer. If you have any questions about the content of this blog post, then please
send our content editing team a message here
.
---