Here is a list of 101 original birthday messages for your wife that will make her day.
#1 The day we met, my life truly began. With you, I've experienced good times. I've learned about life. I've grown as a man. I can't wait to continue making memories with you for the rest of our lives. There is so much more to our story, and through the ups and downs, together, the story will have a happy ending with us holding hands together in eternity. Happy birthday to my beautiful, smart and strong wife. I am deeply and hopelessly in love with you.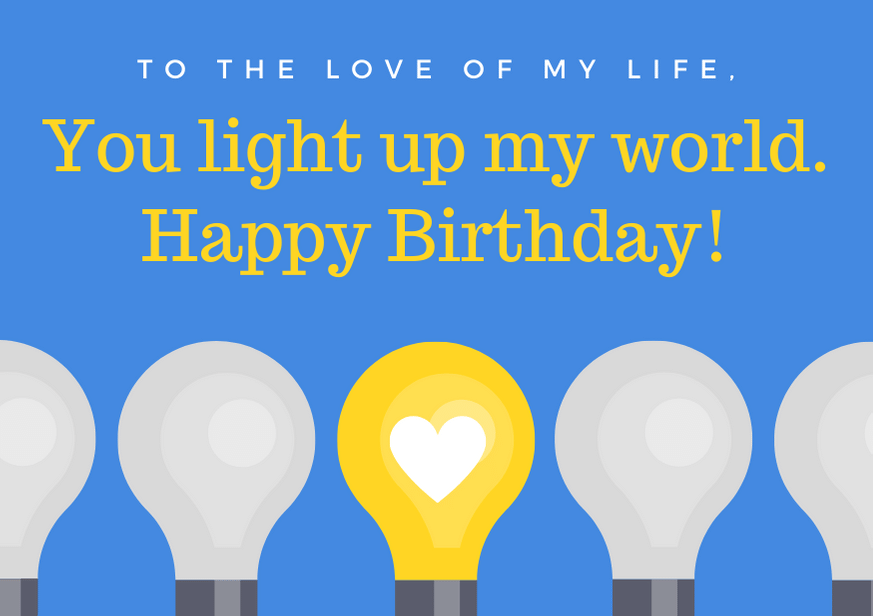 #2 Happy birthday, to my beautiful wife. You're the sugar in my tea, the voice of reason in my head, and the love that fills my heart. Marrying you, my best friend, was the best decision of my life. I love you, forever and ever.
#3 To my gorgeous wife on your birthday: You fill every day with magic and make living life with you better than any life I could have ever hoped for. I love you and am so thankful for all you do. Happy birthday, baby.
#4 Happy birthday to my amazing, strong, smart, funny, silly, wonderful wife. You keep our family together and make my life complete. I love you.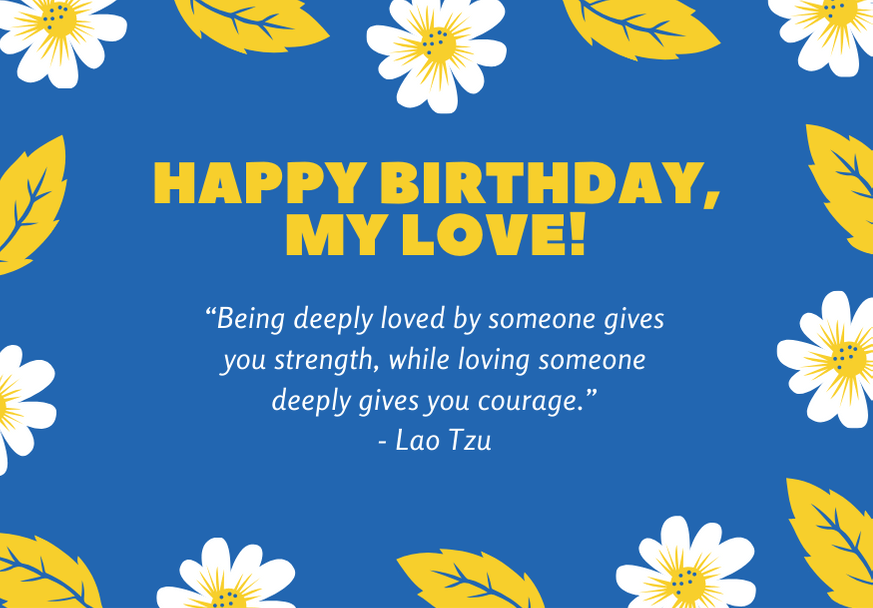 #5 Happy birthday to my extraordinary wife! You leave me speechless with your beauty, wisdom and grace on a daily basis. Never change, my love. The world is indeed a better place because you are in it. I love you more than words can say. You are stunningly gorgeous, both inside and out. I will do everything in my power to ensure that your birthday is as spectacular as you are, babe.
#6 To my lovely bride on your birthday: You are the sun in my sky, the rhythm in my step, and my whole reason for being. Happy birthday, my sweetest love.
#7 In case I haven't told you, there is nobody in the world like you, and I feel like the luckiest man alive to call you my wife. Happy birthday, my queen.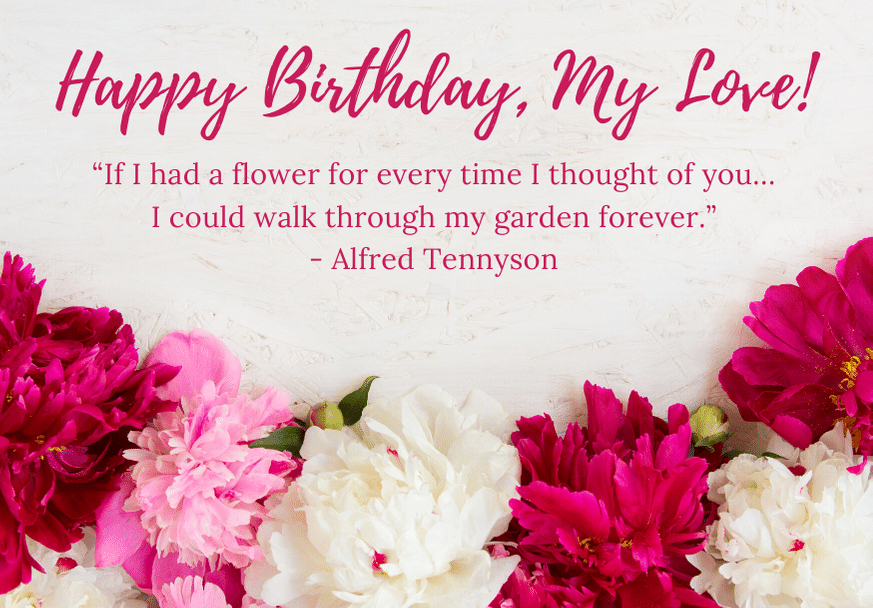 #8 Wishing my best friend and soul mate a day filled with relaxation and pampering. Happy birthday, baby.
#9 Every day I thank God for sending you to me. With you by my side, this journey of life has become an adventure that I want to continue until our last breaths. You are my lover and my friend. I would crawl through broken glass for you. Happy birthday, my dearest love.
#10 You make my heart, soul, and entire world sing because you make me feel like a man. You believe in my talents and skills, you encourage me to shoot for the stars, and you support me as I work hard to provide for our family. You are exquisitely beautiful and kind, soft-hearted and nurturing. You are the mother of my children, and the love of my life. Happy birthday, my precious love. I am yours forever.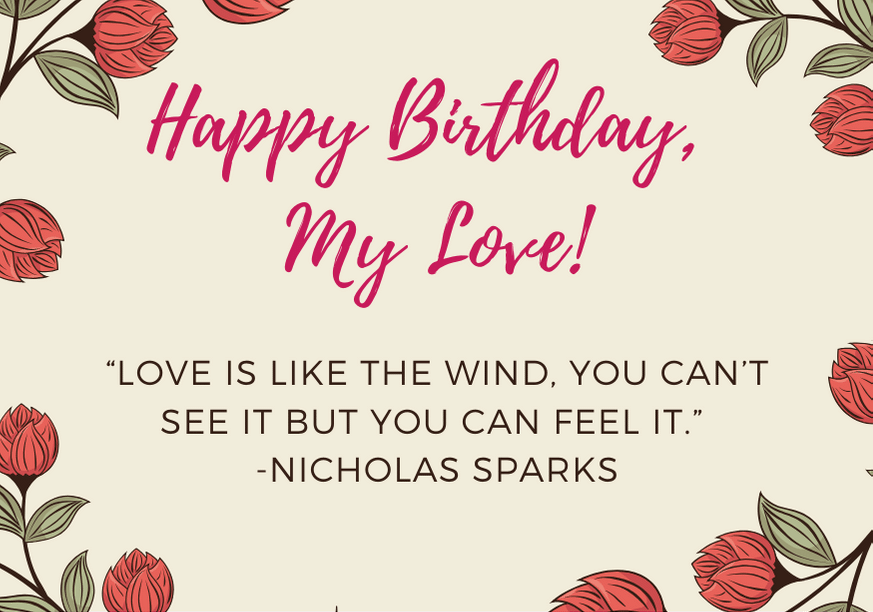 #11 On your birthday, I want nothing more than your happiness. It is a day about you. Your strength. Your character. Your heart. You are the center of my world and I am the luckiest man ever to have you as my wife. Happy birthday, my love.
#12 Thank you for all the hard work you do to keep our family organized, healthy and strong. I love and appreciate you more than words can say. Happy birthday, angel.
#13 When I have a chance to stop and think, I wonder what I did to deserve you. You are understanding, trusting, and eternally energetic. You do it all, all the time. In a word, you are superwoman. You hold our family together and I could never do it without you. But I want you to know that when you tire, you can lean on me, and I will rise to the occasion. I am here for you, as your friend and partner for life. I love you. Happy birthday, my precious love.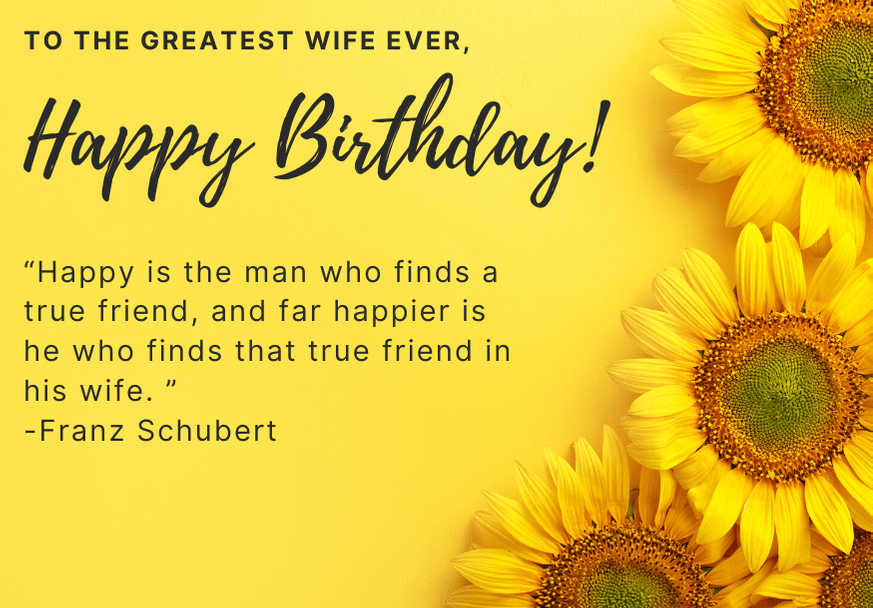 #14 When I was thinking about your upcoming birthday, I took some time to think about our relationship. I am so lucky to have such a gorgeous woman in my life who "gets" me and believes in me. I can't imagine my life without you. I hope your birthday is everything you want it to be. It is your special day to focus on you, and the amazing woman you are. Happy birthday, my beloved.
#15 Every day, in a million little ways, you fill my world with light and laughter. You know my flaws and you love me anyway. You know how to lift me up when I am down. You believe in me more than I believe in myself. Your kisses are like sugar and your embraces are like a warm sensual blanket. On your birthday, I want you to really know all these things. Know how incredible you are. Know that I love you from the bottom of my heart. Happy birthday, sweetheart.
#16 Happy birthday, to the most supportive wife in the whole world! Thank you for believing in me every day. I am so grateful to have a cheerleader rooting for me. I love you.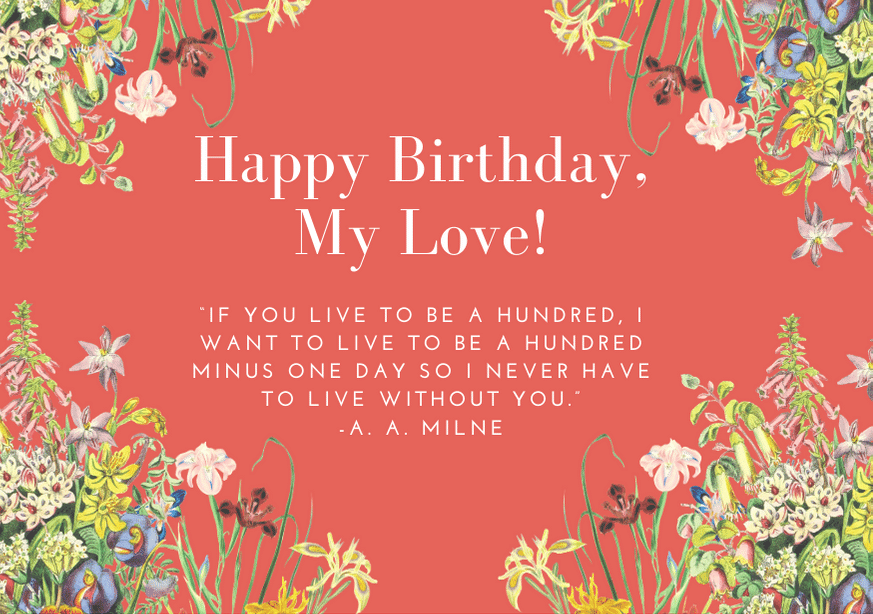 #17 Where would I be without you? Lost, for sure (and refusing to ask for directions). You're so wonderful, and I'm so eternally grateful to have you in my life. Happy birthday, sweetheart.
#18 Happy, happy, happy birthday, to my exquisitely beautiful, smart and tireless wife. You are amazing and deserve all the best this world has to offer. I love you, honey bee.
#19 You're more than a wife…you're my very best friend, and the best part of me. I hope you have a fantastic birthday. I love you, gorgeous.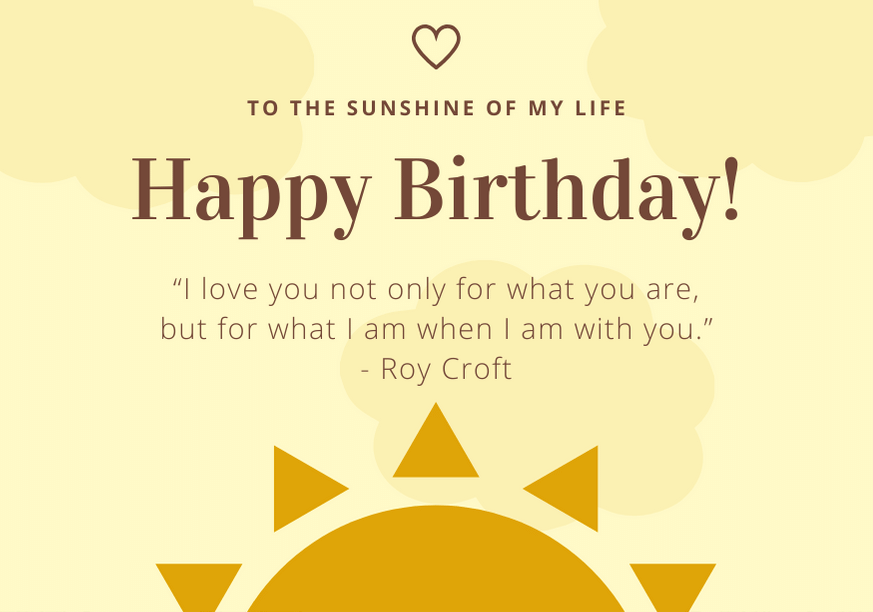 #20 Happy birthday, my honey bee! You're the greatest wife any man could dream of, and I fall deeper in love with you every day.
#21 Wishing you a day filled with pampering, dreams, wine and cake. Thank you for who you are and all that you do. You make our family what it is. You are our everything. Happy birthday, my dearest love.
#22 You are the heart of our family, the one that keeps us moving in the right direction and all the plates spinning at once. You are selfless, tireless and devoted. How could a man ask for more? I want you to know I am truly grateful for all that you do, and we would be lost without you. I love you, and happy birthday, princess.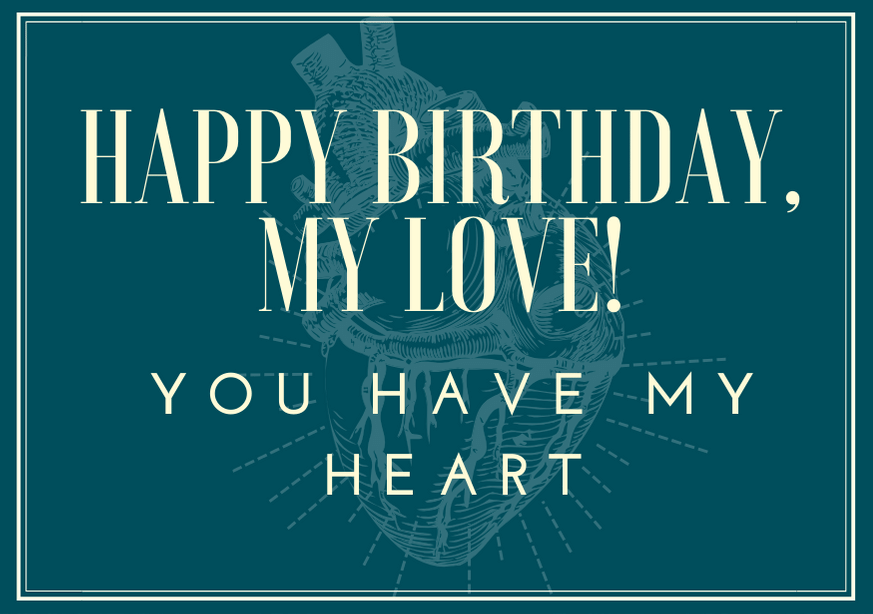 #23  I will never stop loving you, my queen. You are my better-half, and I you grow more beautiful with each passing year. My heart still skips a beat when I'm around you, and your undying elegance always leaves me breathless. I can't wait to treat you to a passionate birthday. Happy birthday!
#24 To my wife: You are the stars in my sky, the sun in my morning, and the music that fills my soul. Happy birthday, my dearest love.
#25 Happy birthday to a truly exceptional wife. Honey, you have made me the happiest man on earth, ever since you walked into my life. I hope your day is as incredible as you are, sweetheart. Your smile lights up my whole world, and you really are my soulmate. I would not be half the man I am today without having you by my side through thick and thin. I love you.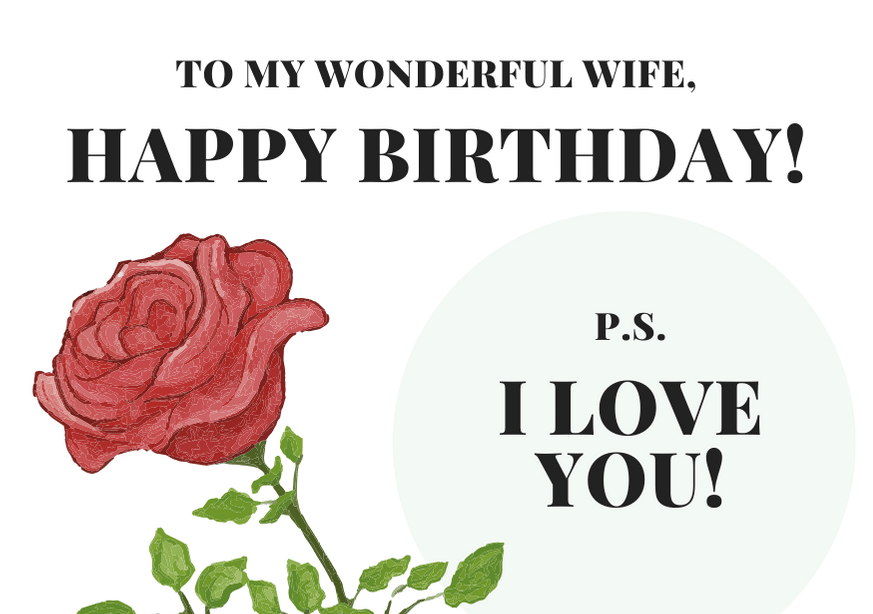 #26 How much do I love you? Hint: my love is bigger than words can say. Happy birthday, my beloved.
#27 Happy birthday to my smoking hot, crazy smart, and one-of-a-kind better half. You fill every day with beautiful memories, laughter, and so much love.
#28 To my wife on your birthday: I wouldn't change one second of our journey together. I'm so thankful for every moment with you. Happy birthday, my queen.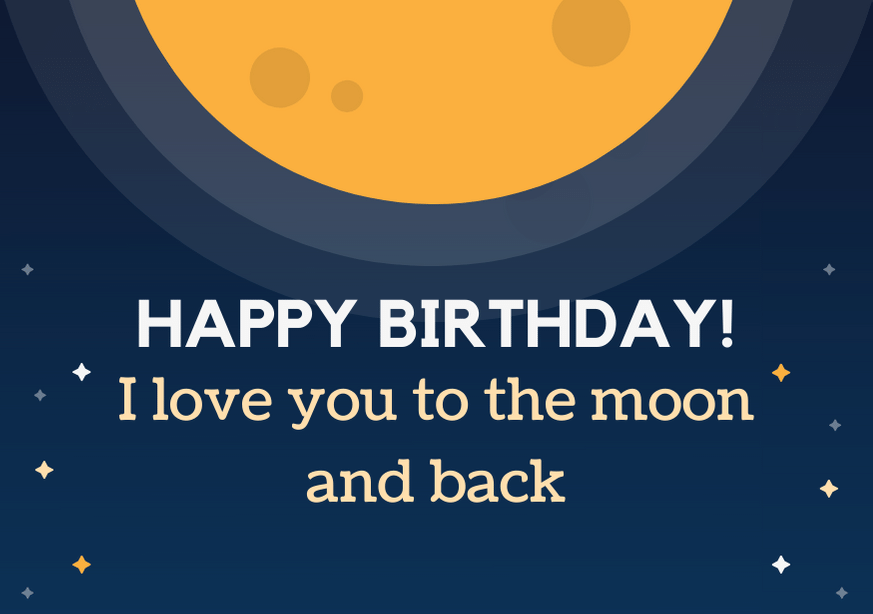 #29 Happy birthday, to my beautiful wife. Thank you for always putting up with me, keeping our family together, and filling each day with your magic. I love you, honey.
#30 Wishing a happy birthday to my hot, brilliant, and selfless wife. You're the most extraordinary person on the planet, and I'm so lucky you chose me. Happy birthday!
#31 The best journey of my life began the day we said: "I do." Happy birthday, to my dearest love.
#32 Happy birthday to my brilliant, funny, talented, and silly wife. You paint every day with love, laughter, and endless joy. Thank you for sharing your life with me.
#33 Each day, I thank my lucky stars for our journey together. You're the most wonderful wife in the world. Happy birthday, baby.
#34 Sending the hottest, most passionate birthday wishes to the love of my life. Every single day I spend with you is truly a wonderful gift and is something to be cherished. You have shown me how to love, my angel, and for this, I cannot thank you enough. My world would be empty without you. I love you with every beat of my heart!
#35 Words can never begin to say how much I love you. You do so much for others, and your sunny personality makes the world a better place. Happy birthday, my love.
#36 To my incredible wife – Happy Birthday, baby! You are the queen of my heart and the light of my life. Your love and affection fills my world with so much joy and happiness. It is a privilege to be your husband and I truly adore you with all of my being. Your happiness is the most important aspect of my life.
#37 To my wife on your birthday: You complete my soul and fill my heart with joy. Thank you for each wonderful moment. Happy birthday, my sweetest love.
#38 Happy birthday, to my phenomenal wife. You're a real-life superwoman and we make a great team. I couldn't imagine my life without you, even for a second.
#39 Wishing my beautiful wife a happy birthday. You fill each day with sunshine, laughter, and happiness. I love you so much.
#40 Happy birthday to my wife, the love of my life. You mean everything to me, and I'm so thankful for you.
The Most Famous Quotes to Include with Your Birthday Message to Your Wife
"I could start fires with what I feel for you."
David Ramirez
"If you live to be a hundred, I want to live to be a hundred minus one day so I never have to live without you."
A. A. Milne
"Better than I was, more than I am, and all of this happened by taking your hand."
Tim McGraw ("It's Your Love" lyrics)
"But you've slipped under my skin, invaded my blood and seized my heart."
Maria V. Snyder
"I was made and meant to look for you and wait for you and become yours forever."
Robert Browning
"I was, and I remain, utterly and completely and totally in love with you."
J.R. Ward
"For the two of us, home isn't a place. It is a person. And we are finally home."
Stephanie Perkins
"I can't promise you forever, because that's not long enough."
Jasinda Wilder
"A friend is someone who knows all about you and still loves you."
Elbert Hubbard
"Love is a better teacher than duty."
Albert Einstein
"Life without love is like a tree without blossoms or fruit."
Khalil Gibran
"Love is that condition in which the happiness of another person is essential to your own."
Robert A. Heinlein
"How do I love thee? Let me count the ways. I love thee to the depth and breadth and height My soul can reach."
Elizabeth Barrett Browning
"Love looks not with the eyes, but with the mind, And therefore is winged Cupid painted blind."
William Shakespeare
"Love does not dominate; it cultivates."
Johann Wolfgang von Goethe
"I love you not only for what you are, but for what I am when I am with you."
Roy Croft
"If I had to choose between breathing and loving you I would use my last breath to tell you I love you."
DeAnna Anderson
"A flower cannot blossom without sunshine, and man cannot live without love."
Max Muller
"Keep love in your heart. A life without it is like a sunless garden when the flowers are dead."
Oscar Wilde
"The love we have in our youth is superficial compared to the love that an old man has for his old wife."
Will Durant
"All you need is love. But a little chocolate now and then doesn't hurt."
Charles Schulz
"Love asks me no questions, and gives me endless support."
William Shakespeare
"In my house I'm the boss, my wife is just the decision maker."
Woody Allen
"Love is like the wind, you can't see it but you can feel it."
Nicholas Sparks
"Happy is the man who finds a true friend, and far happier is he who finds that true friend in his wife."
Franz Schubert
"A psychiatrist asks a lot of expensive questions your wife asks for nothing. "
Joey Adams
"I love you right up to the moon—and back."
Sam McBratney
"Let the wife make the husband glad to come home, and let him make her sorry to see him leave."
Martin Luther
"Love is the enchanted dawn of every heart."
Lamartine
"Every single marriage must include complete trust between the husband and wife."
Sarah McMillan
"A kiss is a lovely trick designed by nature to stop speech when words become superfluous."
Ingrid Bergman
"He that has not got a wife is not yet a complete man."
Benjamin Franklin
"Love is of all passions the strongest, for it attacks simultaneously the head, the heart and the senses."
Lao Tzu
"Absence diminishes small loves and increases great ones, as the wind blows out the candle and fans the bonfire."
François de La Rochefoucauld
"If I know what love is, it is because of you."
Herman Hesse
"If I had a flower for every time I thought of you…I could walk through my garden forever."
Alfred Tennyson
"The true index of a man's character is the health of his wife."
Cyril Connolly
"Being deeply loved by someone gives you strength, while loving someone deeply gives you courage."
Lao Tzu
"My most brilliant achievement was my ability to be able to persuade my wife to marry me. "
Winston Churchill
"Heaven will be no heaven to me if I do not meet my wife there."
Andrew Jackson
The Best Bible Verses to Include with Your Birthday Message to Your Wife
Genesis 2:24
Therefore a man shall leave his father and his mother and hold fast to his wife, and they shall become one flesh.
Ecclesiastes 4:12
Though one may be overpowered, two can defend themselves. A cord of three strands is not quickly broken.
Mark 10:9
Therefore what God has joined together, let no one separate.
1 Peter 4:8
Above all, love each other deeply, because love covers over a multitude of sins.
1 Corinthians 13:13
And now these three remain: faith, hope and love. But the greatest of these is love.
Song of Solomon 4:9
You have captivated my heart, my sister, my bride; you have captivated my heart with one glance of your eyes, with one jewel of your necklace.
1 John 4:16:
And so we know and rely on the love God has for us. God is love. Whoever lives in love lives in God, and God in them.
Ephesians 5:25
For husbands, this means love your wives, just as Christ loved the church. He gave up his life for her.
Proverbs 5:18-19
Let your fountain be blessed, and rejoice in the wife of your youth, a lovely deer, a graceful doe. Let her breasts fill you at all times with delight; be intoxicated always in her love.
Song of Solomon 7:6
How beautiful and pleasant you are, O loved one, with all your delights!
Proverbs 31:10
An excellent wife who can find? She is far more precious than jewels.
Psalm 143:8
Let me hear in the morning of your steadfast love, for in you I trust. Make me know the way I should go, for to you I lift up my soul.
Corinthians 16:14
Let all that you do be done in love.
Song of Solomon 1:4
Take me away with you–let us hurry! Let the king bring me into his chambers. Friends We rejoice and delight in you; we will praise your love more than wine. She How right they are to adore you!
Ecclesiastes 4:9
Two are better than one because they have a good return for their labor.
Hosea 2:14
Therefore, behold, I will allure her, Bring her into the wilderness And speak kindly to her.
Song of Solomon 2:2
Like a lily among the thorns, So is my darling among the maidens.
Ephesians 4:2
Be completely humble and gentle; be patient, bearing with one another in love.
Philippians 1:3
I thank my God every time I think of you.
1 John 4:8
Whoever does not love does not know God, because God is love.
Romans 13:8
Owe no one anything, except to love each other, for the one who loves another has fulfilled the law.
Please take a moment to pin this post to Pinterest.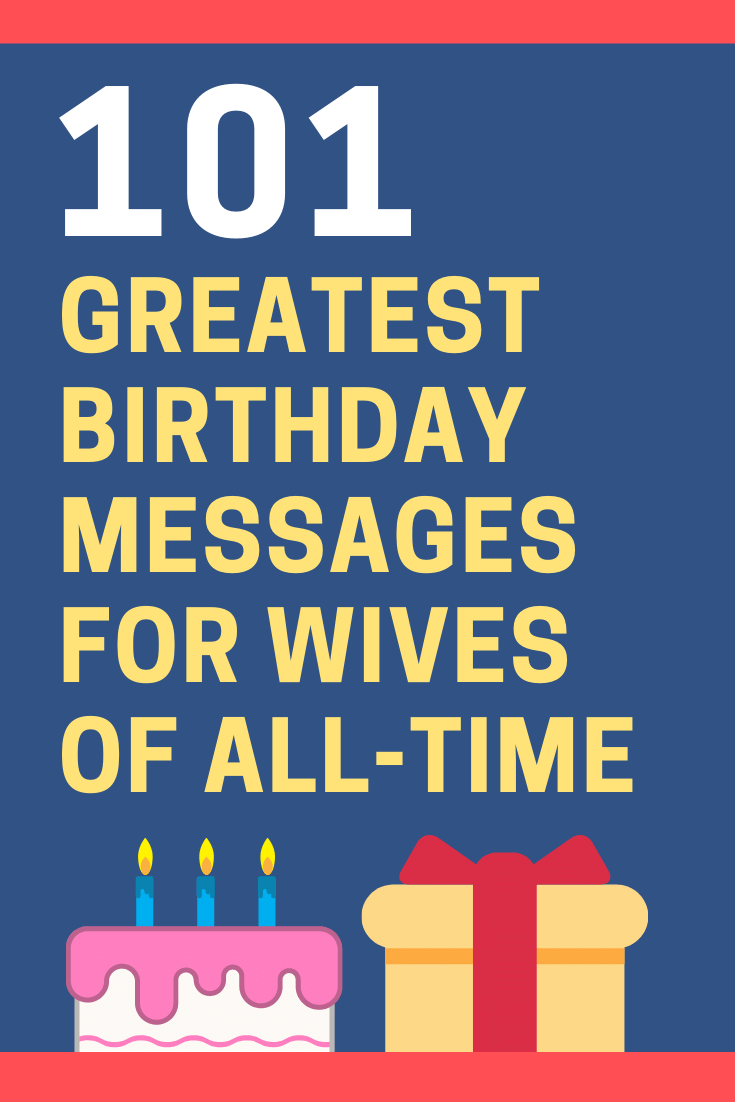 Author Biography
Keith Miller has over 25 years of experience as a CEO and serial entrepreneur. As an entrepreneur, he has founded several multi-million dollar companies. As a writer, Keith's work has been mentioned in CIO Magazine, Workable, BizTech, and The Charlotte Observer. If you have any questions about the content of this blog post, then please
send our content editing team a message here
.
---