Here is a list of 75 perfect Christmas messages to your boss to show him how much you appreciate him in this season of caring and good cheer.
#1 Bells are jingling, and ring-ting-tingling, but coming to work for a spectacular boss is music to my ears. This job is what it is because of the exceptional boss setting the tone at the top. Merry Christmas.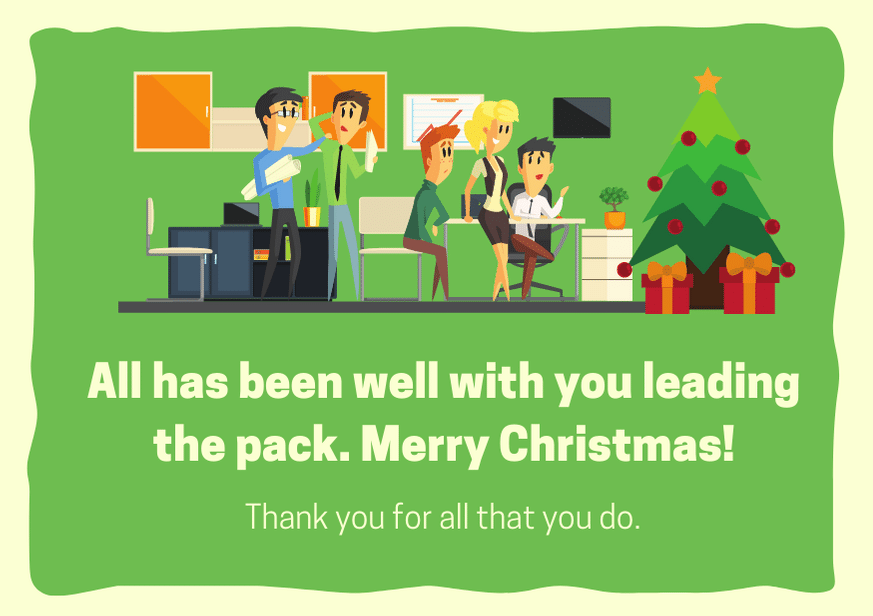 #2 With Christmas cheer, I come to work as happy and eager as ever. What a beautiful season to celebrate a special time of year with a fantastic boss. Merry Christmas to you and your family.
#3 There's no day like today for some hot chocolate, some candy canes, and some holiday cheer. Merry Christmas to the best boss in the world.
#4 There's a chill in the air, Christmas trees are up, and kindness from strangers abounds. It is during this season that I want to let you know how deeply grateful I am for the employment you provide to me. The income and stability for my family are priceless and I am eternally thankful to you. I hope you and your family have a truly Merry Christmas.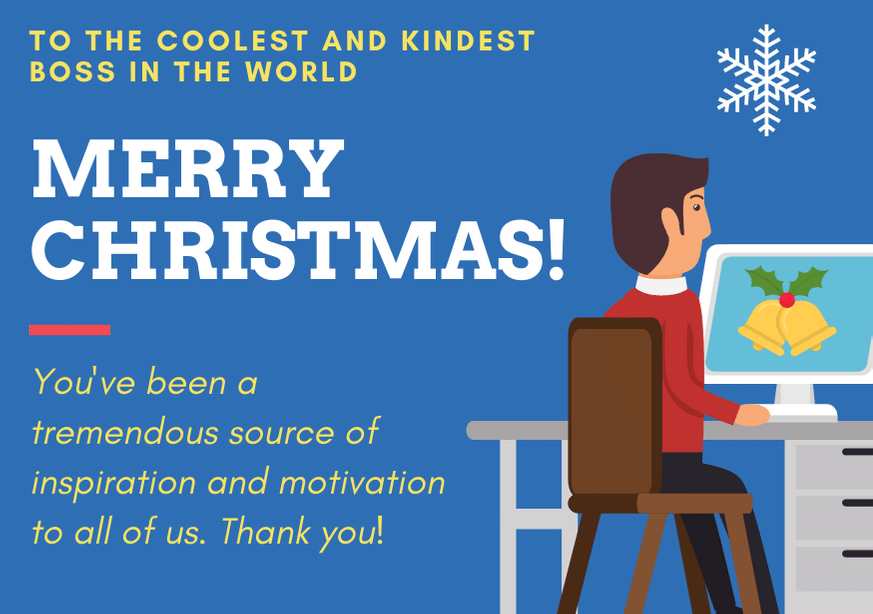 #5 All I want for Christmas is a good movie, a nice blanket, and a great job to go to in the morning. Thankfully, I have all three. Merry Christmas.
#6 Gingerbread men, roasted chestnuts, and hot chocolate can't compare to a dream job with an exceptional boss. I am so grateful to be working for you. Merry Christmas to you and your family.
#7 A great job and a good boss are definitely gifts in and of themselves. We must all be on Santa's nice list to have a boss like you. Thank you for keeping me gainfully employed. It is a true gift. Merry Christmas.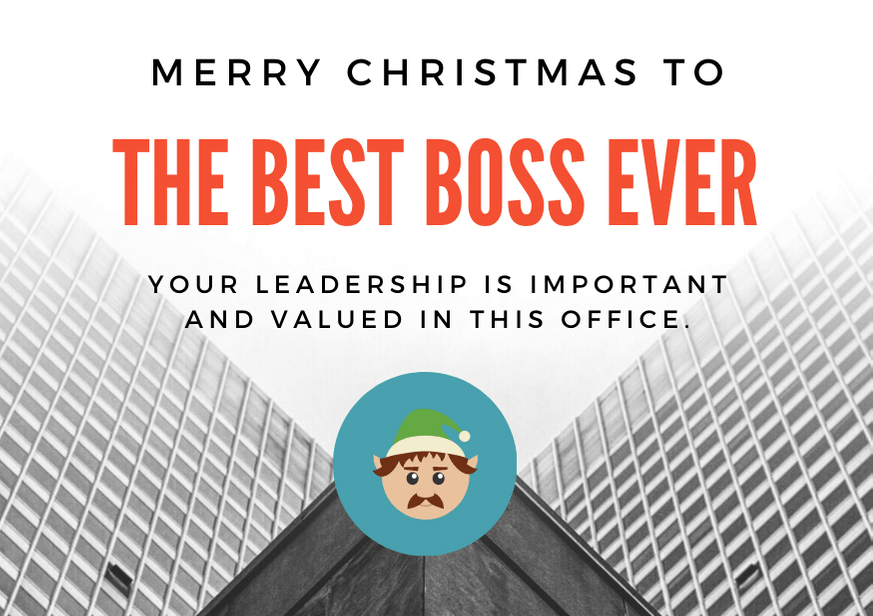 #8 The cold air outside and the snow on the ground remind me how wonderful it is to have a dream job with such a warm atmosphere. Merry Christmas.
#9 This year I told Santa I want a pool, a better car, and an extraordinary boss. I'm still waiting for that pool and car. Merry Christmas to you and your family.
#10 Our Christmases wouldn't be merry and our holidays wouldn't be happy without a boss like you. Thank you for the employment you provide so that we can provide for our families. Merry Christmas.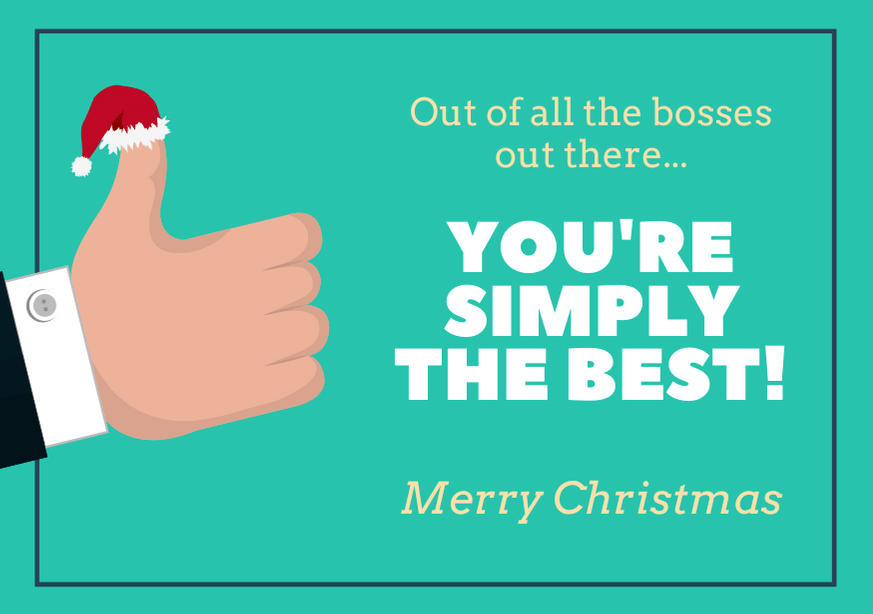 #11 With a spring in my step, and Christmas cheer, I'd like to thank you for being here. A dream job and boss are hard to find, especially those who are so kind. Merry Christmas.
#12 Christmas is the very best holiday, and you're the very best boss. I've got these two great things going for me, and I hope your holiday is as bright as the morning star. Merry Christmas.
#13 An extraordinary boss doesn't need to give employees Christmas gifts. Their presence is the present. Thank you sincerely for that gift. Merry Christmas to you and your family.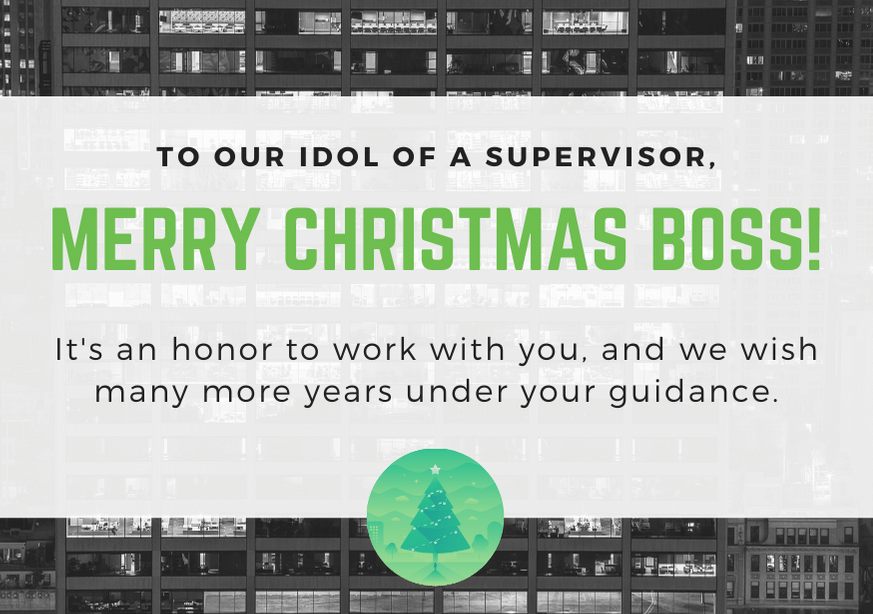 #14 Just like St. Nicholas himself, an exceptional boss is hard to find and impossible to forget. Merry Christmas from your grateful employee.
#15 Sometimes I wonder why Santa's elves never go on strike. I guess great bosses are hard to find. Thanks for being a great boss and Merry Christmas.
#16 There's no holiday better spent than knowing you've got an awesome job and a phenomenal boss. Merry Christmas to you and your family.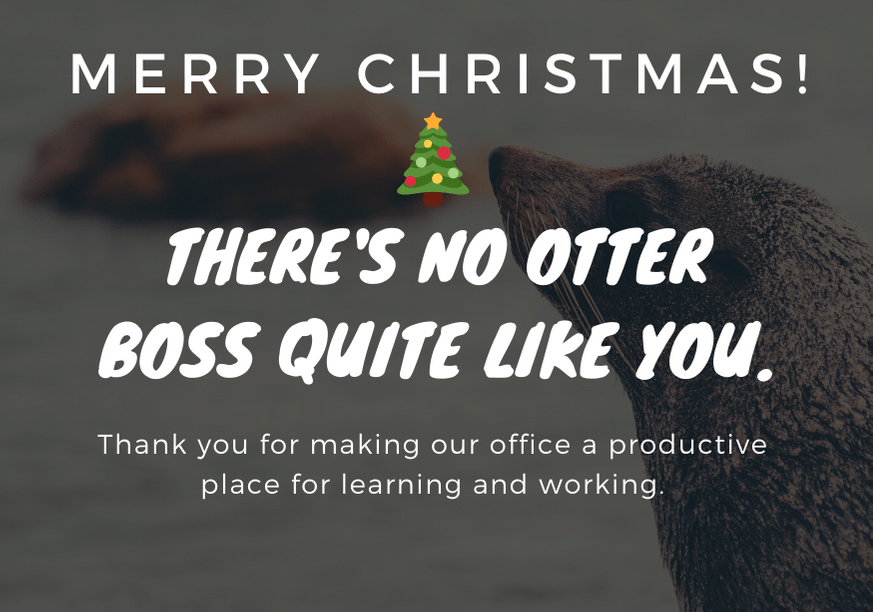 #17 Christmas is one of the very few days your employees get to make your day brighter rather than the other way around. Merry Christmas.
#18 Thanks to this job, I didn't have to make sure I stayed on Santa's nice list this year. I was able to buy presents for myself. Thanks, and Merry Christmas.
#19 Firelights glow and snowy winds blow. May your Christmas be filled with warmth and well wishes from one grateful employee. Merry Christmas to you and your family.
#20 What better way to come in from the frosty air than to come and work for a phenomenal boss. Merry Christmas.
#21 A boss as exceptional as you deserves a Christmas that's as good as can be. Merry Christmas and thank you for all that you do.
#22 Working for a boss like you makes every day feel like Christmas. Now that the real thing is here, Merry Christmas to you and your family.
#23 There's no Christmas gift that's better than having an amazing boss. The joy brought to the workplace is an irreplaceable gift that must not be understated. Thanks, and Merry Christmas.
#24 Christmas weather might make it hard to drive to work, but when I'm going to work for you, it's worth it. Merry Christmas to a boss who makes the job worth it.
#25 May your Christmas be full of wonder, joy, and all things magical. Thanks for being an outstanding boss and may your Christmas be happy, warm, and delightful.
#26 Thank you for being such a wonderful boss and Merry Christmas, from one of your dedicated elves.
#27 Santa may bring the presents, but you dole out the paychecks. Thanks for being an exceptional boss, and Merry Christmas to you and your family.
#28 This Christmas weather is as cool as you. Thanks for being an impressive boss, and Merry Christmas.
#29 May your Christmas Eve be as joyous as our jobs and may your Christmas morning be filled with wonder and laughter. Merry Christmas.
#30 Thanks to you, every day at work, I feel like a lucky little kid on Christmas day. Merry Christmas to you and your family.
#31 Waiting all year for Christmas is like waiting to get a promotion. Sometimes all you can do is wait. Merry Christmas.
#32 If Santa paid his little helpers like you pay us, the North Pole would be covered in Bugattis and Prada. Thanks for being such an amazing boss, and Merry Christmas.
#33 The only thing that can compare to the magic of Christmas is an amazing job with an exceptional boss. Merry Christmas to you and your family.
#34 There is such a wonderful sense of joy to be found in a good job. Merry Christmas, and thanks for never being a Scrooge.
#35 Although it's December, with a boss like you, every day feels like summertime. Merry Christmas from a grateful employee.
#36 The weather outside may be frightful, but that couldn't stop me from coming to work for the world's best boss. Merry Christmas to you and your family.
#37 The snow comes down as I come in for work, and with each step is another wish I have for you to have a Merry Christmas.
#38 The only thing that could make my Christmas better is coming to work for an extraordinary boss. Lucky me, I have you. Merry Christmas.
#39 With rosy cheeks, foggy breath, and a joyful spirit, I wish you a Merry Christmas. Thanks for being a fantastic boss.
#40 Sometimes, at work I feel like I'm just like one of Santa's little helpers. Then I remember who they work for. Merry Christmas to you and your family.
The Most Famous Quotes to Include with Your Christmas Message to Your Boss
"The spirit of Christmas fulfils the greatest hunger of mankind."
Loring A. Schuler
"Christmas is a bridge. We need bridges as the river of time flows past. Today's Christmas should mean creating happy hours for tomorrow and reliving those of yesterday."
Gladys Tabor
"Christmas is a season not only of rejoicing, but of reflection."
Winston Churchill
"Christmas is over and Business is Business."
Franklin Pierce Adams
"Christmas Shopping: Wouldn't it be wonderful to find one gift that you didn't have to dust, that had to be used right away, that was practical, fit everyone, was personal and would be remembered for a long time? I penciled in 'Gift certificate for a flu shot.'"
Erma Bombeck
"It is Christmas in the heart that puts Christmas in the air."
W. T. Ellis
"Peace on earth will come to stay when we live Christmas every day."
Helen Steiner Rice
"Christmas waves a magic wand over this world, and behold, everything is softer and more beautiful."
Norman Vincent Peale
"In the old days, it was not called the Holiday Season; the Christians called it 'Christmas' and went to church; the Jews called it 'Hanukkah' and went to synagogue; the atheists went to parties and drank. People passing each other on the street would say 'Merry Christmas!' or 'Happy Hanukkah!' or (to the atheists) 'Look out for the wall!'"
Dave Barry
"At Christmas, play and make good cheer, for Christmas comes but once a year."
Thomas Tusser
"Happy, happy Christmas, that can win us back to the delusions of our childhood days, recall to the old man the pleasures of his youth, and transport the traveler back to his own fireside and quiet home!"
Charles Dickens
"A little smile, a word of cheer, A bit of love from someone near, A little gift from one held dear, Best wishes for the coming year. These make a merry Christmas! "
John Greenleaf Whittier
"May you have the gladness of Christmas which is hope; The spirit of Christmas which is peace; The heart of Christmas which is love."
Ada V. Hendricks
"Christmas is a tonic for our souls. It moves us to think of others rather than of ourselves. It directs our thoughts to giving."
B. C. Forbes
"A good conscience is a continual Christmas."
Benjamin Franklin
"Christmas is a great time to recommit to each other and our communities."
James Lankford
"Christmas is a necessity. There has to be at least one day of the year to remind us that we're here for something else besides ourselves."
Eric Sevareid
"Tis the season to be jolly!"
Deck the Halls
"Instead of being a time of unusual behavior, Christmas is perhaps the only time in the year when people can obey their natural impulses and express their true sentiments without feeling self-conscious and, perhaps, foolish. Christmas, in short, is about the only chance a man has to be himself."
Francis C. Farley
"A merry Christmas to everybody! A happy New Year to all the world!"
Charles Dickens
"Christmas is the season for kindling the fire of hospitality in the hall, the genial flame of charity in the heart."
Washington Irving
"May peace and plenty be the first to lift the latch at your door, and happiness be guided to your home by the candle of Christmas."
Irish Christmas Blessing
"As long as we know in our hearts what Christmas ought to be, Christmas is."
Eric Sevareid
"Christmas day is a day of joy and charity. May God make you very rich in both."
Phillips Brooks
"Mankind is a great, an immense family. This is proved by what we feel in our hearts at Christmas."
Pope John XXIII
The Best Bible Verses to Include with Your Christmas Message to Your Boss
1 John 5:11
And this is the testimony: God has given us eternal life, and this life is in his Son.
1 Peter 2:22
He committed no sin, and no deceit was found in his mouth.
Acts 20:35
In everything I did, I showed you that by this kind of hard work we must help the weak, remembering the words the Lord Jesus himself said: "It is more blessed to give than to receive."
Galatians 4:4
But when the set time had fully come, God sent his Son, born of a woman, born under the law.
Genesis 22:18
And through your offspring all nations on earth will be blessed, because you have obeyed me.
Hebrews 1:3
The Son is the radiance of God's glory and the exact representation of his being, sustaining all things by his powerful word. After he had provided purification for sins, he sat down at the right hand of the Majesty in heaven.
Hebrews 2:9-10
But we do see Jesus, who was made lower than the angels for a little while, now crowned with glory and honor because he suffered death, so that by the grace of God he might taste death for everyone. In bringing many sons and daughters to glory, it was fitting that God, for whom and through whom everything exists, should make the pioneer of their salvation perfect through what he suffered.
Hosea 11:1
When Israel was a child, I loved him, and out of Egypt I called my son.
James 1:17
Every good and perfect gift is from above, coming down from the Father of the heavenly lights, who does not change like shifting shadows.
Jeremiah 23:5
"The days are coming," declares the Lord, "when I will raise up for David a righteous Branch, a King who will reign wisely and do what is just and right in the land."
Please take a moment to pin this post to Pinterest.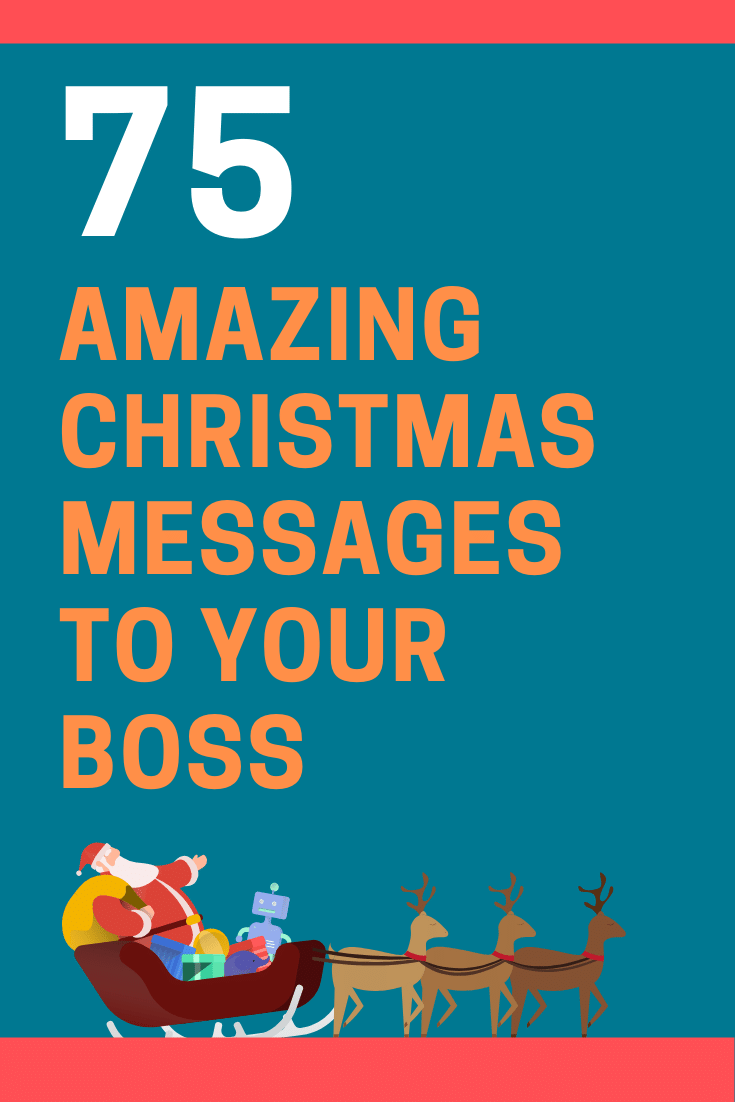 Author Biography
Keith Miller has over 25 years of experience as a CEO and serial entrepreneur. As an entrepreneur, he has founded several multi-million dollar companies. As a writer, Keith's work has been mentioned in CIO Magazine, Workable, BizTech, and The Charlotte Observer. If you have any questions about the content of this blog post, then please
send our content editing team a message here
.
---