Here is a list of 101 good luck messages for exams with image quotes to give them the boost of confidence they need before the big test.
#1 All the best for your exams. We all have the utmost faith in you and know that you'll achieve every single one of your goals. Show them what you're capable of!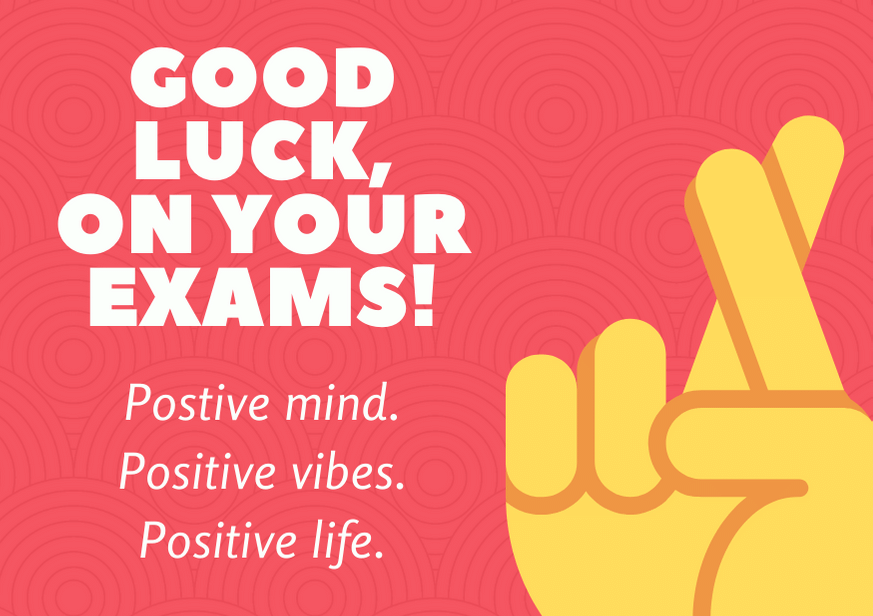 #2 You've studied nonstop, and now it's time to put your knowledge to the test! Good luck with all your exams, stay positive, and keep focusing on your objective. You're almost there and we're all hoping for the very best.
#3 Believe in yourself and be assured that we'll always support you no matter what. We have the utmost faith in you and your ability to ace these exams. You have everything that it takes to truly succeed. You've got this!
#4 You're such a diligent and conscientious student, and we know that you'll make us extremely proud. Wishing you lots of luck throughout your exams. Take a deep breath, and do not let your nerves get the best of you.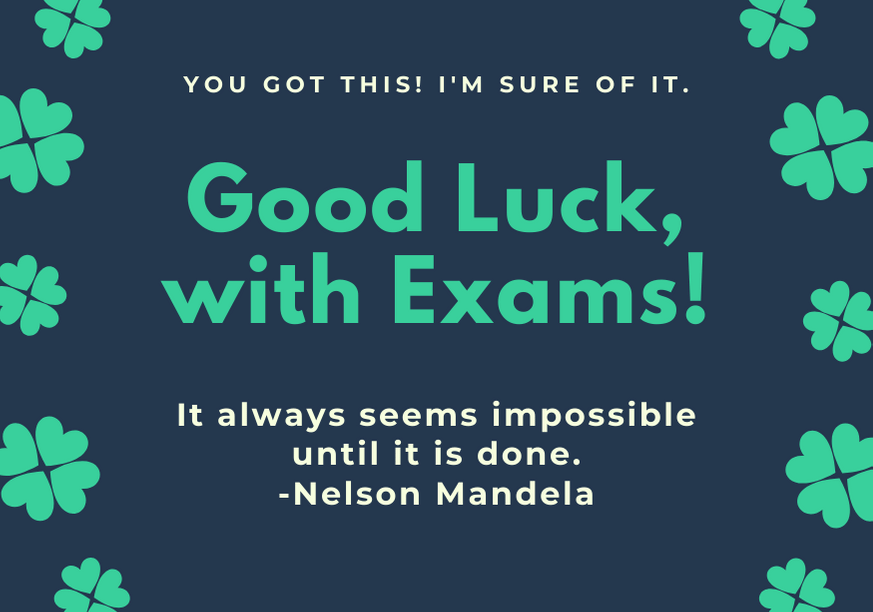 #5 It's time to show everyone what you're capable of and how well prepared you are. Good luck with your exams. We promise you that all of this stress will be worth it in the end. The finish line is in sight!
#6 You've put in so many hours of study and dedicated yourself tirelessly. You're on the right track and we want to wish you all the best. We know you'll go far, and you have a bright future ahead of you. Push just a little more and then you can relax.
#7 Good luck with taking your exams. Keep working and make your dreams all come true. Seeing the results of all of your hard work will make this struggle worth it. We're all thinking of you.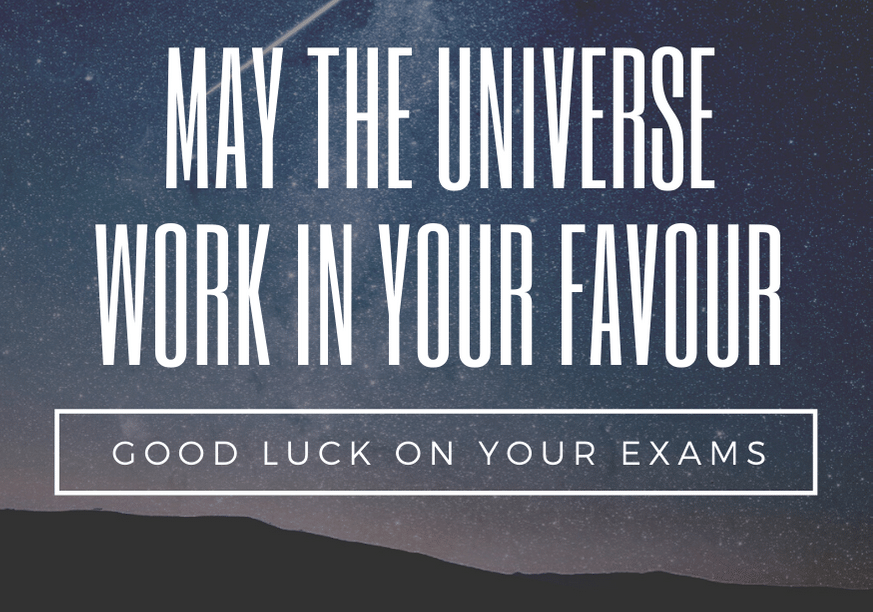 #8 Give these exams your best shot. We'll never stop cheering you on and helping you in every way that we can. The very best of luck. We cannot wait to celebrate with you afterward. Everything will work out in the end.
#9 Best wishes in taking your exams. You've put in all the hard work and it's sure to pay off. Keep going and always remember to try your best in whatever you do. Stay motivated and strong!
#10 Keep believing that you can, and you will. Now is your time to shine. Best of luck, we'll be rooting for you every step of the way. Success is just around the corner, so go get it!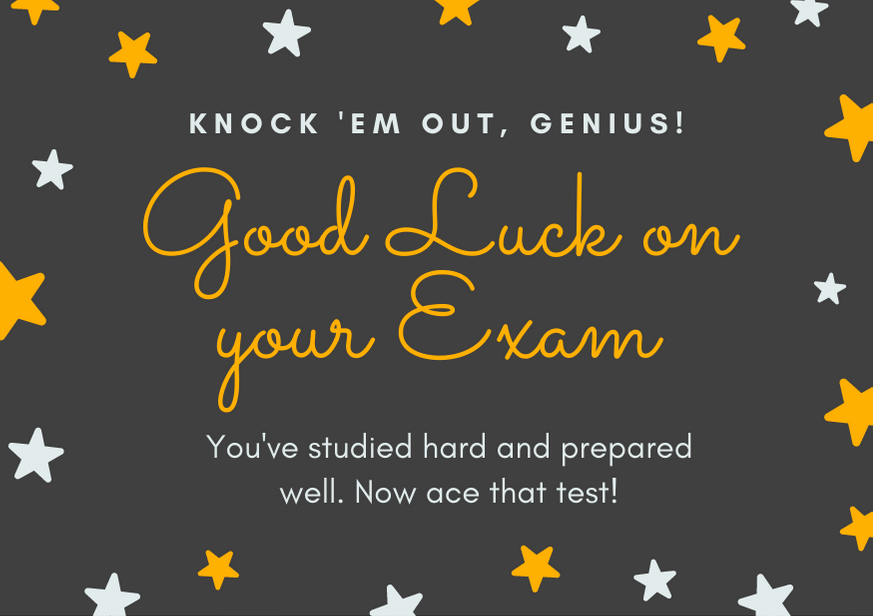 #11 Wishing you all the best for your upcoming tests. Now is the time to reap the rewards of all the hard work you've put in. Keep going. You are almost there!
#12 Just keep in mind that every exam you take is an opportunity to showcase your skills and learn something new. Best of luck with your exams. You've been so dedicated and it's sure to pay off.
#13 We know that you'll give these exams everything you've got and do great. Best wishes and good luck. Don't doubt yourself for a moment. This is your chance to show your true potential!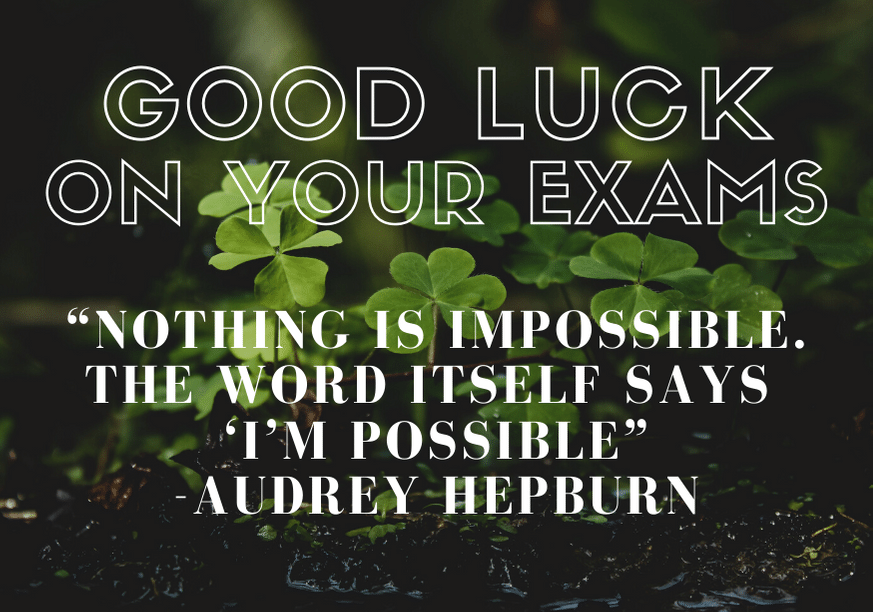 #14 Good luck with your upcoming examinations. You'll make it through this challenging time and come out stronger than you were before. We're so proud of you and the person that you're becoming. Keep up the good work.
#15 It may be tiring and difficult now, but you'll look back and realize just how far you've come. We want to let you know that we are thinking of you and remind you not to give up. We know that you can do it!
#16 You have so many skills, talents, and abilities – now it's time to show them off. Best wishes in taking your exams, we know you'll aim high and reach for the stars. This is one of the beginning steps in your journey through life!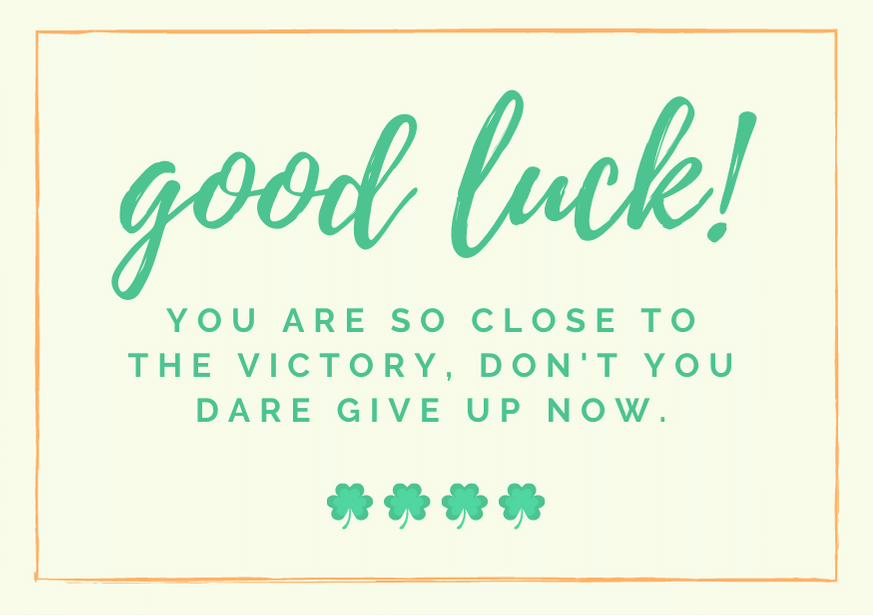 #17 Trust in yourself and your capabilities. We all know that you can do it, and you should believe in yourself too. Best wishes with your upcoming exams, keep working hard and you're sure to be successful.
#18 Keep trusting in the process. You've studied everything and deserve to receive the very best of results. All the best for these upcoming exams, and remember that hard work always pays off. Your results will be a testament to your ambition and self-discipline.
#19 You're so close to realizing all of your dreams. Wishing you well with your difficult exams. Strive for the very best and you'll never go wrong. We're confident that you'll far exceed your own expectations.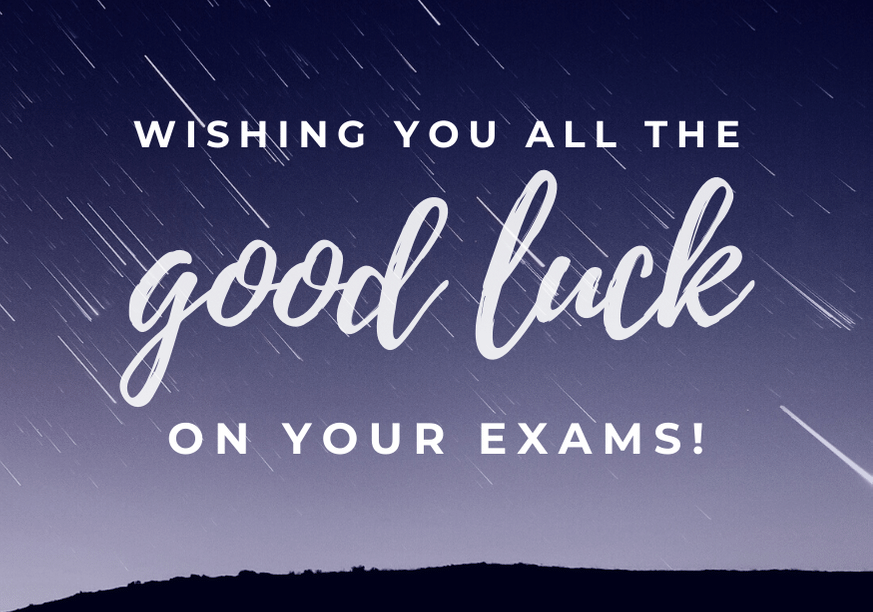 #20 You're almost at the finish line. We want to wish you well with taking these exams and know that you deserve the very best of results. Stay focused, positive and inspired, no matter what.
#21 Best of luck with your exams. Your enthusiasm and hunger for success are contagious. We're here to encourage and support you every single day. Show them what you've got!
#22 You can make it happen, and we know you will. Best wishes with navigating these challenging and arduous exams. Now go and show them what you've got!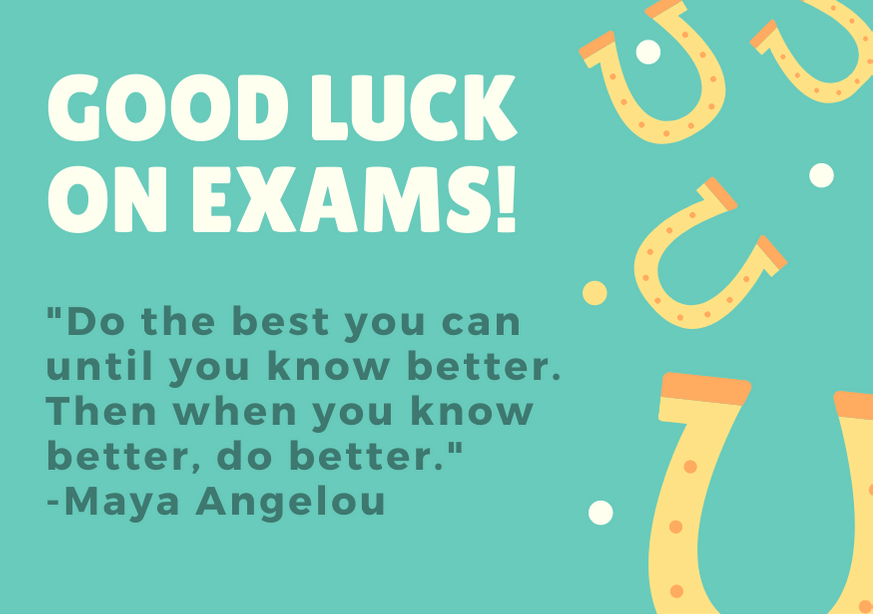 #23 One day you'll look back and realize that this is where your success started. Good luck with your exams, and remember to stay motivated through the good times and the bad. We want to encourage you to give it your all!
#24 You've put in the tough work and remained committed to achieving your aim. Now it's time to put that to the test. Best of luck with your exams and keep pushing onwards and upwards.
#25 Keep your eye on the end-goal. Wishing you the very best in taking these exams. Your future self will be so thankful, proud, and relieved that you never quit!
#26 Stay obsessed with improving your knowledge every single day. Keep moving forward and remember that all of this struggle will come to fruition. Do your best, that's all that we can ask of you!
#27 Always remember that you can attain anything you set your mind to. Wishing you the very best of luck in taking these exams. Keep pushing your limits and make your dreams your own reality!
#28 Face these exams head-on! We want you to know that we are sending you warm wishes, good vibes, and positive thoughts. Be calm, confident, and have faith in yourself, always.
#29 It's natural for your mind to doubt your abilities, but don't let it. Take control of your mind, believe you can pass this exam and you will. I wish you good luck.
#30 Good grades are a result of relentless hard work, which you've already done. The reward for hard work is always positive and that's what you will get. Best of luck and go get it!
#31 You've done your best by studying hard. All that's left is your success. Put your mind at rest and believe. You've passed already.
#32 This is your time to show those examiners what you are made of. Your knowledge is power. Use it. Believe in your power. Go out and succeed!
#33 Good luck is not a thing of chance, it's your intentional ability to face your exam with confidence after proper preparation. Be intentional about your success and it would be seen as good luck. Good luck with your exams!
#34 Exams are a test of your knowledge retention abilities. They are nothing to be scared of. You are a vessel of knowledge, so show it in this exam. I wish you good luck.
#35 You can conquer this exam like every other exam you've written and passed. You are a victor. Go out and score another win!
#36 You are a genius. I believe in your abilities, so do the same for yourself. Stay calm and express your genius in this exam. I wish you massive luck and success.
#37 Steel has to be tested in fire to come out strong and radiant. You are steel. Come out of this exam strong and radiant. Good luck.
#38 Good luck is a product of hard work. You've been working hard and your efforts are worthy of praise. Now, your "good luck" is at your fingertips. You will be a success!
#39 As you prepare to show the world your intelligence, believe in yourself. You have success in your DNA, so go make it public. Good luck.
#40 What comes after the dark nights of hard work is a bright day of success. I wish you the best of luck in your exams!
The Most Famous Quotes to Include with Your Good Luck Messages for an Exam
"Aim for success, not perfection."
David M. Burns
"Trust yourself, you know more than you think you do."
Benjamin Spock
"Start where you are. Use what you have. Do what you can."
Arthur Ashe
"Nothing is impossible. The word itself says 'I'm possible'!"
Audrey Hepburn
"It always seems impossible until it is done."
Nelson Mandela
"Don't let what you cannot do interfere with what you can do."
John Wooden
"Even if you fall on your face you're still moving forward."
Victor Kiam
"I've failed over and over and over again. And that is why I succeed."
Michael Jordan
"Education is simply the soul of a society as it passes from one generation to another."
G.K. Chesterton
"The beautiful thing about learning is that no one can take it away from you."
B.B. King
"Education is the passport to the future, for tomorrow belongs to those who prepare for it today."
Malcolm X
"The mind is not a vessel to be filled but a fire to be ignited."
Plutarch
"You can teach a student a lesson for a day; but if you can teach him to learn by creating curiosity, he will continue the learning process as long as he lives."
Clay P. Bedford
"Learning is never done without errors and defeat."
Vladimir Lenin
"You can't legislate good will – that comes through education."
Malcolm X
"Education's purpose is to replace an empty mind with an open one."
Malcolm Forbes
"Step by step and the thing is done."
Charles Atlas
"The successful warrior is the average man, with laser-like focus."
Bruce Lee
"Intellectual growth should commence at birth and cease only at death."
Albert Einstein
"A person who never made a mistake never tried anything new."
Albert Einstein
"Successful and unsuccessful people do not vary greatly in their abilities. They vary in their desires to reach their potential."
John Maxwell
"If you think education is expensive, try ignorance."
Andy McIntyre
"Failure is the opportunity to begin again more intelligently."
Henry Ford
"Develop a passion for learning. If you do, you will never cease to grow."
Anthony J. D'Angelo
"Education is the most powerful weapon which you can use to change the world."
Nelson Mandela
"The roots of education are bitter, but the fruit is sweet."
Aristotle
"Education is the key to unlock the golden door of freedom."
George Washington Carver
"Education is a progressive discovery of our own ignorance."
Will Durant
"When a subject becomes totally obsolete we make it a required course."
Peter Drucker
"Education is not preparation for life; education is life itself."
John Dewey
"Poor is the pupil who does not surpass his master."
Leonardo da Vinci
"Education begins the gentleman, but reading, good company and reflection must finish him."
John Locke
"Never let the fear of striking out stop you from playing the game."
Babe Ruth
"Do not watch the clock. Do what it does. Keep going."
Sam Levenson
"He who opens a school door, closes a prison."
Victor Hugo
"If you're going through hell keep going."
Winston Churchill
"Live as if you were to die tomorrow. Learn as if you were to live forever."
Mahatma Gandhi
"Democracy cannot succeed unless those who express their choice are prepared to choose wisely. The real safeguard of democracy, therefore, is education."
Franklin D. Roosevelt
"Our greatest weakness lies in giving up. The most certain way to succeed is always to try just one more time."
Thomas A. Edison
"I have not failed. I've just found 10,000 ways that won't work."
Thomas A. Edison
"The expert in anything was once a beginner."
Helen Haye
"Give a man a fish and you feed him for a day; teach a man to fish and you feed him for a lifetime."
Maimonides
"It is impossible for a man to learn what he thinks he already knows."
Epictetus
"The great aim of education is not knowledge but action."
Herbert Spencer
"The function of education is to teach one to think intensively and to think critically. Intelligence plus character – that is the goal of true education."
Martin Luther King, Jr.
"Learning's a gift, even when pain is your teacher."
Michael Jordan
"A teacher affects eternity; he can never tell where his influence stops."
Henry B. Adams
"Education is the best friend. An educated person is respected everywhere. Education beats the beauty and the youth."
Chanakya
"An investment in knowledge pays the best interest."
Benjamin Franklin
"No man who worships education has got the best out of education…Without a gentle contempt for education no man's education is complete."
G.K. Chesterton
"There are no shortcuts to any place worth going."
Beverly Sills
The Best Bible Verses to Include with Your Good Luck Messages for an Exam
Hebrews 11:1
Now faith is the assurance of things hoped for, the conviction of things not seen.
Isaiah 41:10
"Fear not, for I am with you; be not dismayed, for I am your God; I will strengthen you, I will help you, I will uphold you with my righteous right hand."
Proverbs 24:14
Know that wisdom is such to your soul; if you find it, there will be a future, and your hope will not be cut off.
Psalm 119:114
You are my hiding place and my shield; I hope in your word.
Romans 8:28
And we know that for those who love God all things work together for good, for those who are called according to his purpose.
Proverbs 23:18
Surely there is a future, and your hope will not be cut off.
Job 11:18
And you will feel secure, because there is hope; you will look around and take your rest in security.
Romans 15:13
May the God of hope fill you with all joy and peace in believing, so that by the power of the Holy Spirit you may abound in hope.
Deuteronomy 31:6
Be strong and courageous. Do not fear or be in dread of them, for it is the Lord your God who goes with you. He will not leave you or forsake you.
Psalm 71:5
For you, O Lord, are my hope, my trust, O Lord, from my youth.
Please take a moment to pin this post to Pinterest.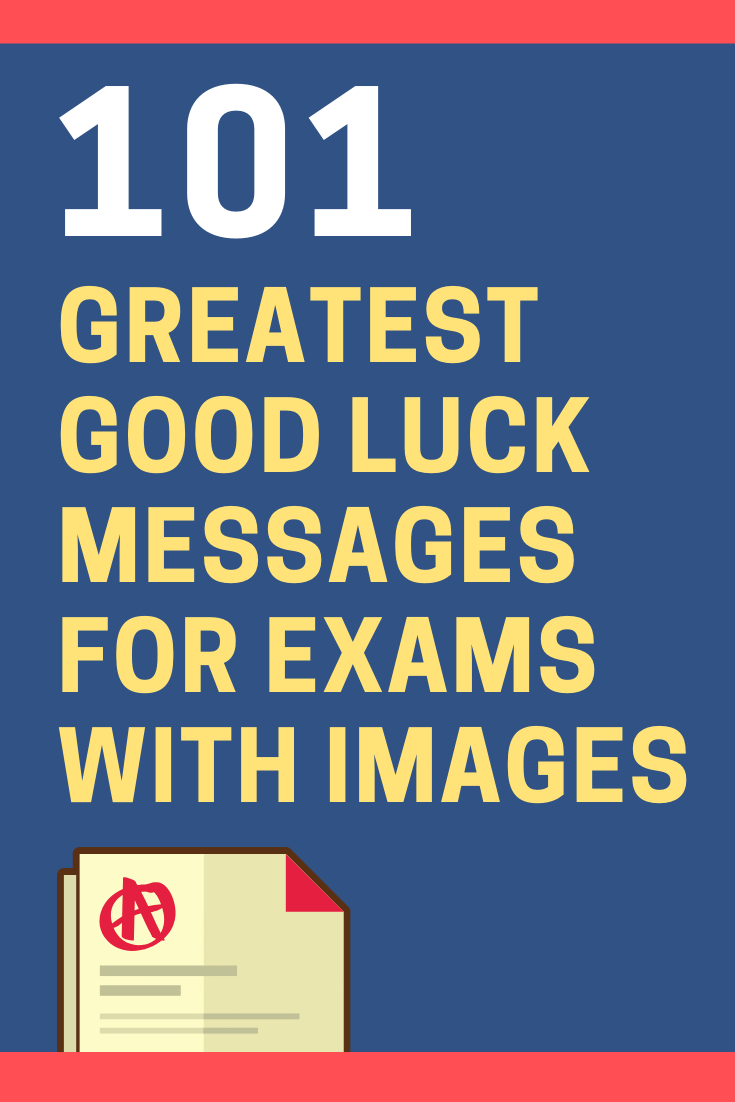 Author Biography
Keith Miller has over 25 years of experience as a CEO and serial entrepreneur. As an entrepreneur, he has founded several multi-million dollar companies. As a writer, Keith's work has been mentioned in CIO Magazine, Workable, BizTech, and The Charlotte Observer. If you have any questions about the content of this blog post, then please
send our content editing team a message here
.
---