Here is a list of 101 unique happy birthday messages and quotes for your grandson to let him know how much he is loved on his birthday.
#1 Happy birthday to a silly, goofball grandson. I hope your birthday is filled with fun and adventure. I love you to the moon and back.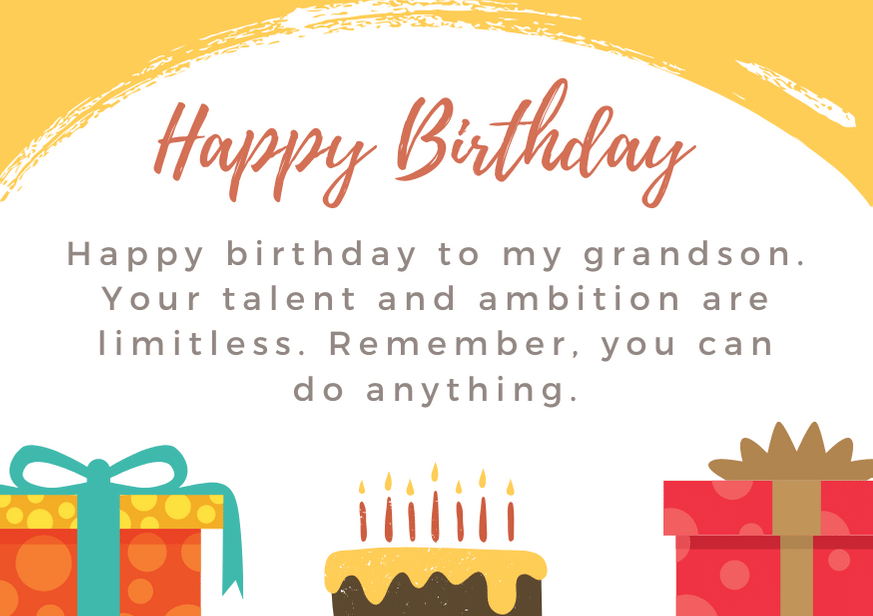 #2 Grandson, on your birthday, my hope for you is that you feel showered with love, beyond all measure. We love you, your parents love you, your [sister/brother] loves you. You are the future of this family, and we are so proud that you are continuing our family legacy. Happy birthday, my handsome grandson.
#3 As another year has passed, we have watched you discover more about the world and about yourself.  You can do anything you set your mind to, so reach for the stars! Happy birthday, dearest grandson.
#4 As I look back through the years, it delights my soul to see how you have grown into the loving and kind young [man/boy] you are today. With every year that passes, you grow taller, more handsome, and your charming personality deepens and develops. Just as I have shared my stories with you, dearest grandson, your stories are waiting to be made and then told to your grandchildren one day. Make the most of every day! I love you. Happy birthday.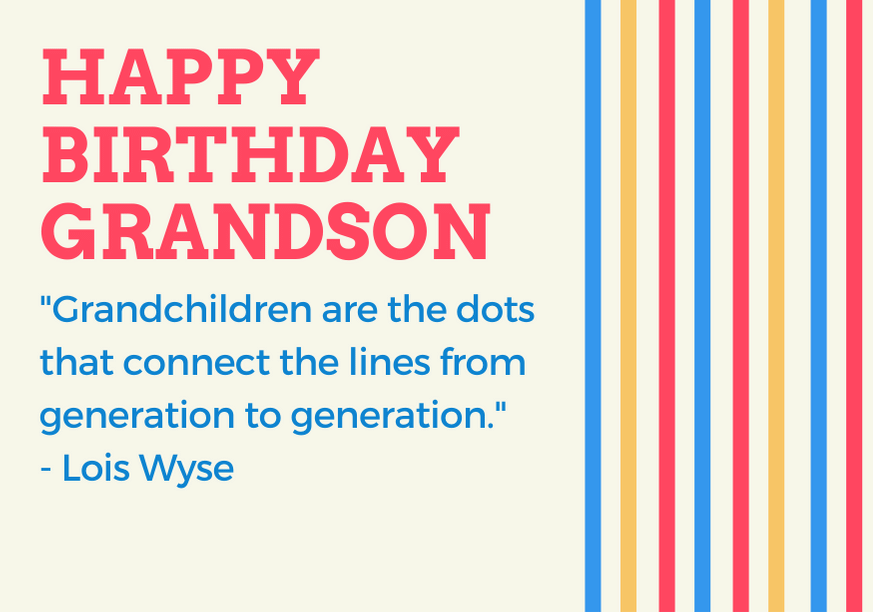 #5 Warmest birthday wishes, to my grandson. I'm so happy to be your grandparent. If there is one thing I can teach you this year, it is that life is short and to not sweat the small stuff. I have finally learned this myself…I think! It is such a privilege for me to be able to share what I have learned after so many years on God's green earth, with the hope that my shared wisdom will make your life easier. I love you.
#6 Happy, happy, happy birthday to my grandson! May all of your dreams come true today. I'm so proud of you.
#7 Wishing a very happy birthday to my AWESOME grandson. May your day be filled with silliness, laughter, and all your wishes coming true. I can't wait to have more fun times with you this year!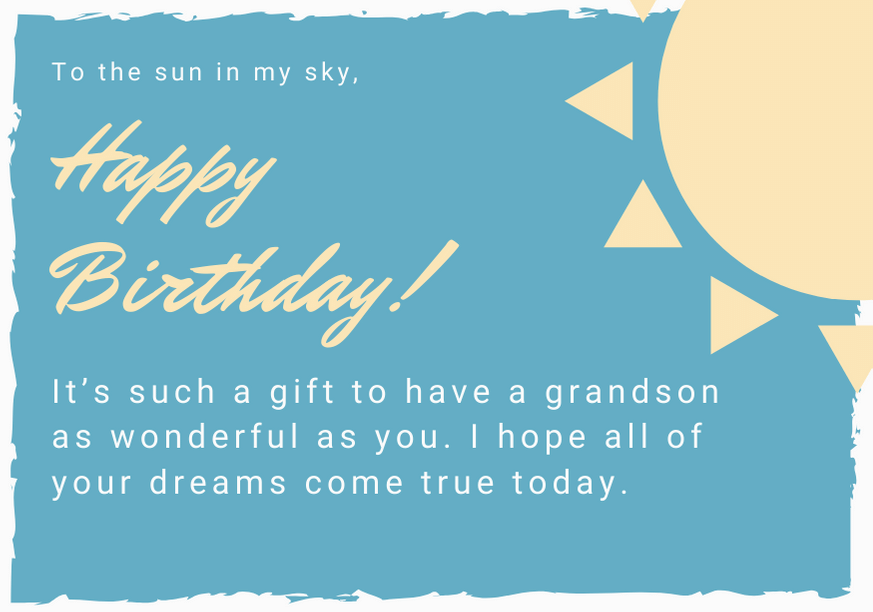 #8 To my grandson on your birthday: you're the coolest kid on the block! Wishing you a fun and happy birthday filled with all your favorite things.
#9 Happy birthday, to the apple of my eye. It's your important day and you deserve to spend it full of laughter, fun and yummy treats. May all of your wishes come true, today and throughout your life. I love you more than you will ever know.
#10 A grandson like you is a one-of-a-kind treasure. You're one extraordinary kid and I am so proud of you for always doing your best in sports, with your parents, and in school. Keep working hard. Happy birthday, my handsome grandson!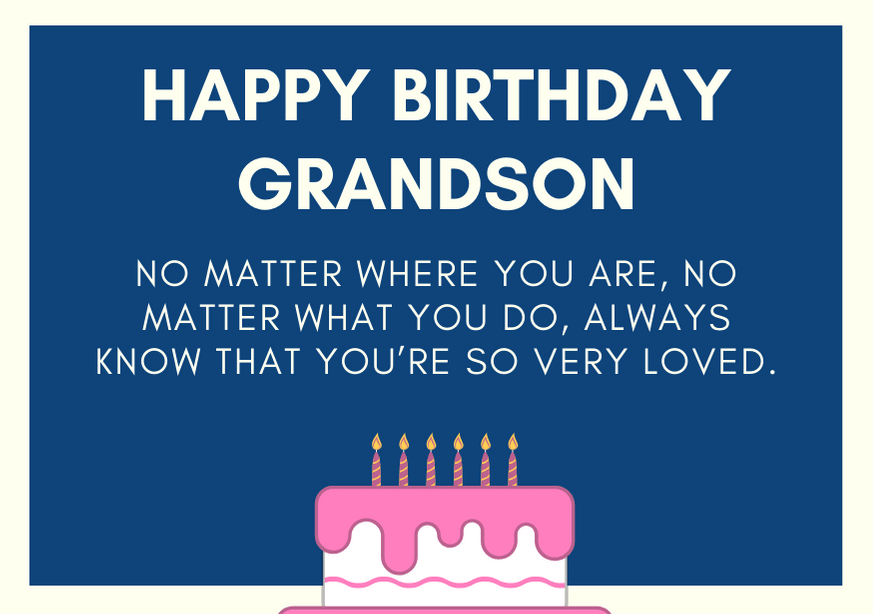 #11 Wishing you, my grandson, a birthday filled with endless fun, cake, and wishes coming true. You deserve nothing but the very best. Happy birthday, grandson!
#12 Happy birthday to my amazing grandson. Simply put, you're the coolest kid on the block. I hope today is AWESOME.
#13 Wishing my grandson a super fun birthday filled with all of your favorite things. Have lots of fun and eat lots of cake.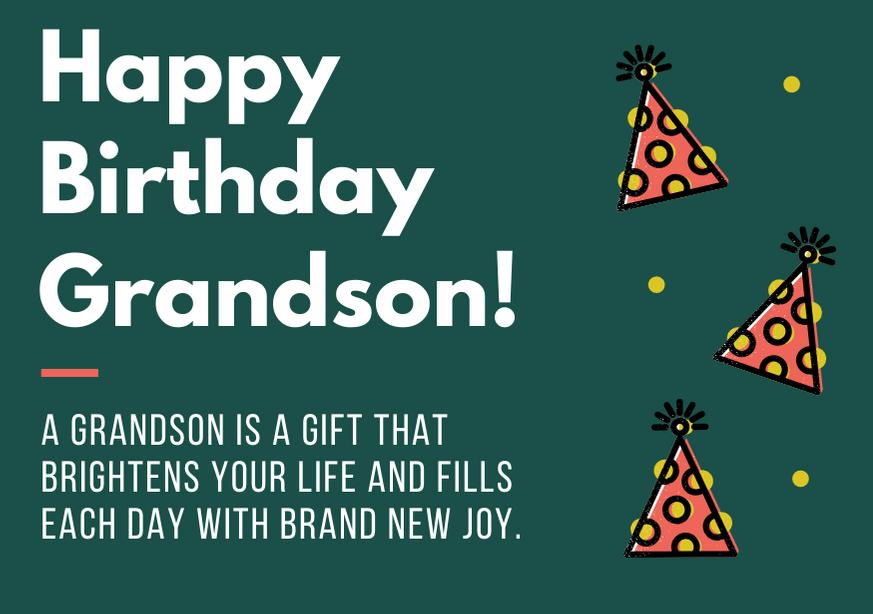 #14 Sending my warmest birthday wishes to you, Grandson! I am so grateful to have you in my life with every single passing day. It fills me with pride to have a Grandson as kind, caring and as wonderful as you. I love you to the moon and back!
#15 Words can never say how proud I am of the wonderful young man you're growing up to become. Happy birthday to my sweet grandson.
#16 On your birthday, Grandson, I truly hope that all of your dreams come true! An extraordinary person like you always deserves the very best that life has to offer. The sky is the limit for you, today and always! I cherish, love and adore the man that you are becoming. Never give up!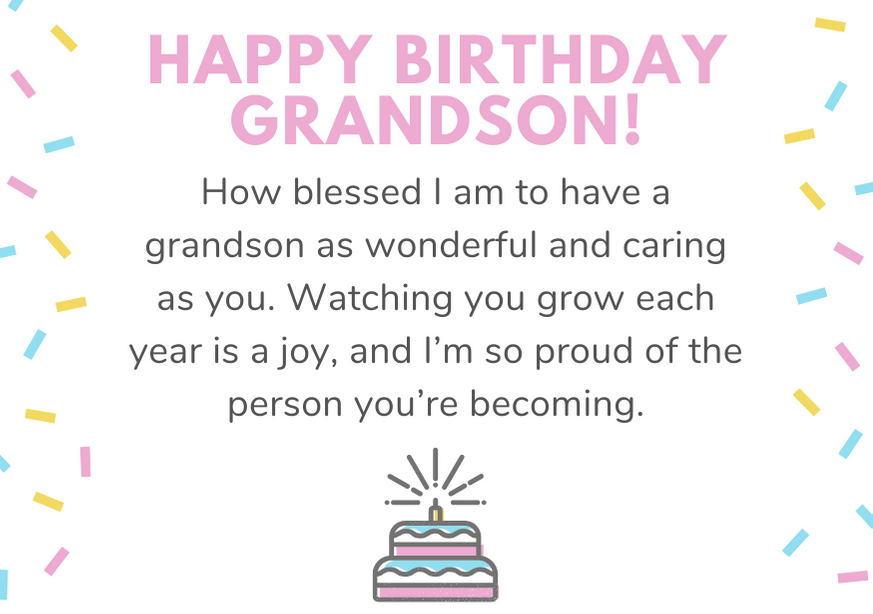 #17 To my brilliant, creative, talented grandson on your birthday. Today and every day, may your dreams be fully realized. Happy birthday!
#18 Words can never express how grateful I am to have a grandson as amazing as you. Wishing you a birthday filled with all your dreams come true. Happy birthday!
#19 Happy birthday to a truly one-of-a-kind, Grandson! It is such a privilege to watch you grow into the remarkable man you are becoming. I will always be here to support you whenever you need me! I hope that you have a wonderful day, filled with smiles, laughter and joy. Enjoy!
#20 Happy birthday to my sweet Grandson. You are the most precious person in my life and I absolutely adore you! I am so proud of you. You are maturing into an incredible man. I hope this birthday is everything you've ever wished for, and more. Never stop dreaming!
#21 To my grandson on your birthday: It's such a gift watching you grow up to become such a wonderful and thoughtful young man. Wishing you a wonderful day.
#22 Grandson: May you always have the ambition to reach for your dreams. I'm so proud of you. Happy birthday!
#23 Grandson…It's your special day! On this journey called life, may you never lose your sense of adventure. Happy birthday!
#24 Sending sweet birthday wishes to an exceptional Grandson! I hope that you always realize just how much you mean to me. You have touched the lives of so many people around you in fabulous and fantastic ways. Never change!
#25 Happy, happy, happy birthday to my wonderful grandson. It has been such a joy watching you grow into the young man you are today. Please know that I am always just a phone call away to help you navigate through life's decisions. I love you.
#26 Happy birthday to my grandson. I'm so grateful for the pleasure of watching you grow. Know that I love you so much more than words can say.
#27 From the day you were born, I loved you, and I always will. Happy birthday to a very special grandson.
#28 I couldn't be prouder of the young man you're turning into. I love you so much. Happy birthday, Grandson.
#29 Words can't express how proud I am to watch you grow up in the Lord's light. Happy birthday, Grandson.
#30 Happy birthday to my grandson. Your talent and ambition are limitless. Remember, you can do anything.
#31 Not to brag, but my grandson is the COOLEST…Okay, I am bragging a little bit. Happy birthday!
#32 How lucky I am to have a grandson as wonderful and caring as you. Watching you grow each year is a joy, and I'm so proud of the person you're becoming. Happy birthday, grandson.
#33 How quickly the time flies. Happy birthday to my brilliant grandson! I'm so thankful for the caring, compassionate, smart young man you've become.
#34 A grandson is a gift that brightens your life and fills each day with brand new joy. Happy birthday to my grandson. I love you so much.
#35 Grandson: No matter where you are, no matter what you do, always know that you're so very loved. Happy birthday.
#36 Wishing you, my grandson, a birthday filled with all his favorite things. Music, magic, and endless fun!
#37 Happy birthday, Grandson! It's such a gift to have a grandson as wonderful as you. I hope all of your dreams come true today.
#38 A grandson is a very special gift sent from God above to remind us what love truly means. Happy birthday, Grandson.
#39 Wishing my beloved grandson a birthday filled with endless fun, endless laughter, and endless cake! Happy birthday, I love you!
#40 Happy birthday to my AWESOME grandson! I'm so proud of the things that you do, and the wonderful person you are. Thanks for making life such an adventure.
The Most Famous Quotes to Include with Your Birthday Message to Your Grandson
"Perfect love sometimes does not come until the first grandchild."
Gore Vidal
"May each of my grandsons know, at an early age, what his life's ambition is and may he be successful in his pursuit of that goal."
Bette Davis
"If I had known how wonderful it would be to have grandchildren, I'd have had them first."
Lois Wyse
"Surely, two of the most satisfying experiences in life must be those of being a grandchild or a grandparent."
Donald A. Norberg
"The reason grandparents and grandchildren get along so well is that they have a common enemy."
Sam Levenson
"A child needs a grandparent, anybody's grandparent, to grow a little more securely into an unfamiliar world."
Charles and Ann Morse
"What a bargain grandchildren are! I give them my loose change, and they give me a million dollars' worth of pleasure."
Gene Perret
"Being grandparents sufficiently removes us from the responsibilities so that we can be friends."
Allan Frome
"Few things are more delightful than grandchildren fighting over your lap."
Doug Larson
"Never have children, only grandchildren."
Gore Vidal
"With your own children, you love them immediately – and with grandchildren, it's exactly the same."
Kevin Whately
"There are fathers who do not love their children; there is no grandfather who does not adore his grandson."
Victor Hugo
"When grandparents enter the door, discipline flies out the window."
Ogden Nash
"Our grandchildren accept us for ourselves, without rebuke or effort to change us, as no one in our entire lives has ever done, not our parents, siblings, spouses, friends — and hardly ever our own grown children."
Ruth Goode
"We should all have one person who knows how to bless us despite the evidence, Grandmother was that person to me."
Phyllis Theroux
"Grandchildren don't stay young forever, which is good because Pop-pops have only so many horsey rides in them."
Gene Perret
"Grandchildren are the dots that connect the lines from generation to generation."
Lois Wyse
"Beware of missing chances; otherwise it may be altogether too late some day."
Franz Liszt
The Best Bible Verses to Include with Your Birthday Message to Your Grandson
Luke 1:37
For nothing will be impossible with God.
Philippians 4:13
I can do all things through him who strengthens me.
Psalm 119:105
Your word is a lamp to my feet and a light to my path.
Psalm 37:4
Delight yourself in the Lord, and he will give you the desires of your heart.
John 8:32
And you will know the truth, and the truth will set you free.
Isaiah 60:5
Then you shall see and be radiant; your heart shall thrill and exult, because the abundance of the sea shall be turned to you, the wealth of the nations shall come to you.
Psalm 119:76
Let your steadfast love comfort me according to your promise to your servant.
1 Corinthians 1:4
I give thanks to my God always for you because of the grace of God that was given you in Christ Jesus.
Jeremiah 24:7
I will give them a heart to know that I am the Lord, and they shall be my people and I will be their God, for they shall return to me with their whole heart.
1 Timothy 1:14
And the grace of our Lord overflowed for me with the faith and love that are in Christ Jesus.
Psalm 69:30
I will praise the name of God with a song; I will magnify him with thanksgiving.
Psalm 107:15
Let them thank the Lord for his steadfast love, for his wondrous works to the children of man!
Proverbs 24:3
By wisdom a house is built, and by understanding it is established.
Nahum 1:7
The Lord is good, a stronghold in the day of trouble; he knows those who take refuge in him.
Romans 15:13
May the God of hope fill you with all joy and peace in believing, so that by the power of the Holy Spirit you may abound in hope.
Isaiah 48:17
Thus says the Lord, your Redeemer, the Holy One of Israel: "I am the Lord your God, who teaches you to profit, who leads you in the way you should go."
Psalm 59:10
My God in his steadfast love will meet me; God will let me look in triumph on my enemies.
Exodus 14:14
The Lord will fight for you, and you have only to be silent.
Psalm 128:2
You shall eat the fruit of the labor of your hands; you shall be blessed, and it shall be well with you.
John 15:5
I am the vine; you are the branches. Whoever abides in me and I in him, he it is that bears much fruit, for apart from me you can do nothing.
Psalm 28:7
The Lord is my strength and my shield; in him my heart trusts, and I am helped; my heart exults, and with my song I give thanks to him.
Proverbs 16:16
How much better to get wisdom than gold! To get understanding is to be chosen rather than silver.
Matthew 6:33
But seek first the kingdom of God and his righteousness, and all these things will be added to you.
1 John 4:4
Little children, you are from God and have overcome them, for he who is in you is greater than he who is in the world.
Philippians 4:19
And my God will supply every need of yours according to his riches in glory in Christ Jesus.
Jeremiah 29:11
For I know the plans I have for you, declares the Lord, plans for welfare and not for evil, to give you a future and a hope.
2 Corinthians 9:11
You will be enriched in every way to be generous in every way, which through us will produce thanksgiving to God.
Proverbs 18:15
An intelligent heart acquires knowledge, and the ear of the wise seeks knowledge.
Hebrews 13:15
Through him then let us continually offer up a sacrifice of praise to God, that is, the fruit of lips that acknowledge his name.
Zechariah 10:1
Ask rain from the Lord in the season of the spring rain, from the Lord who makes the storm clouds, and he will give them showers of rain, to everyone the vegetation in the field.
Proverbs 3:3
Let not steadfast love and faithfulness forsake you; bind them around your neck; write them on the tablet of your heart.
Philippians 2:13
For it is God who works in you, both to will and to work for his good pleasure.
Deuteronomy 31:8
It is the Lord who goes before you. He will be with you; he will not leave you or forsake you. Do not fear or be dismayed.
Psalm 23:4
Even though I walk through the valley of the shadow of death, I will fear no evil, for you are with me; your rod and your staff, they comfort me.
Isaiah 66:13
As one whom his mother comforts, so I will comfort you; you shall be comforted in Jerusalem.
1 John 5:4
For everyone who has been born of God overcomes the world. And this is the victory that has overcome the world—our faith.
1 John 3:2
Beloved, we are God's children now, and what we will be has not yet appeared; but we know that when he appears we shall be like him, because we shall see him as he is.
Romans 8:35
Who shall separate us from the love of Christ? Shall tribulation, or distress, or persecution, or famine, or nakedness, or danger, or sword?
Jeremiah 32:27
Behold, I am the Lord, the God of all flesh. Is anything too hard for me?
John 15:13
Greater love has no one than this, that someone lay down his life for his friends.
Psalm 106:3
Blessed are they who observe justice, who do righteousness at all times!
Psalm 72:16
May there be abundance of grain in the land; on the tops of the mountains may it wave; may its fruit be like Lebanon; and may people blossom in the cities like the grass of the field!
Psalm 115:14
May the Lord give you increase, you and your children!
Please take a moment to pin this post to Pinterest.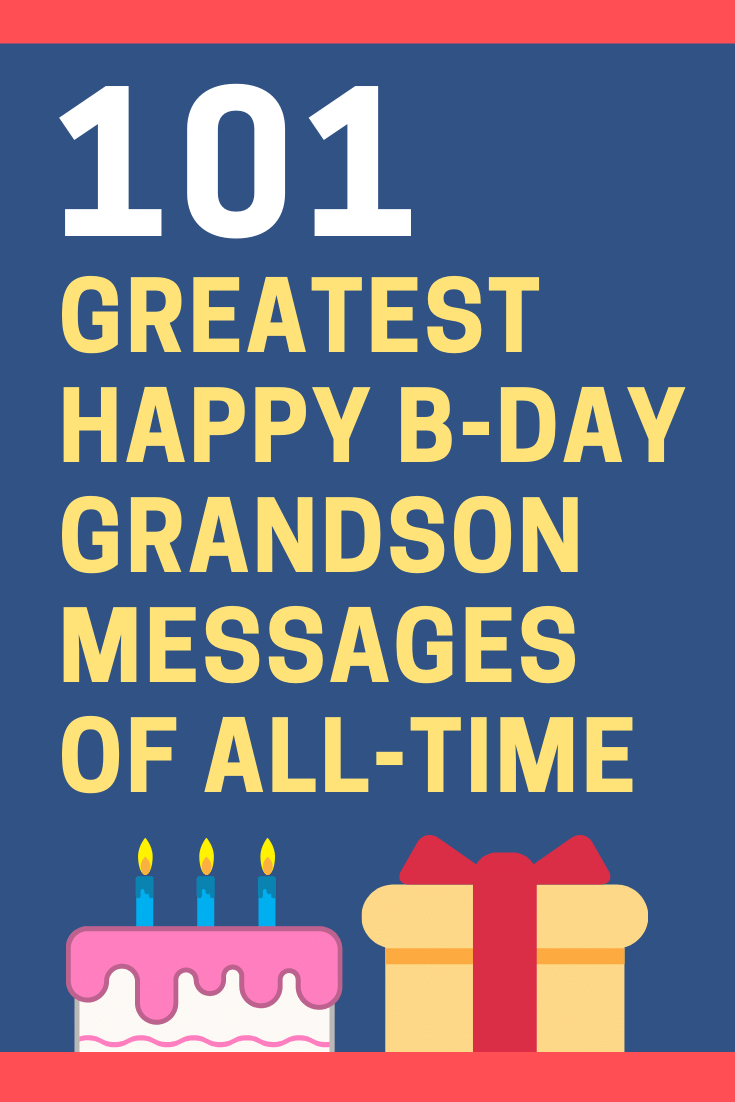 Author Biography
Keith Miller has over 25 years of experience as a CEO and serial entrepreneur. As an entrepreneur, he has founded several multi-million dollar companies. As a writer, Keith's work has been mentioned in CIO Magazine, Workable, BizTech, and The Charlotte Observer. If you have any questions about the content of this blog post, then please
send our content editing team a message here
.
---