Here is a list of 50 heartfelt 'thank you messages and quotes for volunteering' to let them know how much their efforts were appreciated.
#1 Thank you so much for supporting a great cause! Volunteers like you genuinely change the world, and we are forever grateful. We hope you will join us next time. We'd love to see you!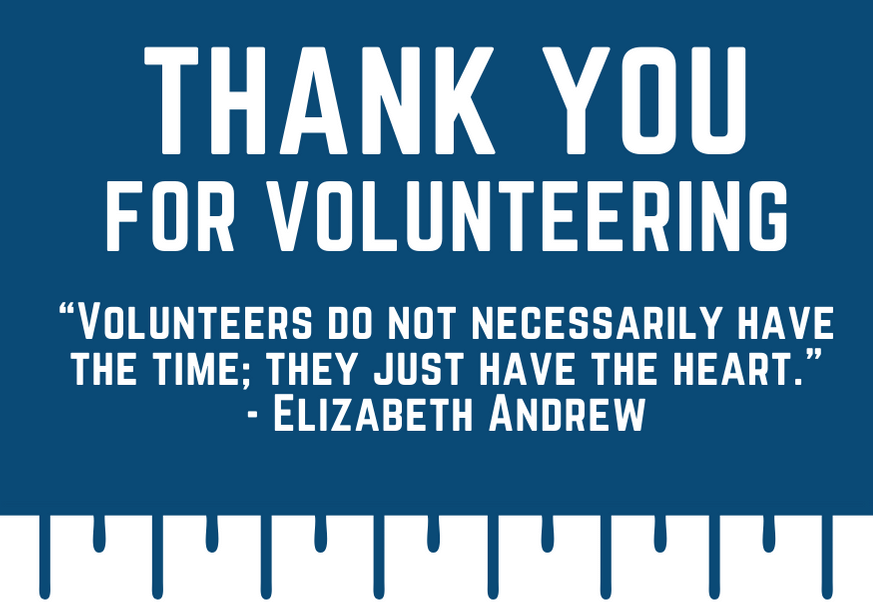 #2  Looking at you, I understand what volunteering is all about. You care so deeply, and you step up to support the things you believe in regardless of the personal cost. Thank you for being an inspiration to us all. We look forward to teaming with you again and continuing to make a difference together.
#3 Thank you so much for the immeasurably valuable work you have done for our charity! We have not thanked you enough, and want to let you know that your dedication is essential to the work that we do. We cannot do it without you. We would not want to do it without you. You bring ideas, positive energy and a beautiful intensity. I hope you will come back and join us soon, and maybe even bring a friend with you!
#4 The good you do returns to you a hundredfold. Never forget this, and be sure that the universe has wonderful things in store for you. You have been such a devoted and hardworking volunteer in furthering our efforts. I can't thank you enough, and I hope to see you again soon to fight the good fight!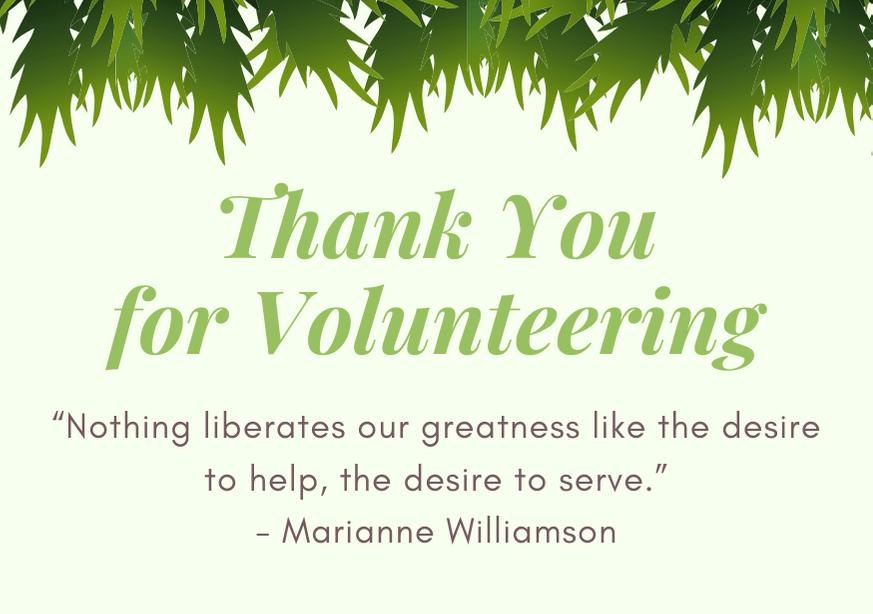 #5 While others work their way towards being different, you strive towards making a difference. Your passion and energy are unparalleled, and I respect your spirit of volunteerism immensely. We are so very grateful to have your help. Thank you for being so selfless with us and for so many in whose lives you make a tangible difference.
#6 It's hard to come up with adequate words to describe how much your support means. You are dedicated and focused. You are hardworking and full of innovative ideas. I hope that the good work you do will come back to you many times over. Thank you for volunteering, and I hope we can work together again very soon.
#7 For every ten that watch, only one comes forward to help. Today, as on many occasions before, you were that unique and selfless individual. Thank you for being a tireless volunteer and setting an excellent example for us all. I appreciate you immensely.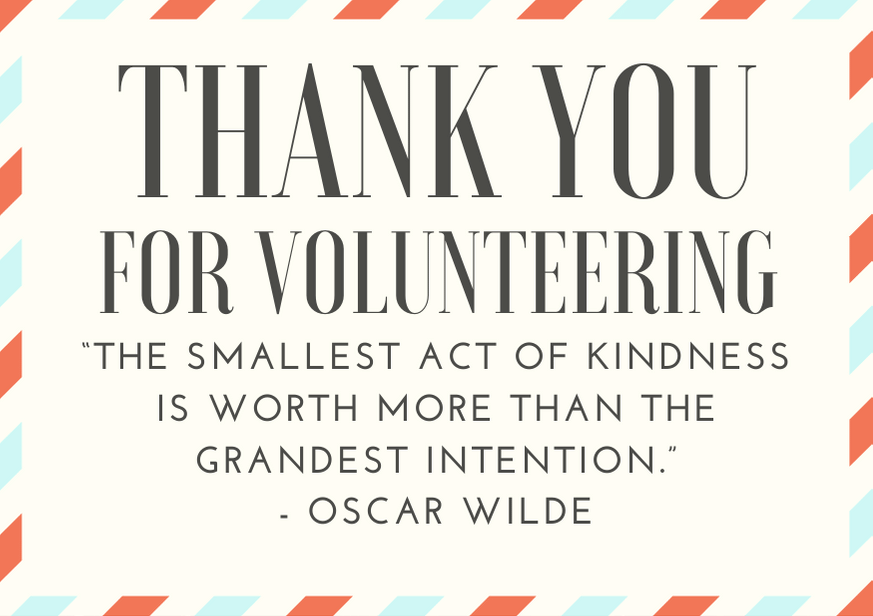 #8 Thank you so much for your volunteer work. Even though you're not in the spotlight, you are the backbone of each and every event. Please know that we could not do this without your hard work. We are forever thankful for the time you have given us. You have made an unforgettable difference.
#9 The way you inspire everyone with your volunteer work proves that you are a complete natural. Thank you for the energy and passion you put into the cause. You are a remarkable human being with a big heart for others.
#10 You rarely meet a person so selfless and devoted, and we are honored to have you on our volunteers' team. Thank you for all the energy you have given to this worthy cause. I hope you know the priceless impact you have had on so many lives.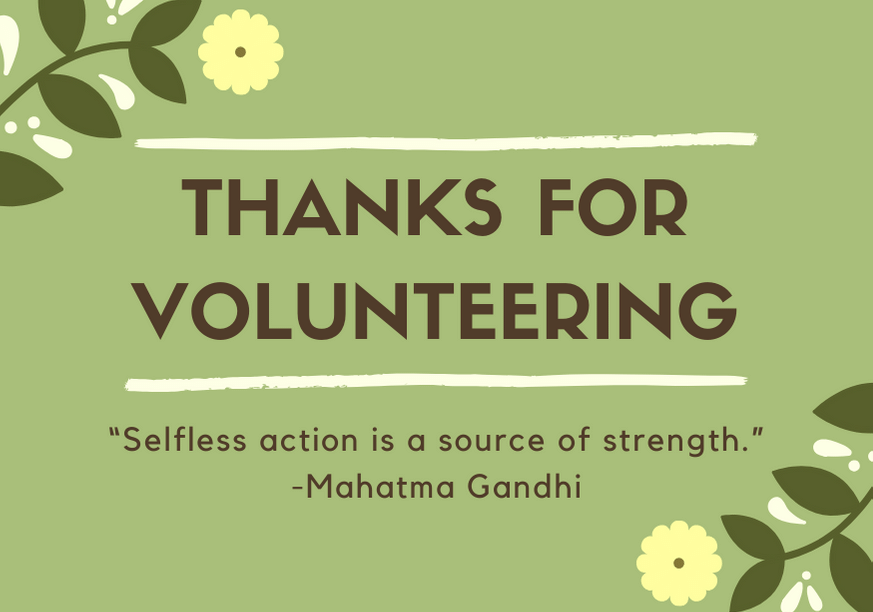 #11 With volunteers like you, we have a chance to make this world a better place. Thank you for all your hard work. It makes all the difference.
#12 You are a joy to work with because you bring positive energy wherever you go. We are thrilled to have you among our volunteers! Stay sharp and keep changing the world.
#13 Not only do you have a heart of gold but mad organization skills as well! Thank you for the tremendous amount of work you've put in. Volunteers like you deserve immense praise.
#14 Being a volunteer is a demanding task, so thank you for contributing so much of your time, energy, and efforts to it. You did an excellent job and you are so appreciated.
#15 Behind every successfully organized event there is an extraordinary volunteer team. Thank you for a job well done. We felt completely safe and prepared in your capable hands.
#16 If you can do something, anything, to help, then do it – that's our motto. Thank you for following it today. Your volunteering helped support a good cause, and we're very grateful.
#17 Countless goals have been achieved today thanks to your selfless volunteer work. We appreciate your help so much. Thank you a ton for your enthusiasm and generosity.
#18 Volunteering is about giving, and we're thrilled about all the care and support you've given us. May it return to you many times over.
#19 With volunteers like you, any impossible task becomes accomplishable. Thank you for furthering the cause. You are truly a gift.
#20 If gratitude is worth millions, then you are a billionaire. Thank you for the priceless work you do as a volunteer. It will not be forgotten by me or by the people you've helped.
#21 Our many praises to the team of volunteers! Thank you for your professionalism, timely assistance, and exceptional organization skills. We couldn't have done this without you.
#22 On days like this, it's easy to believe in angels. Kind-hearted and dedicated volunteers, you've shown a great example to all of us, and we want you to know just how appreciated all of you are.
#23 I believe we can change the world if we work together, and nothing has been more fulfilling than working side-by-side with you. You are a selfless, exceptional volunteer. Keep it up, and you'll surely make change happen!
#24 I know that volunteers don't ask for rewards, but I hope that our sincerest appreciation can be a reward for all of your help. You've done the impossible, and we will never forget it.
#25 Unity of passion and compassion is a rare gift, but it shines in you. You do your job with both, and that makes you a genuine and dedicated volunteer. Thank you so much for your tireless support.
#26 Thank you for the outstanding work in helping to arrange the event. We've never seen as many smiles as we have today, all because of your remarkable volunteer efforts. You are a critical part of our dream team.
#27 Thank you for volunteering to support our cause! We are so much stronger together, and we can achieve great things if each of us steps forward. You're a hero!
#28 It's not a "Hunger Games" movie, but you are indeed our Katniss Everdeen. Thank you for volunteering!
#29 Your volunteer work has proven that one person can make a significant difference. On behalf of everyone you've helped, thank you for being so passionate about making the world a better place.
#30 You are kind, optimistic, reassuring, enthusiastic, and, most of all, selfless. Your example inspires others to follow, and that's what marks a great volunteer. Thank you for that.
#31 Volunteering marks people with caring hearts. Thank you so much for giving yours to a good cause.
#32 It takes a lot of courage to step up and start changing the world. Thank you for doing it boldly and passionately through your volunteer work. You are a star.
#33 You are the gears that help the mechanism run smoothly. We are very thankful for your outstanding work in arranging the event. It couldn't have been better organized.
#34 I hope you know that all your volunteer work does not go unnoticed. You are the heart of many great causes, and we appreciate you enormously.
#35 The harder you work, the bigger the impact. Thank you for being a dedicated volunteer. You have left a huge imprint on this world and helped make it a better place.
#36 Volunteers give the world the greatest gift of care. Thank you for setting an extraordinary example for us and for making a difference.
#37 I'm sure you'll be pleased to know that your hard work helped us make our wildest dreams come true! Thank you for the unbelievable volunteer work. We owe our success to you.
#38 We wouldn't have achieved our success without your help. We are thrilled to have had you on the team. You were simply incredible. Please keep it up with the exceptional volunteer work. We need you!
#39 Thank you for generously sharing your time and energy with us! You gave us a helping hand when we needed it, and the work you did supports a worthy cause.
#40 You are a true gift and a force of benevolence when it comes to helping others. Thank you for being an inspiration to us all. May the good you've done return to you a hundredfold.
The Most Famous Quotes to Include with Your Thank You Message for Volunteering
"Volunteers do not necessarily have the time; they just have the heart."
Elizabeth Andrew
"There is nothing more beautiful than someone who goes out of their way to make life beautiful for others."
Mandy Hale
"Volunteers are the only human beings on the face of the earth who reflect this nation's compassion, unselfish caring, patience, and just plain loving one another."
Erma Bombeck
"Life is an exciting business, and most exciting when it is lived for others."
Helen Keller
"Nothing liberates our greatness like the desire to help, the desire to serve."
Marianne Williamson
"Unless someone like you cares a whole awful lot, nothing is going to get better. It's not."
Dr. Seuss
"Selfless action is a source of strength."
Mahatma Gandhi
"Those who bring sunshine to the lives of others cannot keep it from themselves."
James Matthew Barrie
"Everywhere in life, the true question is not what we gain, but what we do."
Thomas Carlyle
"The smallest act of kindness is worth more than the grandest intention."
Oscar Wilde
Please take a moment to pin this post to Pinterest.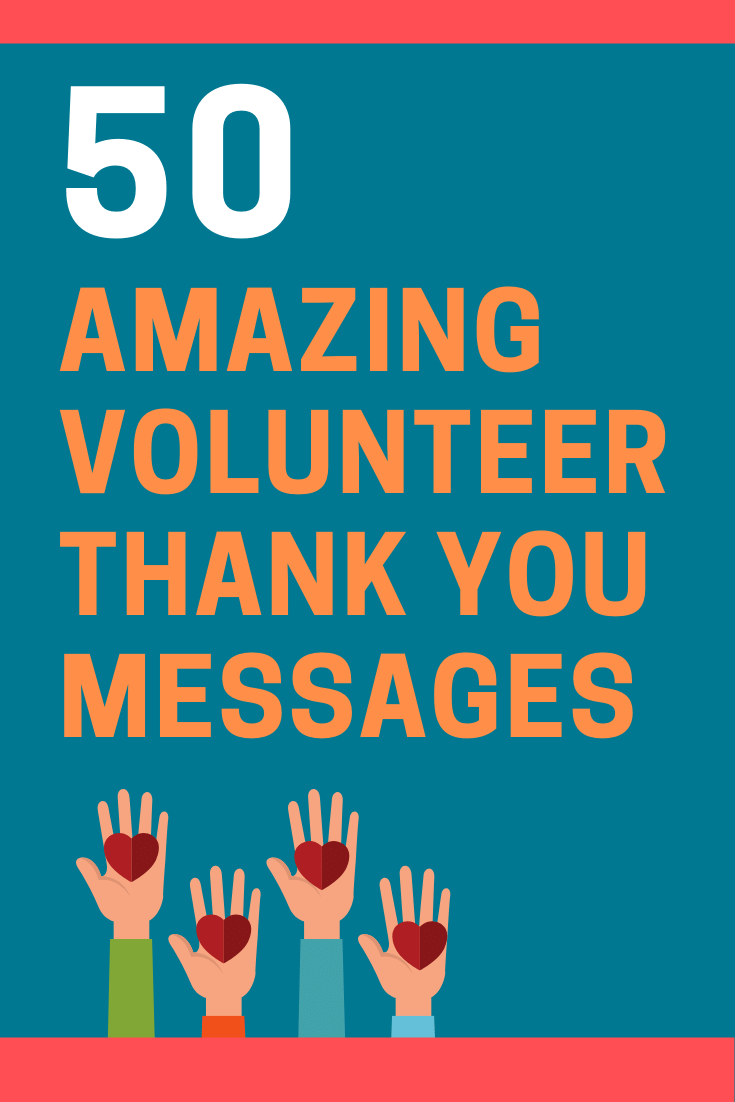 Author Biography
Keith Miller has over 25 years of experience as a CEO and serial entrepreneur. As an entrepreneur, he has founded several multi-million dollar companies. As a writer, Keith's work has been mentioned in CIO Magazine, Workable, BizTech, and The Charlotte Observer. If you have any questions about the content of this blog post, then please
send our content editing team a message here
.
---