Here is a list of 101 unforgettable "Merry Christmas My Love" messages and quotes to show them how much they mean to you during the holiday season.
#1 Merry Christmas, my love. I'm so happy I get to spend this day with you as there's nobody else I'd rather spend it with. Your energy and love have gotten me through this year, and I'll do anything to make sure we spend many more Christmases together.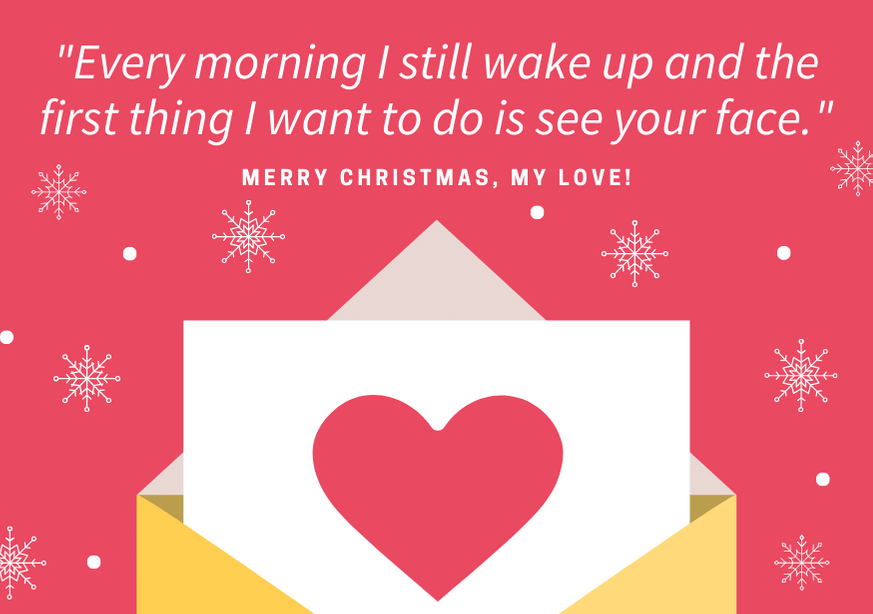 #2 Christmas is all about family and home. You're both to me. Anywhere with you is home. Thank you for always knowing how to make me laugh, and for being my best friend as well as the love of my life.
#3 You're the best present I could ever ask for. I hope you know just how loved you are. I love you for everything I know you are, and everything I've yet to learn. I hope to spend many more Christmases with you, just like this.
#4 Merry Christmas, my beloved. You're the most loving, understanding, and caring person in my life, and I'll never be able to thank you enough.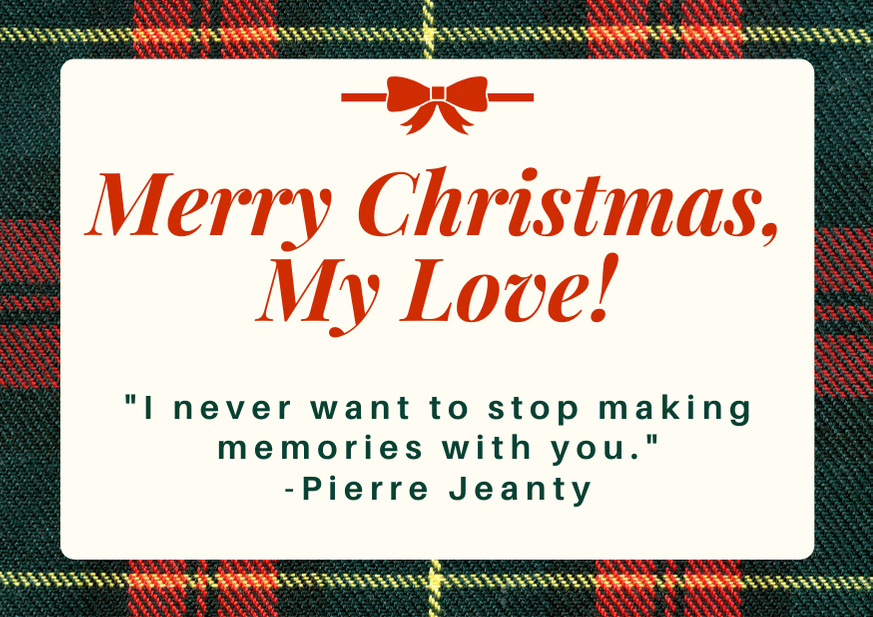 #5 Merry Christmas! This time of year is always a good time to look back and reflect on what you're thankful for. I just keep thinking of you. I hope you know just how deeply in love I am with you, and how excited I am to be building our lives together.
#6 Last Christmas I gave you my heart, but, unlike the song, you never gave it away. You've held it in your gentle hands, and it has made me love you even more. Merry Christmas!
#7 I thank God I fell in love with such a kind and caring person like you, sweetheart. I'm the happiest person in the world. I couldn't ask for a better gift than having you in my life. Merry Christmas.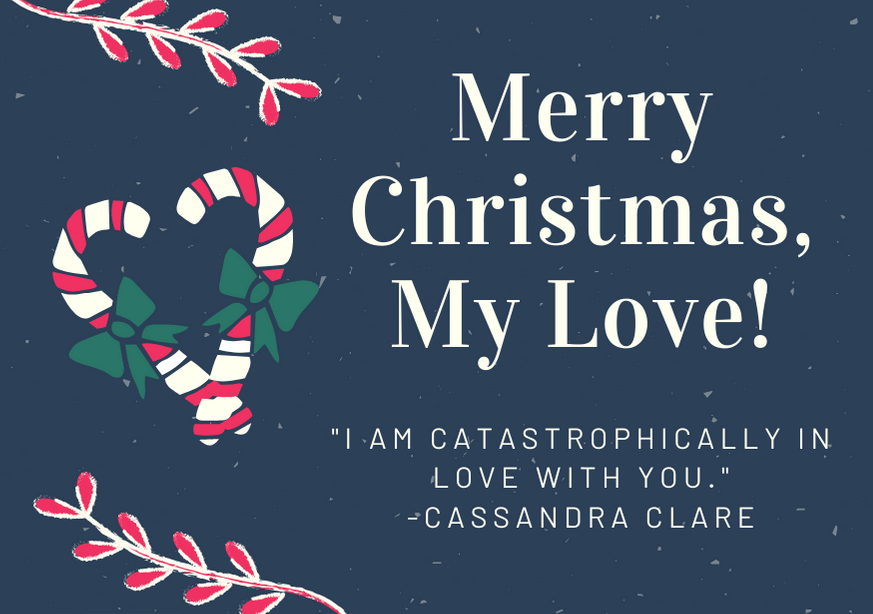 #8 Wishing a very merry Christmas to the love of my life. All I ever need to feel blessed is to spend my days with you. Let's make this Christmas season one we will always remember.
#9 Let's have some hot cocoa, roast marshmallows on the fire and have a quiet Christmas snuggled up together. May this Christmas day be perfect. Merry Christmas, sweetie!
#10 With each passing day, my love for you grows impossibly stronger. Each day feels like a gift when I'm with you. Even the hard days are a joy for me. I'm happy you're here, more than you could ever know. I love you. Merry Christmas!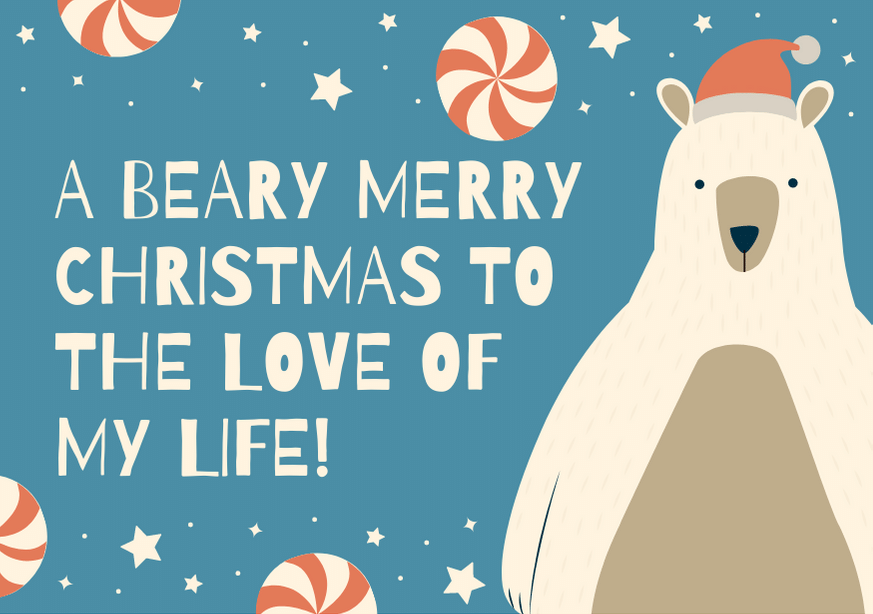 #11 I'll always be home for Christmas if I'm with you. I love you so much, and each day with you is better than any gift that could be put under a tree. Let's make the most out of today. Merry Christmas.
#12 Merry Christmas, my love. Being with you has brought back the magic of Christmas I felt as a child. I'm so excited to spend the holiday season with you. Thank you for being my inspiration and my steady rock. I'm so happy we have this holiday to spend together.
#13 I'm so grateful for all the gifts you've given me, but the most precious gift of all is you. Thank you for sharing your love with me, and have a beautiful and peaceful Christmas, sweetheart.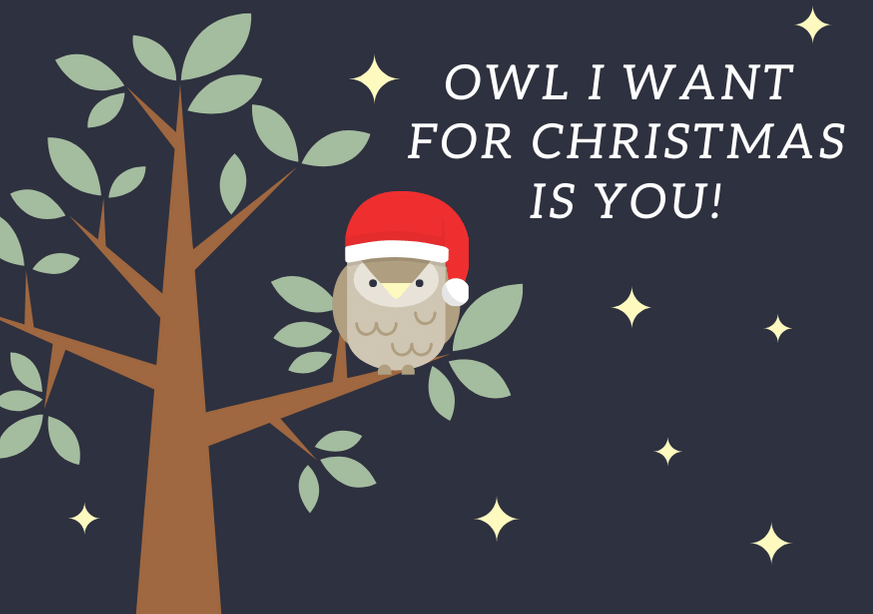 #14 You've made my life very special, and I'm happy to be spending it with you. Here's to many more Christmas seasons together, baby. I never want to spend this time, or any other time, apart from you. Merry Christmas.
#15 The only thing I need to have a good Christmas is you, from now and every Christmas onward. Thank you for your love, kindness, and support over the past year. You're the love of my life, and I'm so excited to spend may more Christmases by your side. Merry Christmas!
#16 With you in my life, happiness bubbles inside me like air bubbles in champagne. My heart sings at the thought of you because you make my life complete. Merry Christmas to you, honey, and a merry many more after this one.
#17 You make the Christmas season as joyful and bright as it's supposed to be. I'm so thankful you're in my life. I love you so much. Merry Christmas!
#18 The snow may be cold outside, but my love for you warms my whole being. Thank you for being the fire that keeps me energized for another day of this life, because I am lucky enough to spend it with you. Merry Christmas, my love.
#19 My Love: I hope you enjoy your presents this year, and I hope you feel as warm and safe with me as I do with you. Merry Christmas.
#20 Your kisses are lights in the winter's night, lighting up the trail we walk together in true love. Christmas with you, my soul mate, is like a magical dream. Merry Christmas.
#21 Merry Christmas to the love of my life! I'm so happy to share this blessed time of our Savior's birth with you. Nothing could make me happier.
#22 As Christmas joy encircles the globe, I long to hold you close and tell you that you mean the world to me. Merry Christmas, my beloved.
#23 Merry Christmas! Christmas is a time for togetherness and there is nothing I want more than to spend it with you, celebrating our love. You are my greatest joy!
#24 In all the holiday fun, twinkling lights and music, know that I love you with every beat of my heart.  Wishing you a Merry Christmas and every happiness this Christmas season.
#25 I can hardly wait to spend Christmas with you in my arms. Wishing you a Merry Christmas full of radiant joy, knowing how much I love you.
#26 Christmas is a time for loving and giving. You do both so generously throughout the year, honey. I hope this Christmas is filled with light and love, knowing how much you mean to me.
#27 I hope the light and joy of the season fill your heart. May our time together glow with the warmth of our love. Merry Christmas, my love.
#28 May this Christmas be full of love as we share all the fun activities we enjoy together. I am so excited to spend this time with you, my beloved one. Let's make it a Christmas to remember!
#29 You might just be a Santa's little elf yourself because your ability to bring me joy is truly magical. Thank you for being you, my love. Let's enjoy this beautiful Christmas together.
#30 A whole street of Christmas lights doesn't shine as brightly as your heart. I'm overjoyed that I get to celebrate this special day with you, honey. Merry Christmas.
#31 Let's sneak away from the world and spend this Christmas exchanging our gifts of love, so cozy and warm. Merry Christmas to you, my beloved.
#32 Our love shines like the brightest star and is as pure as freshly fallen snow. May your heart sing with the sweet song of our delight this Christmas.
#33 I haven't felt the Christmas magic since I was a kid, but you have brought this childlike joy back to me. Thank you for awakening an innocent excitement and pure joy from deep within me. I love you so much. Merry Christmas.
#34 I fell in love with you the moment I saw you, my sweetest love. Thank you for being an angel in my life. I wish you an exceptionally memorable Christmas this year.
#35 You make me happy 365 days a year. Let me take this one day to thank you for that, baby, and shower you with my love. Have an exquisite Christmas.
#36 Of all the Christmas miracles here on earth, you are certainly the greatest. The single fact of your existence fills my heart with love and joy. Merry Christmas, honey. Thank you for being YOU.
#37 Merry Christmas! I am sending you my love on this blessed day, and I hope that our bond fills your heart with warmth and love. Have a peaceful and joyous Christmas.
#38 Merry Christmas, baby! You are the best gift I could ever wish for and the sparkle in your eyes makes every day with you feel like it's Christmas.
#39 I'm going to put mistletoe everywhere around the house so I always have a reason to kiss you. Get your lips ready because they are going to get some exercise!
#40 I'm not going to do anything this Christmas day except bake cookies, drink cocoa, and kiss you! Here's to the coziest Christmas day we have ever had, and to you, the love of my life.
The Most Famous Quotes to Include with Your Merry Christmas Message to Your Love
"All I want for Christmas is you."
Mariah Carey ("All I Want for Christmas Is You" lyrics)
"Baby it's cold outside."
Dean Martin ("Baby It's Cold Outside" lyrics)
"Christmas is like candy; it slowly melts in your mouth sweetening every taste bud, making you wish it could last forever."
Richelle Goodrich
"Let's just say that on this day a million years ago, a dude was born who most of us think was magic. But others don't, and that's cool. But we're probably right. Amen."
Homer Simpson
"Christmas is forever, not for just one day, for loving, sharing, giving, are not to put away like bells and lights and tinsel, in some box upon a shelf. The good you do for others is good you do yourself."
Norman W. Brooks
"The Christmas spirit–love–changes hearts and lives."
Pat Boone
"Every time a bell rings an angel gets his wings."
It's a Wonderful Life
"It's not what's under the Christmas tree that matters, it's who's around it."
Charles M. Schulz
"May peace and plenty be the first to lift the latch at your door, and happiness be guided to your home by the candle of Christmas."
Irish Christmas Blessing
"The way you spend Christmas is far more important than how much."
Henry David Thoreau
"My idea of Christmas, whether old-fashioned or modern, is very simple: loving others. Come to think of it, why do we have to wait for Christmas to do that?"
Bob Hope
"Christmas gives us the opportunity to pause and reflect on the important things around us – a time when we can look back on the year that has passed and prepare for the year ahead."
David Cameron
"Christmas will always be as long as we stand heart to heart and hand in hand."
Dr. Seuss
"May the beautiful lights of every holiday season remind us of Him who is the source of all light."
David A. Bednar
"The very purpose of Christ's coming into the world was that He might offer up His life as a sacrifice for the sins of men. He came to die. This is the heart of Christmas."
Reverend Billy Graham
"Blessed is the season, which engages the whole world in a conspiracy of love."
Hamilton Wright Mabi
"The spirit of Christmas is the spirit of love and of generosity and of goodness. It illuminates the picture window of the soul, and we look out upon the world's busy life and become more interested in people than in things."
Thomas S. Monson
"Christmas Shopping: Wouldn't it be wonderful to find one gift that you didn't have to dust, that had to be used right away, that was practical, fit everyone, was personal and would be remembered for a long time? I penciled in 'Gift certificate for a flu shot.'"
Erma Bombeck
"Ah! Dearest Jesus, Holy Child, Make thee a bed, soft, undefiled; Within my heart, that it may be, A quiet chamber kept for thee."
Martin Luther King, Jr.
"Christmas is a time when people of all religions come together to worship Jesus Christ."
Bart Simpson
"Christmas is a day of meaning and traditions, a special day spent in the warm circle of family and friends."
Margaret Thatcher
"Then the Grinch thought of something he hadn't before! What if Christmas, he thought, doesn't come from a store. What if Christmas…perhaps…means a little bit more!"
Dr. Seuss
"Tis the season to be jolly!"
Deck the Halls
"Christmas is the spirit of giving without a thought of getting. It is happiness because we see joy in people. It is forgetting self and finding time for others. It is discarding the meaningless and stressing the true values."
Thomas S. Monson
"The best Christmas trees come very close to exceeding nature."
Andy Rooney
"You can't fool me. There ain't no Sanity Clause!"
Chico Marx
"Your children need your presence more than your presents."
Jesse Jackson
"Once in our world, a stable had something in it that was bigger than our whole world."
C.S. Lewis
"Christmas in Bethlehem. The ancient dream: a cold, clear night made brilliant by a glorious star, the smell of incense, shepherds and wise men falling to their knees in adoration of the sweet baby, the incarnation of perfect love."
Lucinda Franks
"At Christmas, all roads lead home."
Marjorie Holmes
"Christmas is a tonic for our souls. It moves us to think of others rather than of ourselves. It directs our thoughts to giving."
B. C. Forbes
"And when we give each other Christmas gifts in His name, let us remember that He has given us the sun and the moon and the stars, and the earth with its forests and mountains and oceans—and all that lives and move upon them."
Sigrid Undset
"Christmas is not an eternal event at all, but a piece of one's home that one carries in one's heart."
Freya Stark
"The best of all gifts around any Christmas tree: the presence of a happy family all wrapped up in each other."
Burton Hillis
"Want to keep Christ in Christmas? Feed the hungry, clothe the naked, forgive the guilty, welcome the unwanted, care for the ill, love your enemies, and do unto others as you would have done unto you."
Steve Maraboli
"Christmas is a holiday that we celebrate not as individuals nor as a nation, but as a human family."
Ronald Reagan
"You can't allow the forces of political correction to shut you up. I mean, why are people afraid to say, 'Merry Christmas?' Give me a break. If people don't like it, yeah, they can go do something else."
Ben Carson
"It is Christmas in the heart that puts Christmas in the air."
W. T. Ellis
"Christmas day is a day of joy and charity. May God make you very rich in both."
Phillips Brooks
"For it is good to be children sometimes, and never better than at Christmas, when its mighty Founder was a child himself."
Charles Dickens
"Peace on earth will come to stay, when we live Christmas every day."
Helen Steiner Rice
"May you have the gladness of Christmas which is hope; The spirit of Christmas which is peace; The heart of Christmas which is love."
Ada V. Hendricks
"Seeing is believing, but sometimes the most real things in the world are the things we can't see."
The Polar Express
"Christmas is the season for kindling the fire of hospitality in the hall, the genial flame of charity in the heart."
Washington Irving
"And so this is Christmas and what have you done, Another year over, a new one just begun, And so this is Christmas, I hope you have fun, The near and the dear ones, the old and the young."
John Lennon and Yoko Ono
"Christmas is not a time or a season but a state of mind. To cherish peace and good will, to be plenteous in mercy, is to have the real spirit of Christmas."
Calvin Coolidge
"Christmas is not just a time for festivity and merry making. It is more than that. It is a time for the contemplation of eternal things. The Christmas spirit is a spirit of giving and forgiving."
J. C. Penney
"There are three stages of man: he believes in Santa Claus; he does not believe in Santa Claus; he is Santa Claus."
Bob Phillips
"One of the most glorious messes in the world is the mess created in the living room on Christmas day. Don't clean it up too quickly."
Andy Rooney
"Happy, happy Christmas, that can win us back to the delusions of our childhood days, recall to the old man the pleasures of his youth, and transport the traveler back to his own fireside and quiet home!"
Charles Dickens
"When we recall Christmas past, we usually find that the simplest things – not the great occasions – give off the greatest glow of happiness."
Bob Hope
"Good news from heaven the angels bring, Glad tidings to the earth they sing: To us this day a child is given, To crown us with the joy of heaven."
Martin Luther
"Christmas isn't about candy canes or lights all aglow, it's the hearts that we touch, and the care that we show."
Mickey's Once Upon a Christmas
"At Christmas, play and make good cheer, for Christmas comes but once a year."
Thomas Tusser
"Christmas is not in tinsel and lights and outward show. The secret lies in an inner glow. It's lighting a fire inside the heart. Good will and joy a vital part. It's higher thought and a greater plan. It's glorious dream in the soul of man."
Wilferd Peterson
"Christmas gift suggestions: to your enemy, forgiveness. To an opponent, tolerance. To a friend, your heart. To a customer, service. To all, charity. To every child, a good example. To yourself, respect."
Oren Arnold
"Christmas is a spirit that flows from one heart to another. It is more precious than rubies and better than gold."
Agnes M. Pharo
"Christmas is not a myth, not a tradition, not a dream. It is a glorious reality."
Reverend Billy Graham
"For they traveled by night and they slept by day, for their guide was a beautiful wonderful star."
Henry Wadsworth Longfellow
"At its best, Christmas is a mirror in which we see reflected the very best life can be. Where we see ourselves moved by generosity, inspired by hope, and uplifted by love, not only for ourselves but for the whole evolving universe."
Bruce Sanguin
"Time was with most of us, when Christmas Day, encircling all our limited world like a magic ring, left nothing out for us to miss or seek; bound together all our home enjoyments, affections, and hopes; grouped everything and everyone round the Christ."
Charles Dickens
Please take a moment to pin this post to Pinterest.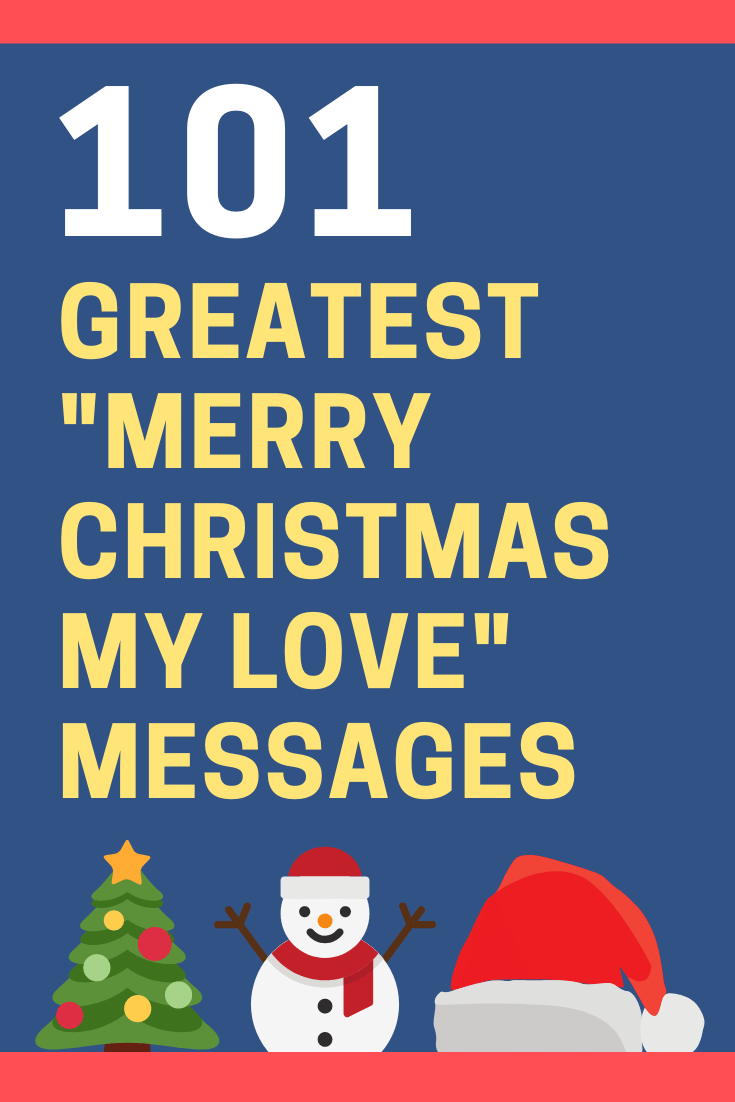 Author Biography
Keith Miller has over 25 years of experience as a CEO and serial entrepreneur. As an entrepreneur, he has founded several multi-million dollar companies. As a writer, Keith's work has been mentioned in CIO Magazine, Workable, BizTech, and The Charlotte Observer. If you have any questions about the content of this blog post, then please
send our content editing team a message here
.
---