Here is a list of the 50 best pastor appreciation card messages and bible verses to show your pastor how thankful you are for all they do for you and your church.
#1 Just as Peter was the rock of Christ's Church, you are the rock of this community. Thanks for always being present to serve not only as a pastor, but as a confidant, advisor, and friend.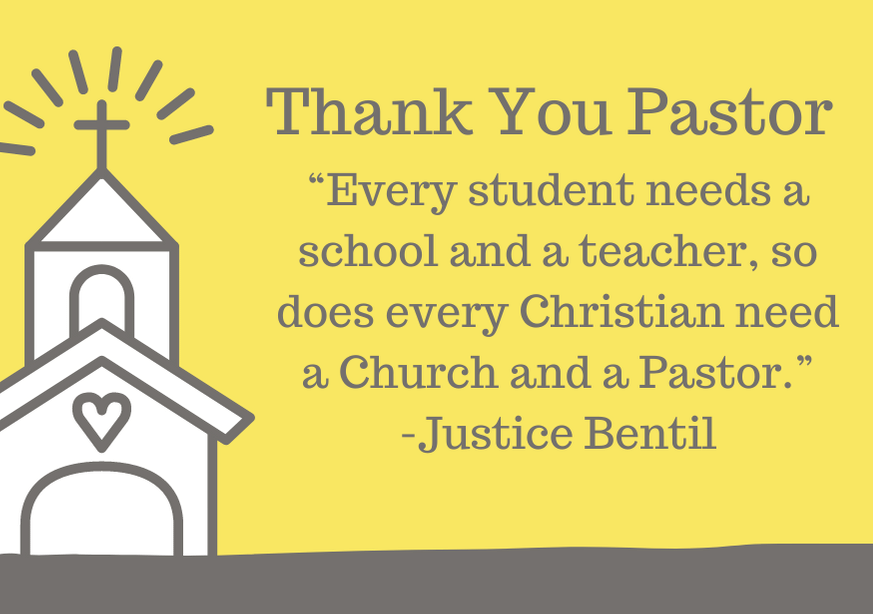 #2 As a pastor, you not only practice your faith but share it with the entire community. Thank you for working for a mission greater than yourself, and for being a true leader in the community.
#3 As both a servant of God and a servant of His people, you are the liaison between the spiritual world and our own. Thank you for bringing the gift of faith into the hearts of everyone in this congregation!
#4 While it may be easy to simply say the word of God, to put it into perspective and preach it is a very special gift. Thank you for using that gift to help enrich the lives of everyone in our faith community!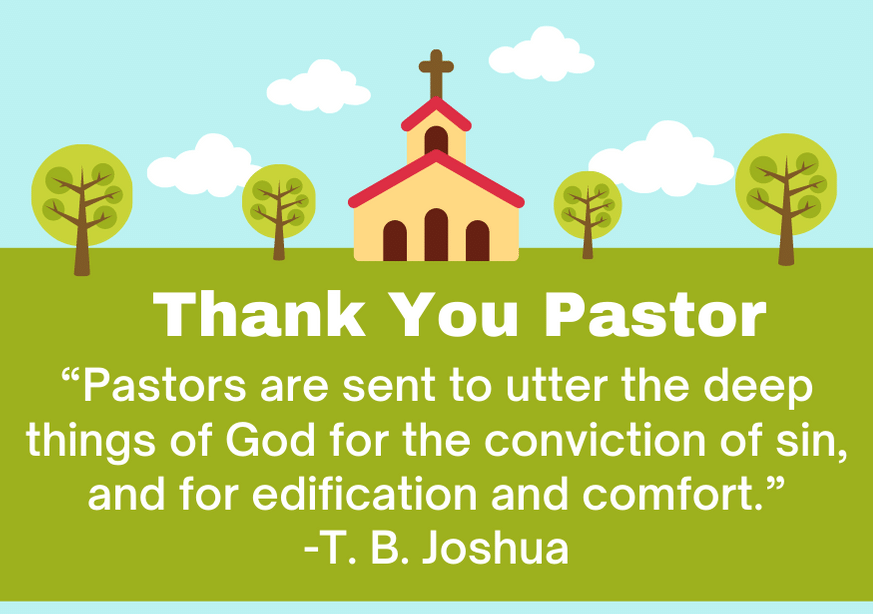 #5 In your spiritual duties, you not only play the role of pastor, but act as the community's advisor, advocate, teacher, and friend. Thank you for always going above and beyond to fulfill each and every one of these roles!
#6 In your years of service to this church, you have proven time and time again that you were truly called by God to do this work. Thanks for everything you do as a pastor and know that I am always praying for you and advocating for you!
#7 Thank you for going above and beyond to fulfill your role as pastor and know that both myself and the entire community will always stand by you, just as you have always stood by us.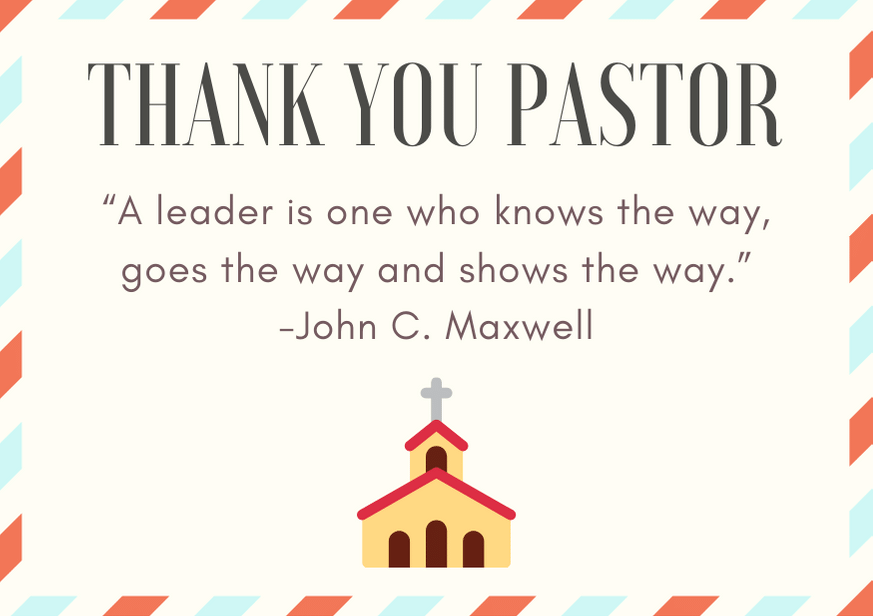 #8 By preaching the Word of the Lord, you allow our faith community to experience the joy of God's presence. Thank you for your work as a pastor and thank you for being the glue that brings this community together!
#9 By working as a pastor, you work on behalf of God. Thanks for never failing to be an upstanding leader of integrity in this community and know that I wish you the best in all of your spiritual endeavors!
#10 In your work as a pastor, may God fill you with the Holy Spirit and enrich the lives of both you and those around you! Thank you for your service and know that we all appreciate your hard work.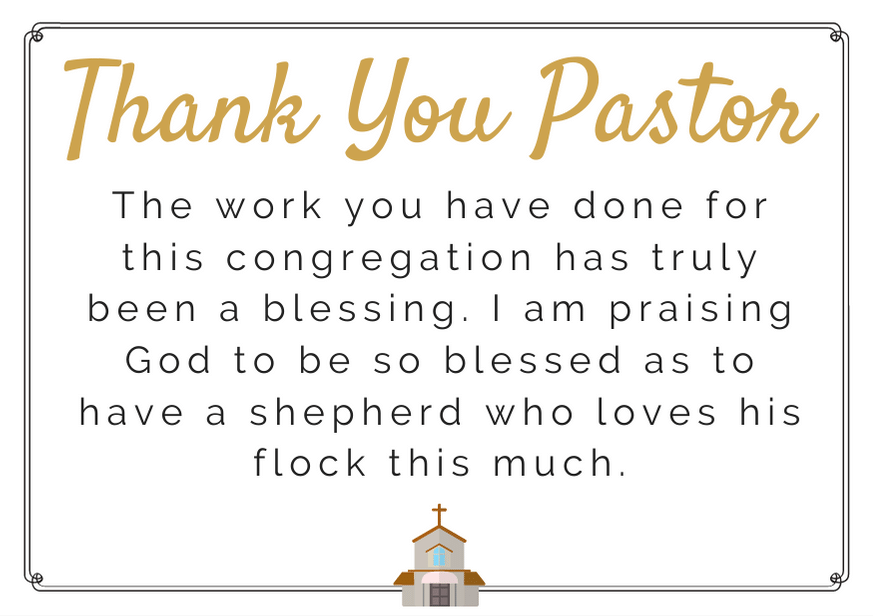 #11 Thank you for your work as a pastor. Know that the community sees you not only as a spiritual leader but above all, as a moral and upright teacher of the Word of God. Keep up the good work!
#12 I have never seen a pastor who cares for his flock more than you. Know that I have been challenged in my faith to be more like Christ because of your teachings and leadership.
#13 Not a day has passed without me praying for you. I know you have a very challenging job and am asking God to help you continue to do it well. Thanks for all you do and your tremendous sacrifice for us.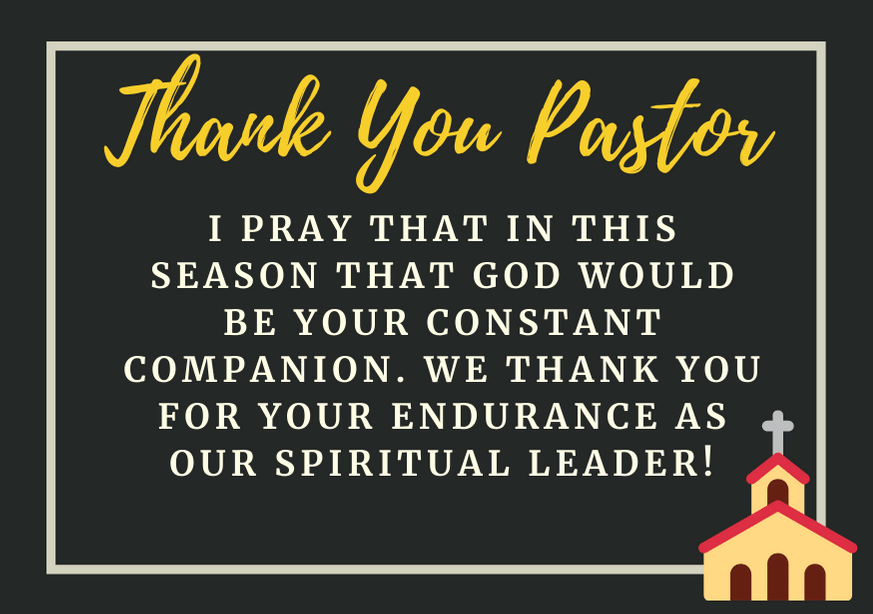 #14 May God be with you and never let you go as you serve Him in this church. Many blessings on your work as a pastor.
#15 As someone who has dedicated their life to God, you are a role model for the entire community. Thanks for all you've done so far as a pastor and keep up the good work!
#16 Being a pastor has got to be one of the hardest jobs in the world. You have done a magnificent job and I am so grateful for your humble service and endurance.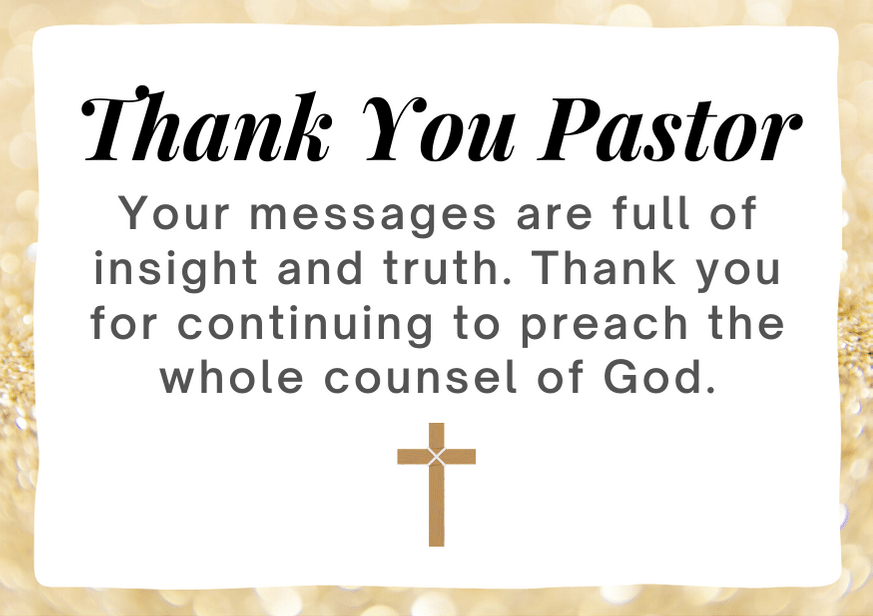 #17 You are such a fantastic pastor. Your humility, integrity, and generosity are an inspiration. Keep up the good work.
#18 Thank you for your service as a pastor and know that we appreciate your work both here at this church and across the wider community!
#19 I am so grateful for your service and example. God has used your faithfulness to encourage me to grow in my faith.
#20 It takes a special type of person to lead a faith community, and you are the perfect person for this role! Know that we are grateful for your continued guidance.
#21 Thank you so much for all that you do. Your patience and love for the people God has entrusted to you is a testament to the glorious love of Christ.
#22 I want to encourage you that your labor is not in vain. I know how hard you have been working and want to remind you that Jesus is worth it all, and He is working within your congregation. Keep spreading the good news of the gospel!
#23 Don't be weary but cast all your cares on the Lord. If and when discouragement comes, remember that He is with you and for you. Jesus is pleased with you, and we appreciate you so much.
#24 The work you have done for this congregation has truly been a blessing. I am praising God to be so blessed as to have a shepherd who loves his flock this much. Thank you.
#25 Be encouraged, your faithfulness is being multiplied in this place. You are growing God's flock and deepening our faith. Thank you for your spiritual guidance.
#26 Praising God today for how much He is using you in this church. Your sermons have uplifted and taught me so much. I pray that God will continue to use you in mighty ways.
#27 Your messages are full of insight and truth. Thank you for continuing to preach the whole counsel of God.
#28 I pray that in this season that God would be your constant companion. When you are weary and heavy-laden, go to Jesus. He will always be with you. We thank you for your endurance as our spiritual leader!
#29 Thank you for all you do as a pastor and know that your ministry has far-reaching positive effects that are greater than you could ever know!
#30 It has been such a blessing to have a pastor who is an example of the words of John the Baptist because you have decreased, and Christ has increased in your ministry. I pray that your faith remains strong and your grace abounds.
The Most Famous Quotes to Include with Your Pastor Appreciation Message
"Every student needs a school and a teacher, so does every Christian need a Church and a Pastor."
Justice Kojo Bentil
"Christ is a substitute for everything, but nothing is a substitute for Christ."
Harry Ironside
"Saving us is the greatest and most concrete demonstration of God's love, the definitive display of His grace throughout time and eternity."
David Jeremiah
"Being the light of the world is about being a broken, exploding, scarred star and shining a light of hope and inspiration to everyone around you."
Ricky Maye, Barefoot Christianity
"Jesus is not one of many ways to approach God, nor is He the best of several ways; He is the only way."
A. W. Tozer
"A true leader is still a leader even when he takes up servants' duty, provided he maintains a human face and added integrity to his self-retained qualities."
Israelmore Ayivor
"One of the things that enriches the life of the pastor is to go through what the people go through."
Pastor Mensa Otabil
"Pastors are sent to utter the deep things of God for the conviction of sin, and for edification and comfort."
T. B. Joshua
"No one can pray and worry at the same time."
Max Lucado
"A leader is one who knows the way, goes the way and shows the way."
John C. Maxwell
The Best Bible Verses to Include with Your Pastor Appreciation Message
John 10:11
I am the good shepherd. The good shepherd lays down his life for the sheep.
1 Peter 5:4
And when the chief Shepherd appears, you will receive the unfading crown of glory.
Jeremiah 3:15
Then I will give you shepherds after my own heart, who will lead you with knowledge and understanding.
Acts 20:28
Keep watch over yourselves and all the flock of which the Holy Spirit has made you overseers. Be shepherds of the church of God, which he bought with his own blood.
Isaiah 40:11
He will tend his flock like a shepherd; he will gather the lambs in his arms; he will carry them in his bosom, and gently lead those that are with young.
Galatians 6:9
Let us not become weary in doing good, for at the proper time we will reap a harvest if we do not give up.
Ezekiel 34:23
And I will set up over them one shepherd, my servant David, and he shall feed them: he shall feed them and be their shepherd.
Micah 5:4
And he shall stand and shepherd his flock in the strength of the Lord, in the majesty of the name of the Lord his God. And they shall dwell secure, for now he shall be great to the ends of the earth.
1 Corinthians 15:58
Therefore, my dear brothers and sisters, stand firm. Let nothing move you. Always give yourselves fully to the work of the Lord, because you know that your labor in the Lord is not in vain.
John 10:27
My sheep hear my voice, and I know them, and they follow me.
Please take a moment to pin this post to Pinterest.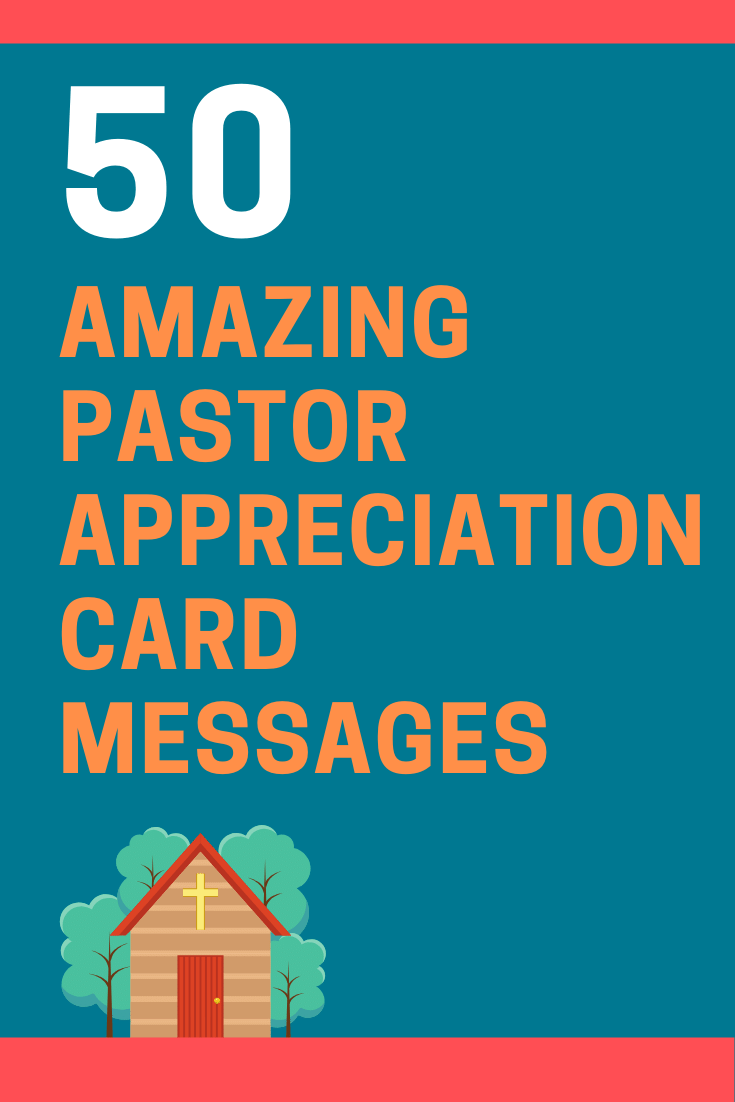 Author Biography
Keith Miller has over 25 years of experience as a CEO and serial entrepreneur. As an entrepreneur, he has founded several multi-million dollar companies. As a writer, Keith's work has been mentioned in CIO Magazine, Workable, BizTech, and The Charlotte Observer. If you have any questions about the content of this blog post, then please
send our content editing team a message here
.
---