Here is a list of 50 thank you for being a good neighbor messages to let your neighbors know how happy you are to live next to them.
#1 Thank you for reaching out to us and welcoming us to the neighborhood. It was lovely to meet you and your family. We are looking forward to getting to know you more as we settle in and get connected.
#2 A good neighbor is worth more than a million cups of sugar. Thank you for being such a reliable and helpful neighbor. I can always count on you.
#3 We want to acknowledge all your kindness to us. Having a good neighbor has always been at the top of our list for wherever we have lived. It makes the world a brighter place to know you live close by.
#4 A neighbor is often not someone you get to choose. You win some, and you may lose some. Well, I think I hit the jackpot. I would choose you every day, forever.
#5 How sweet of you to drop by and check on me recently. I appreciate the fact that you are there and notice when you have not seen me in a while. It helps me to feel more secure to know that those around me care. Thank you for being that kind of person.
#6 I almost feel bad for everyone else because I know their neighbors can't be as good as mine. The joy, the support, and the reliability: it is something very special.
#7 What a nice surprise that you popped in to say hello. We have been busy lately and miss visiting with you. We love having you as our neighbor and hope to see you again before too long.
#8 Finding you was like discovering a most precious gem. You are special. Who knew living next to someone could lead to such a delightful discovery?
#9 Thank you for all your practical assistance and for offering to lend me your tools. I love that we help each other out, as neighbors who get along. It makes such a difference to be able to relax and enjoy living here in our community.
#10 Thank you from the bottom of my heart for being my most incredible neighbor. I have never met anyone quite like you, and I am thrilled we both ended up living where we do!
#11 I really enjoyed our visit earlier this week. Thank you for offering to keep an eye on our property when we are on vacation. It is nice to have such peace of mind, knowing that you will be watching out for our home in our absence. Thank you again!
#12 Imagine my good luck to have such a reliable, good-hearted friend who also happens to be my neighbor. I am so thankful for having a neighbor like you.
#13 I want to thank you for welcoming us into the neighborhood and for connecting as we settle in. You were so sweet to deliver treats for us as a move-in gift. We are really looking forward to getting to know you better in the coming days.
#14 You know, I think if I ever moved, you would have to come too. How else could someone match what a friendly and helpful neighbor you are? Thank you!
#15 You are a delightful neighbor, and we enjoy much common ground in terms of our relationship. If you need anything, please feel free to ask. It would be a pleasure to assist you in any way we can.
#16 Your displays of kindness consistently fill my world with happiness. They are like rays of sunshine warming me, no matter what else is going on. Thank you for being a great neighbor.
#17 Thank you for your warm welcome to the neighborhood. It was so useful that you shared information about where the best places are and gave us your personal recommendations. We are looking forward to familiarizing ourselves with the area.
#18 Some might even call it destiny that we became neighbors. How else could there have been such a perfect match? Thank you for all that you do.
#19 I was excited to meet you and am glad that you went out of your way to come over and introduce yourselves to us. It made us feel welcomed into the community, and we are truly delighted to be here in this lovely area.
#20 A great neighbor is the ultimate good fortune. I am still not sure how I got so lucky. Thank you so much for being the absolute best neighbor.
#21 Thank you for all the practical jobs you did for me when I was unwell. I am grateful for your help and neighborly concern since I was unable to do normal maintenance tasks on my own. It really lifted my spirits to have your company, too. Thank you again.
#22 Truth be told, you are very important to me. A good neighbor is truly such a gift, and I want you to know that I will never take that for granted.
#23 Thank you for being such a good neighbor and inviting me for coffee. I always enjoy catching up with you and hearing more about what is happening in your life. You are hospitable and generous with your time. Your place is the best café in town!
#24 You make things easier. You make living here that much more enjoyable. You seriously make me so grateful to have you. Thank you for being you.
#25 Since I am new to the country, I want to express how much it meant to me that you took the time to explain everything that I needed to know. I am beginning to find my way around now and things are becoming more familiar. This is all thanks to your kindness in reaching out to me.
#26 I am not sure if you know this, but you are remarkable. It takes a unique kind of person to be such a generous and helpful neighbor as you are. Thank you for being you.
#27 Thank you, dear neighbor, for creating such genuine harmony between us. You are easy-going and a pleasure to live next to. Please know that we are here for you if you ever need anything.
#28 We not only share proximity and a boundary but we, more importantly, share good times and kind favors. Thank you for being the best neighbor.
#29 I have never met anyone quite as friendly as you. I appreciate all your thoughtfulness. You have a generous heart, and we are honored to be your neighbors.
#30 In this world, a good neighbor is something to be valued. I want you to know how thankful I am for you. You set a great example to everyone, and I hope to be as good a neighbor to you in return.
#31 I am not sure I would enjoy living here as much if it weren't for you. Thank you for your consistent kindness and good nature.
#32 I am grateful that you live next door and am delighted to have such a good neighbor. You always have time to talk, and I love that we can share what is going on in each other's lives. It is a joy to have that warm connection with you.
#33 I cannot thank you enough for really just being who you are. It takes a special kind of person to make such a fantastic neighbor. It is not just one thing, but all of the things that make you so exceptional.
#34 Thank you for all the ways you make our neighborhood community so great to live in. As well as looking out for everyone, you particularly care about the more vulnerable among us. You are concerned for people, and we love having you as our neighbor.
#35 A great neighbor is what some people get. Me: I have an outstanding, incredible, and amazing neighbor. Thank you for being that neighbor!
#36 You are such a lovely and thoughtful person. I am thrilled that we live next door to one another. It makes such a difference to have a good neighbor, and you are one of the best.
#37 Sometimes it is the little things that mean the most. I want you to know that I appreciate all the little things you do that make you such a great neighbor to have.
#38 You really are more than simply my neighbor. You are like an old friend who I can count on. Thank you for being such a treasure in my life.
#39 I can feel a smile creep across my face any time I think of you. How did I end up with such a wonderful neighbor? Thank you for everything.
#40 Thank you for being such friendly neighbors. You are always cheerful and have a positive outlook on life. We are glad that you live nearby and could not wish for better neighbors.
The Most Famous Quotes to Include with Your Thank You for Being a Good Neighbor Message
"No one is rich enough to do without a neighbor."
Danish Proverb
"Being a good neighbor is an art which makes life richer."
Gladys Taber
"They who are all things to their neighbors cease to be anything to themselves."
Norman Douglas
"And good neighbors make a huge difference in the quality of life. I agree."
Robert Fulghum
"Do not waste time bothering whether you 'love' your neighbor; act as if you did. As soon as we do this we find one of the great secrets. When you are behaving as if you loved someone, you will presently come to love him."
C.S. Lewis
"All human beings are my neighbors. We share the same planet."
Ana Monnar
"Definition of good neighbor: someone to be trusted; a courteous, friendly source of help when help is needed; someone you can count on; someone who cares."
Edward B. Rust, Jr.
"While the spirit of neighborliness was important on the frontier because neighbors were so few, it is even more important now because our neighbors are so many."
Lady Bird Johnson
"Be always at war with your vices, at peace with your neighbors, and let each new year find you a better man."
Benjamin Franklin
"Regard your neighbor's gain as your own gain, and your neighbor's loss as your own loss."
Tai Shang Kan Ying P'Ien
Please take a moment to pin this post to Pinterest.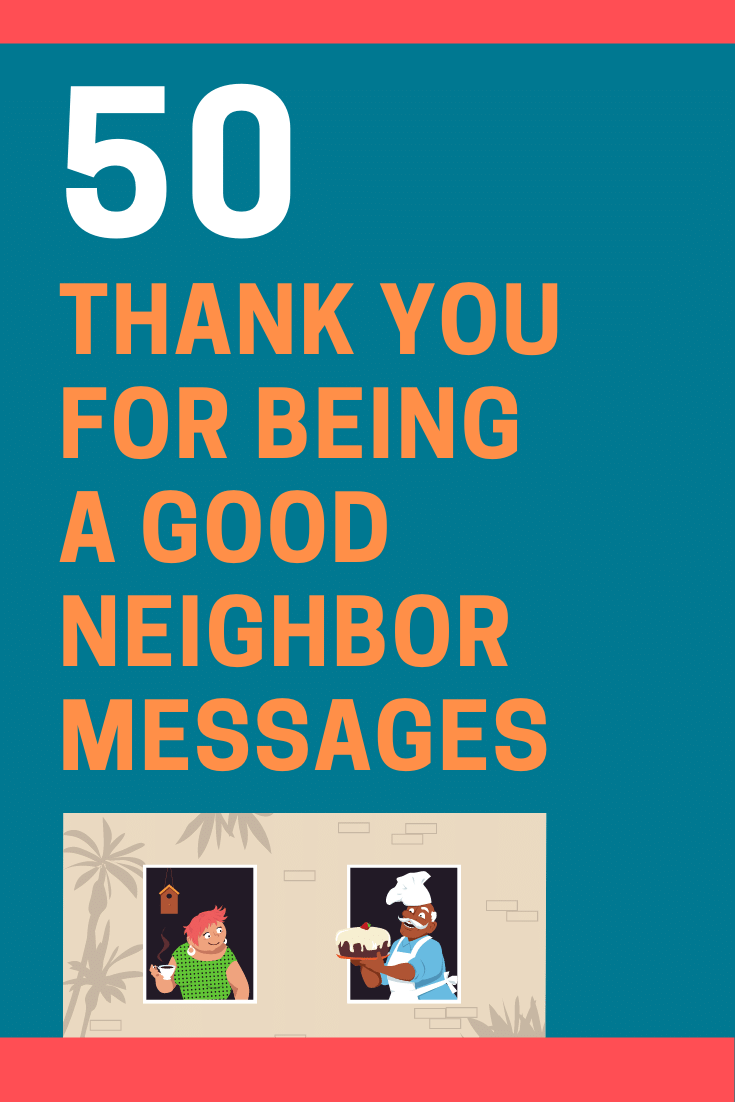 Author Biography
Keith Miller has over 25 years of experience as a CEO and serial entrepreneur. As an entrepreneur, he has founded several multi-million dollar companies. As a writer, Keith's work has been mentioned in CIO Magazine, Workable, BizTech, and The Charlotte Observer. If you have any questions about the content of this blog post, then please
send our content editing team a message here
.
---