Here is a list of 30 great ways to say thank you for having us over to let them know that you had a wonderful time.
#1 Thank you so much for having us over to your gorgeous home. We had a lovely time and we really appreciated you reaching out to invite us. We would love to return the invitation sometime when you are free. Please let us know what date works best for you.
#2 I'm still having a hard time wiping the smile off of my face after the great time we had over your place. Thank you for having us over and for being such close friends.
#3 Our hearts are full and filled with love for you, our dear friends. We cannot express how much it meant to be able to spend some time with you. We are grateful that we were finally able to connect with each other again.
#4 Thank you for providing for us a picture book's worth of memories that we can cherish for the rest of our days. Our stay at your home with you was perfect. Thank you so much.
#5 Thank you for your kind invitation for us to come and spend some time with you and your beautiful family. It was a lot of fun and the kids had a great time playing outside together. We feel that everyone connected very well indeed.
#6 We had a great visit with you and would like to thank you for having us over. As unrealistic as it may seem, we both wish that we could do it every night.
#7 We very much appreciated your generous invitation to come over last weekend. Your home is stunning and in a perfect location. We were thrilled that you gave us a tour as well. You obviously have a real talent for homemaking.
#8 I wanted to take the time to thank you for inviting us over to visit with you. We had a time to remember, and are already trying to figure out how we can return the favor and have you over here. Thank you again!
#9 What a fun time we had with you both. It meant a lot that you included us in your plans. We were just beginning to feel that it had been too long since we all met up. It was a joy to hear how all the family are doing, too.
#10 You have such a warm, cozy, and relaxing atmosphere about your home. It was truly our pleasure to have been there to spend time with you, and we thank you for having us over.
#11 Thank you for inviting us to join you and your friends. We loved meeting everyone and getting to know them throughout the evening. Everyone was friendly and it was a most enjoyable time.
#12 It is always nice to see you and even better to have spent a good amount of time together. We both would like to thank you for having us, and for all of your hospitality.
#13 We want to express how thankful we are for the delightful friendship we share. Our time together was made especially memorable by your generous and kind hospitality. You are the most thoughtful hosts.
#14 I am still thinking of our time together and all the interesting conversations we had. It was fascinating to hear all about your work and family. I appreciate you reaching out to invite me over to your home. Thank you.
#15 We were honored to have been invited over to your home and would like to thank you for having us. Everything that you arranged went flawlessly, and both of us remain genuinely impressed. Thank you so much.
#16 Thank you for inviting us to your vacation home. The atmosphere was peaceful, and the view unforgettable. We felt as though time stood still as we took in all the beauty around us.
#17 We simply cannot express how grateful we are that you invited us to your home. You made us feel welcome and put us at ease right away. We truly cherish the quality time we were able to spend with you. We will never forget it.
#18 Thank you for having us over. We had a blast, and we look forward to doing it all over again, if and when you'll have us.
#19 I would like to say a big thank you for having me over. I was delighted to get to know you better and was thrilled that we had so much in common. I loved your home and the effort you made to make me feel welcome.
#20 We had a wonderful time over your house the other day, and appreciate everything that you prepared for us. Thank you, and we look forward to returning the favor.
#21 Thank you for your friendly invitation to come over to your home. What a sweet time it was. We simply enjoyed every moment and feel that we have made some great new friends.
#22 Please accept our thanks and appreciation for the one-of-a-kind evening at your home. We have never been so excited to receive such an invitation. The whole evening was fabulous and so memorable.
#23 Not only are you a great friend, a great cook, and a chauffeur, but you're also an incredible host. Thank you for having us over and for everything you did with us while we were there.
#24 We were thrilled to receive your invitation to join you and your family for your special occasion. We felt honored that you thought to include us. You have a cherished and precious family.
#25 Thank you for sharing your evening with us. We were delighted to join you and want to offer a huge thank you for all your kind hospitality, as well as the way you made sure we were looked after so well. Truly, thank you.
#26 Thank you for accommodating us during our stay with you. I hope that we didn't drive you too crazy, because your company was second to none as far as we're concerned.
#27 The other night was a lot of fun for both of us, and we'd like to thank you for having us over. Everything was perfect, and you truly outdid yourselves.
#28 Thank you for your hospitality, and for being so thoughtful to have invited us over – it meant a lot. We look forward to seeing you again soon.
#29 Your home is absolutely beautiful, and we are grateful for being able to spend that kind of quality time with such good friends.
#30 We want to thank you, our gracious hosts, for having us over and making us feel far more important than we deserve. All of us appreciate it very much.
Please take a moment to pin this post to Pinterest.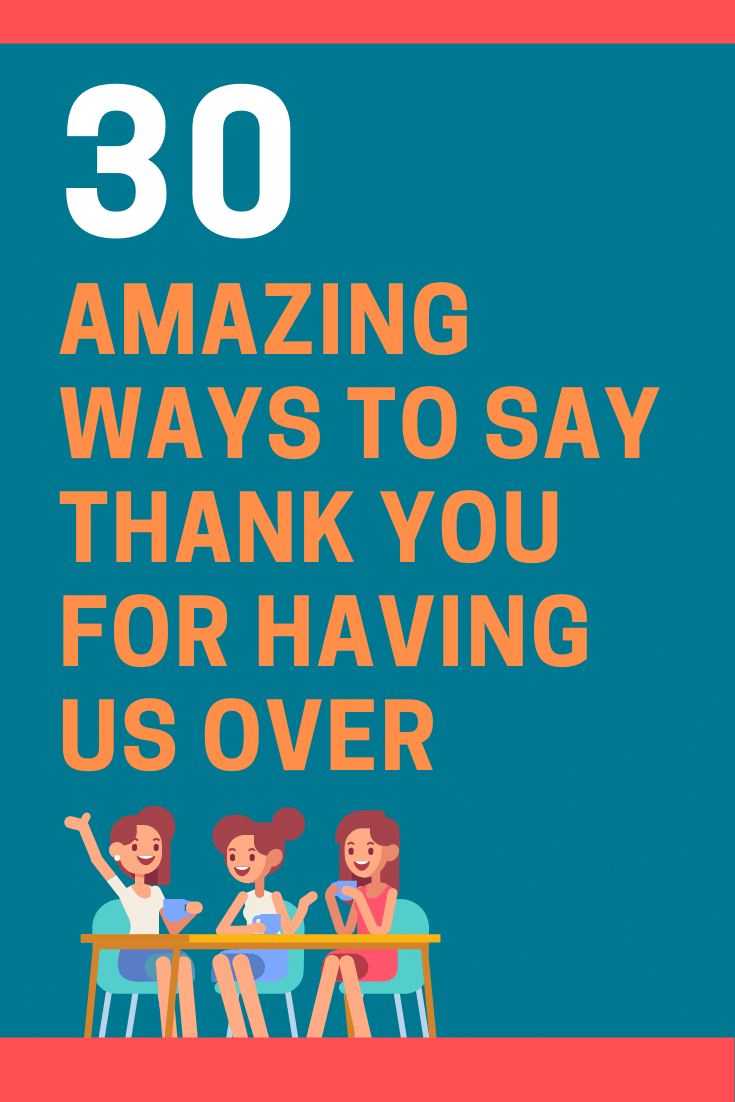 Author Biography
Keith Miller has over 25 years of experience as a CEO and serial entrepreneur. As an entrepreneur, he has founded several multi-million dollar companies. As a writer, Keith's work has been mentioned in CIO Magazine, Workable, BizTech, and The Charlotte Observer. If you have any questions about the content of this blog post, then please
send our content editing team a message here
.
---