Here is a list of 40 ways to say thank you for the retirement party to show them your appreciation for your celebration.
#1 Thank you for hosting a party for my retirement. I was thrilled at the chance to be together with everyone one last time. It means a lot that you did that for me. Thank you for all this time working together, and the incredible gift of a retirement party.
#2 What a delight it was to celebrate my retirement with you all. It was so fulfilling to see the many colleagues and people who meant a great deal to me over the years. Thank you for your incredible kindness in arranging a party for me.
#3 What an outstanding send-off I have been given. I thoroughly enjoyed the retirement party you arranged, with all the cards and gifts. It was obvious that a lot of care and effort went into making it a special occasion. I will never forget it and am so thankful for our enduring history together. Hoping to see you again in the future.
#4 I have enjoyed many festivities and celebrations with you all over the years. On this occasion, it was a deeply personal joy to share my retirement with all of you. Thank you, from the depths of my heart, for your kindness in throwing me a party to commemorate it and to usher in a new season in my life. From my heart, I wish you all the best.
#5 I was thrilled to celebrate my retirement with you and humbled that you planned such a sensational party in my honor. I would like to express my thanks and deep appreciation for the kindness of everyone who attended, and especially those who made every detail of the evening so perfect. It was a wonderful way to say "farewell," until we meet again.
#6 Thank you all for planning such a spectacular retirement party. I will treasure your kindness always. Let us not forget how much we all achieved together as a team and let us not forget to stay connected. You are woven into my very life, and I like the tapestry we have become.
#7 Please accept my grateful thanks for the impressive retirement party. I have been honored to be an employee of a company that has so many quality people who build lasting relationships. You strive for each other's success, which is a remarkable environment. I wish you all the very best.
#8 The retirement party that you threw for me was the ideal way to end a career that is filled with many happy memories. I have had tremendous opportunities throughout my time here and grown in so many ways. Thank you so very much for investing and believing in me.
#9 I will miss you all so much as I transition into a new phase of life. Before I do, I want you to know that I appreciate each of you and your thoughtfulness in hosting a delightful retirement party. It is not easy to leave such a terrific bunch of people. Please do let us stay in touch with one another.
#10 Thank you so much for the retirement party that you organized for me. I was overwhelmed with all the goodwill and kind messages. I am so thankful for each person I have had the privilege of working alongside. May you always feel valued in your contribution, and flourish alongside each other. With my gratitude.
#11 My retirement party was a fantastic surprise and made me feel so appreciated. You managed to keep it a secret, which was amazing. The decorations were stunning, and the food was superb. An extra special "thank you" to all those who planned the lovely event. You certainly know how to make someone feel like they will be missed. I know I will certainly miss you all very much, indeed.
#12 Working with you all has been an incredible privilege. I am excited about retirement and some recreation, but the impact you have made on me will last my whole life. I am a better person because of working alongside you. I hope we will continue to be good friends in the years to come.
#13 We have had so much fun and many memories over the years. Each one of you holds a special place in my heart. It was incredibly generous of you to arrange a party for my retirement. I am forever grateful to have been a part of this uniquely gifted team.
#14 Thank you for the exceptional retirement party. All that I ever hoped for in a career, I found working here at this company. I have overcome challenges, enjoyed success, and experienced great job satisfaction. However, the most important factor in contributing to all of that is all of you. I will forever treasure the years of working alongside so many extraordinary people.
#15 Time has had wings, and I can hardly believe it is time for me to retire. Thank you for celebrating my retirement and for planning such a wonderful party on my behalf. I will miss all the humor and teamwork that we have shared, and please know that I will always remember you fondly.
#16 Your generosity in throwing a fantastic party for my retirement meant so much to me. You made me feel greatly appreciated and significant. You have been an incredible support during the good times and the challenging times in my life. I hope you will each realize what a positive impact you have made on me and who I am today.
#17 The retirement party you organized for me was a real highlight. Please accept my grateful thanks. I really want to mention because of you, I have had many other highlights during my time here. You have made it a real pleasure to work here, and it was a joy for me every day. I will miss that, and I thank you.
#18 As I retire and reflect on my career, something that stands out to me is the way that each of you watches out for one another. It has been an inspiring place to work, alongside people who have strong work ethics, are good-natured, and plan the most incredible retirement parties. Thank you so very much.
#19 There are a thousand things I would like to say before I retire, but most of all, I want to thank you for making this job so rewarding. Your individual contributions in terms of quality and professionalism have been exceptional. I bid farewell, knowing that I worked with the absolute best.
#20 I am honored to have spent time with and gotten to know you. Thank you for the work you did to get everyone together to send me off in style. I will always have those memories, and the party was really special to me. Thank you again.
#21 Thank you for the party celebrating my retirement. I will always think fondly of our time together and wish you all the best for the rest of your career.
#22 Thank you for the best retirement send-off ever. It meant so much to hear you say that I will be missed. That feeling is mutual, and I wish each of you the success you have worked for and the happiness you deserve. It has been a delight to be counted as one of your colleagues.
#23 You are the best people to work with. You are inspiring, creative, and supportive. I could not have wished for more from colleagues who have become good friends. I loved the retirement party you put on for me, and it meant more than I can ever express that you included so many personal touches to make it memorable. I will always treasure the cards and gifts, but more than that, I will always treasure my time with you.
#24 I was so surprised by the party you threw. Thank you for such a wonderful way to end my days of work.
#25 It means a lot that you took the time to celebrate the end of my working life. Thank you for all the memories we shared.
#26 I will always look back on working with you with warmth. Thank you for hosting one final party to mark the end of my career.
#27 Thanks to you, I will look back at the end of my working life with happiness. Thank you for thinking of me and putting together a phenomenal retirement party.
#28 I feel so incredibly lucky that you thought of me on my retirement and took the time to organize a party. Thank you from the bottom of my heart.
#29 People say that enjoying your job is important. I have to respectfully disagree. Enjoying your job and having a wonderful colleague like you is what working is about. I am just so flattered that you took the time to organize a party for me. I will always treasure the memories we made.
#30 Thank you to all who took the time to host and plan my retirement party. I am truly rich in friends and love and couldn't have asked for a better evening.
#31 Sending my heartfelt thanks to the fabulous host and all those who attended my retirement party. Thank you for getting together one last time. I will miss each and every one of you in my retirement. Don't hesitate to stop by and say "hello."
#32 I am speechless at all the time and effort you spent to give me a "farewell" I will never forget. Thank you so much for planning the retirement party for me. I will treasure the memories we made for years to come.
#33 I am so grateful that I got to be a part of your career journey, and that you marked the end of mine with such a wonderful event. I wish you all the best in the future.
#34 I never expected a celebration at the end of my working days. I will genuinely enjoy my retirement, thanks to your kindness.
#35 I wish to express my gratitude for all you did to make my retirement party so memorable. I will miss spending my days with you.
#36 I will look back on my retirement party with smiles, all thanks to the hard work you put in. Thank you from the bottom of my heart.
#37 I am elated to be retiring, and your thoughtfulness at throwing me a party brought me real joy. Thank you.
#38 I am humbled by the effort you made to organize such a successful retirement bash. Thank you for everything you have done. I will miss you greatly.
#39 Thank you for all the dedication you put into throwing me a retirement party. I will cherish the memory and am glad to have worked alongside you.
#40 Thank you for joining me at the closing of my old life, and for hosting the celebration of the birth of my golden years alongside me.
Please take a moment to pin this post to Pinterest.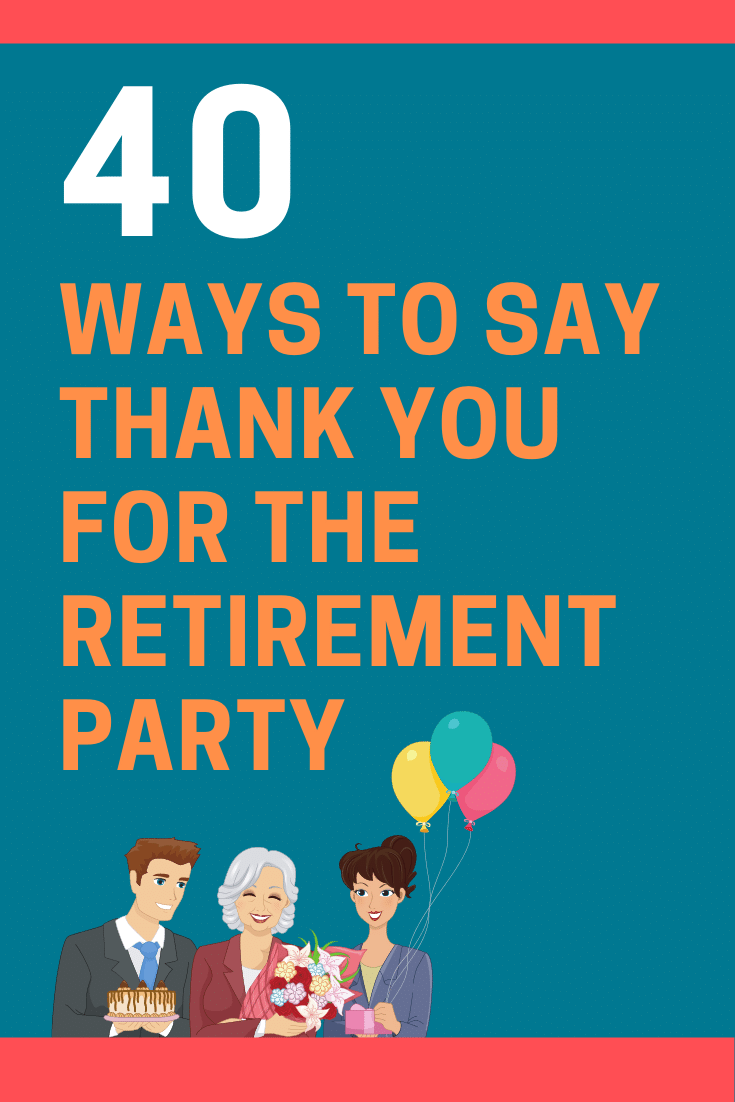 Author Biography
Keith Miller has over 25 years of experience as a CEO and serial entrepreneur. As an entrepreneur, he has founded several multi-million dollar companies. As a writer, Keith's work has been mentioned in CIO Magazine, Workable, BizTech, and The Charlotte Observer. If you have any questions about the content of this blog post, then please
send our content editing team a message here
.
---