Here is a list of 40 thoughtful thank you messages for your baby shower host to let them know how thoughtful it was to shower you and your new baby.
#1 Now I know that baby showers can be so much fun, I might be tempted to have more babies. You were a real star in planning everything to the last detail. All the gifts were adorable, and my heart is full to overflowing. Thank you so, so much.
#2 You gave me the gift of being able to be fully present in the celebration of my child. This is something remarkable. Thank you, and I will not forget everything you did for us.
#3 I had a wonderful time at the baby shower you hosted for me, and it such a joy to see all my close friends and family together. Please know that I treasure all that you did to show how much you care for me and my precious little one. You are dear to me and I appreciate you greatly.
#4 I felt like I was walking on clouds all day. It was perfect and you really took care of every detail. I appreciate every aspect of what you prepared for us.
#5 You are an amazing hostess and you made my baby shower a truly memorable event. I appreciated that you arranged the photos and kept a list of all the kind gifts I was given. It would never have happened without all your planning and generosity. I am deeply thankful for you, my dear friend.
#6 Thank you from the deepest place in our hearts. You made our special celebration something even more incredible than I could have imagined. It was just perfect.
#7 I have been wondering how to put it into words what this meant to me. I am not sure that I can, but I want you to know that I noticed every little thing. Your level of consideration and care was simply stunning, and I will always look back on my shower with happiness.
#8 You are considerate, kind beyond words, and so loving. Thank you for all your help in making this day so unique and special.
#9 Oh, the joy of seeing all those gorgeous decorations and the tasty bites you made for my baby shower. You planned it so well and it was simply the most enjoyable time. Thank you so very much. I am truly one happy and grateful mama-to-be.
#10 Oh, what fun we had at my baby shower. Thank you for generously offering to host the event at your home. You made everyone feel welcome and included. Every aspect of the shower was perfect, and my baby is well and truly, loved.
#11 You crafted the most beautiful celebration of new life. I was truly moved. Thank you for all of the effort and thoughtfulness.
#12 Thank you for helping to plan my baby shower. I am grateful for all that you did to make it a truly delightful event. Your thoughtful attention to the exquisite decorations and the delicious food made everything a delight. I loved every minute.
#13 I am almost speechless. What can I say but thank you, thank you, thank you! My gratitude to you is beyond words.
#14 I am so honored to have a friend like you. I appreciate all the time and effort it took to plan and host my baby shower. I was over the moon with happiness and loved that you color-coordinated everything in such a beautiful way. My baby and I were truly cherished.
#15 I felt deeply moved, so supported, and incredibly loved. What an unforgettable day we had. Thank you from the bottom of my heart.
#16 I had a wonderful time at the baby shower that you planned for me. I will always treasure the thoughtful words of everyone and the beautiful gifts we received. I can hardly believe our little one will be here soon, and I am excited to introduce my precious baby to you all. Thank you for everything.
#17 You are such a gifted hostess. Thank you for using your gift to honor my baby and I. There was so much laughter and fun along with all the kindness. I will keep it forever as a treasured memory.
#18 Thank you for hosting my baby shower. I appreciated the huge amount of planning and effort that you put in to make it such a beautiful event. There were so many darling details that really touched my heart.
#19 All of your help, your support, your kindness – it was such a generous gift. This was a memorable moment for all that attended. Thank you.
#20 How can I repay you for your generosity in planning and hosting my baby shower? I am still overwhelmed by the love and kindness of everyone. You were so creative, organizing all the fun activities. I think every person there had the best time ever. Thank you.
#21 It was an incredibly special moment to share with you, and I am so thankful for all of your tremendous help. You are a very special person in this baby's life, and, of course, in my life as well. Thank you from the bottom of my heart.
#22 A baby brings so much joy, excitement, and new life into the world. So have you. You honestly elated my day and many days since, with all that you did for me. Thank you.
#23 Isn't it beautiful how some moments bring you to tears? These were tears of happiness brimming over and pouring out. Thank you so much for everything you have done for us.
#24 All I can say is, wow. What a gorgeous day we had. I knew this baby was already loved, but wow. You certainly created something extra special.
#25 Thank you from the bottom of my heart for helping me celebrate the imminent and exciting arrival of my baby. I am excited that it will not be long before you get to say hello to our newest member of the family. You mean so much to all of us.
#26 I love you so, dear friend. You went out of your way to make my baby shower a beautiful event, filled with many lovely touches. Seeing so many of my family and friends there filled my heart with deep joy. Thank you so much.
#27 What a glorious and thoughtful gift you have given me by organizing my baby shower. This baby certainly feels loved, and so do I.
#28 You really pulled off something magical. I know how much love and preparation went into everything. Thank you for all of it.
#29 That day is one I will never forget. I felt so taken care of and loved. I cannot thank you enough. I appreciate your support immensely.
#30 Every little detail was just perfect. Thank you for everything you have done. I really felt so supported and totally mesmerized by all the love surrounding us.
#31 I loved my baby shower. It was fun spending time with everybody, and the kindness was overwhelming. Weren't all those gifts simply adorable? I cannot thank you enough for hosting and am thrilled that you will be an important part of my baby's life.
#32 This mama-to-be is so thrilled with the baby shower you planned. You have been so supportive and worked hard to make everything go like clockwork. I cannot imagine how long it took to plan everything so beautifully. I want you to know how much it meant to me. Thank you.
#33 Hello, sweet friend. I just wanted to say thank you for my beautiful baby shower, which was way beyond my expectations. You helped everything go smoothly, from one activity to the next. You are a talented hostess, and I am so grateful to you.
#34 I am thrilled to be welcoming another little one into the world, and I cannot thank you enough for helping to arrange my baby shower. You are a dear and really went out of your way to make it a most happy occasion. I love and appreciate you.
#35 You are such an important part of this baby's life. I could not have done it without you, and I could not have asked for anything more. It was perfect, and so are you.
#36 I am honored that my baby and I have had so much love showered on us. I appreciated your thoughtful attention to the many wonderful details. Your planning that made the event unforgettable. My deepest thanks.
#37 Thank you for hosting a baby shower for me. Thank you for making everything flow so easily for us so we could just focus on the moment and enjoy the party. It was absolutely unforgettable.
#38 I am so grateful to have you in my life, my kind and helpful friend. You made my baby shower a huge success and went above and beyond anything I expected. I am also glad of your support and advice as I become a mother.
#39 Thank you for throwing me the best baby shower ever. I loved every detail, the delicious food, beautiful décor, and of course, the kindness of everyone's gifts to my baby. You are a generous and lovely person, and I am so grateful for you.
#40 Please accept my heartfelt thanks and know that my words will never truly represent how much I appreciate you. I feel truly honored by your kindness.
Please take a moment to pin this post to Pinterest.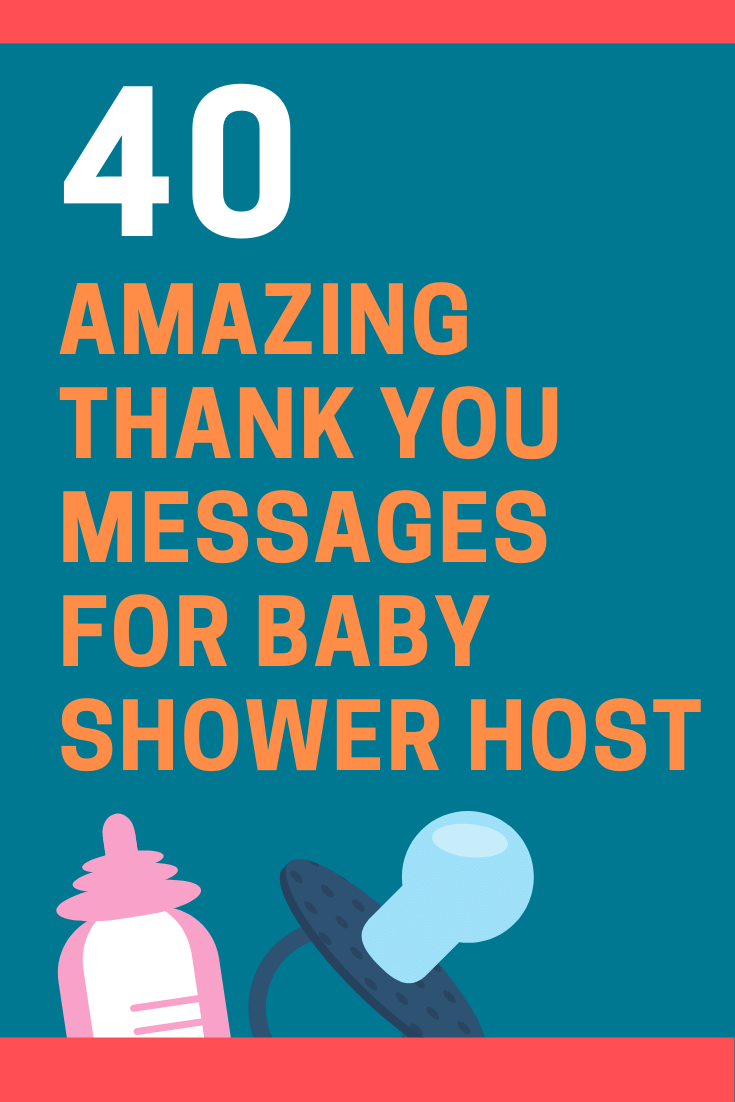 Author Biography
Keith Miller has over 25 years of experience as a CEO and serial entrepreneur. As an entrepreneur, he has founded several multi-million dollar companies. As a writer, Keith's work has been mentioned in CIO Magazine, Workable, BizTech, and The Charlotte Observer. If you have any questions about the content of this blog post, then please
send our content editing team a message here
.
---