Here is a list of 40 examples of thank you notes to your dentist to let them know how great you think they are.
#1 Thank you to you and your staff for another excellent appointment. I know that I never need to stress when I am in your competent care. I appreciate your services immensely.
#2 I don't know how many people send thank you cards to their dentist, but I know that if any dentist deserves it, you do. Thank you for helping me to live a normal, painless life.
#3 I can't say that I've ever enjoyed going to the dentist, but I do rest assured that when I need to see one, I know a pro. Thank you for making every experience a positive one.
#4 I am always thoroughly impressed by your expertise and kindness during my appointments. The office staff is also extremely welcoming and warm. I really appreciate all of your help.
#5 Because you're such a good and thoughtful dentist, none of my children fear going to their appointments to see you. That speaks volumes, and I thank you.
#6 Most of your patients won't know how good they have it until they go and see someone else. Too bad for them. You do magnificent work through your dental practice, and I thank you.
#7 Thank you for being a truly spectacular dentist. I am filled with gratitude that you are always eager to readily help me out whenever I need it. I felt completely safe with you in charge.
#8 My teeth have never been whiter and in such good shape. Thank you for making that possible, and I promise to follow all of your good advice to keep them that way.
#9 My child was in great tooth pain until you gave him his fillings. Thank you for being so good at your job, and for being just as good with how you treat kids.
#10 I am no longer in agonizing pain due to your excellent skills and work. The filling has changed everything and made my life so much easier. Thank you again for your dedication and support.
#11 After the oral surgery, I was very impressed at how quickly the pain subsided, and how much better I felt because of your efforts. Thank you for your skill and professionalism.
#12 I want you to know that I really appreciate all of your guidance and support. The standard of care that you provided me with was fantastic. I am extremely pleased. Thank you.
#13 I feel like I can live a normal life now. The dentures are working just as well as my original teeth, and you have no idea how good it is to eat normally again. Thank you so much for all of your efforts.
#14 Thank you for being sympathetic to my fears about vising the dentist. It is obvious that you take pride in your work, and I feel very lucky to be one of your patients. I am very grateful for your care and compassion.
#15 You are the reason for the massive smile I am wearing right now. Thank you for always being patient, tolerant and professional. Your diligent hard work certainly does not go unnoticed.
#16 I was in incredible pain when I walked into your office. When I left, the pain in my mouth was gone and, to date, hasn't come back. Thank you for being head and shoulders above the rest.
#17 Thank you for always taking my concerns into consideration and for always being happy to answer my questions. You and your staff provide the very best of care, and that is an incredible and awe-inspiring accomplishment.
#18 Having my tooth pulled wasn't fun at all, but I've got to say that there's no other dentist that I'd rather have doing it than you. Thank you for your great work.
#19 I have to admit that I was terrified about getting a root canal. Though I knew it was necessary, I was hesitant about showing up to the appointment. After having gone through it, I would like to thank you for your expertise and your level of competence.
#20 I want to express my gratitude to you and your staff for all the amazing work that you have done for me. Thank you for your efforts and time. It really means a lot to me.
#21 Thank you so much for always being polite and patient when answering my many questions. The service you provide is utterly superb. You always make me feel at ease when I have to visit. Thank you again.
#22 You always exceed even my highest expectations with your work. The entire staff is always wonderfully supportive and encouraging. The care you provided me with was phenomenal once again.
#23 Thanks to you, I have a blinding white smile. My confidence is at an all-time high, and I could not be happier. Thank you for the amazing transformation.
#24 Thank you for taking care of my cavities and ensuring that my teeth stay healthy. Your advice was extremely easy to understand, and I found it to be very helpful and supportive.
#25 I was extremely nervous about having my tooth removed, but my worrying was a waste of time. From the moment I entered, you and your team made me feel comfortable and relaxed. The whole experience was tremendously positive and painless, thank you.
#26 During my root canal, you and your staff were extremely attentive, helpful, and warm. I felt relaxed and knew that I had nothing to be afraid of because I was under your care. Thank you so much for providing me with such exceptional care.
#27 It is so easy to underestimate how drastically tooth pain can affect life. I want to extend my thanks to you and your staff for taking care of my teeth when things were getting rough.
#28 You've been serving my family and me for a long time now, taking care of our teeth. I just wanted to thank you and let you know that your services and staff are always appreciated.
#29 I brush and floss all the time, but there's nothing like a good cleaning done by an outstanding dentist. I want to thank you and your staff for the hard work that you do.
#30 I want to express my thanks to you for doing what I can imagine is an otherwise thankless job. Your dentistry skills are second to none, and I appreciate you.
#31 Thank you for all the work you did on my teeth recently. I will carefully follow your instructions to the letter, to keep them in the shape you left them in.
#32 I have been eating things lately that I've not been able to chew for years. Thank you for all of the dental work and the next-level service you and your team provide.
#33 You worked hard and studied hard to succeed in the dental profession; now, you can write the book. Thank you for making every appointment as quick and painless as possible.
#34 Most parents have to drag their kids to the dentist, kicking and screaming, but not me. Thank you for keeping my kid's teeth healthy.
#35 Because of you, I don't have to feel self-conscious about having a big smile that shows off my teeth. Thank you for having a meaningful impact on my life.
#36 Thank you for taking amazing care of me during my most recent visit. Your integrity and dedication to your work is truly something to be admired.
#37 I want to express my utmost appreciation for the level of care I received from you and your staff recently. You are always incredibly courteous and a true expert in your field. Thank you for making me smile.
#38 I wish to thank you for making my experience so painless, stress-free, and pleasant. Your entire team is an example of how true professionals perform. Keep up the phenomenal work.
#39 Thank you for always being so mindful of my needs as a patient. Your work is impeccable and of the very best quality. I am extraordinarily grateful for your time and effort.
#40 I want to thank you for your incredible work and compliment you on your skills and professionalism. You are the most helpful and competent dentist I have ever met. Thank you for making everything so care-free and straightforward.
Please take a moment to pin this post to Pinterest.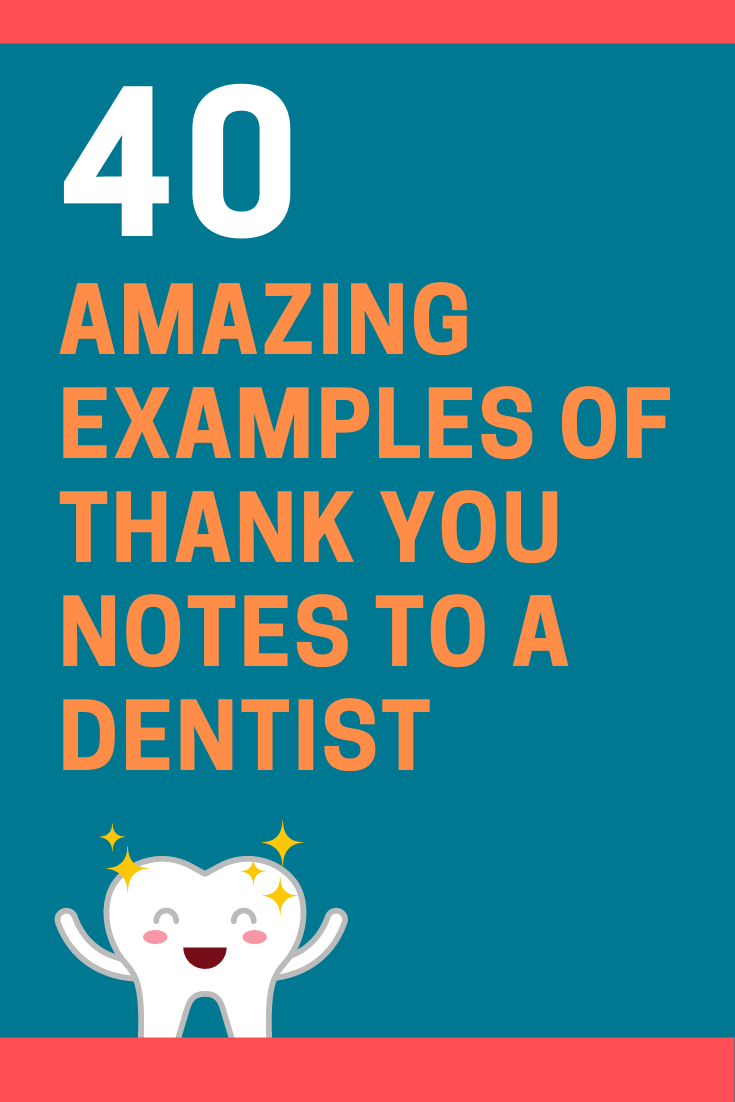 Author Biography
Keith Miller has over 25 years of experience as a CEO and serial entrepreneur. As an entrepreneur, he has founded several multi-million dollar companies. As a writer, Keith's work has been mentioned in CIO Magazine, Workable, BizTech, and The Charlotte Observer. If you have any questions about the content of this blog post, then please
send our content editing team a message here
.
---