Here is a list of the 40 best thank you notes to send your real estate agent to thank them for their hard work in the home buying/selling process.
To Thank Your Real Estate Agent for Helping You Buy a Home:
#1 I want to thank you for all of your time and effort in helping get us into our new home. You made this whole process much easier than it could have been.
#2 Thanks to you, we are now the proud owners of the perfect home in a beautiful neighborhood. We are so thrilled and cannot wait to add personal touches to make it our own. You closed the deal artfully and seamlessly, and we are forever thankful to you.
#3 Finally, we are now able to put some roots down, and it feels great. It has been an incredible experience having your support and advice during the purchase of our ideal home. We look forward to entertaining and are delighted to have our own back yard. You will always be welcome to stop by whenever you are in the area. Thank you so much.
#4 Thank you so much for all your help in the purchase of our new home. Because of your hard work, we now have a place to call our own. So appreciated!
#5 We have moved into our new home, and the children are delighted with their new rooms and their spacious back yard. This place is everything we dreamed of and cannot thank you enough for helping us find it. We also appreciated the time you took to understand our needs and preferences. Thank you for everything.
#6 We want to express our appreciation for the way you took the time to understand exactly what we were looking for in a new home. It made all the difference to know that you were mindful of the details. Our trust in your ability grew quickly, and we were over the moon when you found this home. It is right for us in every way. Thank you!
#7 You delivered incredible service in finding such a light and spacious place for us. It is so roomy and comfortable, and it has felt like home from the very first day. We loved that you worked out an excellent deal and are in awe of your efficient and quality service. We thank you from the bottom of our hearts.
#8 We were thrilled when you found this wonderful home for us. It is more than we had hoped for, and we truly feel that we have come home to roost. The view is breathtaking, and we cannot imagine living anywhere else, even though we just moved it. Your advice was invaluable, and we could never have managed without you. Thank you so much.
#9 Your personal warmth and interest in us took all the trepidation out of purchasing our first home. You made it a real pleasure, as you took us through the process step by step. It was amazing to see everything come together, and we are so very thankful for your guidance and support.
#10 Thank you so much for being our real estate agent. We love our new home and are so excited to be able to entertain in the spacious new kitchen. It is the perfect place for family gatherings. You ticked all the boxes for us when you found this house and surpassed all our expectations.
#11 Words cannot convey how much we appreciate your expertise during the big decision of purchasing a home. It felt daunting at the beginning, but you smoothed the way and explained everything so clearly. We so appreciated the time you spent helping us navigate the process. Thank you!
#12 We have settled into our new home and are ecstatic about it. We love that everything is new, and there is nothing we have got to repair for the first time in our married life. The novelty of that has still not worn off. Your help was vital in securing the deal, and we cannot thank you enough.
#13 How can we adequately thank you for all the help you gave us during the purchase of a new home? You were so friendly and immediately put us at ease on our very first meeting. Everything went so smoothly, and now here we are, settled in already.
#14 We are so thankful for you and your help in securing this home for our family. It is an ideal location, near schools, stores, parks, and almost everything we could need as an active family. Our kids love it and have already made some new friends. You are the best, and we feel privileged that you were our real estate agent.
#15 We are still wondering if we will wake up from this wonderful dream. We have always wanted to own our own home, and you helped make our dream a reality. Thank you for your help in making us the happiest family ever.
#16 We met our new neighbors today, and they are great. We have started redecorating already and are so excited at the potential this home has to offer. It was a steal, and we totally credit you with making it all happen. Thank you so much.
#17 You completely exceeded all our expectations, and we are just amazed at your knowledge and experience. We appreciated the fact that you made a big effort to secure an excellent deal on our behalf. We could not have asked for a better real estate agent. Thank you so much. We are eternally grateful.
#18 Just when we thought we would never find the right place, you presented us with exactly the right house. You put everything together so quickly and professionally. We stood amazed as you worked everything out for us and want to say how grateful we are for your help. Thank you!
#19 We have settled in and feel quite at home in a short amount of time. It has been a fantastic experience with you as our real estate agent. We would love to have you stop by and visit whenever you can. Our house is your house. Thank you for your extraordinary help.
#20 It was your excellent reputation that made us choose you as our realtor, and you did not disappoint in any way. You provided the most professional service and found the perfect home for our family to grow into for many years to come. We are so grateful for your help.
To Thank Your Real Estate Agent for Helping You Sell Your Home:
#1 From the day the sign hit the yard, to the day we signed the papers, you've been a steady presence in every part of selling our home. Thank you for making this a stress-free experience.
#2 Some people do their job and go home and forget about it. You've shown us that you're a different breed. Thank you for going the extra mile in the sale of our home, and we wish you continued success in your future transactions.
#3 When we received your message that our house had sold, it was the best news ever. Thank you for your good work in closing the deal so promptly. We really appreciated you keeping us in the loop at all times. We will not hesitate to recommend your services.
#4 Your involvement in the sale of our home was the best decision that we made concerning the whole thing. Thank you so much for making this such an easy process.
#5 I don't know how we would have ever sold our home without you. Your guidance and help have meant so much to us, and we thank you for everything you've done.
#6 The paperwork, the time, the stress, and the phone calls have finally paid off. Thank you for bearing the brunt of all this work, and the successful sale of my property.
#7 Thank you for every piece of advice you gave as we were in the process of selling our home. You made it an easier experience than we thought it would be, and you made us feel comfortable the whole way.
#8 Your expertise and guidance played an enormous part in the sale of our home. Thank you for making this a positive and struggle-free experience.
#9 The sale of our house came much faster than I had originally anticipated. Thank you for playing your part, and making it all come together.
#10 I can't thank you enough for being involved in the sale of my home. Not only was it sold faster than I thought it would be, but it sold for more than I expected. Much appreciated!
#11 We had mixed feelings, moving from a house that has been our home for so long. You helped to wash that away through the sale of our home to a warm family. For this, we thank you.
#12 You should pat yourself on the back for being able to sell our home despite the state of today's markets. Thank you for taking the reins on this and doing an outstanding job.
#13 So much time and effort have gone into the sale of my home, and I thank you for everything you've done to make it happen.
#14 We were concerned that it would take quite some time to get our house sold. Thank you for doing your utmost and successfully proving us wrong.
#15 We tried for what seems like an eternity to sell our house on our own. You sold it in no time. Thank you for your success, and for taking that burden off of our shoulders.
#16 We were starting to think that the house would never sell. Thank you for being the solution, and for showing us that it's better to leave this kind of thing to a pro.
#17 Thank you for selling our house. Because of your efforts, we can now rest easy in our new home, without having the sale nagging at our hearts.
#18 I don't know what I would have done without your help selling my home. Thank you so much for doing everything that I wasn't able to do on my own.
#19 I thought it would be easy to sell my house until I tried it for a while. I have a profound respect for your capabilities, and I thank you for bringing the sale to a close.
#20 As our real estate agent, you were able to sell our home in only a week, something we could not do ourselves over several months. Your standard of excellence made all the difference. We appreciate all you did to help us and hope to use your services again in the future.
Please take a moment to pin this post to Pinterest.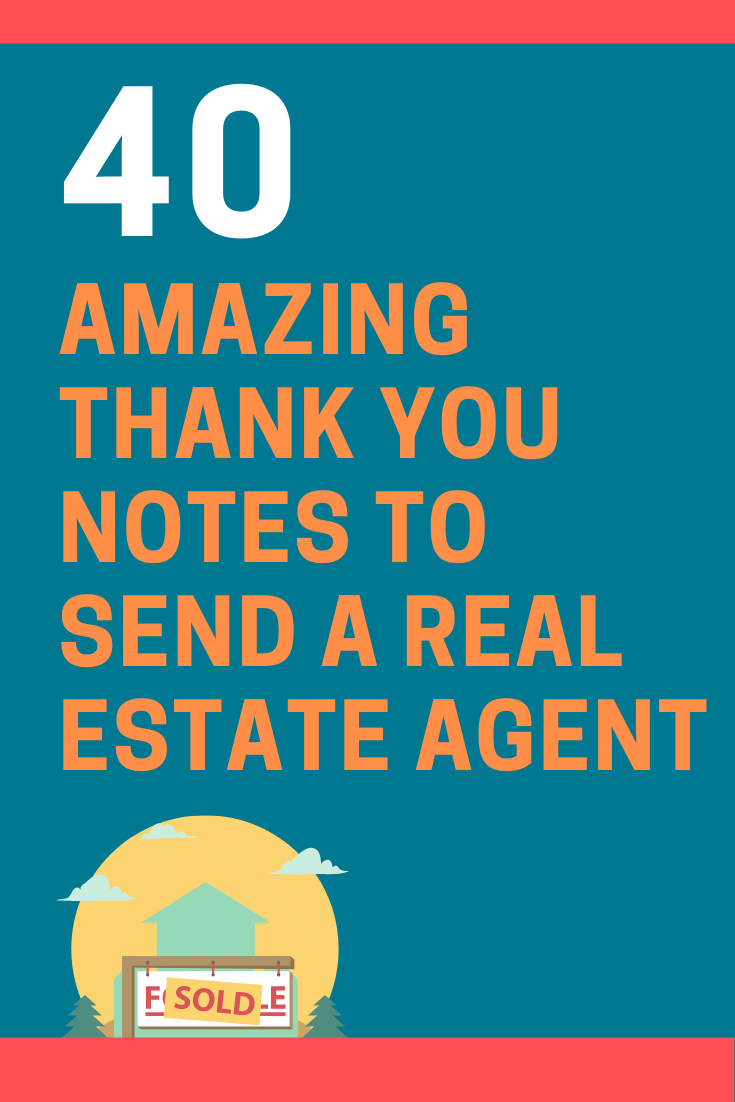 Author Biography
Keith Miller has over 25 years of experience as a CEO and serial entrepreneur. As an entrepreneur, he has founded several multi-million dollar companies. As a writer, Keith's work has been mentioned in CIO Magazine, Workable, BizTech, and The Charlotte Observer. If you have any questions about the content of this blog post, then please
send our content editing team a message here
.
---