Here is a list of 40 creative ways to say thank you for a great night to show them you had the best time.
#1 You are most definitely our most favorite people to hang out with, and we want to thank you for another time of deep friendship and warm hospitality. It is always a joy to spend time with the best of the best.
#2 We had a great night together the other night, and I hope we do it again soon. Thank you for helping make some fun new memories!
#3 Thank you for the kind invitation to join you for what turned out to be a very pleasant and interesting evening indeed. The time simply flew by. We appreciated your warm welcome and kind hospitality. It made us feel right at home.
#4 We definitely have to do it all over again. The night out we had was so much fun, and it's all I can think about. Thank you for showing me such a great time.
#5 What a happy evening we all spent together. It was wonderful to reconnect with you and to meet some of your friends. How very thoughtful of you to include us in your company. We both felt was a highlight for us, and we are thrilled to have been introduced to so many friendly people.
#6 There's no way we get together enough. If I learned anything from the other night, that was it. Thank you for such a great night, and your company.
#7 We have talked about our delightful evening with you frequently and relived it multiple times over the course of the last few days. It was an honor to have been invited. We would love it if you would check your schedule and let us know when you are free so that we can return your kind hospitality.
#8 Last night was exactly what I needed after such a stressful time at work. Thank you for treating me to such a good time.
#9 What an exciting night we had together. It was more fun than we thought could ever be packed into just a few hours. You pulled out all the stops and made it one of the most memorable evenings of our lives. Thank you for inviting us to join you.
#10 When I headed out to meet up with you the other night, I had no idea that I'd have such a great and memorable time. Thank you for everything.
#11 It's been so long since I took some time to head out for a night on the town, I had forgotten how much fun it is. Thank you for the great night and for rekindling that feeling.
#12 You guys are great. Thank you for the invitation and for letting us spend some quality time with you. It was a perfect night. We are thankful for your friendship and the way that you have supported and cared for us over the years. It has been a source of great joy to us both, and you are just like family to us.
#13 I wonder if a night like we had could be topped and still be legal? Thank you so much for the great night. It was a blast!
#14 Thank you for inviting me to join your fun evening. I treasured every second, and it really did my heart good. If I could have stopped the clock, I would have. Please let us meet again whenever it is convenient for you.
#15 I want to thank you for a great night. It was fantastic for us to have gotten together, and I had such a good time. Thanks again!
#16 Thank you for a truly memorable evening. It was such a great opportunity to get together, and we felt our friendship was deepened and strengthened. You have a beautiful family, and your interest in us and warm welcome put us at ease right away.
#17 I've spent time with a lot of people and had a lot of good times over long nights. However, the great night that we had was something special, and will always be remembered.
#18 The traffic, the lines, the waiting, were all well worth it. I'm most thankful for having a good friend, such as yourself, to have been there with me. Thank you for being there, and for a great night out.
#19 Every time we get together, we go off and spend the night doing things that would make other people exhausted. Thank you for always making me feel young again, and for the great night!
#20 We felt privileged to be able to spend such a lovely time with you and your friends. Thank you for connecting us with so many fascinating and diverse people. We valued the opportunity and cannot thank you enough for including us. It was a very uplifting experience.
#21 Thank you so much for a lovely evening. It was an inspiring time and an excellent way to get to know you better and hear more about your life story. I so appreciated the fact that you included me, and I am forever grateful for your kindness.
#22 Thank you for a great night. The weather held up, the company was perfect, and the evening was on fire. I look forward to doing it all over again.
#23 With how much fun we had the other night, it looks like the babysitter is going to be rolling in money soon. Thank you so much for a great night, and cheers to many more to come!
#24 Despite all that we did the other night or anything that we went to see, my joy was just in spending time with you. Thank you for an incredible evening.
#25 Thank you for your kind invitation and for inviting us to join in your special evening. I love it when we can get together since it is not always easy to do with our busy schedules. When the opportunity arises, it is always something we really look forward to.
#26 It feels good to let my hair down every once in a while. Thank you for the night out on the town, and for helping me to relax.
#27 I am so thankful that I have such a kind and generous friend, and I am delighted that you wanted to spend time with me. It was a great night, and I thoroughly enjoyed catching up with you and hearing all about what has been happening in your life. Thank you for inviting me.
#28 Thank you for your kind invitation to the best night ever. We have a real spring in our step today because it was so enjoyable, with excellent conversation. We would love to meet up with you again sometime.
#29 We had a delightful time getting to know you all and appreciated the invitation to join you. We found that we had a lot in common with you, which was a most lovely surprise. We have been savoring the sweet memories ever since.
#30 What a show the other night! Thank you so much for being there with me to witness it, and the great night all the way around.
#31 How excited we were to receive your kind invitation. We knew it was going to be an important event, but it surpassed all our expectations. We were thrilled to be a part of it and will always reflect on that time we had with you. It is a precious memory.
#32 Thank you for inviting us to be part of your evening plans. Little did we know what a treat was in store for us. You certainly know how to make a night magical. Every detail about it was simply perfect.
#33 It was a pleasure to have been out with you the other night. It was a great time, and I thank you for opening my eyes to some fun new things!
#34 We just want to convey our delight at receiving your invitation. We felt privileged to share the evening with you, a couple whom we have long admired and respected. Please accept our heartfelt gratitude for reaching out and including us.
#35 Thank you for your gracious invitation and for taking such good care of us. We really were made to feel welcome and part of the interesting and vibrant group. We appreciated all the introductions and made some lovely new friends.
#36 I was so happy that you asked me to head out with you the other night. I would never have thought of doing something so inspiring on my own. Thank you for the great night!
#37 I want to express my deepest thanks for your generous invitation and for the warmth of hospitality you showed me. You really know how to make someone feel cherished and loved. I will never forget how you went out of your way to make sure I was having a good time.
#38 Thank you for taking me out to see the sights and take in some culture. I appreciated it very much and had a great night.
#39 Thank you for inviting us to come to your party. It was such a sweet time with the friendliest people we have ever met. The venue was stunning, and the atmosphere was warm and relaxed. Please know that we were excited and grateful to be there.
#40 I know the other night is an annual event, but my goodness was it special. Thank you for the great night and for wanting me to be a part of it.
Please take a moment to pin this post to Pinterest.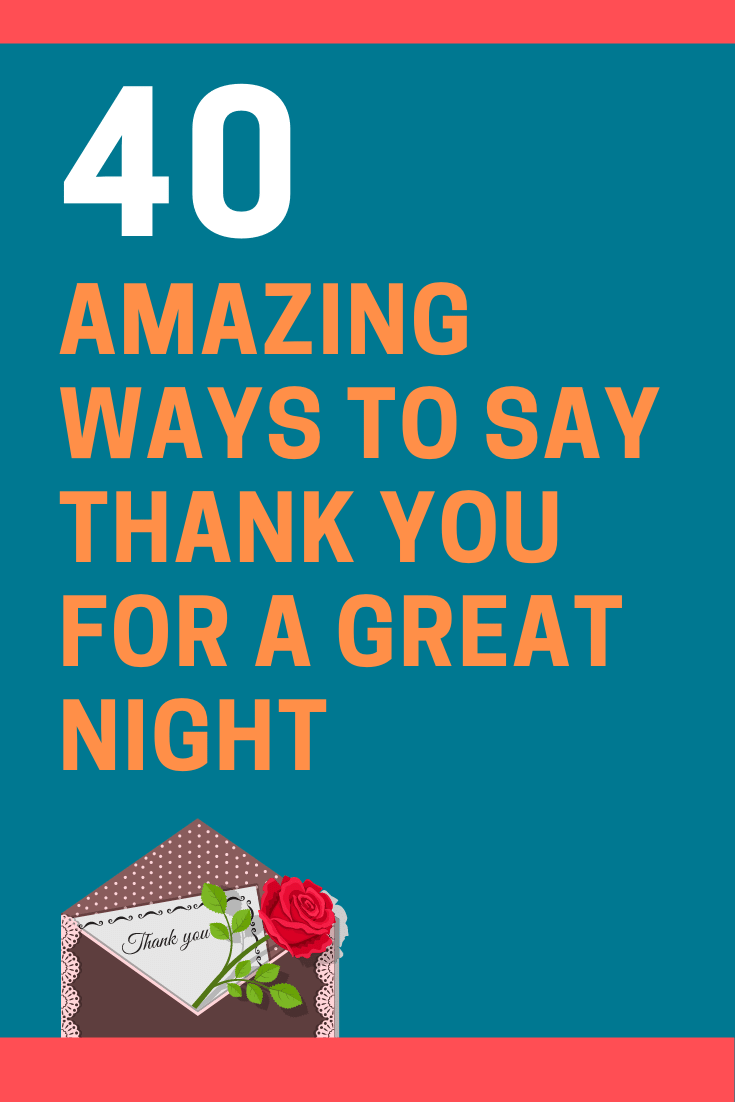 Author Biography
Keith Miller has over 25 years of experience as a CEO and serial entrepreneur. As an entrepreneur, he has founded several multi-million dollar companies. As a writer, Keith's work has been mentioned in CIO Magazine, Workable, BizTech, and The Charlotte Observer. If you have any questions about the content of this blog post, then please
send our content editing team a message here
.
---