Here is a list of 100 memorable Veterans Day messages and quotes to remember the sacrifices of those who have served in the military.
#1 Though time has passed, your efforts and sacrifices have not been forgotten. We thank you and appreciate you for not only your service but for what you gave up because you dedicated your life to pay for our freedom. You gave up progressing in a civilian career, a competitive civilian salary, and time with loved ones, to say the least. It is with our deepest gratitude that we wish you a Happy Veterans Day.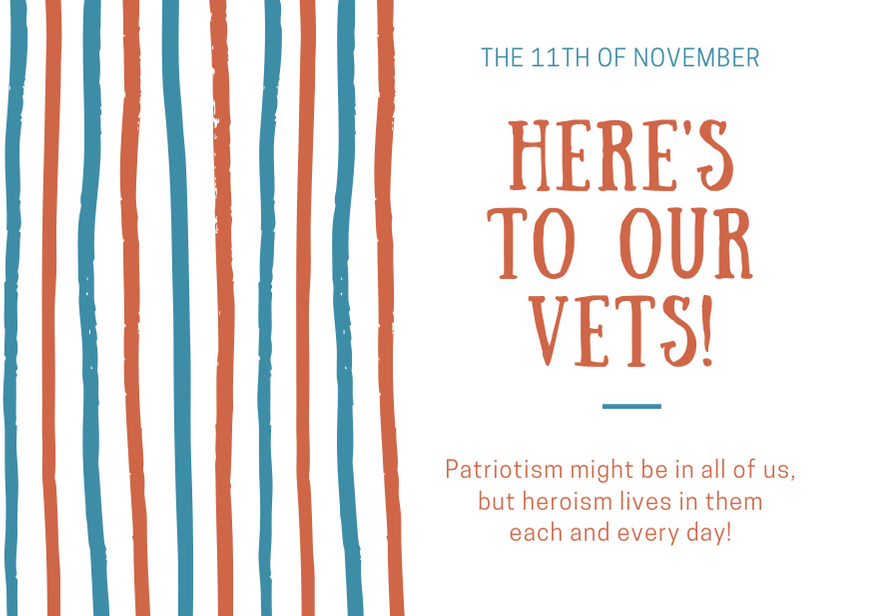 #2 We have Veterans Day to remind us of the sacrifices that have been made by our veterans and soldiers, but knowing you has proudly reminded me of those that you have made. I can only imagine how tough the road has been, not only while your life was on the line but after returning to civilian life where the struggles continued. Thank you for your selfless courage and integrity. Happy Veterans Day.
#3 Happy Veterans Day. Were it not for you and people like you, this world would be a much darker and scarier place. Thank you for your service, thank you for putting your civilian career advancement on hold, and thank you for our freedom.
#4 For this Veterans Day, take heart in knowing that this country is in your debt and is thankful for the sacrifices you've made. Putting our country first deserves so much more appreciation that you receive. Words are simply not enough to thank you. Happy Veterans Day.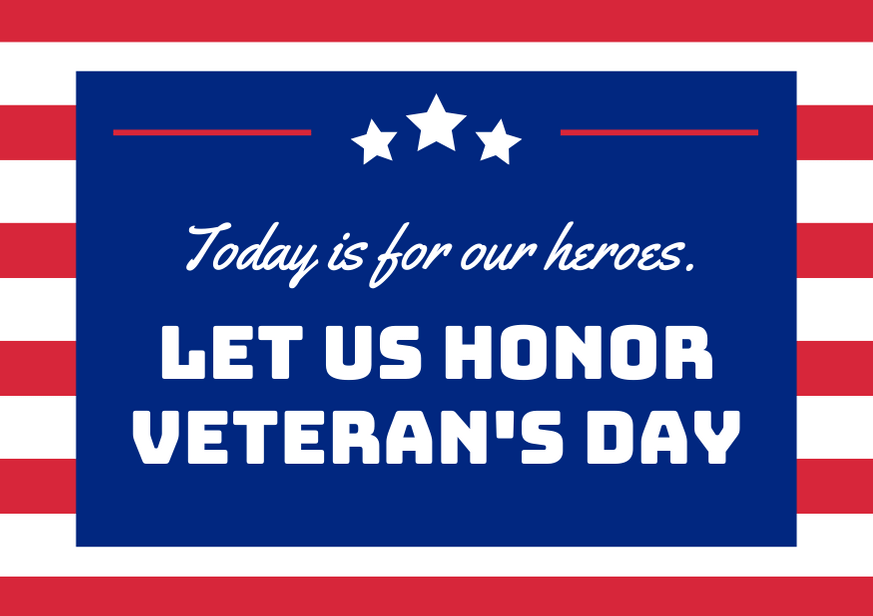 #5 Happy Veterans Day. It's because of people like you that put your lives on the line that we're safe from those who would come here to do us harm. We know it, and we are eternally thankful for it. You are a true hero.
#6 The choice to defend everything that we hold dear fell at your feet. You took the bull by the horns and have been successful in that endeavor. Freedom isn't free, and you and your fellow soldiers have paid the price. I recognize it, and so does the world. Happy Veterans Day.
#7 It is beyond my ability to return to you what you gave up while serving our country. I can't give you back watching your children grow. I can't give you back lost time with your friends and family. I can't give you the peace of mind you had before your service. Please know that we appreciate you and recognize not only your service and not only your sacrifices, but your continuing struggles after returning home. Though alive, you in every sense have given your entire life for our freedom. You are respected and cherished. Happy Veterans Day.
#8 Without your outstanding bravery, we wouldn't be here today. You are our country's most valuable treasure. You are America's hero. Please accept our humble gratitude on this Veterans Day to celebrate the priceless gift you have given us and the fearless soldier you are.
#9 Thinking of you this Veterans Day, I am filled with gratitude knowing such a brave person as yourself. Thank you for your selfless service and for your sacrifice. Happy Veterans Day.
#10 You are the best example of commitment, grit, courage, and a moral compass to our generation and many generations to come. Thank you for changing the history of our country forever. Happy Veterans Day.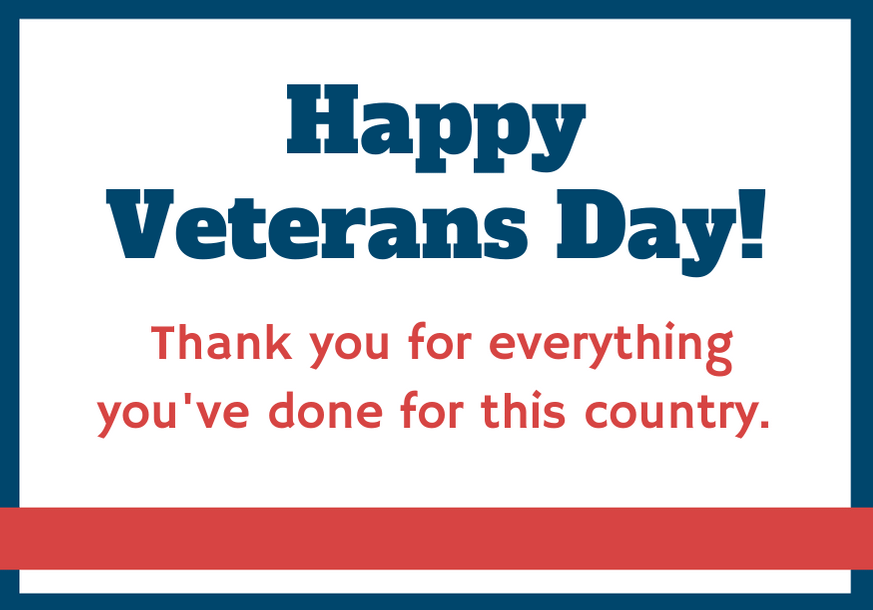 #11 Though you may not accept this reality as fact since you are so humble, know that we are still safer here on our soil because of you. Happy Veterans Day, soldier. You definitely earned a day to call your own.
#12 Happy Veterans Day. Learning about grave and monumental events in history is one thing, but seeing your face impacts us on a whole other level. Thank you for your commitment, your service, your sacrifice, your selflessness, and your struggles. Your gifts of freedom and safety to us are immeasurable.
#13 Happy Veterans Day. Please accept our deepest gratitude and humble thanks for all of the things that you willingly signed up for. Your country and all Americans are forever in your debt.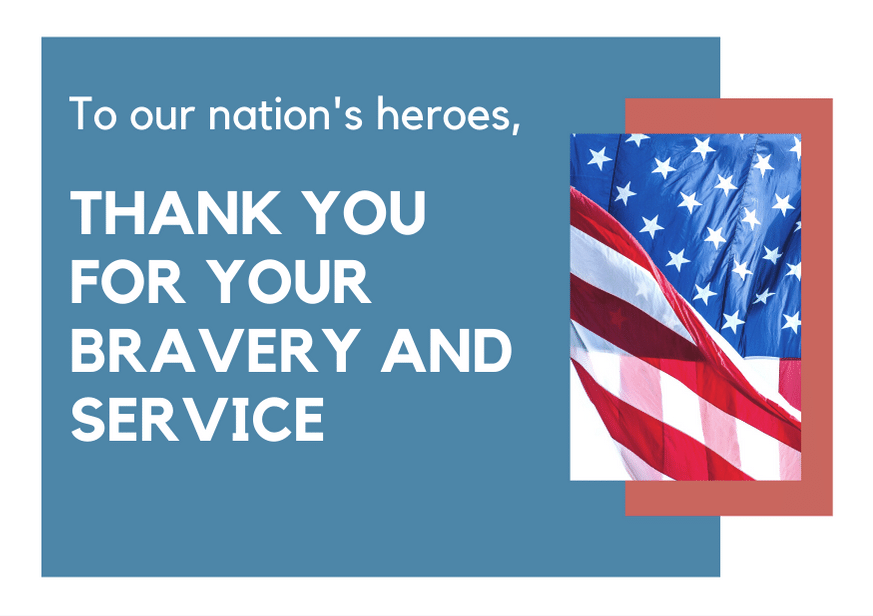 #14 Every day, we try to be worthy of your legacy. Thank you for the patriotism you show every day when you were serving, and now. Thank you for forgoing fortune and fame to dedicate yourself to our great country. We owe you tremendously. Happy Veterans Day.
#15 You willingly chose to enlist and chase down dangerous threats to our country. Your efforts have kept us safe, and we are eternally grateful. Happy Veterans Day.
#16 History has taught us that freedom isn't free. Thank you for fighting tirelessly for our freedom. Your unimaginable effort will not be forgotten or taken for granted. Happy Veterans Day.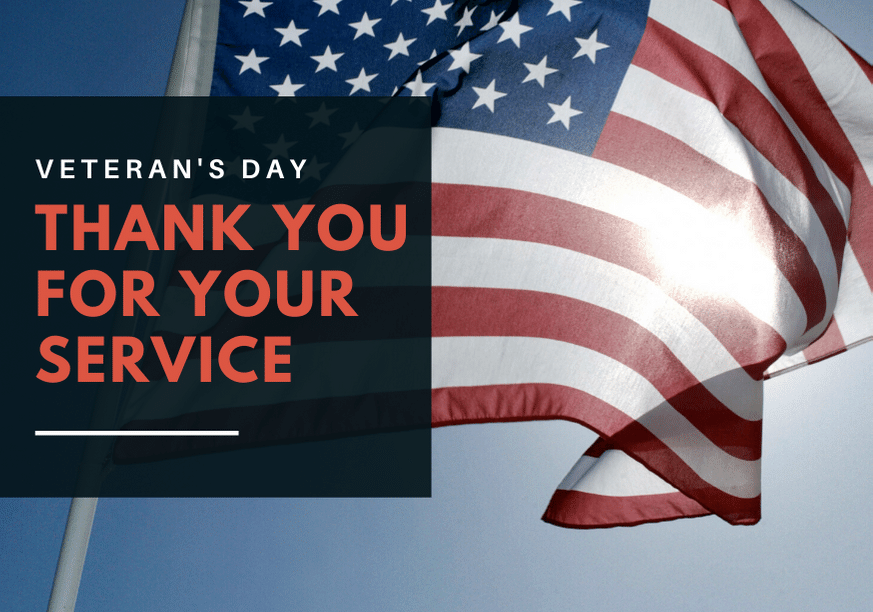 #17 Though the future appeared uncertain, you signed up. Though there was trouble visible on the horizon, you chose to serve. You are a bright star and worthy of our gratitude and so much more. Happy Veterans Day.
#18 Happy Veterans Day. Though we're all immeasurably proud of your service, we're thrilled to have you back home with us. This is your day. Enjoy it!
#19 For this Veterans Day, I'd like you to know that you will always be remembered for your service and your impact on our daily lives, while you successfully protected our freedom. Happy Veterans Day.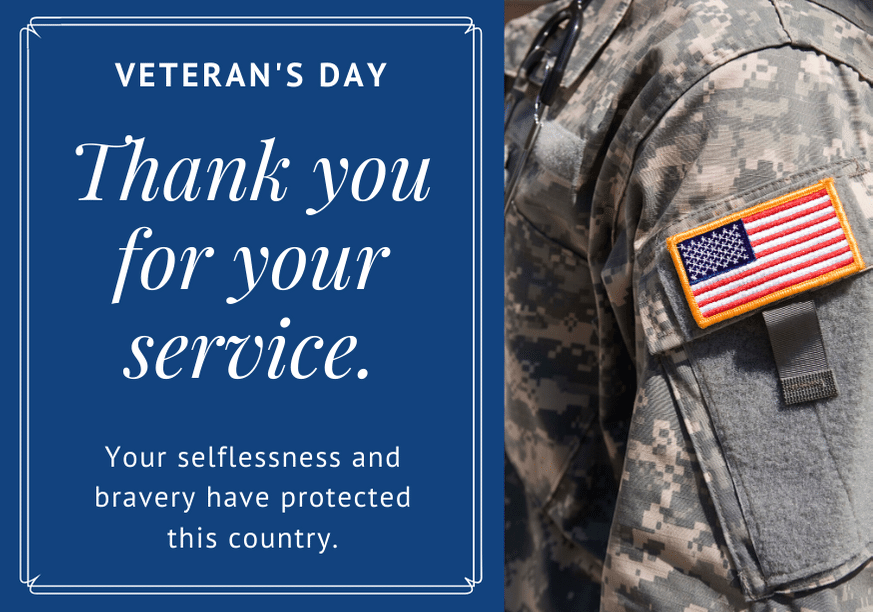 #20 Veterans Day is your day. Go and enjoy it however you can, knowing that we're proud of you, and are proud to know a real-life hero.
#21 With every flag you see waving around this Veterans Day, I hope you know that your heroism is being celebrated every bit as much as the rest of the heroes currently protecting our shores. Happy Veterans Day.
#22 You've seen it; you've done it. Now that you're a veteran, you get to enjoy the fruit of your labor knowing that your service has continued to make our freedom possible. Happy Veterans Day. We thank you.
#23 Thank you for your service and sacrifice for all of us. Enjoy every second of this Veterans Day, remembering your selfless accomplishments and dedication to all Americans and this great country.
#24 Your sacrifices have been an overwhelming inspiration to me and countless others. Happy Veterans Day and thank you for all that you've done for us.
#25 Your selfless service to our country has indeed proven that this is still the home of the brave. Thank you for your heroism and for our freedom. You paid the price for us. Happy Veterans Day.
#26 As the years pass and the grave event of [insert war or conflict] becomes more distant, please know that our generation and many generations after us will never forget. We will always be grateful to you for the ultimate sacrifice you made. Happy Veterans Day.
#27 Thank you for giving us a safe sky over our heads and teaching us the true value of patriotism. No words can ever express gratitude this deep. Happy Veterans Day.
#28 The heroic deeds you've accomplished are a part of our history and will never be forgotten for as long as our nation lives. Thank you. Happy Veterans Day.
#29 On this Veterans Day, we celebrate our heroes. What you've done still astonishes us today and fills our souls with awe, and we are forever grateful. Happy Veterans Day.
#30 Thank you for every step you've taken and every fight you've fought to give your children a safer world. Your heroism will never be forgotten. Happy Veterans Day.
#31 Happy Veterans Day. The greatest gift you've given us is the gift of peace, but the price you've paid for it still costs you. Our gratitude towards you for putting our country first will forever be shared by millions.
#32 You are a part of history, and your bravery will never be forgotten or underestimated. Thank you for leaving a safer world for your children and grandchildren. Happy Veterans Day.
#33 Happy Veterans Day. Each day is a day to thank our you, but today the whole country unites in its gratitude for your sacrifices and victories. Thank you for the world you have given us.
#34 History has a way of making even the greatest events seem smaller and farther from us, but your heroism is something that will forever live in the heart of each person in this country. Thank you, and Happy Veterans Day.
#35 For each day that you've fought for us, we celebrate you today and will celebrate you with each passing year, cherishing your priceless gift of a safer world. Thank you, dear veteran. Happy Veterans Day.
#36 Happy Veterans Day. Your heroism and patriotism are sacred to our hearts. Your sacrifices are what allow us to live in our world today. Know that we are united in our deepest gratitude towards you and I personally want to thank you for what you have done, what you have sacrificed, and all of your struggles abroad and at home. Thank you.
#37 It's only when we are older that we realize what a great act of heroism you committed every day. With this new and deeper understanding, we thank you from the bottom of our hearts. Happy Veterans Day.
#38 Your bravery, your refusal to give up, and your willpower to keep going for the sake of our country will always be an inspiration to us. Let us celebrate you on this Veterans Day.
#39 Among the men and women who have served our country, you are by far the most astounding. We salute and honor the hero that you are, today and always. Happy Veterans Day.
#40 Today we celebrate those who've given their lives for our country and those who've lived to see their sacrifices bear the fruit of freedom. Thank you for putting us first. Happy Veterans Day.
The Most Famous Quotes to Include with Your Veterans Day Message
"Those who live today remember those who do not. Those who know freedom remember today those who gave up life for freedom…We could not forget them. Even if they were not our own, we could not forget them. For all time, they are what we can only aspire to be: giving, unselfish, the epitome of human love — to lay down one's life so that others might live."
Ronald Reagan
"Lord, bid war's trumpet cease; fold the whole Earth in peace."
Oliver Wendell Holmes
"In war, there are no unwounded soldiers."
José Narosky
"A hero is someone who has given his or her life to something bigger than oneself."
Joseph Campbell
"Out of suffering have emerged the strongest souls; the most massive characters are seared with scars."
Khalil Gibran
"Without heroes, we are all plain people, and don't know how far we can go."
Bernard Malamud
"America without her soldiers would be like God without his angels."
Claudia Pemberton
"Valor is stability, not of legs and arms, but of courage and the soul."
Michel de Montaigne
"The Bible tells us: If you owe debts, pay debts; if honor, then honor; if respect, then respect. The debt our nation owes those who've worn the uniform is a debt we will never be able to fully repay."
Micheal R. Pence
"In order to insure proper and widespread observance of this anniversary, all veterans, all veterans' organizations, and the entire citizenry will wish to join hands in the common purpose."
Dwight D. Eisenhower
"Never give in—never, never, never, never, in nothing great or small, large or petty, never give in except to convictions of honor and good sense. Never yield to force; never yield to the apparently overwhelming might of the enemy."
Winston Churchill
"Our Veterans accepted the responsibility to defend America and uphold our values when duty called."
Bill Shuster
"You'd have to go a long way to find someone who was more proud and grateful for what our veterans have done for all of us."
Jim Davis
"Caring for veterans shouldn't be a partisan issue. It should an American one."
Jennifer Granholm
"When soldiers have been baptized in the fire of a battle-field, they have all one rank in my eyes."
Napoleon Bonaparte
"The best thing you have to give is yourself."
Norman Vincent Peale
"This will remain the land of the free only so long as it is the home of the brave."
Elmer Davis
"Whenever and wherever the nation has called – in times of darkness and danger as well as in times of peace and prosperity – America's veterans have been there. Veterans have proudly carried the torch of liberty for all to see."
General Colin L. Powell
"'Duty, Honor, Country' — those three hallowed words reverently dictate what you ought to be, what you can be, what you will be."
General Douglas MacArthur
"We will not tire, We will not falter, We will not fail."
George W. Bush
"Courage is contagious. When a brave man takes a stand, the spines of others are often stiffened."
Reverend Billy Graham
"We remember those who were called upon to give all a person can give, and we remember those who were prepared to make that sacrifice if it were demanded of them in the line of duty, though it never was. Most of all, we remember the devotion and gallantry with which all of them ennobled their nation as they became champions of a noble cause."
Ronald Reagan
"I think there is one higher office than President and I would call that patriot."
Gary Hart
"The soldier above all others prays for peace, for it is the soldier who must suffer and bear the deepest wounds and scars of war."
General Douglas MacArthur
"The true soldier fights not because he hates what is in front of him, but because he loves what is behind him."
G.K. Chesterton
"Better than honor and glory, and history's iron pen, was the thought of duty done and the love of his fellow-men."
Richard Watson Gilder
"We owe our World War II veterans – and all our veterans – a debt we can never fully repay."
Doc Hastings
"Honoring the sacrifices many have made for our country in the name of freedom and democracy is the very foundation of Veterans Day."
Charles B. Rangel
"Never was so much owed by so many to so few."
Winston Churchill
"The willingness with which our young people are likely to serve in any war, no matter how justified, shall be directly proportional to how they perceive the Veterans of earlier wars were treated and appreciated by their nation."
George Washington
"The battle, sir, is not to the strong alone; it is to the vigilant, the active, the brave."
Patrick Henry
"Too often when we speak of sacrifice, we speak in generalities about the larger sweep of history, and the sum total of our nation's experience. But it is very important to remember that every single veteran's life we honor today was just that — a life — just like yours and mine. A life with family and friends, and love and hopes and dreams, and ups and downs; a life that should have been able to play its full course."
Bill Clinton
"America's Veterans have served their country with the belief that democracy and freedom are ideals to be upheld around the world."
John Doolittle
"We sleep peaceably in our beds at night only because rough men stand ready to do violence on our behalf."
George Orwell
"The most persistent sound, which reverberates through men's history, is the beating of war drums."
Arthur Koestler
"I learned that courage was not the absence of fear, but the triumph over it. The brave man is not he who does feel afraid, but he who conquers that fear."
Nelson Mandela
"To us in America, the reflections of Armistice Day will be filled with lots of pride in the heroism of those who died in the country's service and with gratitude for the victory, both because of the thing from which it has freed us and because of the opportunity it has given America to show her sympathy with peace and justice in the councils of the nations."
Woodrow Wilson
"As we express our gratitude, we must never forget that the highest appreciation is not to utter words, but to live by them."
John Fitzgerald Kennedy
"How important it is for us to recognize and celebrate our heroes and she-roes!"
Maya Angelou
"Honor to the soldier and sailor everywhere, who bravely bears his country's cause. Honor, also, to the citizen who cares for his brother in the field and serves, as he best can, the same cause."
Abraham Lincoln
"The bravest are surely those who have the clearest vision of what is before them, glory and danger alike, and yet notwithstanding, go out to meet it."
Thucydides
"Old soldiers never die; they just fade away."
General Douglas MacArthur
"The young patriots now returning from war in Iraq and Afghanistan and other deployments worldwide are joining the ranks of veterans to whom America owes an immense debt of gratitude."
Steve Buyer
"On this Veterans Day, let us remember the service of our veterans, and let us renew our national promise to fulfill our sacred obligations to our veterans and their families who have sacrificed so much so that we can live free."
Dan Lipinski
"In this Veteran's Day we stop and are thankful for all those who have fought in wars so that we have may all enjoy our freedom. The bravery and risk that these men and women took will not be forgotten."
Catherine Pulsifer
"Courage is resistance to fear, mastery of fear—not absence of fear."
Mark Twain
"The brave men, living and dead, who struggled here, have consecrated it, far above our poor power to add or detract. The world will little note, nor long remember what we say here, but it can never forget what they did here."
Abraham Lincoln
"Some people live an entire lifetime and wonder if they have ever made a difference in the world, but the Marines don't have that problem."
Ronald Reagan
"There is no mystery behind the endurance and the success of American liberty. It is because in every generation, from the Revolutionary period to this very hour, brave Americans have stepped forward and served honorably in the Armed Forces of the United States. Every one of them deserves the thanks and the admiration of our entire country."
Richard B. Cheney
"The willingness of America's veterans to sacrifice for our country has earned them our lasting gratitude."
Jeff Miller
The Best Bible Verses to Include with Your Veterans Day Message
John 15:13
Greater love has no one than this, that someone lay down his life for his friends.
2 Timothy 1:3
I thank God whom I serve, as did my ancestors, with a clear conscience, as I remember you constantly in my prayers night and day.
Ruth 2:12
The Lord repay you for what you have done, and a full reward be given you by the Lord, the God of Israel, under whose wings you have come to take refuge!
Psalm 23:4
Even though I walk through the darkest valley, I will fear no evil, for you are with me; your rod and your staff, they comfort me.
Ecclesiastes 3:8
A time to love and a time to hate, a time for war and a time for peace.
2 Timothy 1:7
For the Spirit God gave us does not make us timid, but gives us power, love and self-discipline.
Ephesians 6:11
Put on the full armor of God, so that you can take your stand against the devil's schemes.
Joshua 1:9
Have I not commanded you? Be strong and courageous. Do not be afraid; do not be discouraged, for the Lord your God will be with you wherever you go.
Galatians 6:2
Carry each other's burdens, and in this way you will fulfill the law of Christ.
Luke 6:38
Give, and it will be given to you. A good measure, pressed down, shaken together and running over, will be poured into your lap. For with the measure you use, it will be measured to you.
Please take a moment to pin this post to Pinterest.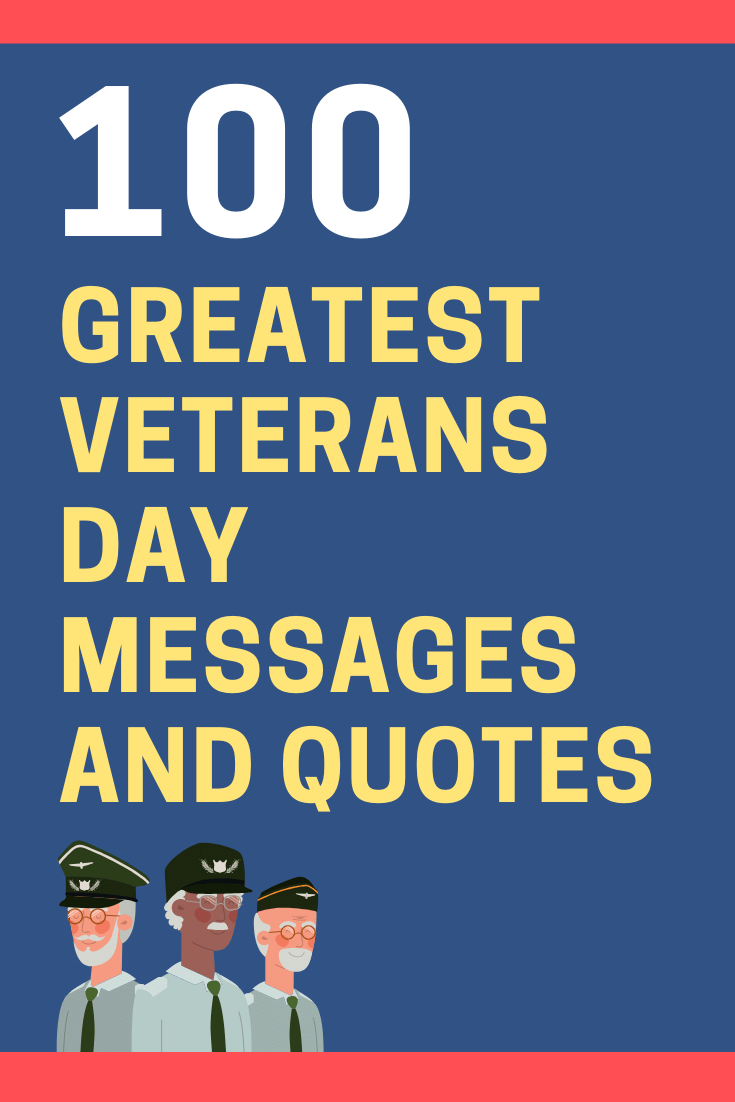 Author Biography
Keith Miller has over 25 years of experience as a CEO and serial entrepreneur. As an entrepreneur, he has founded several multi-million dollar companies. As a writer, Keith's work has been mentioned in CIO Magazine, Workable, BizTech, and The Charlotte Observer. If you have any questions about the content of this blog post, then please
send our content editing team a message here
.
---