Here is a list of 50 ways to write a thank you note for money to show them your appreciation for their gift.
#1 Dear friend, you have the most gracious soul that I have come across in a while. Without prompting, you took the initiative to contribute, and for that, no words can express my gratitude. You have my love and respect.
#2 Just wanted to say a huge thank you for the check that you sent. You have gone above and beyond and made not just my day, but my whole month in the process. Thank you so much.
#3 I had recently made a considerable change in my life and was not sure what to do next. Your helping hand guided my decisions – which I have to say was the best path I have taken so far. Thank you for your monetary support, during a time when I had lost all hope.
#4 The money that you've given is deeply appreciated, and I thank you. But as they say, "It's the thought that counts," and I'm a lucky person to have a friend like you who is thinking of me. Thank you so much.
#5 You've stood by us like a rock, and have been a big help through every trial and tribulation. The money you've given us will be used wisely and appropriately, and we give you our sincerest thanks.
#6 I was happy about receiving your beautiful card but wasn't expecting what you included inside of it. Thank you for the pleasant and most generous surprise.
#7 Kind-hearted people like you are a needle in a haystack. A massive "thank you" for your fantastic gift. I truly and deeply appreciate it.
#8 Your monetary gift has helped me through these trying times, and it's difficult to sufficiently express to you how much it's made a profound difference in my life. I am forever grateful.
#9 Thank you so much for the generous gift. It is going to be a help with the bills and really takes a weight off our shoulders.
#10 I will hold you in my heart for today and forever after. Your gift has made a big impact on my life and illustrates the power of selflessness and kindness. Thank you very much.
#11 You are a giving person, and giving people need to be treasured. I will always have the most respect for you. I hope to fill my life with more people like you, and to be one, too. Thank you for your thoughtful gift.
#12 You are clearly such a loving and caring individual. I cherish and admire you every day, but especially today. Thank you for being such a shining example of someone who always puts others before themselves. Thank you so much for the monetary gift.
#13 Imagine my surprise when I received the money that you sent. Thank you so much, and I appreciate it more than you realize.
#14 I opened my card and an enormous surprise fell out of it. Thank you so much for the check. I will use it carefully and to the best of my ability.
#15 Despite current circumstances, you have managed to leave me speechless and awe-struck with the money you sent. You have shown me what true friendship is. I cannot thank you enough, and I will never forget this.
#16 Just like your generosity knows no bounds as shown by your monetary gift, my gratefulness to you is also never-ending. I wish only the best for you, and thank you once again.
#17 Knowing how loving and generous of a person you are, I wasn't surprised to see a check with my card. What did surprise me was how much you gave. Thank you for the card, the monetary gift, and for blowing my mind. I truly appreciate you.
#18 Please know how much your gift means to my family and me. This is a massive deal to us, and so helpful that I can't thank you enough. Thank you from the bottom of my heart.
#19 Money can't buy happiness, but it sure does help keep the debt collectors at bay. Thank you so much for helping me out. It means so very much to me.
#20 How did you know I needed the money? Thank you so much for being so thoughtful and making a difference in my life. I am truly touched.
#21 Your financial help is so appreciated and valued, and I cherish the humanity you have shown me. Your virtues are an example to others, and for that, I thank you.
#22 I appreciate how big-hearted you are. Without your financial contribution, I am not sure how far I would have gone. You have been an absolute gem. Thank you so much.
#23 Thank you for your care and consideration during these difficult times. I do not know where to start, but for now, I hope a "thank you" for the money will suffice.
#24 Ahhhh, the best gift in the world – absolutely perfect. Thank you for the money you have sent. Much appreciated. I am going to put it to great use.
#25 My heart was heavy until I received your financial contribution. I cannot thank you enough for putting a smile on my face. Thank you.
#26 It goes without saying that your gesture will be a surprise addition to the limited funds that I currently have. I am touched and very grateful.
#27 Thank you so much for the check. I am excited to put to use the financial contribution that you have made. You have my everlasting gratitude and continued friendship.
#28 What a great week it has been – topped off by your generous contribution. You have no idea just how much your assistance has meant to me. I assure you that your aid will be put to good use. I truly thank you.
#29 Thank you for reaching into your pockets and lending me a big helping hand. I am forever indebted to you for your kindness. I deeply thank you.
#30 Where do I start? I am so grateful for your foresight and all-knowing ways – it's as if you read my mind. Thank you sincerely for the check. I deeply appreciate it.
#31 Wow! What a great gift. I am so touched by your thoughtfulness. You should not have – but I have to confess that I am very glad that you did. Thank you for the money.
#32 A very joyful, hug-filled, and heartfelt thanks for your check. You have played a part in making things better for me. Your help will not be forgotten.
#33 Thank you, from the deepest part of my heart. You have been amazing, and I cannot thank you enough for the money you have given me. Your action will be paid forward as soon as I can do so.
#34 The added surprise of your check brought tears to my eyes. This gift will be put to good use – no doubt about that. Thanks.
#35 Thanks for the generous monetary gift that you gave me. It will certainly help alleviate the pressures that I am under – giving me a much-needed breather. Thank you so much.
#36 Huge thanks for your generous and kind monetary gift. You always go above and beyond all expectations, and this is yet another example of that. Thank you so much.
#37 Thank you so much for your heartfelt gift. I really appreciate what you have done for me. I deeply appreciate it and am so happy that people as selfless as you are still around.
#38 Your huge heart shows itself in your generous and caring gift. I thank you immensely.
#39 I could not thank you enough for the great gift that I had the pleasure of receiving from you. I will do my very best to pay it forward and follow in your pure, authentic, and admirable footsteps.
#40 Thank you for the thoughtful monetary gift that you so generously gave. Rest assured, it will go to good use. I am so grateful to you for thinking of me.
#41 I'd like to extend my thanks to you for your monetary gift. You didn't have to do that – yet you did. I appreciate it wholeheartedly.
#42 You're a gift to me and a cherished friend. I'd like to extend my gratitude to you for the money that you so generously sent, and look forward to one day returning the favor.
#43 Saving up for my dream car just became even more of a reality because of your gift. Thank you for it, after I get that car, I owe you some rides.
#44 I am humbled by your generosity and thoughtfulness. Thank you from the bottom of my heart for the money – it is a true treasure that will be used honorably.
#45 I wanted to reach out to you and make sure you realized how thankful I am for your gift. The money was timely and went to immediate but good use. Thank you very much.
#46 Your cash gift was a surprise and exactly what we needed to accomplish a couple of goals we've made for ourselves. Thank you so much for making them possible.
#47 Thank you for your comforting card, and for being so unsparing with your financial gift. It'll be used in a way that'll make you proud. Thank you again.
#48 Maybe you know it, perhaps you don't, but the check that you sent us is an answer to our prayers and came at just the right time. Thank you so much for being a part of our lives.
#49 I was surprised by your kindness. The money you gifted me will be spent on something I need the most. Thank you once again.
#50 I sincerely thank you. I received the check that you sent, and I appreciate you for your support – it has not gone unnoticed.
Please take a moment to pin this post to Pinterest.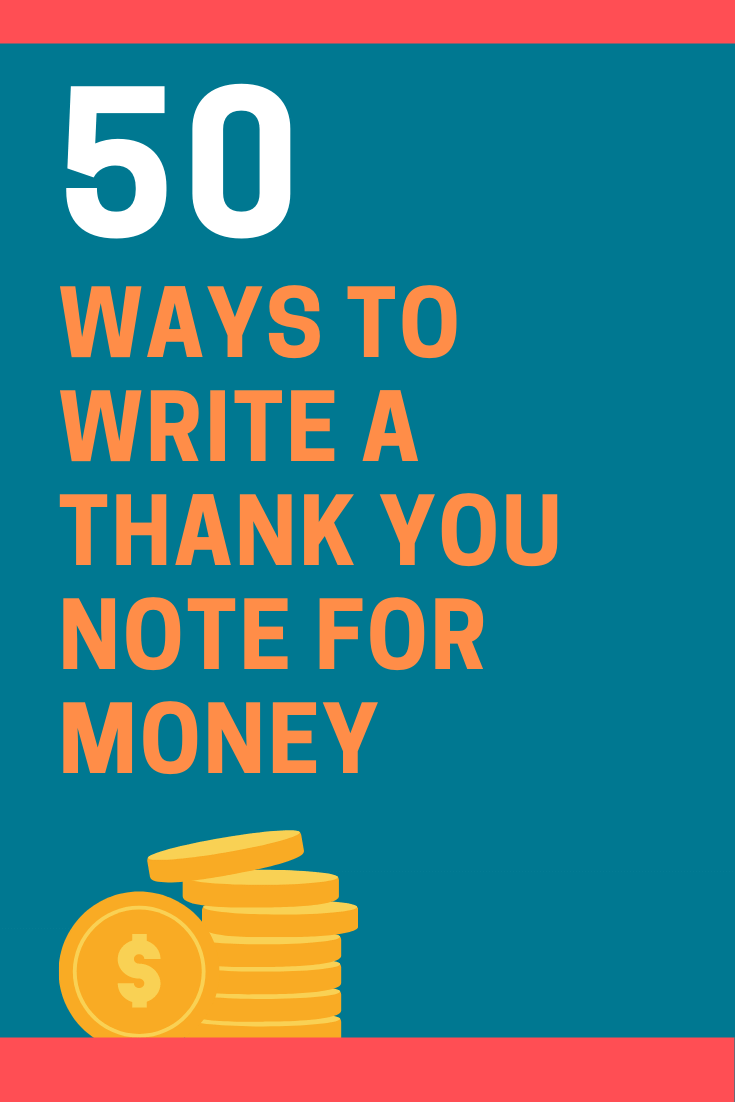 Author Biography
Keith Miller has over 25 years of experience as a CEO and serial entrepreneur. As an entrepreneur, he has founded several multi-million dollar companies. As a writer, Keith's work has been mentioned in CIO Magazine, Workable, BizTech, and The Charlotte Observer. If you have any questions about the content of this blog post, then please
send our content editing team a message here
.
---