Here is a list of 75 unforgettable goodbye and good luck messages and quotes to wish them success in their future endeavors.
#1 I wish you every opportunity in your future, which looks bright and full of incredible possibilities! I'm so happy that you have this great new adventure in life. You deserve it!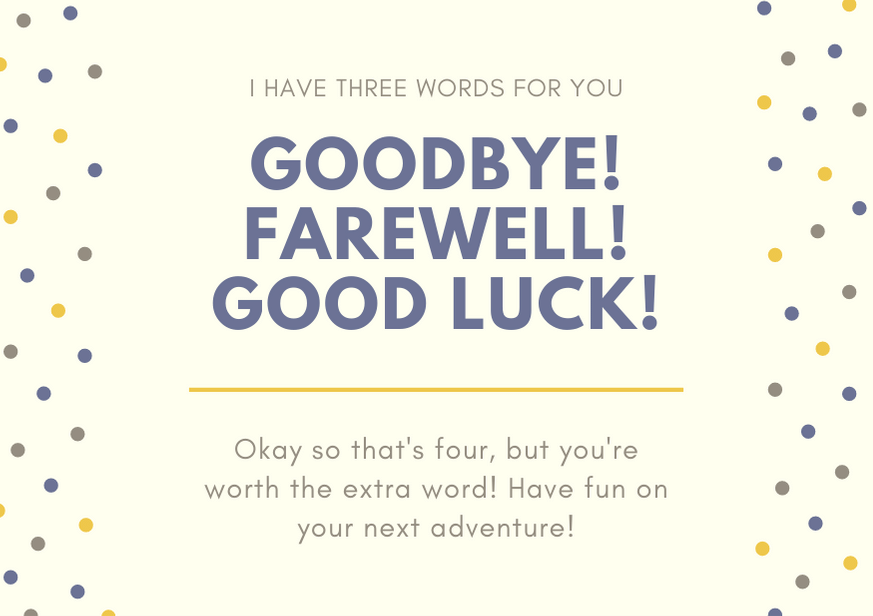 #2 You're made for this! I'll be thinking of you every step along the way. Take care and I hope we meet again soon!
#3 In spite of the distance, your kind gestures and the memories we share will always warm my heart. Farewell, my friend. I hope to see you soon.
#4 May your future be as bright as your smile! You have so much to offer and I hope your new opportunity will be a glorious adventure!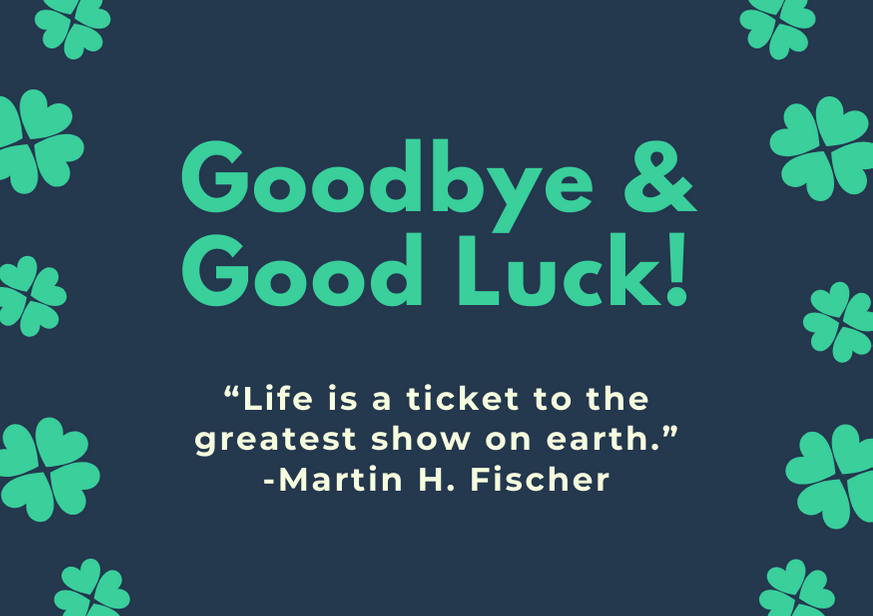 #5 A sparkling future lies before you, welcoming you into new and fantastic things. May it fulfill all your dreams and may you grow and flourish in it!
#6 You did it! Can we swap places? I admire your success and I can't wait to see what great things you will do. Hope to see you soon!
#7 Until our goodbye becomes a hello, go forth with my warm wishes and biggest blessings. The world is better for having you in it. Thank you for being you. Now go show them what you're made of!
#8 Life is full of challenges, and one of the things that has made you successful has been your ability to master each new opportunity. Good luck with this new phase of your growth. Blow them away!
#9 You have amazing potential and are one smart cookie! You're going to make a real difference in this world, just by being you!
#10 You have been the highlight of my day too many times to count. May you prosper abundantly and may your dreams be within your reach. You'll do great!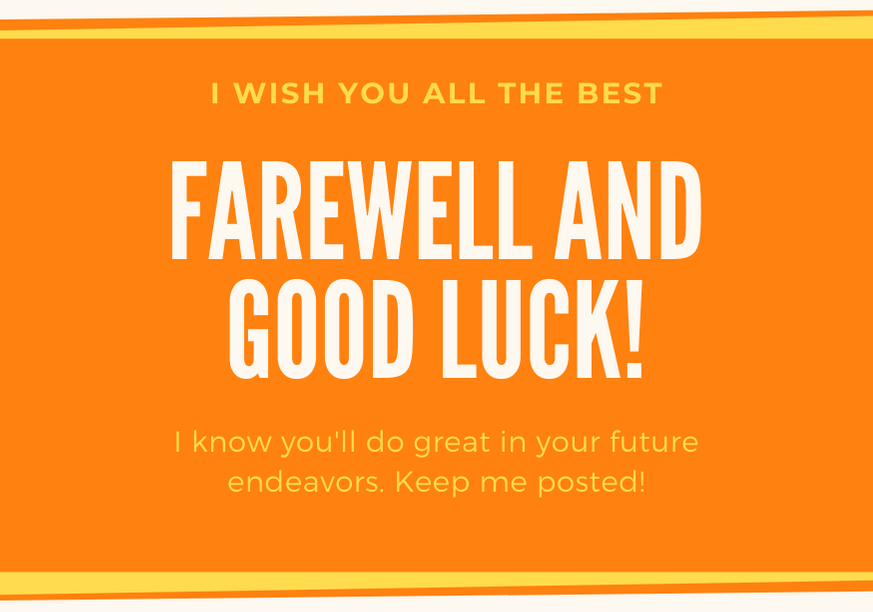 #11 Wow! Congratulations on your wonderful new appointment! We're sure going to miss your fun personality around here but are excited for you. You are going to hit it out of the park!
#12 As you move into a new chapter of your life, I wish you the best in all you do. I know you will conquer the new terrain and embrace all the new challenges until you reach the summit!
#13 Good things come to good people, and you are one of the best. Enjoy every bright day that is ahead of you. Goodbye and good luck!
#14 Until we meet again, I bid you farewell, my friend. May every sunset bring you another smile, another laugh, and another reason for gratitude.
#15 May the panorama of your future be filled with the wonder and the joy of discovery. May the road always open up before you and guide you to exciting destinations. I believe in you!
#16 I'm so thankful for all the days we have spent together. I will miss you! Farewell, and go with my best wishes for future success!
#17 May blue skies and sunshine mark your way. May your path be filled with bright new opportunities to excel in all your unique and wonderful gifts.
#18 It is exciting to see you break new ground on your life's journey. I personally believe in you and know you will be phenomenal!
#19 They say that people close to the heart are never far away. I wish you the best for the bright future that lies ahead of you.
#20 You are special and loved! We're rooting for you as you settle into new soil! May your garden always grow and be filled with beauty.
#21 Life is a series of journeys. This is the end of this one, and now you are ready for another one. Goodbye, until we meet again, my friend. Stay well and good luck.
#22 Of all the treasures in my life, I count you first. Thank you for the joy, love, and laughter. May sunshine follow every step you take!
#23 I wish you weren't leaving, but I am happy for you because your future is so bright. May the wind under the wings of your dreams carry you far. You'll do great!
#24 Though I'm sad to see you go, I'm sending you on your way with warm wishes of success and good luck! Thank you for all the fantastic memories. You will be missed!
#25 Goodbye and good luck! I have loved every moment of our time together and wish you nothing but the happiest days ahead. Stay in touch!
#26 Though it's time to part, I will always hold you in my heart. Thank you for everything you are. May your future be beautiful!
#27 There is no need for goodbyes. Thank you for the good times we shared. You made the difference, and for that, I am grateful. Until we meet again, my friend, farewell.
#28 I am so happy for you and the exciting roads that await you. I'll miss you! Farewell, and all the best!
#29 My wish for you is that your footsteps are along the pathways of your dreams. Sending you every bit of luck and happiness on your way. Until we meet again, farewell!
#30 May the wind bear you along the path to success. You deserve every happiness life has to offer. Good luck and goodbye…just for now!
#31 This is not "goodbye," but rather "thank you" for all the fantastic times and all the knowledge you brought to the team. We will surely meet again, and until then, take care and stay well, my friend.
#32 You are the best and brightest of your kind. I've enjoyed every moment of our time together. Stay amazing, and best of luck!
#33 Goodbyes are never easy, and this one is especially tough. I wish you did not have to go, but since you are, I hope you knock 'em dead! You'll do great!
#34 Go well along the path to your dreams! Thank you for all that you are, and all that you do. You'll be missed! Goodbye, and good luck!
#35 A wonderful future is within your grasp. You deserve everything this world has to offer. I bid you farewell, with fondness and with gratitude. You will be awesome!
#36 I am so proud of who you are and everything I know you can achieve. Best of luck to you for all your future endeavors! I hope we meet again.
#37 Having you in my life was a gift I didn't deserve. Thank you for all you have done for me. I am grateful to have had you in my life. Good Luck!
#38 You're so kind, generous, and talented! May your future be showered with all the goodness you so freely give to others! Stay you!
#39 Wishing you complete fulfillment in your new role. You have been a wonderful colleague, and I know your new team will just love you!
#40 Words are not enough to express how happy I am that our paths crossed. I will remember the good times and hope that we meet again. Break a leg!
The Most Famous Quotes to Include with Your Goodbye and Good Luck Message
"Love the life you live. Live the life you love."
Bob Marley
"Kid, you'll move mountains! Today is your day! Your mountain is waiting, so get on your way!"
Dr. Seuss
"Our truest life is when we are in dreams awake."
Henry David Thoreau
"Your time is limited, so don't waste it living someone else's life. Don't be trapped by dogma, which is living with the results of other people's thinking. Don't let the noise of others' opinions drown out your own inner voice. And most important, have the courage to follow your heart and intuition."
Steve Jobs
"Live for each second without hesitation."
Elton John
"Life is either a daring adventure or nothing at all."
Helen Keller
"A secret to life: Know that none of this matters, and yet…live as if every single moment does."
Kamal Ravikant
"Life is a ticket to the greatest show on earth."
Martin H. Fischer
"Don't cry because it's over, smile because it happened."
Ludwig Jacobowski
"Live in the sunshine, swim the sea, drink the wild air."
Ralph Waldo Emerson
"The one thing that you have that nobody else has is you. Your voice, your mind, your story, your vision. So write and draw and build and play and dance and live as only you can."
Neil Gaiman
"Not how long, but how well you have lived is the main thing."
Seneca
"There are no mistakes, only opportunities."
Tina Fey
"Go confidently in the direction of your dreams! Live the life you've imagined."
Henry David Thoreau
"Life is full of beauty. Notice it. Notice the bumble bee, the small child, and the smiling faces. Smell the rain, and feel the wind. Live your life to the fullest potential, and fight for your dreams."
Ashley Smith
"The adventure of life is to learn. The purpose of life is to grow. The nature of life is to change. The challenge of life is to overcome. The essence of life is to care. The opportunity of life is to serve. The secret of life is to dare. The spice of life is to befriend. The beauty of life is to give."
William Arthur Ward
"Keep your eyes on the stars and your feet on the ground."
Theodore Roosevelt
"Life is not a problem to be solved, but a reality to be experienced."
Soren Kierkegaard
"Today, you have 100% of your life left."
Tom Landry
"The greatest blessings of mankind are within us and within our reach. A wise man is content with his lot, whatever it may be, without wishing for what he has not."
Seneca
"Find ecstasy in life; the mere sense of living is joy enough."
Emily Dickinson
"Life is like an onion; you peel off one layer at a time and sometimes you weep."
Carl Sandberg
"You have just one life to live. It is yours. Own it, claim it, live it, do the best you can with it."
Hillary Clinton
"You only pass through this life once, you don't come back for an encore."
Elvis Presley
"All life is an experiment. The more experiments you make, the better."
Ralph Waldo Emerson
"Dance like there's nobody watching, Love like you'll never be hurt, Sing like there's nobody listening, And live like it's heaven on earth."
William W. Purkey
"Make each day your masterpiece."
John Wooden
"The journey of a thousand miles begins with one step."
Lao Tzu
"My mama always said, life is like a box of chocolates. You never know what you're gonna get."
Forrest Gump
"Life is what happens when you're busy making other plans."
John Lennon
"If life is a video game, the graphics are great, but the plot is confusing and the tutorial is way too long."
Elon Musk
"Don't let yesterday use up too much of today."
Will Rogers
"Life is a succession of lessons which must be lived to be understood."
Helen Keller
"In the end, it's not the years in your life that count. It's the life in your years."
Abraham Lincoln
"Live as if you were to die tomorrow. Learn as if you were to live forever."
Mahatma Gandhi
Please take a moment to pin this post to Pinterest.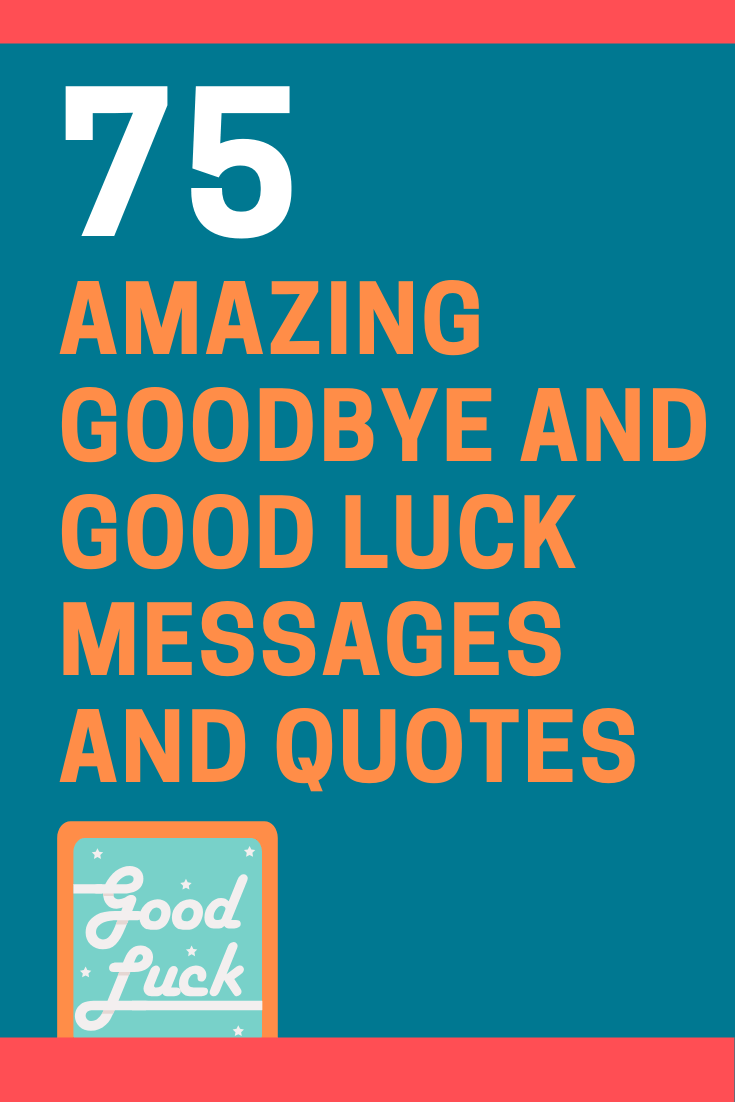 Author Biography
Keith Miller has over 25 years of experience as a CEO and serial entrepreneur. As an entrepreneur, he has founded several multi-million dollar companies. As a writer, Keith's work has been mentioned in CIO Magazine, Workable, BizTech, and The Charlotte Observer. If you have any questions about the content of this blog post, then please
send our content editing team a message here
.
---